We've created an infographic on cheapskate vs. frugality recently which you find here.. https://infograph.venngage.com/p/67394/cheapskate-vs-frugality. This is the extension of our thoughts where 5 more differences are being pointed out.
| | | |
| --- | --- | --- |
| Sl. No. | Frugal | Cheap |
| 6 | Frugal people always prefer long term thinking and planning. | A cheap person lives in present. |
| 7 | Frugal living means invest your energy on living a happy life. | Cheap people all the time worried about money. |
| 8 | Being a frugal person is not less spending rather prioritizing it. | Cheap people are spending less for all the time. |
| 9 | Frugal living means you're passionate about personal finance and money management. | Cheap people don't care these at all. |
| 10 | Frugal living may caused by some debt. | Cheap people are loved to lead a life with less freedom. |
There are small differences between being frugal and being cheap.
In my opinion, people often crossed the thin line unconsciously when trying to be economical instead of being a miserly person.
Here I'm outlining what it means to be frugal or cheap:
Being frugal means your thoughtfulness about the value of money and making informed decisions regarding how you spend dollars.
Being cheap means giving importance to money over every tangible and intangible thing that is around you.
What does it mean to live frugality?
I believe I'm a frugal person.
Or at least I'm practising living a life of frugal person.
I always try to find the best deals for me without any stupidity or in expense of my ethics.
To me, being frugal is more about evaluating the necessity before spending dime and dollar you have.
What does it mean to be cheap?
I realized, for typical cheap people, cost matters over anything else, while frugal people are more critical about the value of that thing.
What is a frugal person?
You must not feel ashamed for trying to save your cash.
However at the same time, it's equally important not to forget your common sense and beliefs.
What does it mean to be frugal?
Your urge to save a buck must not cross the boundary of your principles – you should not hurt anybody by taking some impulsive decision.
Why do people confuse frugal and cheap?
I feel that people often use interchangeably frugal and cheap unconsciously which is not true.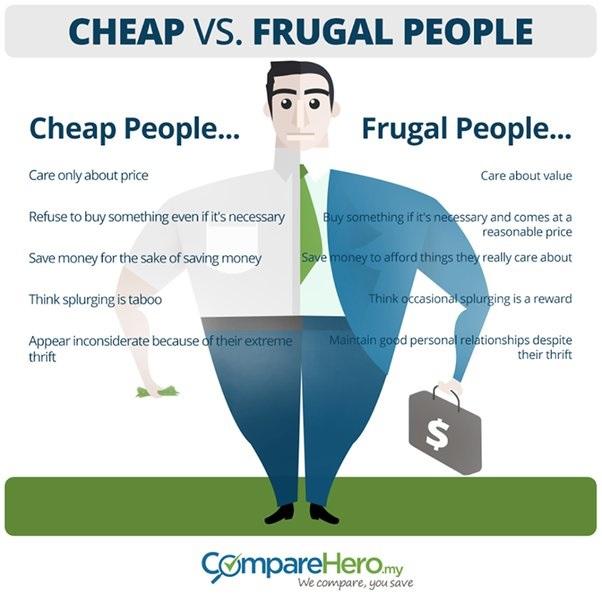 Now you should clearly understand the difference between cheapskate and frugality. So which way you would like to go for forming a partnership?
Feel free share your comments on cheapskate vs. frugality. Share your ideas on how to stop being frugal? Or how to start being frugal? Or some best frugal tips.
Don't forget to check back our blog updated frequently with trendy topics besides accessing latest casino bonus codes and no deposit coupon codes for players from US.