Easter movies are good time killer with fun on Easter holidays. I always love to watch movies at home during any vacation or any holiday. So during Easter break I have decided to watch one of the latest movies and if you are like me wanting to spend time on the screen for Easter movies on theatre or at home on your PC or iPad then here are the 10 best Easter movies not to be missed watching this weekend.
10 Best Easter Movies
1. Beauty and the Beast
Released on March 17 2017, Easter movies of the best is Beauty and the Beast that has earned over $750M worldwide and is one of the best Disney animated Easter movies to watch. It tells a journey of Bella, a beautiful young woman who is imprisoned by a beast or a cursed prince and finally helps the beast find his kind heart. You can catch up with a DVD or download this movie online.
2. The Boss Baby
This film was released on March 31st 2017. The Boss Baby is a 3D animated comedy film based on the 2010 picture book. The Boss Baby is a spy and arrives at an imaginative boy Tim's home and a new journey starts. The movie is not about faith, but it has a few good jokes and is good for kids and family to watch in Easter holiday. You can watch this movie online or even download that is your choice.
3. The Young Messiah
The Young Messiah is among the good Easter movies as it's about Jesus Christ when he was a young kid. The movie is also named Christ the Lord: Out of Egypt, based on "legends" that have been attributed to Jesus Christ's adolescent years. "The Young Messiah" can be warmly endorsed for a wide range of audiences and with a Jesus at young age, even kids will love this movie. The movie was released on March 11, 2016, by Focus Features. You can have this movie DVD to watch or find it at many online movie sites to watch for free.
4. Exodus: Gods and Kings
It is a biblical story and is also the basis of Ridley Scott's action-packed spectacular starring Christian Bale, Aaron Paul and Joel Edgerton. Exodus: Gods And Kings hit cinemas in 2014. But although it is ridiculously clunky at times, and way too long, its impressive set-pieces and eye-popping visuals make sitting through its two-and-a-half-hour running time just about worth it. You can open this link to watch full movie.
5. The Case for Christ
The Case for Christ was released on April 7, 2017, The Case For Christ is good Christian Easter film to watch. The movie is based on a true story of a journalist who disproves the newfound Christian faith. The story tries to dig out what we should believe and why we believe. You can watch the full movie online at live stream.
6. Smurf's the Lost Village
Smurfs the Lost Village is a 2017 American 3D computer-animated adventure comedy film produced by Sony Pictures Animation and animated by Sony Pictures Imageworks. In Smurf Village, the Smurfs live peacefully among themselves. The only girl in the village is Smurfette created by the villainous wizard Gargamel from a lump of clay, but was redeemed by Papa Smurf and became part of the village. Gargamel makes it his mission to capture the Smurfs, steal all of their essence, and become the most powerful wizard in the world. You can watch it online at live stream or grab a DVD.
7. God's Not Dead 2
"God's Not Dead" is arguably one of the most successful faith-based movies for Easter of all time. 2016 sees its sequel brought God's Not Dead 2 which centers on a Christian teacher who is facing an epic court battle for her statement to a student's question Jesus. This Christian-themed movie expresses the important inspiration behind the story, that is to hold to the faith and share what you believe.
8. Hop
Hop was released in 2011 and in the animated movie instead of succeeding his father to deliver baskets full of treats, E.B., the Easter Bunny's son, takes a rabbit hole trip to Hollywood, where he determined to become a rock star. In LA, he almost gets run over by Fred, an out-of-work slacker, is surprised by E.B. when talking to him, and they finally become good friends to help each other reach the goals – save Easter and their careers. You can watch this movie online for free at many of the movie sites
9. La La Land
La La Land is a 2016 American musical romantic drama film written and directed by Damien Chazelle, and starring Ryan Gosling and Emma Stone as a musician and an aspiring actress who meet and fall in love in Los Angeles. The film's title refers both to the city of Los Angeles and to the idiom for being out of touch with reality. Though not much to do with Easter but nice movie to watch this weekend and enjoy. Watch this movie online for free or buy tickets for theatre if you like.
10. Easter Parade
Easter Parade is a 1948 American musical film starring Judy Garland, Fred Astaire and Peter Lawford, featuring music by Irving Berlin, including some of Astaire and Garland's best-known songs, such as "Easter Parade", "Steppin' Out with My Baby", and "We're a Couple of Swells". Here in this film Don Hewes is devastated when his dancing partner, Nadine Hale, decides to break up their partnership to set out on her own. Determined to prove that he can succeed without her, Astaire confidently vows that he can pick any random chorus girl and make her a star. Get a DVD of this movie from Amazon or watch it online for free.
Other Easter Movies to watch
1. The Prince of Egypt
This Easter movie is a grade school classic, this animated movie tells the story of the Book of Exodus in a very entertaining way. It follows Moses's life and depicts the first Passover, a holiday which regularly overlaps with Easter. Moses's deliverance of the Israelites out of slavery is oft considered a biblical foreshadowing that parallels the Jesus's death and resurrection, making this movie a great pick for Easter weekend.
2. Peter Rabbit
The troublesome rabbit from the lovely colored-picture books comes to the big screen as the irreverent Peter Rabbit (voiced by James Corden) who vies for the affection of his tender-hearted neighbor (Rose Byrne) against his infamous nemesis, Mr. McGregor (Domhall Gleeson).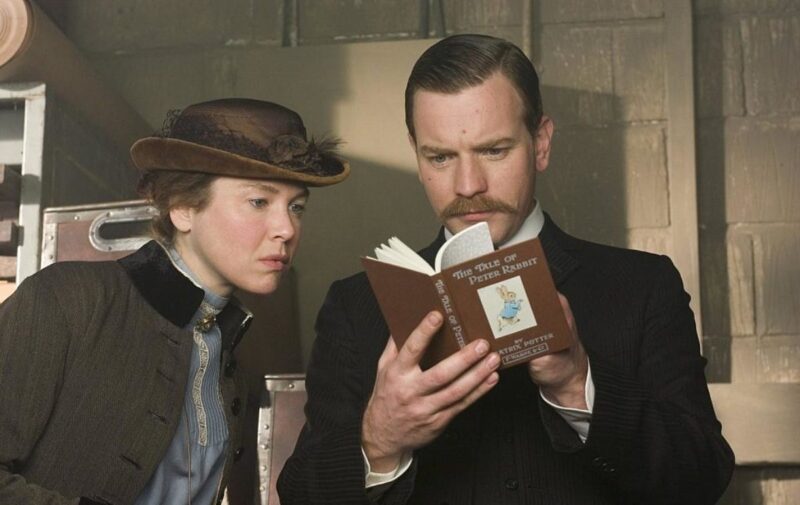 3. Miss Potter
Starring Renee Zellweger and Ewan McGregor, Miss Potter tells the true tale of Beatrix Potter, the creator behind Peter Rabbit. Potter struggles to find a publisher for her imaginative children's stories, while her parents pressure her to give up and settle down with a husband. But with a little persistence and someone who believes in Beatrix's vision, her luck soon changes.
4. The Last Temptation of Christ
This movie wants you to contemplate the existential nature of Jesus Christ and his sacrifices. You can watch this movie and check out Martin Scorsese's wild 1988 film starring Willem Dafoe as God's son, a simple man who makes the difficult decision to accept his calling in life. The film is a colorful, hallucinatory, uncensored depiction of that period as Scorsese imagines it.
5. It's the Easter Beagle, Charlie Brown
This animated movie is best for kids and adults as there's a Peanuts cartoon for every holiday, it seems, and something about spending a festive event with Charlie and his pals feels wildly comforting. This 1974 special features the "Easter Beagle" instead of the Great Pumpkin, who takes his form in the clever dog Snoopy.
6. Jesus Christ Superstar
Jesus Christ Superstar is your Easter story with more musical numbers. The 1973 adaptation of the Broadway hit was directed by Norman Jewison and features a hunky Ted Neeley as Christ. Those tunes will be stuck in your head long after the Easter candy finally disappears.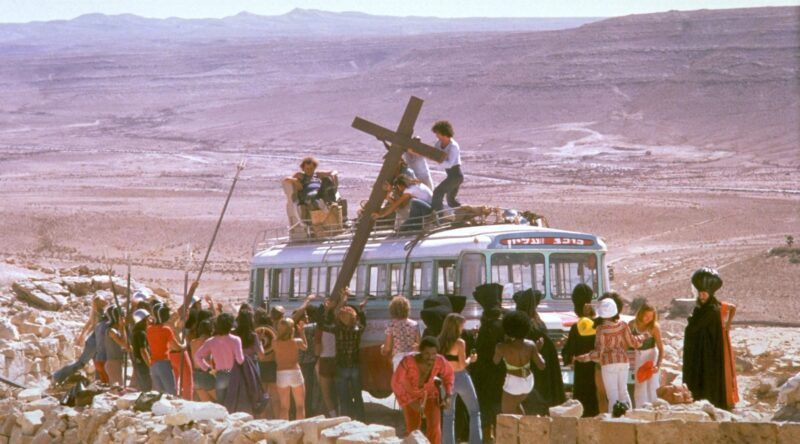 7. Risen
This 2016 film turns Easter into a gritty, Game of Thrones-style period piece, with Joseph Fiennes starring as a Roman Centurion, Clavius, on the hunt for Jesus' body after it mysteriously disappears following his crucifixion. Cliff Curtis stars as the groovy Christ himself, in whom Clavius finds salvation. With incredible production value, gore galore, and Britain's finest actors, it's the Easter story by way of Gladiator.
8. Hop
This family-friendly film from the creators of Despicable Me blends animation and live actors to spin the tale of the Easter Bunny and his son, E.B., who travels to Hollywood in search of rock n' roll stardom. Colorful hijinks ensue as he befriends Fred (James Marsden) and the duo team up to save Easter.
9. Ben Hur
Ben-Hur tells the story of Judah Ben-Hur, a member of Jerusalem's Jewish nobility living at the time of Judea's Roman occupation. Set in the same time period, the film offers historical context for the life and crucifixion of Jesus.
10. Willy Wonka and the Chocolate Factory
Willy Wonka and the Chocolate factory is not religious themed Easter Movies , but there's an abundance of the other Easter staple: candy. Cozy up on the couch with your Easter basket, dig into that chocolate bunny, and enjoy the weird, wonderful world of Wonka. Even you can play Willy Wonka and the Chocolate Factory slot game and have fun.
If not interested in move stuff then play casino games online and grab some Easter coupons and bonuses and see whether Easter basket has some wins for you or not. Enjoy and have a fun filled Easter celebrations.