Esports- The emerging gaming trend at online casino
There was a time when as a kid I used to cry for having my parents buy me a video game to play. I used to go hours and hours playing Pacman, Donkey kong, Crazy climber, Scramble and many others. With simple background music and fewer animations those games were wonderful.
Things have changed rapidly and now the new gaming trend evolves around VR, AU and Esports games. The great thing is that all these games are now available online to play with your cell phone or PC or tablet and you do not have to go anywhere to play them.
Esports is the rising gaming industry and a great potential gaming market whose revenues reached $696 million in 2017 and is expected to grow US$1.5 billion and more in coming years.
Newzoo, the global leader in esports, games, and mobile intelligence, in it's third edition of annual report, provides an in-depth look at the esports economy and a realistic estimate of its future potential in terms of trends, viewers, participants, and revenue streams. More than previous years, the 119-page report focuses on individual regions in line with the exponential growth of local esports initiatives, which are crucial to the growth of the total ecosystem.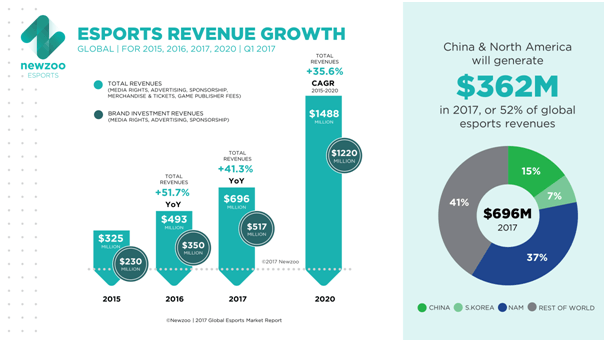 Betting on esports is the hottest topic in the real-money gaming industry, as betting companies see esports as a huge "blue ocean" of opportunity. Betting on esports has been around for many years, as it does not require the involvement of any esports companies to organize. Four years ago, a traditional betting company stated that esports was already its seventh-biggest sport worldwide in terms of betting volume, positioning it above golf and tennis for instance.
Sports betting is a far bigger business than sports media rights, sponsorship, and consumer revenues put together. As an example, the NFL generated $13 billion last year, but betting and fantasy leagues around the NFL games are supposed to have made north of $50 billion. With most big betting companies already embracing esports betting on a global scale, it's possible that esports betting alone is larger than the esports economy itself.
North America is the largest esports market, with revenues of $257 million in 2017. This will more than double to reach $607 million and more. This is partly due to North American teams that have welcomed a lot of new non-endemic sponsorships and the region hosting several of the world's largest leagues and tournaments that generate a high amount of sponsorship money.
Now after the interesting facts about Esports, let's quickly brief to those who are newbies and wondering what is Esports?
Electronic sports, commonly called esports, refers to the professional level of gaming within a competition or tournament setting. This game features video games that are played at a competitive level and involves an audience of spectators. The base for esports is that there are players who compete at a high level of skill, organizers who run events and tournaments, and spectators who bring in viewership and interest in the scene. Whether it's on the internet or in an actual Coliseum, every eSporting event draws in a jam-packed crowd.
Jonathan Wendel (Fatal1ty) is the most important player that the United States has ever produced. In terms of prize money, he's the single highest earner in esports history. America's first true celebrity gamer, the height of his fame in the early 2000s remains beyond the reach of any American to this day.
With that being said, it's evident that the number of people betting on esports has begun to rise. Esports has culminated into such a large community that people getting on their PCs and cell phones just to place money on their favorite video game can be considered a commonality. Esports has become such a popular industry that is has surpassed that of other sports organizations like the NBA, NFL, and the MLB. It's on the rise, and with the rise of esports comes a larger fanbase dedicated to monetizing. If you are interested to enjoy Esports betting online then there are many online casinos that have started offering this gaming environment as well. Here we have picked up the five best online casinos to enjoy Esports.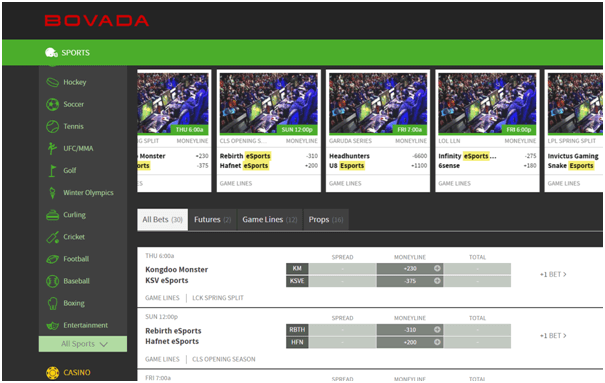 Bovada online casino offers over 12 Esports games to enjoy either with your cell phone or with your PC. Get USD250 welcome bonus when you sign up in their sports arena online.
To receive your Welcome Bonus, simply redeem it, make a deposit and instantly receive a 50% bonus up to $250. Once your deposit is processed, your bonus will be available for wagering within 30 minutes.
This bonus can only be redeemed on your first deposit. Rollover is 5X Sports/5X Horses/30X Casino on both the initial deposit and the bonus amount. Rollover in Esports, for winning wagers, will be determined by the lesser of your risk or win amount at the time of wager settlement; for losing wagers your risk amount will be credited to your rollover contribution.
If you play with Bitcoins then you can use coupon code BVSBITCOIN50 and can score a 50% Bitcoin Match bonus up to $500 to bet on Esports.
2. Cryptoslots
CryptoSlots.com is operated by Slotland Entertainment S.A., an established player in the gaming industry for two decades and counting. At CryptoSlots every game you play is Provably Fair, allowing for unparalleled transparency every time you play. As a cryptocurrency-only casino, players have maximum control over their funds and can trace every bet they make.
When you join the casino for the first time you are welcomed by 111% with Welcome Bonus1 coupon code. Enter code before making your first deposit and your account will be instantly credited up to $500 extra.
3. Pinnacle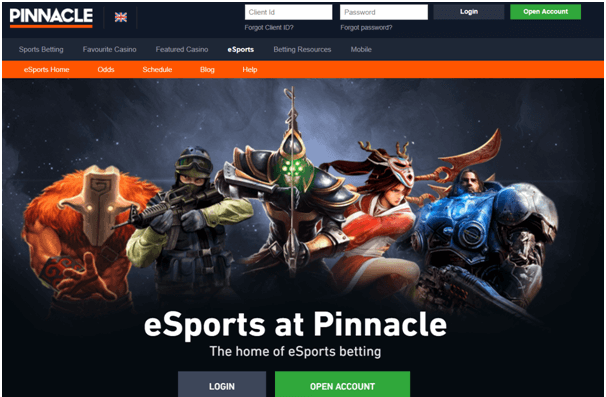 Pinnacle is one of the best place online for Esports and this online casino accepts USD. With minimum deposit of US$10 you can start to enjoy your favourite games here. With many US friendly deposit options you will love to be here at this online casino.
You need to be a member of Pinnacle to place a bet. If you aren't a member yet, opening an account is free and easy – click here to open an account now. Pinnacle offers three different website views for bettors. The most popular of these is Beta View. Available both in and outside of the European Union, Beta View features a simple login, easy navigation, a streamlined betting menu and faster performance. Alternatively, Classic View is available to those outside the European Union and Asian View is available to customers based in Asia.
Unfortunately this online Esports site doesn't offer any promotions of bonuses to players. Only that you get 0.3% cashback on Casino bets.
4. Slots.lv Casino
Slots.lv casino offers many Esports tournaments and games to enjoy online. This casino accepts USD and Bitcoins to fund the casino account for real money play. There are lots of bonus offers to grab at this online casino.
When you sign up the casino gives you free spins absolutely free and also welcome bonus package of $7500 with a 100% bonus.
300% match bonus up to $1,500 on your first deposit.
150% match bonus up to $750 each on your next eight deposits.
1Xbet is also perfect online site for US players to enjoy Esports. With over 1,000 active sports betting markets available to wager on every day, only you need $1 to start your bets here. With so many deposit options you will not have any issue to fund your casino account to enjoy games here.
1xBet rewards players with a bunch of one-off and ongoing promos and bonus offers, the latest of which can be checked by going to the 'Promotions' tab at 1XBet.com. The thing that really earns this site some brownie points is the 'Esports Bonus Calendar' which offers a different cashback offer every day on a chosen esport event.
Click here to visit this casino now
Besides these five best esports online casinos you can play at various others like 888sport; Arcanebet; Betspawn; EGB and many others.
Esports- Find the games that you can enjoy in 2018
Esports- Find the games that you can enjoy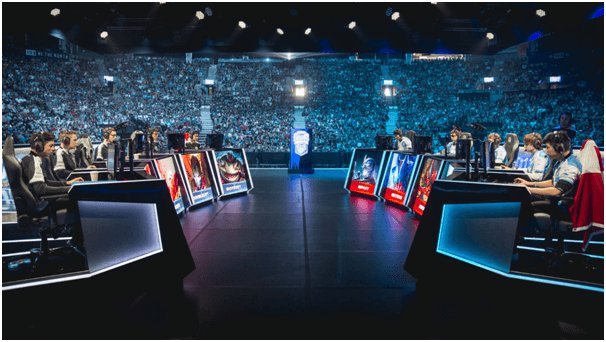 Here are some top-notch esports that have been reputable for their large fanbase and popularity, making them top picks for your next betting fortune.
Counter Strike can be considered to be the originator of the esport betting scene. CS:GO, which stands for Counter-Strike Global Offensive, is an extremely popular first-person shooter, which has accumulated a large dedicated fanbase since its arrival in 2012. Counter-Strike became one of the first esports to be betted on.
League of Legends has become the largest esport of the year, accumulating millions of viewers to its annual League of Legends World Championship. Because League of Legends has a fanbase that goes into the tens of millions, there's no doubt that the betting scene is just as large.
Overwatch has been one of the most popular video games to release in the twenty-first century, largely thanks to the fresh face it gives to the first-person shooter genre. However, the anticipation of it becoming an official esport has become far more exciting than the game itself.
There are other games like DOTA2, World of War Craft, StarCraft 2 and many others to enjoy and make a real fortune.
Also enjoy Halo, Call of Duty, Super Smash Bros, Street Fighter, FIFA, Heroes of Newerth, World of Warcraft, Tetris, Trackmania, iRacing, Tekken and a lot more games than you can count.
Things to consider before placing your bets for Esports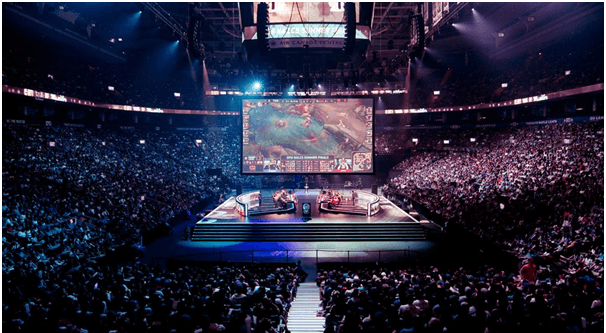 Unlike betting in land casinos, online betting is less rigorous, and you can get started right away with ESports betting at online casinos. But there are few things to consider before you place your bets for Esports.
You should know your game as there is a wide variety of esports you can play. Also you need to know as how your game works. This includes knowing the aspects of the game, and what players do in order to win.
When betting on a team or an individual, you'll want to know how they've performed in the past. If they've been a powerhouse that's been dominating the game, they're probably a good choice to bet on. Note that the higher the odds are, the lower the payout.
If you want to bet on the underdog or want the big payout despite the low odds you'll want to be careful with your money. When betting on the underdog, you not only want to check their past record, but you also want to check every type of stat possible.
Also make sure that you can stay up to date with the stats is an important aspect to give yourself the upper edge. It not only lets you know how the team has been performing, but it also gives you a good idea of how the game is going to turn out.
You should know the players as before you can bet on someone and entrust your money on how they do, you need to know who you're betting on. Knowing a player doesn't mean knowing what their name is and where they were born. Knowing a player means you know their playstyle, how they've performed in the past, and what their current status is.
The difference between betting on an upcoming novice and an experienced veteran can be huge in terms of which one can make you more money. Like if you're betting on a Hearthstone player, you'll want to know what types of decks they specialize in. Or if you're betting on League of Legends, you'll want to know how they play, what their main champions are, and what role they're most proficient at.
If you know that a player or team performs much better against a specific opponent because you've watched this team over and over, then your chances of winning big is sure.
Also knowing the organizations of a specific esport can be an advantage over other rival bettors. Due to most esports being cutthroat in terms of the system, most rookie teams rarely last long on the competitive scene. Note that an organization is the mastermind behind who runs the team. Organizations like Cloud9, OpTic Gaming, and Fanatic have been powerhouses in this area, controlling different esports and bringing out strong results for the bettors and fans alike.
Is it legal to bet on esports in the United States?
You can 100% bet on esports online at certain sites, you just have to make sure to do extra homework on which payment services you can use to deposit and withdraw your betting money.
There are many offshore online casinos and sportsbooks licensed in foreign jurisdictions and they have continued to service US-based players, and third-party payment services as well as the use of Bitcoins have filled the void and are now being supported at US-facing online sportsbooks, giving Americans legitimate ways to deposit money for the purposes of esports and sports betting.
Also, because of many state-based laws and the fact that specific regulation for fantasy sports betting, skill games and esports is still catching up today, it's a minefield to actually understand whether anything is explicitly banned or not, and for the time being, esports betting comes under that category. Until then, rest assured, it's safe to bet on your favourite esports games – you just need to do find out which esports online casinos are the best for you.
Can you be a millionaire betting at Esports? Experts say that it is a virtual gold mine, and those smart enough to put their money on it could make a fortune.