Frog Fortunes seems to me like a fairy tale slot where the frog hops around the reels to fulfill your dreams to win real cash. This new slot game has arrived at the online casinos powered by Real Time Gaming software. The story takes you to an enchanted forest where Frog is the King who lives with jungle themed creatures.
With it's high definition graphics and entrancing sound effects, you're sure to have a satisfactory slot game experience. The shining, regal frog lord will make all your wonderfully weird dreams come true when you conjure up the right symbols on his magical reel.
About Frog Fortunes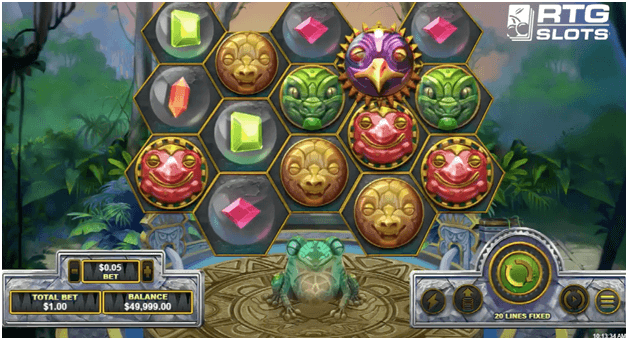 Frog Fortunes runs on 5 reels with 243 all-ways pay paylines and is a low volatility slot making it perfect for beginners and new players who do not want to risk losing a ton of their bankroll. The unique hexagonal reels add some major pizzazz to Frog Fortunes; you won't want to miss this! These quirky reels are set deep in the forest in front of the golden frog who is master of the reels. You will enjoy calming yet stimulating music and captivating visuals that make you feel as if you are really on an adventure of your own.
Frog Fortunes Game Symbols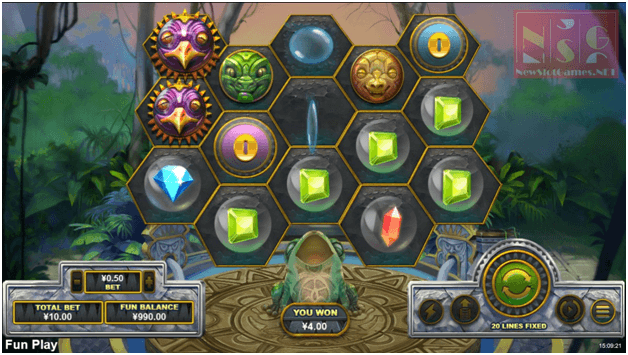 The golden frog is at the center of a temple of sorts, while above it you get 5×3 reels with hexagonal-shaped symbols. The images given there will range from various gemstones, to the various creatures of the jungle which have been turned into idols (eagle, reptiles, frogs, mammals).
It's a good looking design, and the way in which the symbols were shaped adds to the interesting effect as well.
Note that the winning potential is fairly low, with the jackpot paying 150x the stake, but that's just the mark of a slot machine where volatility is not very high. A couple of interesting features were used, including the exploding symbols and the resulting cascading reels.
Frog Fortunes Game Features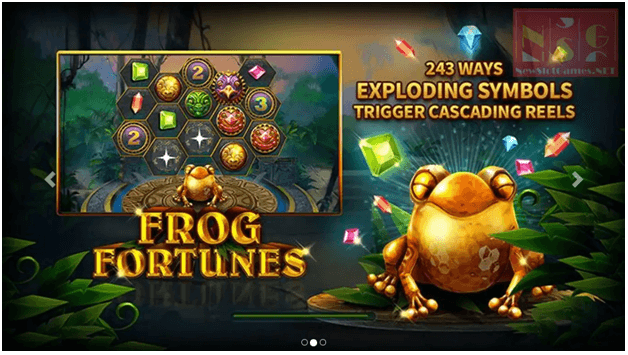 There are a couple of big features, that Frog Fortunes relies on, and they focus on the randomly added exploding symbol. It's going to start a countdown, going from 10 to 0. Once it reaches that point, the symbol explodes into a random pattern, chosen from 10 distinct possibilities.
Symbols will be removed as a result of that explosion, and then the cascading reels mechanic kicks in, bringing in new symbols and a potential new wave of combinations. This is also something that will happen for regular wins that you're forming.
Frog Fortunes features cascading reels and exploding symbols – you will certainly never be bored. The symbols are made up of various gemstones and exploding symbols can appear randomly at any time throughout the game. When the symbol explodes, all symbols affected by the blast will be replaced with the same symbol. If a win is triggered as a result the cascading reels feature will also be triggered.
The frog lord will reward you often and you can receive a win as big as 150 times your bet. Free Spins are available to guarantee your fun never stops. Play Frog Fortunes today at Slots of Vegas for one of the most 'ribbiting' slot experiences.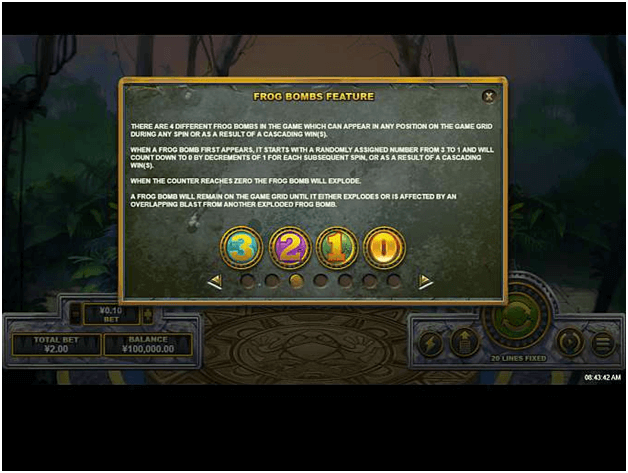 Exploding Symbols Trigger: Exploding symbols can appear randomly on the reels at any time throughout the game. Symbols will explode with a random blast pattern.
Exploding Symbols Feature: When an exploding symbol explodes, a randomly selected symbol will replace all symbols affected by the explosion. The exploding symbol explosion will replace all symbols within the blast pattern including other exploding symbols. The exploding symbols feature triggers cascading reels if there are winnings after the explosion. There are 10 different exploding symbol blast patterns, one of them will be randomly selected.
Cascading Reels Feature: The cascading reels feature only occurs after an exploding symbol explosion and will end when there are no more possible cascades. When there are winning combinations after a symbol explosion, the winning symbols will disappear, leaving empty spaces, which will be filled with new symbols that may award extra wins. The spin button is disabled during the cascading reels and will be enabled once no more winning combinations occur
How to play Frog Fortunes the new slot game?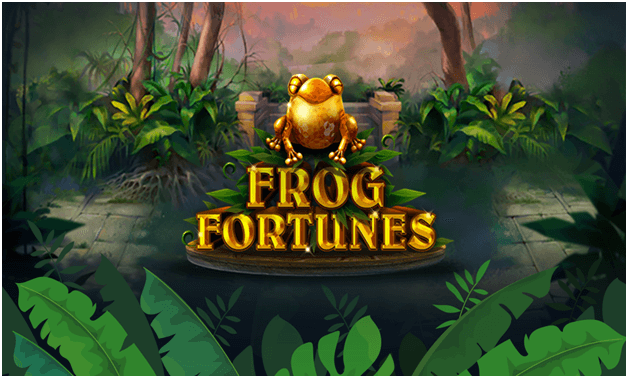 Playing frog fortunes the new slot game is simple.
All you need is to join any online casino that offers RTG slots.
You can either play the slots on cell phone or PC or tablet
Play for free or with real money using the coupon codes to get some discount on the game.
Once you've loaded the game, select your bet amount by selecting the + and – symbols at the bottom of the game screen.
Once you've set your wager amount, click Spin.
With a low volatility slot like Frog Fortunes, you will soon be winning rewards and racking up cash, coins, and free spins. If you find yourself getting a bit tired from spinning the reels manually, just hit the Autoplay feature to get the reels spinning automatically. From there, you can simply relax and watch the reels do all the work.
The Top award: 150 x the bet is the attraction of the game. So though no huge jackpots, but Frog Fortunes will payout often when playing the game.
Frog Fortunes Coupon Codes at Casinos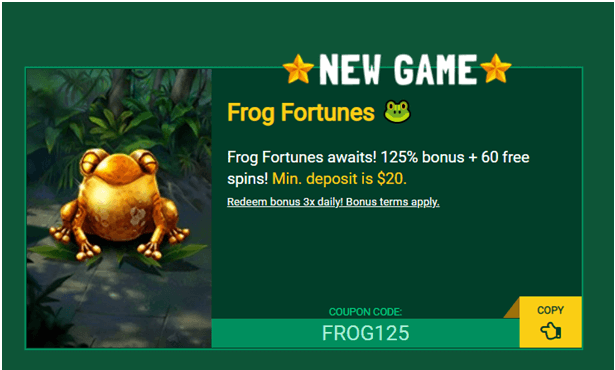 Many US friendly and RTG online casinos are offering coupon codes to redeem at the cashier when making a deposit to play this game. Here find the list of casinos you can visit and get their latest coupons on the game.