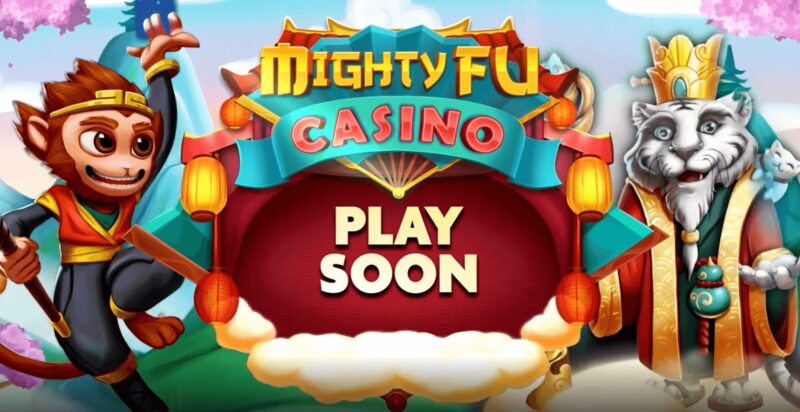 Mighty Fu casino is a social casino or play for fun casino app that you can download on your iPhone, iPad or any other mobile including Android and play the Aristocrat slots games for free. Like any other social casino this Mighty Fu casino play for fun app offers every new player 10,000,000 virtual free coins to play Aristocrat slots games.
The Mighty Fu casino comes from the house of product madness in collaboration with Aristocrat gaming. This means that the creators of Heart of Vegas and Cashman Casino bring you a magical and exciting free social slots casino experience, straight to your phone.
You can begin your slots adventure complete with exciting and challenging daily Missions, amazing Rewards, and a generous Magic Bonus for free virtual coins every three hours.
How to play Aristocrat slots games at Mighty Fu Casino?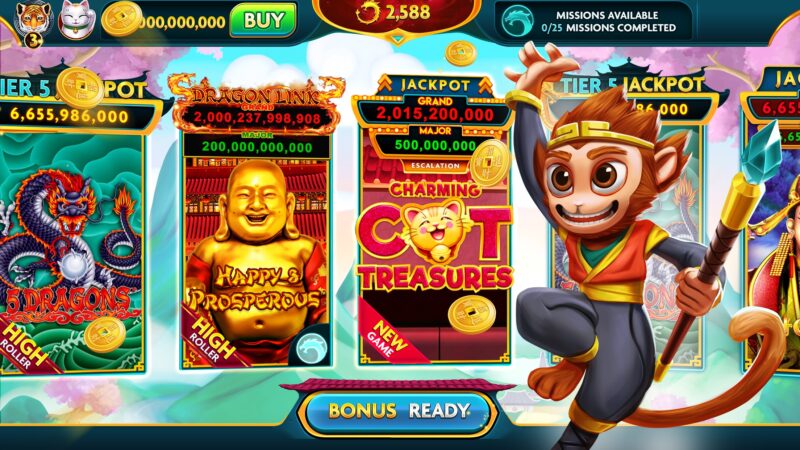 To play Aristocrat slots games at Mighty Fu Casino you need to first download the free app on your mobile.
Once you install the casino app on your mobile smartphone or tablet you are ready to play the slots games from Aristocrat.
Enjoy a 10 000 000 welcome bonus at once and receive magical virtual rewards after completing your missions.
Mighty Fu Casino will then take you on a journey to enjoy the gameplay with stunning graphics and exciting animations. You will find tons of world-popular Asian-themed and classic virtual Aristocrat social casino-style slots here with huge jackpot prizes for you to win.
The most popular 5-reel virtual slots machine games can be played at this casino all free.
Which Aristocrat slots games are offered at Mighty Fu Casino?
The Aristocrat slots games offered at Mighty Fu Casino are the classic and the hottest games in the market and are as follows:
5 Dragons
Choy Sun Doa
Good Fortune Links
Dragon Links and Lightning Link games including Golden Gong, Dragon Riches, Happy & Prosperous, Magic Panda, Dragon Riches, Autumn Moon, The Third Prince, FaFaFa Link 5koi and many other famous titles!
1. 5 Dragons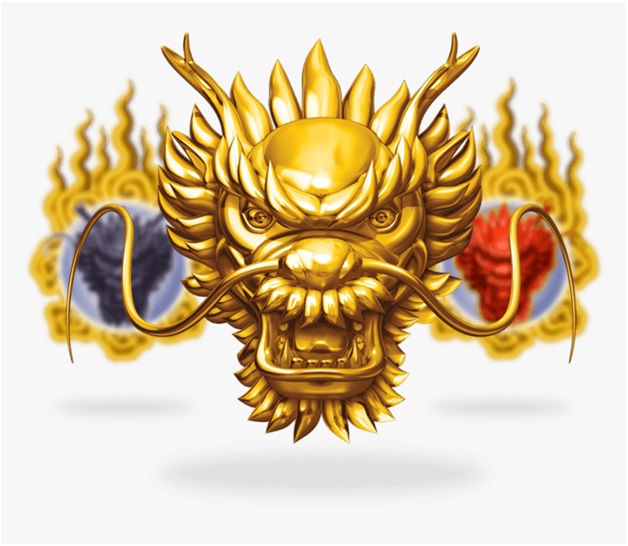 5 Dragons slots comes with 5 reels, 3 symbol rows & 25 paylines. Wilds, scatters, an Autoplay option and a free spins are included. The minimal bet is 25 coins and the maximum one is 750 coins. If you activate the "5 Reels + Extra" button, the maximum bet increases to 900 coins.
The 5 reels placed on deep purple background showcase multiple Asian-styled symbols: fish, turtles, statues of gods, playing card denominations and, of course, dragons which burst into flame each winning combination. The wild is portrayed by green dragon which appears only on three medium reels; it may replace all other icons except scattered circle. Yellow circle with Oriental hieroglyphs acts as a scatter which is paid left to right in any position on adjacent reels.
Three or more scattered circles trigger an attractive bonus feature. When it is triggered, a second screen provides choice one out of 5 feature options: 5, 8, 15, 10 or 20 free spins with wilds (dragons of different colors). They have different multipliers when substituting in a prize combination.
In the free play bonus round with 5 spins, wilds' multipliers are the highest (x10, x20 and x30). During the bonus rounds with 20 free spins, wild dragons can increase the prize just by 2, 3 or 5 times. The bonus round also has a red packet icon which increase total bet up to 50 times.
2. Choy Sun Doa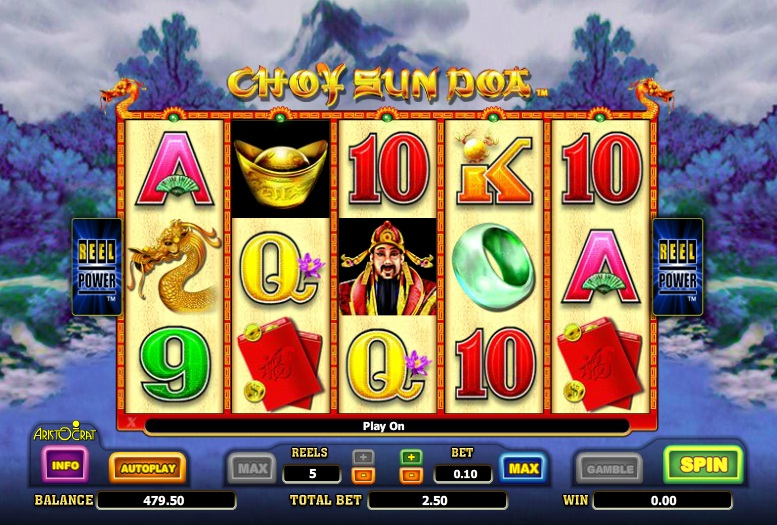 Choy Sun Doa has 5 reels. A special feature is that it provides you 243 pay lines, yes 243 ways to win On the second, third and fourth reels you may find the Chinese God of Wealth. He also looks like some medieval Chinese Emperor. This is the game`s wild symbol which can replace all other symbols except the Scatter.
The gold ingot represents the Choy Sun Doa Scatter. If three or more of these Scatter symbols appear anywhere on the reels in a row from left to right, it can set off the bonus feature with free spins. Other symbols like "9, 10, J, Q, K, and A" are of low value. Among the high-value symbols, you may come across a jade ring, a golden dragon, a red seal, a Chinese dollar and a Koi Carp. If you wish to play the game in Auto Play mode, that option is also available. The minimum bet you can make is $0.25, whereas the maximum wager is of $50. You can also win the Jackpot (represented by the Dragon symbol), where the payout is worth 1000 coins. You need to get just get 5 of these dragons into play from left to right.
3. Lucky Links
Under this slots series you will find some of the awesome slots to play. This new link family offers two main characters Da Sheng Yeah and the Great Empress Wu Zetian. In response to the favourite hold and spin feature, utilizing a brand new picture pays mechanics in the game play experience. You can choose their lucky zodiac animal in the Lucky Fortune Feature, collect the Zodiac pictures to award the credit prizes and jackpot, zodiac pictures can combine to bigger pictures for bigger wins. The Great Empress and the Da Sheng Yeah are the two lucky fortune link family slots.
1. Dragon Link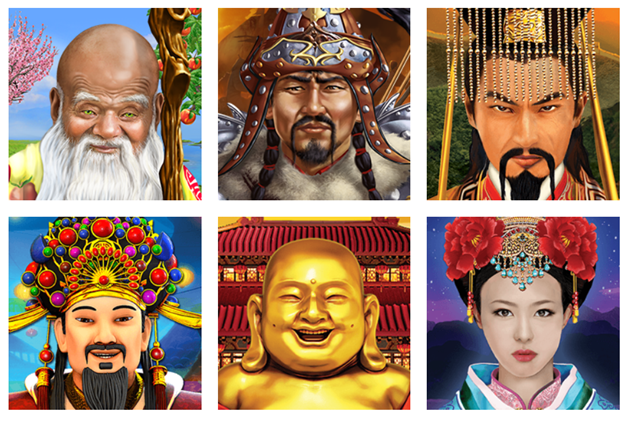 The Dragon Link slots series, builds off the Lighting Link platform, adding colorful Asian-themed games and exciting game features. Dragon Link takes Hold & Spin and adds a beautiful Orb trigger symbol across all titles, making it easy to recognize regardless of the game you're enjoying. With intuitive play and plenty of bonuses, these are multi-denom games you won't want to miss.
The slots games under the series include:
Autumn Moon
Autumn Moon slots is, part of the Dragon Link™ / Dragon Cash™ family. This brilliant, colorful game features the famous Hold & Spin feature, scalable bonus prizes, Cash-on-Reels and the ability to win up to 250x your bet on a scatter. During the Autumn Moon Free Games, all special symbols will reveal the same symbol, including the chance for the big jackpot. Enjoy the entertainment as you play this true fan favorite.
Ghengis Khan
Take entertainment to the casino floor with the new Dragon Link game, Genghis Khan. As players expand the kingdom, players embark on a premium Hold & Spin experience. This exciting games offers seamless interaction with simple entertainment and chances for lots of Free Games. Grab your sword and let the game excitement begin.
Golden Gong
In this slots you ring the gilded disk with Free Game rewards and really make some noise with Hold & Spin. You can seize the opportunity and pick up the mallet that others have put down for a chance at linked grand jackpots. Your fortune will ring through the ages.
Happy and Prosperous
Happy and Prosperous is a jolly game, part of the Dragon Link™ / Dragon Cash™ family. Make Buddha laugh as players play this Asian themed game with multi-denom choices, wide bet ranges, Free Games and exciting Hold & Spin action. Enjoy the chance to stack up the gold coins and jackpots in this entertaining game.
Panda Magic
A fierce Hold & Spin choice, Panda Magic blends the thrill of gaming with a side of zen. With wide bet ranges and dynamic graphics, Panda Magic offers the chance for great retriggers and generous bonuses. Players are invited to play with the Panda for a brilliant, colorful Asian-themed entertaining gaming experience.
Peace and Long Life
Peace and Long Life, a Dragon Link game with a premium Hold & Spin experience. Players play for the golden peaches, and enjoy this entertaining game with the chance at Free Games.
Peacock Princess
Peacock Princess™, the entertaining Asian-themed game from Dragon Link™ will invite players to strutting across the casino floor. This proud peacock offers chance for unlimited Free Games with Big Symbols and plenty of Hold & Spin potential. Players can play for a chance at exciting top progressive prizes and a chance at the Grand Jackpot in this multi denomination entertaining game.
Silk Road
Plot your path to glory on the Dragon Link Silk Road. Uncover bountiful rewards along the way with Hold & Spin and free games. For those who seek true adventure, pick up the trail where others have failed with linked grand jackpots. On this excursion, it's about the journey and the destination. You'll find both rewarding.
Spring Festival
Spring Festival offers a treasure trove of Asian game themed excitement. The Fortune God entertains you with Big Symbols, a Hold & Spin jackpot feature, and unlimited Free Games in this multi-denomination slot game. There are exciting top progressive prizes as players play for the chance for the Grand Jackpot.
2. Lightning Link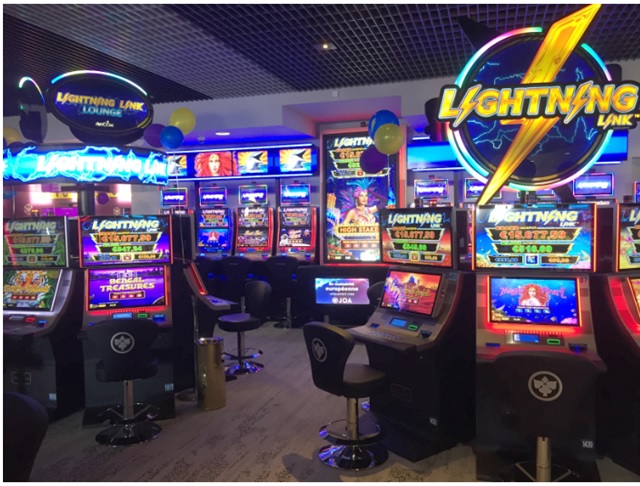 The Lightning Link slots game group brings together a diverse group of some of their most popular games and throws in even more exciting features. You get to enjoy bonus prizes, a Hold & Spin Jackpot feature, and a "Big Reel" Free Game where a large reel grants you big wins. The slots game that come under lightning link slots are:
The Lightning Cash
The Lightning Cash group of slots games that offer the same great play as the original Lightning Link™ but with more multi-denom choices. Delivered in a What You See Is What You Get format, these games make for easy, intuitive play. Featuring Free Games, Retriggers, and Hold & Spin bonuses.
The Lightning Dollar Link
The Lightning Dollar Link family of games has 4 new games that have new and exciting features, including the enhanced Hold & Spin feature with multiple progressive symbols where players can win the full progressive amount multiple times. Fill the screen with 15 symbols during the Hold & Spin feature to win the Grand Progressive. The games have higher Line Counts and Bet Options inspired by Dragon Link, as well as the Free Games feature where 3 or more scattered symbols awards Free Games.
FAQs
Q1. What is Mighty Fu Casino?
Mighty Fu Casino is an app that houses numerous well-known Aristocrat slot game titles and offers many unique features, such as Dragon Magic, Seasons, and Rewards.
Q2. How to navigate the menu in app?
Mighty Fu Casino's interface is fairly simple! It's clean and easy to navigate with a distinctive interface. The Lobby is where you can access all features of the app.
Tapping a game will bring up any bet amount that you may require to play. From there you are able to select bet amounts and unlock higher jackpots.
Q3. How to get free coins at Lightning Link?
Lightning Link Casino provides two main ways of receiving "free coins"! The first is the Rewards you earn through completing missions and gaining lightning. The second is the Hold & Spin feature in the lobby.
The Lightning Link Casino social page is also a great resource to become familiar with! It's currently still under maintenance, but it is recommended to keep an eye on it for future free coin links.
Q4. How to get free coins at this casino?
A great way to get free some free coins on Mighty Fu Casino is via the Bonus Ready tab, which is available every 3 hours. Your Bonus Ready will appear at the bottom centre of the screen and is available to collect when it says "Bonus Ready". Once you have collected your Bonus, the countdown for the next available bonus will appear.
Mighty Fu Casino will have bi-weekly Seasons and Missions for you to complete, which gives you a chance to win awesome rewards and collect Dragon Magic.
Q5. How to buy free coins?
There are a few ways to buy coins in Mighty Fu Casino. The "BUY" button, the Kitty Bank or the "DEAL" button. All three are located in the main Lobby.