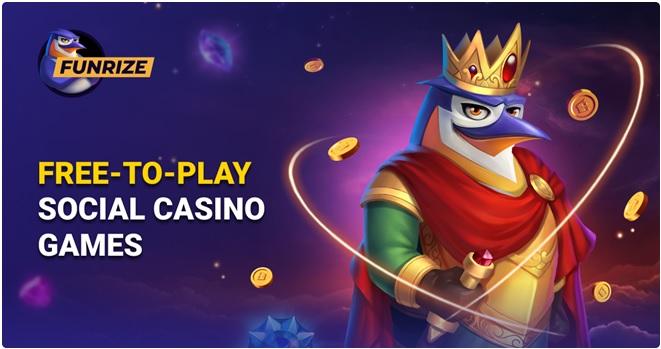 Funrize is a social gaming casino where you play free slots and other casino games. At Funrize casino you don't need to spend any real money to play games and slots. There are two ways to play this casino.
Tournament Mode
Promotional Mode
Tournament Mode
Tournament Mode, for those who would like to use virtual currency to play. You play the wide variety of games provided by Funrize and compete in Funrize tournaments. The Funrize sells Tournament Coins that you can accumulate and play with. All Tournament Coins, whether purchased or accumulated, cannot be exchanged, traded, or transferred for real money.
Promotional Mode
Promotional Mode, which is unlocked after you make your first purchase on the site or which means that after the first purchase of Tournament Coins. Players can only use Promotional Entries while playing in the Promotional Mode. Promotional Entries can be obtained as a bonus through the purchase of Tournament Coins. Note that no purchase or payment of any kind is necessary to enter or get prizes in Funrize Promotional Games in Promotional Mode.

Entries into Funrize Promotional games are given to players in the form of promotional coins. Promotional Entries cannot be purchased, and it has no inherent value. You can always obtain Promotional Entries free of charge as a bonus with the purchase of Tournament Coins, or via an Alternative Method.

Promotional Entries can be used to play Funrize Promotional games. Note that you cannot buy Promotional Entries.
How to get started at Funrize casino?
To get started at Funrize casino all you need is to pick your mobile or PC or tablet and type https://funrize.com/ on your web or mobile browser be it chrome or safari.
Click or tap on sign up.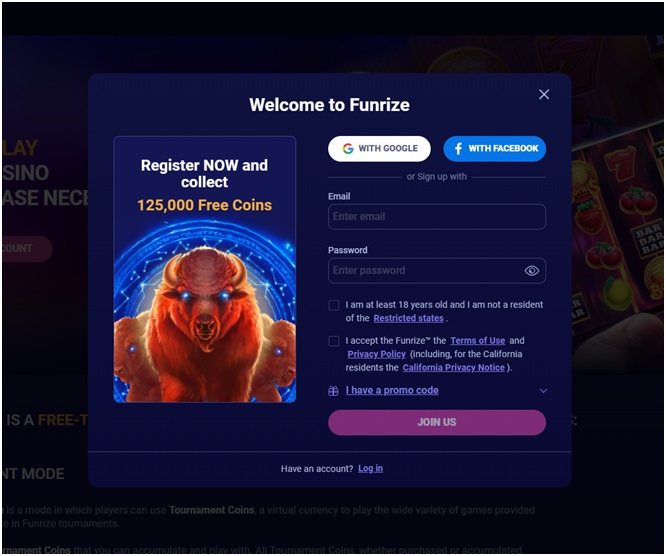 Now join the casino or complete setting up your online account with Funrize either by login with your Gmail or Google account or with your Facebook Account. If not then you can join the casino by setting up your email and password.
You must be at least 18 years of age to bet at Funrize Casino. The site will need to verify your account before allowing you to make purchases on the site.
So you create a Free Play account: fill out the "Create account" or "Sign up" form located on the Homepage of the website.
Click to confirm your age and read the terms and conditions before hitting 'Join Us' at the bottom of the registration page.
Once registered, it's easy to move around Funrize Casino. You can read up on how social casinos work, browse games and make purchases at the touch of a button. The casino will prompt you with ways to collect free Tournament Coins, so you can keep your balance topped up.
Funrize's main website has a fairly easy-to-use interface, user-friendly menu, lit design, so while playing, you will not be distracted by any details.
To compete in Tournaments you need buy Tournament coins + Get Free Promotional Entries as a bonus.
Play Promotional games for free, enjoy and get prizes.
Funrize Casino App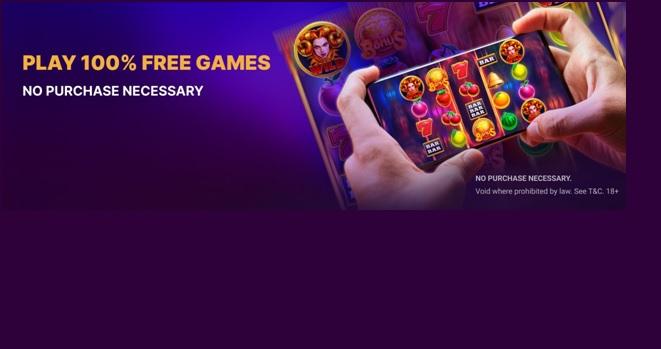 Funrize develops every day, making the game process of its players pleasant. You can use the mobile version if you want to play promotional video games on the go. The convenient mobile interface of the site is developed for iOS and Android.
Funrize Casino can be downloaded on iPhone and most Android devices.
How to download the Funrize app for Android?
Funrize Casino is available to download on most Android devices. As a social casino, Funrize is listed on the Google Play Store, which makes it easy to install.
Search for Funrize in the Google Play Store, or open the casino's customer support to ask for a link to the app. Funrize does not link to this directly from its website.
Install the app as normal.
Launch Funrize and sign in to claim your welcome bonus, and start playing.
How to download the Funrize app for iPhone?
Open customer support to ask for the iOS app link, or search 'Funrize' in the App Store.
Click here to download and install the social casino app on your iPhone
Launch Funrize, and log in to receive your join bonus and start playing.
How to get free coins at Funrize casino?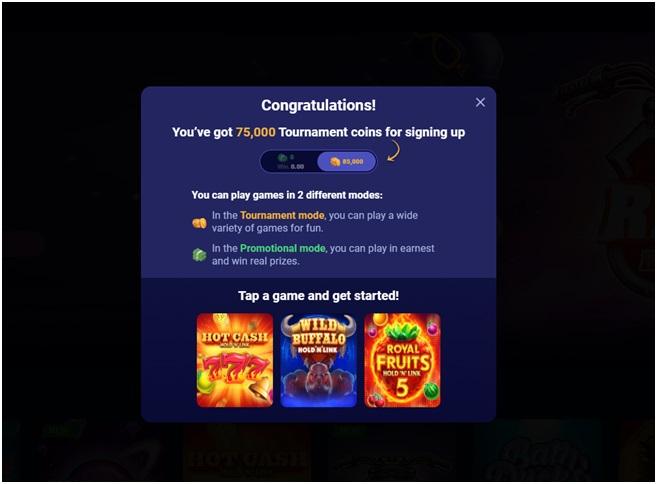 There are lots of ways to get free coins at Funrize casino to play free slots and slots tournaments.
When you join the casino for the first time as a new player you are offered free coins.
In tournament mode you are offered 75000 free coins,
You can use these on any of the slot games available at the social casino. No wagering requirements are attached here, and the coins have no real-money value. You can check your Tournament Coins balance in the top right-hand corner of the screen.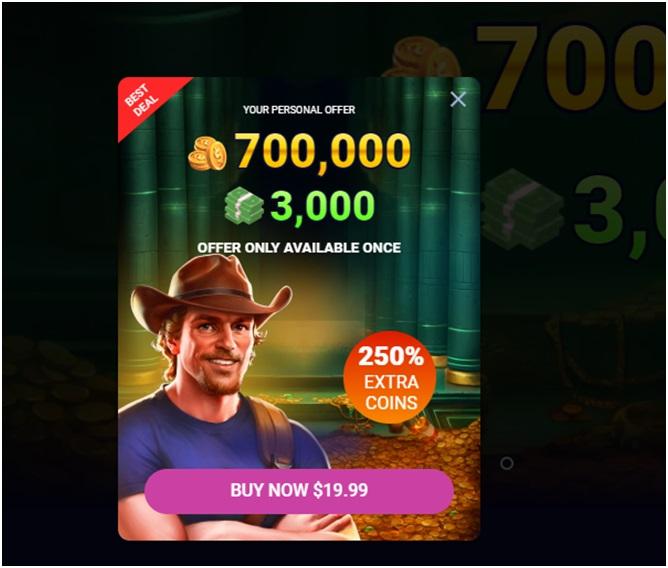 When you verify your email you get 10000 more free coins.
On completing tasks you  get 40000 free coins.
Climb up the leader board and get 80000 free coins every hour.
To claim a further 10,000 coins, just verify your account with the email address you used to sign up for Funrize.
Purchases are not necessary at Funrize, and you can play entirely for free should you wish.
However, those who choose to purchase coins at the social casino can then claim a third welcome bonus. The special offer will land when you complete your Funrize registration, entitling you to 250% extra coins when buying your first package on the site. This means that when you buy the 200,000 Tournament Coins package, you will actually receive 700,000 to use on the site.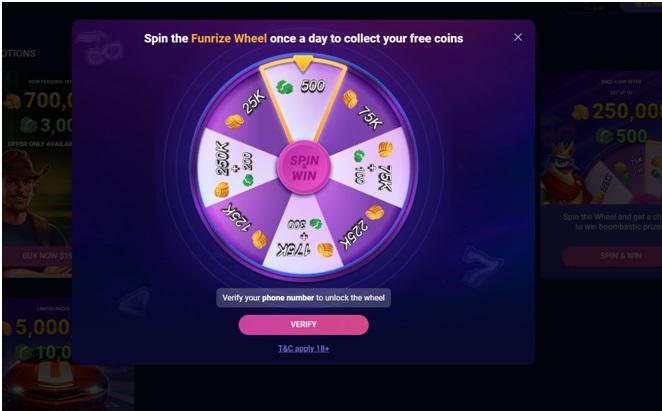 Funrize allows players to spin the wheel once daily after verifying their phone number to stand a chance of winning up to 250,000 tournament coins and 200 promo entries.
Like the refer-a-friend program in regular online casinos, Funrize social casino allows you to copy a link and share it with your friends. Once they sign up, you will have a share of free coins and promotional entries. For now, the casino allows you to share 900,000 coins and 2,500 promo entries.
Competing in fast-paced daily tournaments will have you win extra coins hourly. The casino allows you to purchase tournament coin packages, with the full schedule of the races listed under the 'Races' section.
Completing tasks
Funrize Casino has 50,000 free coins available if you complete the following tasks:
Completing your profile: 15,000 coins
Verifying phone number: 25,000 coins
Verifying your email: 10,000 coins
Mailing Funrize
You can request 100 promotional entries every 24 hours from Funrize by writing a mail to them through the address: Funrize Promotion, Free Entry Request, A1 Development L.L.C., 3597 E Monarch Sky Lane Suite 240, P.M.B. #2940, Meridian, Idaho 83646.
A loyalty program that would mean other prizes for players, an extended playtime, and subsequently would motivate them to purchase more coins is yet to make a cameo at Funrize.
In Tournament Mode you use Funrize's virtual currency, Tournament Coins, to play games and compete in tournaments. Play for free using coins accumulated by completing tasks and playing games on the site, or purchase them to boost your play. Tournament Coins cannot be exchanged, traded or transferred for real money.
In Promotional Mode as said above is unlocked after your first purchase at the casino. Play in this mode to use promotional entries, obtained as a bonus when purchasing Tournament Coins. Promotional entries are used to play promotional games at Funrize and cannot be purchased.
Funrize Casino Slots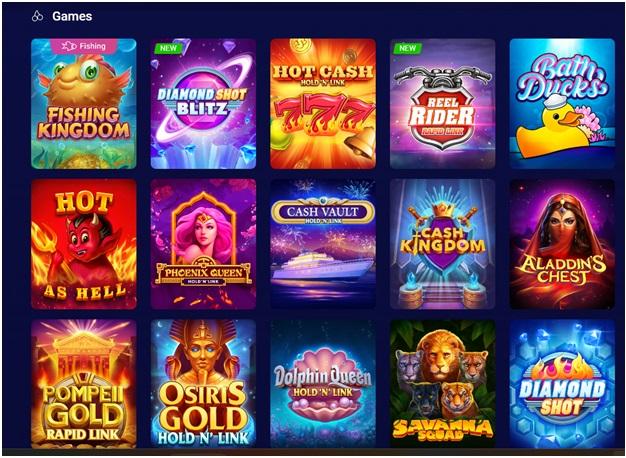 There are more than 60 slot games to play at this casino. Games are sortable by "new," "popular" and "jackpot" categories using a small banner in the top-right corner. You can also click on any game icon to learn more information about the title. Funrize details play limits, volatility, bonus features and maximum prizes for every slot it offers.
Click the heart button on any title to add it to your favorites. This saves browsing the next time you choose to play. Each of your most-loved games will then appear on an individual 'Favorites' page.
For a clearer browsing experience, click the 'Games' link at the top-left of the Funrize homepage. This will load a dedicated games lobby where every title is categorized. Browse new, popular, hot, or jackpot games separately. Themed pages are also emerging, as you can even browse a 'Fishing Slots' page!
Slots at Funrize vary in play limits. Some have maximum plays of 2,000 Tournament Coins, while others like Heat Hit reach heights of 5,000 coins. Most games can be played from 100 coins, but some titles like Dancing Lanterns have lower minimums of 60 coins. Click on any game icon for details on bet limits, maximum wins and volatility information.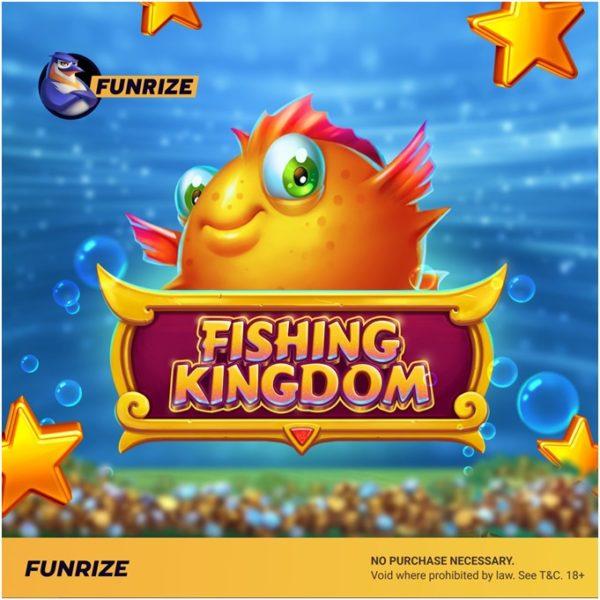 The slots are powered by NetGame Entertainment which is a new software provider yet to make its name in the US market.
The slots are served in top-notch graphics, fantastic game mechanics, and outstanding features ranging from multipliers, free spins, bonus rounds, mini-games, hold 'n' link, to jackpots.
Also, the casino features the Fishing Kingdom, the only fish game. Fish games are skill-based compared to slots and are readily available in most social casinos. The game aims to hook fish and other underwater creatures for a limited time to win cash prizes. The Fishing Kingdom game is powered by Riversweeps. In jackpots games you can win prizes in massive amounts. Moreover, players can win daily jackpot prizes in four different ranges. They are: Red, Silver, Gold and Diamond.
Unfortunately you won't find table games or live dealer games of Blackjack, Roulette and other games here.
The different themes available at the casino include:
Fruit slots: These are slots with fruit symbols, 7s, and bars. The selection at Funrize is vast, with headliners like Fruit Burst, Royal 20 Fruits, Inferno Fruits, and Bananas.
Ancient Egypt: These are slots themed on Ancient Egypt's history and gods. They include Osiri's Gold Hold 'N' Link and Book of Nile.
Animal slots: These are slots themed on animals, including Wild Buffalo, Wolf Reels Rapid Link, and Savannah Squad.
Branded slots: These are slots themed on popular movies, T.V. shows, music, and celebrities. The Squid Slot is one such branded slot at Funrize.
Ocean, Sea, or Underwater slots: These are slots themed on underwater life. Dolphin Queen Hold 'N' Link is one of the headliners.
Hold 'N' Link slots: While this is not a theme, it is one standout feature in several Funrize slots. The feature sees four jackpots triggered by a bonus, and some of the top Hold 'N' Link slots include Fruit Cash Hold 'N' Link, Just Gems Hold 'N' Link, The Big Game Hold 'N' Link, and Charming Gold Hold 'N' Link.
Jackpot: The casino also provides a blend of fixed and progressive jackpots with huge payouts. Top jackpot titles available include Book of Nile: Lost Chapter, Cleo's Heart, Diamond Shot, Frosty Fruits, and Clover Stones.
FAQs
Q1. Are there in app purchases in this casino?
Yes there are in app purchases in this casino. At Funrize, packages begin from as low as $4.99. Once purchased, you will have tournmanet coins awarded in addition to promo entries that win real money.
Q2. How to contact customer support?
Click on the support button and you will get a chat pop up to live chat with their customer support team.
Also you can write a message and also allows you to attach a file. Secondly, you can contact the support team via email support at support@funrize.com
Q3. Is Funrize casino legit to play?
It is legit to play at Funrize This casino follows the sweepstakes laws and is legal in all US states except for Washington, Idaho, and Wyoming.
Q4. Can I win real money at this casino?
Funrize gives you 2 modes. If you play Tournament mode, you play for fun. In the Promotional mode, you can get prizes. You can change 2 modes when you want and play or for fun!
Players are welcome to register for free, receive free coins, and play the slots and the fishing game available, with the lucky ones redeeming the entries for real cash prizes.