Independence Day slots games can be enjoyed anytime of the year. Independence day generally falls on July 4th and like each year there is a huge party across the entire country with music, food, family, friends and fireworks. As a kid I often used to wonder about the Statue of Liberty which is colossal neoclassical sculpture on Liberty Island in New York Harbor in New York City. The copper statue, a gift from the people of France to the people of the United States, was designed by French sculptor Frédéric Auguste Bartholdi and built by Gustave Eiffel and was dedicated on October 28, 1886.
What attracts most is the Statue of Liberty, a robed female figure representing Libertas, the Roman goddess. She holds a torch above her head, and in her left arm carries a tabula ansata inscribed in Roman numerals with "JULY IV MDCCLXXVI" (July 4, 1776), the date of the U.S. Declaration of Independence. A broken chain lies at her feet.
The Statue of Liberty became an icon of freedom and of the United States, and as rightly said by George Bernard Shaw-Liberty is the breath of life to nations.
Independence Day Slots Games To Enjoy
As a slots fan if you are looking forward to celebrate Independence Day at casinos then there are five wonderful independence day slots games to enjoy specially on this day.
1. 4th of July Slot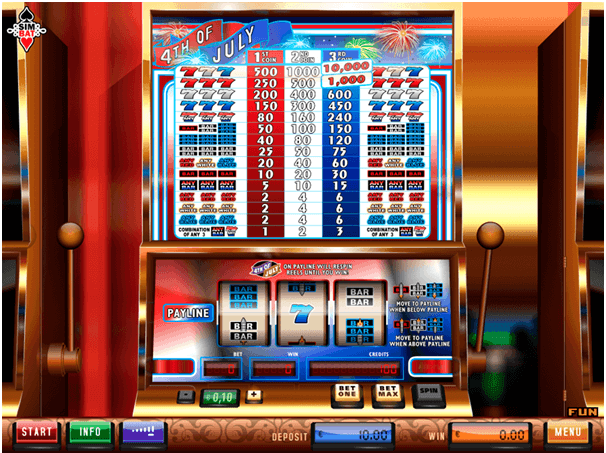 The 4th of July is the perfect independence day slots game is developed by Simbat Entertainment. This is a 3-reel, 1-payline slot game that celebrates Independence Day in the United States of America. This slot game is ideal for Americans out there that want to celebrate their national holiday, and offer them a fair chance of winning some money in the process.
All you need to do is bet on 1, 2 or 3 credits with a stake that's quite small compared to other slot games. The credit value in fact can only vary between 10p and 50p. The paytable of the game is brandished across the majority of the screen, making it easy for you to understand how much each icon is worth. You will notice that the 3rd coin pays out more than that of the 1st and 2nd so you need to rather bet big and ultimately win big.
The most valuable combination on this independence day slots games is 777 symbol in the pattern of the American flag – in the order of red, white and blue. This pays out 500 on the 1st coin, 1000 on the 2nd coin and 10,000 on the third coin. In terms of the least valuable payout win, that comes via any combination of the any bar or any 7. A row of them and players can expect to see a payout of 1 on the 1st coin, 2 on the 2nd coin and 3 on the 3rd coin.
It's important to note the reels can be spun by any 3 ways, pulling the lever which is located to the right of the slot machine. Clicking the spin button or tapping on the bet max icon. The only feature that counts as that the 4th of July icon will trigger. Should that appear, then the reels would keep spinning until the payline offers a winning combination. Thus effectively working as a 'keep playing until you win' icon. This is the only bonus symbol available in the game.
2. Independence Day Slot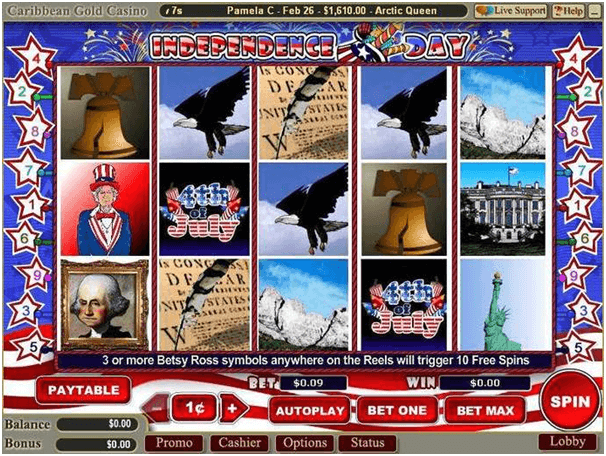 Independence Day slots is another independence day slots games developed by Wager Gaming software and has 5-reels and 9-paylines. As symbols, the mountain called Rushmore is blown up to show the president's faces and a Cannon does go boom as the great Bald Eagle soars through the air. President Washington in Independence Day slots is wild symbol with others like the Liberty Bell is ringing, the Statue of Liberty shows its lighted torch and Uncle Sam wants you. Betsy Ross sews, The White House stands strong while the U.S. Flag flies free as does the 4th of July. That was the day the signing of the Declaration of Independence took place.
You can bet with adjustable coin sizes that range from $0.01 up to $10.00, and the maximum bet is $90.00 per spin. All the Independence Day slot symbols pay from left to right except for the Scatter and the Declaration of Independence symbols. The President Washington symbol is the Wild. Washington will substitutes all symbols except for the Declaration of Independence and scatter symbols. The Betsy Ross sewing a flag symbol is the scatter. Two or more scatters pay anywhere on the five reels. Three or more scatters activate free spins. Upon activation, 10 free spins are awarded when three or more scatters appear. All winnings are doubled in Free Spins, except for bonus winnings. Independence Day Free Spins can be retriggered and the bonus round is awarded when three or more Declaration of Independence symbols appear anywhere on a paid line.
3. Seven's and Stripes Slot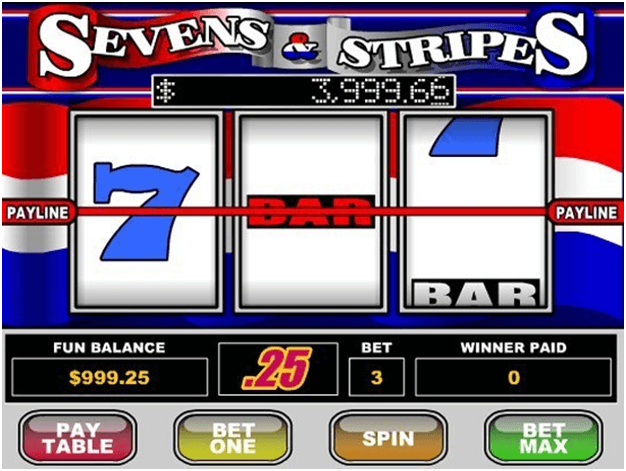 Seven's and Stripes is Independence Day slots brought to you by Real Time Gaming. This slot has been designed as a classic slot game, and with just three reels on offer and one single payline. The jackpot paying symbols are the Red 7, the White 7 and the Blue 7 which must spin in on the payline in that order for you to win that mega sized jackpot payout.
However, if you don't fancy the 3 coins option, don't worry as you'll still be well-rewarded for lining-up the Jackpot combination. If playing the 2 coins option you'll be rewarded with 4,800 coins, whilst the 1 coin option is rewarded with 2,400 coins.
There are also loads of other winning combinations to try and line-up. Single, double and triple bars are all prize symbols, and any combination of mixed bars will pay between 4 coins and 12 coins. However, 3 single bars will pay between 10 coins and 30 coins, 3 double bars will pay between 20 coins and 60 coins, and 3 triple bars will pay between 40 coins and 120 coins. Meanwhile, hit 3 blue 7's and you'll win between 100 coins and 300 coins, hit 3 white 7's and you'll win between 200 coins and 600 coins, whilst 3 red 7's pay nearly half the jackpot prize with wins ranging from 1,199 coins to 5,000 coins.
4. Bars and Stripes Slot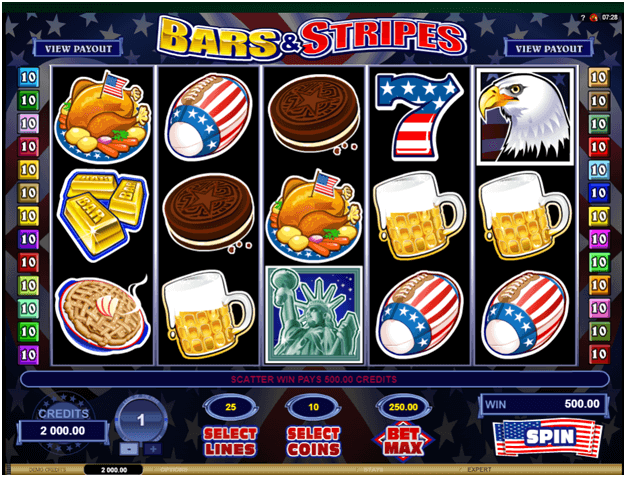 Bars and Stripes is a multiline independence day slots games machine from Microgaming based on Independence Day theme. Probably the best part of playing this slot game is that the Pick to Win Bonus Game which involves you picking off a Top Hat symbol from the bonus game screen, can and does award some huge winning payouts, even when you are playing this slot for tiny stake amounts. Besides various food and drinks symbols, the main game symbols are the classic Stars and Stripes flag, which pays 40, 100 and 300, and this is closely followed by the awe-inspiring Statue of Liberty and the Eagle. This earns 4 times your line bet for two, 60 for three, 300 for four and 600 times for five. With a 50,000-coin jackpot on offer in this slot, you will surely love this game to play.
5. Doo Wop Daddy O Slot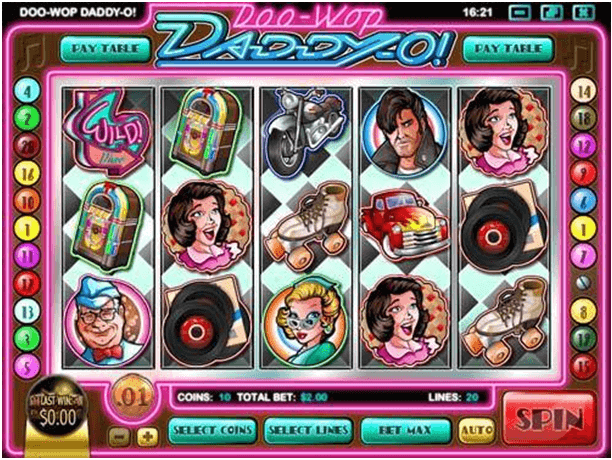 Doo Wop Daddy O independence day slots games brought to you by Rival gaming and if you love 50's music, and TV shows and films such as Happy Days and Grease, then prepare to be taken back to those great times here.
Here you'll find a typical Fonz-esq stud, the chicks he makes cream, and an owner-come-chef who's just like Al in Happy Days and you can win prizes for finding them all on 5 reels and 20 available pay-lines. Win up to 400x your line-bet for The Stud, and the same amount for a swooning blonde waitress, whilst it's up to 200x for the owner, and 150x for the beautiful brunette college girl. There's also plenty of smaller prizes available for some more prize icons which will take you even further down this nostalgic road, including roller-boots, jukeboxes and records.
When playing this slot not only can you spin in lots of high paying winning combinations via the base game, but you could also trigger one of two unique bonus games . You could trigger a Drag Race based bonus game which will see you hopefully picking the winner of a drag race which is going to be shown on the bonus game screen or you could end up playing one of the most fun to play bonus games found on any Rival slot game that being the Soda Fountain bonus game!
Besides these 5 Independence Day slots you can also enjoy many others even on your cell phone and tablets and download them free as app and play whenever you wish. These slot apps are 4th of July slots; USA Slots and few others that you can search in the app stores to get one free.
Online casinos are also offering several slot games to enjoy with Independence day bonus coupons and promotions to grab. Note that you should read the bonus terms and conditions before you redeem the coupon codes.
All the American themed slots are enjoyable with lots of national symbols, bonus games and plenty of fun features to try for free or for real money.