State of Nevada has Las Vegas the largest city in the state. 'I am going to Nevada'- whenever one hears this we at once think 'Oh Nevada, so you are going to gamble there and have fun'. I remember one of my friends in Canada once said " People go to Nevada Las Vegas just to gamble and spend money on casinos, have fine wine and dine and enjoy to the fullest. It is the Sin City".
I wondered is there only casinos and gambling and not anything else. But when I researched I found that the state of Nevada had lots more to explore than the casinos and betting. It is the state with rich culture heritage. As Nevada Day is celebrated on 28th October and you won't be surprised to know that it is a state holiday and celebrated on the last Friday of October each year.
Nevada Day is celebrated to commemorate Nevada's frontier legacy and its entry into the Union as the 36th state on October 31 in 1864. Nevada Day was originally observed on October 31 each year. Since 2000, it is observed on the last Friday in October.

On this holiday all state, county and city government offices are closed, along with most schools and libraries. Some private businesses, like banks, also close at their discretion. In Nevada's capital, Carson City, a parade is held through the heart of downtown, as well as a carnival and several other events.
As most of the big events happen in Carson City, including the parade that occur on the following Saturday this was shortly followed by Las Vegas and Henderson adding up to three Nevada Days throughout the year in addition to the actual holiday which are determined by city council vote during the first week of each legislative year.
State of Nevada – Nevada Day Parade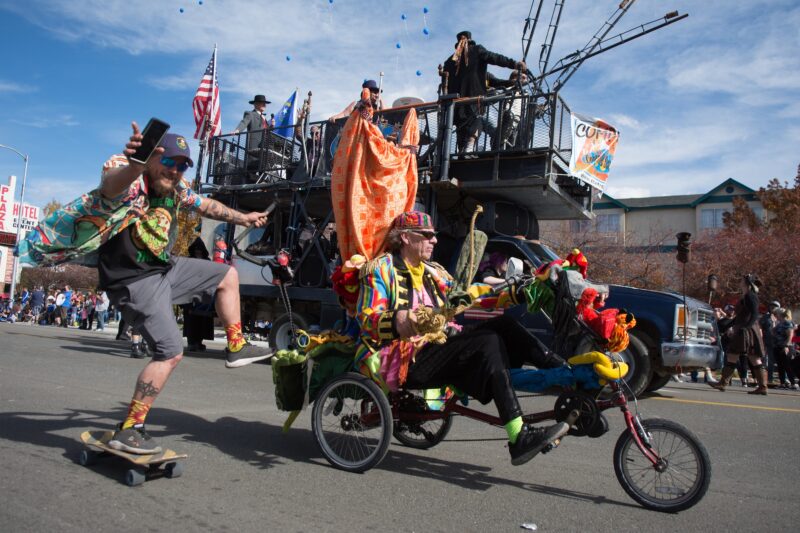 The Nevada Day parade is generally held at state of Nevada, the day following the state recognized holiday (ie: the Saturday immediately after the last Friday of the month.)
Nevadans turn their attention to Carson City, Nevada's state capital, home of the official and longest-running Nevada Day celebration. Now, more than a century old, Nevada Day and its many activities include: the parade, numerous contests, arts, music, and other family-oriented activities is un-equaled anywhere in the United States.
25 Amazing Facts To Know About The Fabulous State of Nevada
#1. Did you think that state of Nevada became famous because of gambling then you are wrong. It was the silver ore that brought state of Nevada on the world map. The 1859 discovery of the Comstock Lode triggered a silver rush and population boom. Nevada's location and mineral wealth made it an attractive potential Union state during the Civil War, and so it was. That's why Nevada's also known as the Battle Born State.
#2. Was it only silver that made it popular? No it is Gold too. Though California is known as the Golden State, but most U.S. gold comes from Nevada. State of Nevada is the largest gold-producing state in the U.S. and third in the world behind South Africa and Australia. Besides Gold and Silver other mineral found are Copper, Lead, Zinc, Mercury, Barite, and Tungsten.
#3. State of Nevada is not a English but Spanish word meaning "snow-capped." Locals usually pronounce it Nev-AD-a. Most of the state is desert but the Sierra Nevada mountain range near Reno and the Ruby Mountains near Elko have snow for half the year. State of Nevada has more than 44,000 acres of man-made reservoirs, over 2,000 miles of streams, and 23 designated wilderness areas.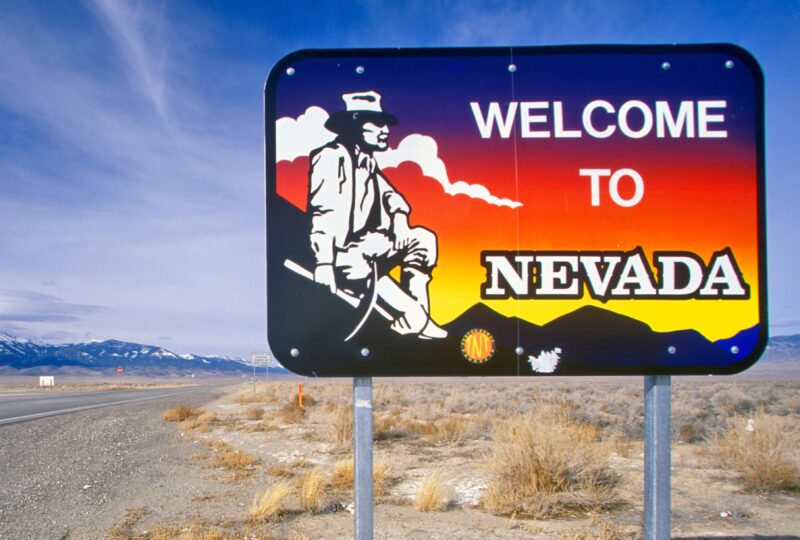 #4. State of Nevada was originally inhabited by the Paiute, Shoshone, and Washoe tribes. The first permanent non-native settlement, built in 1851, belonged to a different group—the Mormons. Tribal lands have been used in such film projects as "Misery," and "The Greatest Story Ever Told."
#5. Only 18 states have an official state grass. Nevada and Utah share the same one—Indian ricegrass, a popular food among bison, jackrabbits, and people on gluten-free diets. The latter consume it as Montina flour.
#6. Nevada is also one of seven U.S. states with no individual income tax. It doesn't collect corporate income tax, either.
#7. The iconic Welcome to Fabulous Las Vegas sign was created by 35-year-old graphic designer Betty Willis in 1959. She never trademarked the design, calling it her "gift to the city." Willis continued working in neon signage until she was 77.
#8. Nevada's the seventh-largest state in size, and about 86 percent of its land is owned by the federal government. From 1951 to 1992, 928 nuclear tests were performed at the Nevada Test Site just 65 miles northwest of Las Vegas.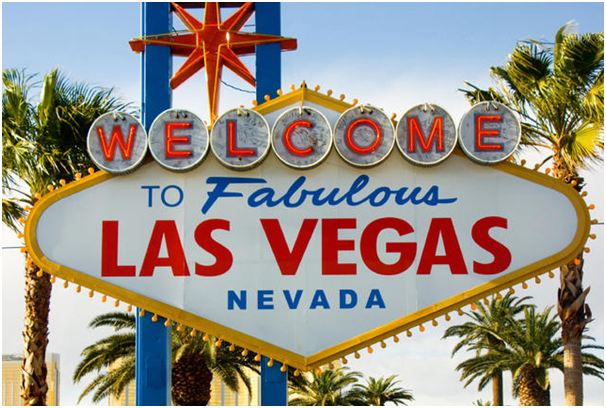 #9. Nevada's the only U.S. state to legalize prostitution, but only in the form of regulated brothels in counties with populations under 400,000. So all that prostitution that occurs in bigger cities like Reno and Las Vegas is illegal and thriving.
#10. While several states don't have laws banning public intoxication, Nevada is the only one that specifically prohibits any local or state law from making it a public offense. It also has a statewide law allowing the 24-hour sale of booze from bars, restaurants, and stores.
#11. Which brings us to the well-known tourism slogan, "What happens in Vegas, stays in Vegas." Though different versions of the saying have been used over the years by various groups, "What happens here, stays here" was first used in Las Vegas Convention and Visitors Authority ad campaigns in December 2002. The Las Vegas advertising firm R&R Partners created the slogan and controversially bought the trademark from the Authority for $1.
#12. Hoover Dam, located on the border of Nevada and Arizona, was a massive undertaking. Ideas for a dam had been investigated since 1900, but the project wasn't authorized until 1928. Construction began in 1931, and Hoover Dam was the largest dam in the world—726 feet high and 1,244 feet long—when it was completed in 1935. It was the largest producer of hydroelectric power in the world until 1948.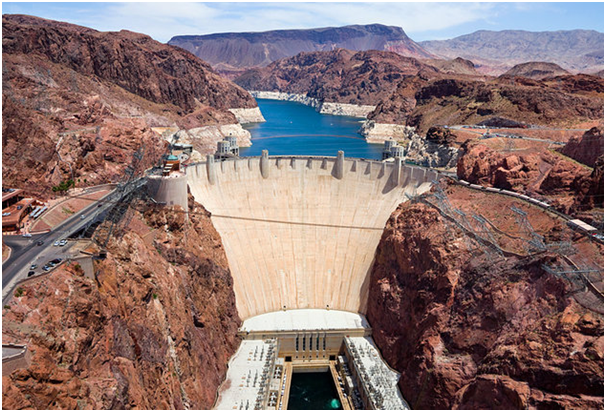 #13. More than 100 workers died during Hoover Dam construction, but today the dam is a major tourist attraction. A 45-minute drive from the center of Las Vegas, the 726-foot-high dam contains Lake Mead, the largest reservoir in the United States, and provides hydroelectric power to much of Nevada, Arizona, and California. It attracts more than one million visitors every year.
#14. Nevada has 353 casinos in which you'll find more than 181,790 slots and gaming machines. There are a total of 6432 table games. The minimum bet found at casinos in Nevada is $0.01 and the maximum bet is $50,000.
#15. You can play Poker in Nevada. You will find over 777 live poker tables to play at with the following games in Nevada casinos: Texas Hold'em, Limit Holdem, No Limit Holdem, 7 Card Stud, Pot Limit Omaha, Chinese Poker, Omaha 8 or Better, Draw, NL Texas Hold'em, Omaha, Omaha Hi-Lo, NL Holdem, Razz, Tournaments, Mixed Games, Crazy Pineapple, Horse, Crazy 4, 7 Card Stud Hi-Lo, 7-Card Stud Razz, Automated Table, Stud, Badugi, Triple Draw, Spread Limit Hold 'em, Omaha Hi, Sportsbook and Horseracing.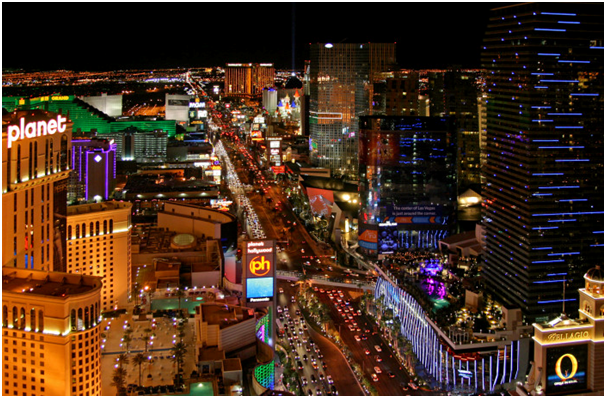 #16. Some Nevada casinos also offer convention centers and meeting spaces. Over the entire town, you will find a total of 7,400,890 conference sq/ft space in the various casino properties.
#17. There is a massive two-million-year-old freshwater lake high in the Sierra Nevada Mountains and half in California, Lake Tahoe is a blast of amazing clear blue water surrounded by high mountains. The 22-mile-long lake is also the second deepest lake in the United States. Originally inhabited by the Washoe people, the area is now home to a number of ski resorts as well as boating, fishing, water skiing, mountain biking, and hiking activities.
#18. An hour north-east of Las Vegas lies the oldest state park in the state of Nevada: The Valley of Fire. It covers more than 42,000 acres of otherworldly sandstone formations created from giant sand dunes that solidified here during the age of the dinosaurs, nearly 150 million years ago. Human occupation dates to 3,000 years ago. This is a rugged landscape, perfect for hiking and wildlife viewing. The park is open year-round.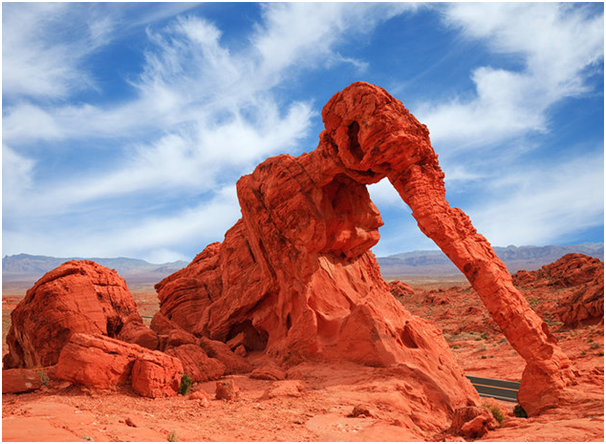 #19. Red Rock Canyon National Conservation Area covers nearly 200,000 acres just 17 miles from the Las Vegas Strip. Massive red rock formations up to 3,000 feet high just above the Mojave Desert. The area boasts an amazing 13-mile scenic drive as well as more than 30 miles of hiking trails to explore. Rock climbing, horseback riding, mountain biking, road biking, picnicking, and wildlife watching are also popular activities here. The park is open year-round.
#20. Lake Mead is the largest reservoir in the United States and measures 112 miles long. It lies less than 30 miles from the center of Las Vegas. A cruise around the lake is a fantastic platform for photography and wildlife viewing. Some cruises offer historic lectures on the construction of the Hoover Dam and the formation of the great Colorado River and the nearby Grand Canyon. One of the most convenient ways of seeing beautiful Lake Mead is on a paddle wheel boat ride, but the lake is spectacular even viewed from the surrounding roads and shorelines.
#21. Carson City is one of only two U.S. capital cities that borders another state. This city has never hosted any professional team sports. Nevada though was the only U.S. state that allowed boxing in 1910. However, a variety of sports are offered at parks and recreation. Many neighborhood parks offers a wide variety of features, including picnic tables, beaches, restrooms, fishing, softball, basketball, pond, tennis, and volleyball. The largest park is Mills Park, which has a total land area of 51 acres (0.21 km2) and includes the 2 ft (610 mm) narrow gauge, Carson & Mills Park Railroad. While there are no ski slopes within Carson City, the city is located close to Heavenly Mountain Resort, Diamond Peak and Mount Rose skiing areas.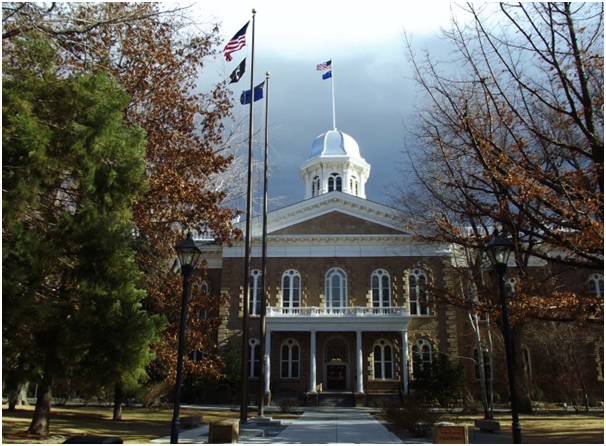 #22. With an average of 201 sunny days per year, Winnemucca is one of the sunniest towns in Nevada. Winnemucca is mentioned in the American version of the song "I've Been Everywhere", recorded, by Hank Snow in 1962, the Statler Brothers in 1973, Lynn Anderson in 1970, and Johnny Cash in 1993. The song begins, "I was totin' my pack along the dusty Winnemucca road." Winnemucca is featured prominently in the novel Revoltingly Young by C.D. Payne.
Winnemucca is also a setting in two Tales of the City novels and a series of nine novels by American author Armistead Maupin. The town serves as the namesake for the alternative country band Richmond Fontaine's 2002 album, Winnemucca, which prominently features the town in the opening track "Winner's Casino".
#23. Nevada's State artifact is the Tule Duck which was created nearly 2,000 years ago. Discovered by archeologists in 1924 during an excavation at Lovelock Cave, the 11 decoys are each formed of a bundle of bullrush (tule) stems, bound together and shaped to resemble a canvasback duck. M.R. Harrington and L.L. Loud found when they were digging for the Museum of the American Indian in 1924. The cache included eight painted and feathered decoys and three unfinished decoys. Items found in the same pit consisted of feathers and two bundles of animal traps. The remarkable decoys were made from bundled tule, a long grass-like herb, covered in feathers and painted.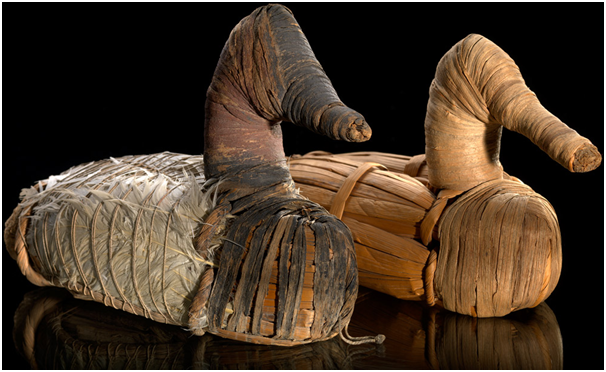 #24. Shrimp cocktail is Nevada's state food. Shrimp consumption in Las Vegas is more than 60,000 pounds a day higher than the rest of the country combined. On a per capita basis, Las Vegas alone consumes more than 22 million pounds of shrimp annually, more than anywhere else in the world and that is not even counting other popular areas like Lake Tahoe and Reno. Las Vegas now has local shrimp farming in warehouses to keep up with the Vegas' 60,000 pounds daily need.
The most popular being Shrimp cocktail. The shrimp cocktail was brought to Las Vegas in 1959 when the Golden Gate Hotel was purchased by a group of Italian-Americans from San Francisco. They set their cost of their shrimp cocktail price at 50 cents until 1991, at present it is $2.99. The Golden Gate continues to serve Shrimp Cocktails today.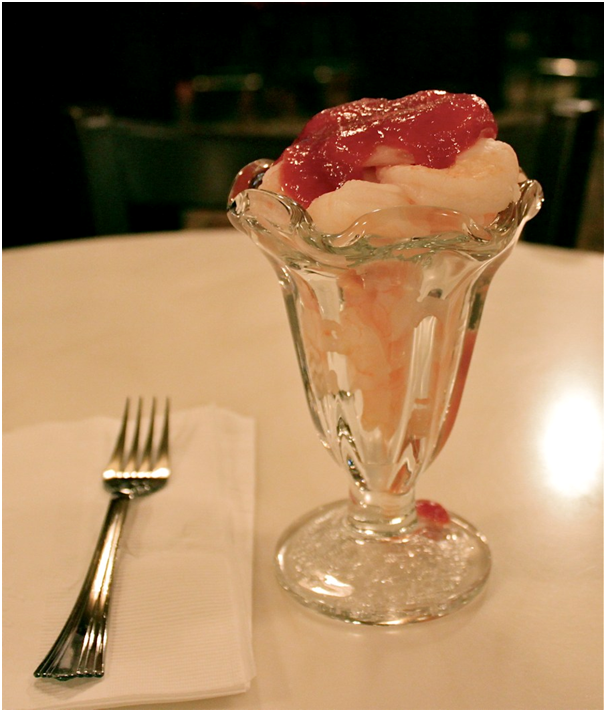 #25. Finally you won't believe this. Nevada is one of only seven states without a lottery. The Powerball jackpot stands at $1.5 billion and will likely go higher before Wednesday night's drawing, but if you're in Nevada, you'll have to go out of state to buy a ticket. Nevada is only one of five states without a lottery system.
That's why Nevadans often flock to California or Arizona to buy tickets. Every effort to amend the Nevada Constitution to allow a lottery that floated in the Legislature over the past 30 years has failed, primarily because of gaming industry opposition. There is also some criticism from religious groups because of the view that lotteries can have negative effects on people with low incomes. Forty-three states now operate lotteries, while Nevada which legalized casino gaming in 1931 does not.
Now next time you are in Nevada you will find interesting places to visit and enjoy along with playing games at the casino. Whether you play Las Vegas Style games at online casinos or at real casinos in Nevada you have it in mind it has much more to offer than games and gambling.