Say goodbye to coupon cutting or clipping.
The aim is to help savvy shoppers save some of their dime and dollars. So put aside the scissors and Sunday papers and check out the best coupon apps to download and save money.
Introduction to Mobile Coupon Apps
I love clipping coupons. However for many, it is such an unpleasant task even though it helps us save a few extra bucks every time we shop!
With the inception of Smartphone, you can bypass the hard work now. Yes, I'm talking about mobile apps for coupons. Believe me, like others, there are apps for coupons too.
All you have to is download any app of your choice from app store. You can then compare and save while shopping by using coupons directly from your mobile device.
So put away the irritation of using coupons and use some good coupon apps to save your hard-earned money:
1. Dosh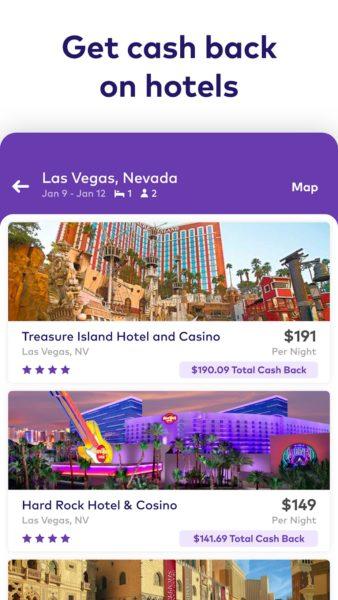 Dosh is the best app if you want to seriously save. Dosh also applies savings to more types of purchases than some other coupon apps, including travel purchases made with more than 600,000 hotels. Dosh also has its own travel portal that lets you get up to 40% back on stays on the hotels worldwide. When it comes time to redeem your cash back, you can transfer amounts of $25 or more to your bank account or PayPal account or use your rewards for a charitable donation. Moreover using this app it automatically adds savings when you link payment cards to your account. Also you can earn up to 40% back on hotel stays with select partners. The only hinge using this app is that the redemptions are only available when you accrue $25 in your account
To use this app you must connect your credit and debit cards to the app. The app include brands like Instacart, Walmart, Pizza Hut, Sephora, and more.
You can download Dosh app on your iPhone as well as Android. Dosh uses bank-level security (256-bit encryption) to keep your information safe. They also feature multi-factor authentication to help prevent unauthorized access to your account or payment details.
2. Ibotta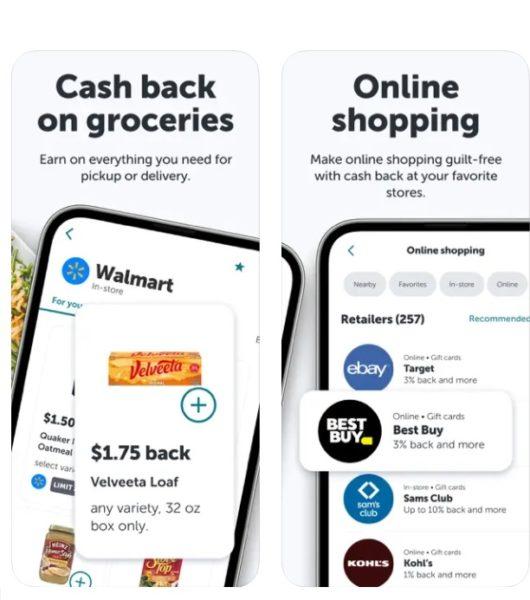 Iboota is best coupon app for groceries. This app features 500+ exclusive offers for grocery pickup and delivery with top brands like Walmart and Target. You can get a bonus just for downloading the app, and you can add special offers to your account from there. Cash back will then be added to your account when you make eligible purchases with retailers including Lowe's, Hotels.com, Kohl's, Best Buy, Staples, and more.
Ibotta works for online and in-person purchases and the app currently partners with more than 2,700 brands and retailers. Remember that redemptions with Ibotta are available once you have at least $20 in cash back in your account or $25 for select gift card redemptions that you can redeem for transfers to a bank account or PayPal.
Ibotta is available for iOS and Android smartphone and you can download free from app stores.
3. Honey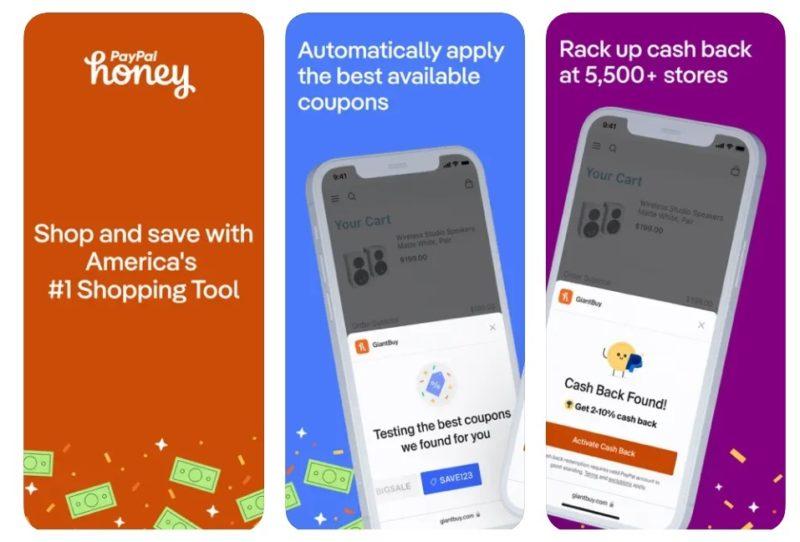 Honey coupon app is best for automatic savings app and its browser extension automatically looks for and applies the best coupon codes and savings to your cart. When you shop with the browser extension, coupon codes can be automatically applied with more than 30,000 merchants. With the Honey Smart Shopping Assistant app, savings can apply to stores in the United States, as well as several countries outside of the US.
The Honey app boasts an average discount of 17.92% on purchases, and users receive an average annual savings of $126.
Honey has its own rewards program known as Honey Gold. This program lets you rack up rewards when you make purchases at participating stores, and the rewards are also shown to you along with discount codes that can apply to your purchases. You can even earn points in the Honey Gold program for referring friends. Download the app for Andriod and iPhone.
4. Rakuten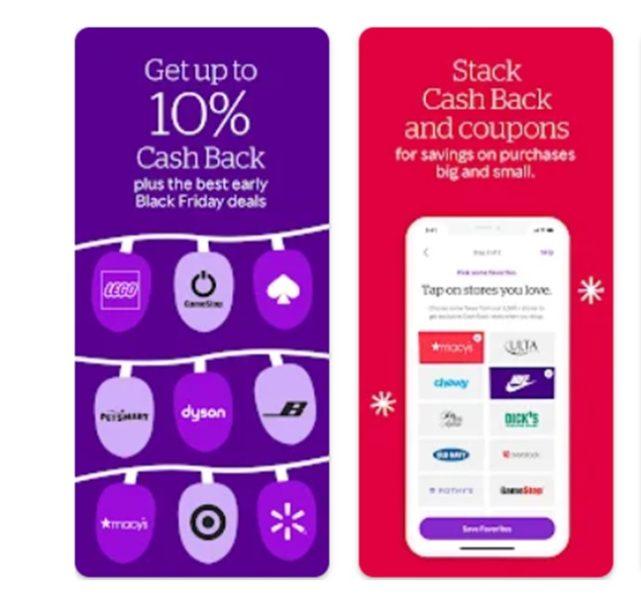 Rakuten is the best coupon app for rewards because this app and browser extension focus on offering users cash back on everyday purchases and shopping. Redemptions start at $5, so you won't have to spend more to be able to redeem your rewards.
Rakuten offers cash back at more than 3,500 stores including Walmart, Kohl's, Macy's, Nike, and Ulta. You'll earn cash back on all purchases you make with participating stores, and you'll receive a check or PayPal transfer for your cash back every three months provided you have at least $5 in rewards in your account.
Rakuten also has its own cash-back credit card that can help you earn even more rewards. The Rakuten Cash Back Visa Credit Card offers an extra 3% back on eligible purchases through Rakuten, as well as 1% back on all other purchases.
This mobile app is available for iOS or Android, but you can also add it as a browser extension to your computer. Then Rakuten will automatically apply cash back rewards to purchases at participating stores. You can even link a credit card to your account and use Rakuten to earn cash back on eligible in-person purchases.
5. Coupons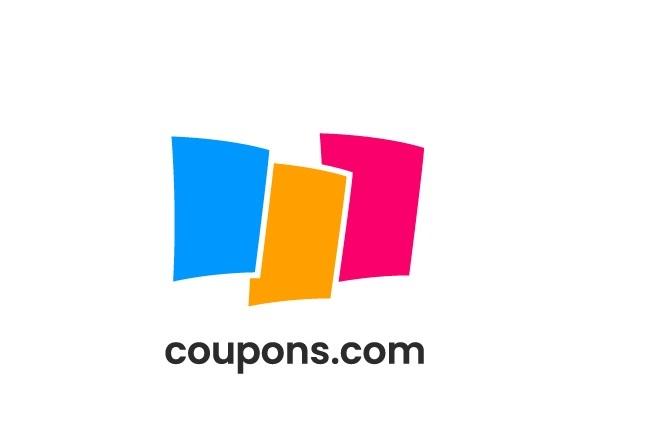 Coupons app that lets you earn cash back on eligible purchases, and there are no minimum payments required to cash out. Just keep in mind that, if you don't link your loyalty accounts to the app, you may have to scan and submit your receipts after you make a purchase.
With the Coupons.com website, you can print an array of coupons that change over time, including coupons for food, medicines, cleaning products, and more. You can also add digital coupons to loyalty accounts you have at stores like Walmart, Food Lion, and Walgreens.
Anyone can log into Coupons.com and print coupons, and the Coupons.com mobile app is available for iOS and Android devices.
Other Popular Coupon Apps
1. Cartwheel by Target
Cartwheel (iOS, Android) can help you view all of the latest deals and save up to ten coupons in your account. Later you'll be able to use all of your coupons saved within the app.
2. Retale
Retale (iOS, Android) fetches the offers from your favorite retailers' right inside your Smartphone. Based on your phone's physical location, you'll receive notifications on the latest deals from nearby stores.
3. Walgreens App
The Walgreens app (iOS, Android) comes with in-app coupons. As a user, all you need is to have a Walgreens card for optimum use. You can save both time and money easily by refilling your prescriptions through this app.
4. Shopular
Shopular (iOS, Android) offers customized deals based on location. This app help you get the latest deals even when you're inside a store or mall. You just need to filter results according to your choice for saving a few bucks.
5. CVS App
The CVS app (iOS, Android) allows you not only to view and use coupons, but also help place orders directly from phone similar to an online store. All you need is a CVS card to use this app.
6. Slickdeals
Slickdeals (iOS, Android) get you the best deals from all over the web onto your phone. You can view featured deals inside app, and filter results according to location or popularity.
7. SnipSnap
With SnipSnap (iOS, Android), you can organize your coupons and use them easily. Just take pictures of coupons and save inside the program for future search. This is a smart way to use your coupons before they expire.
8. Coupons.com
Coupons.com's app (iOS, Android) make happen instant savings on your phone. You can access numerous promo codes on nearby deals on the move. Use this app and know how to pull store information, close to you, straight to your mobile.
9. Yowza
With Yowza (iOS, Android) you can save more on items ranging from food to car repair. This app can send you alerts whenever a local store releases a new offer.
10. Key Ring
Key Ring (iOS, Android) can scan reward card numbers means no more carrying of coupons or loyalty cards for you while shopping. Not only that, you can also access tons of coupons and deals through this app. It has a shopping list function too which means participating in rewards programs becomes easier for you.
11. DealNews
Dealnews (iOS, Android) brings you the 300 deals every day. They update the list frequently so you should have fresh ones in handy only to choose from.
12. SavingStar
With SavingStar (iOS, Android), you can gain access to digital coupons that are redeemable at several stores all over the country. Linking the coupons of your choice with the store loyalty card is all you need to make the purchase.
13. RetailMeNot
RetailMeNot (iOS, Android) is one of the best mobile coupon apps with offers from most popular retailers on a national scale. You can pick from the personalized deals, and save the list in order to get notifications from the app on new offers. They also have location-based feature which will alert you for the new and the best deals in your location.
14. Groupon
Groupon (iOS, Android) allows you to take advantage of great deals on variety of consumer goods. The Groupon app lets you to purchase and redeem vouchers while shopping through their mobile device. They also help users to share their vouchers with others via social media.
15. Coupon Sherpa
Coupon Sherpa (iOS, Android) is the ideal replacement for your books of coupon while shopping. Get thousands of fresh coupons from leading stores, malls and retailers. You can sort everything either by location, favorites, brand or even product category. They have a built in store locator feature, together with favorites lists and also an easy social sharing option.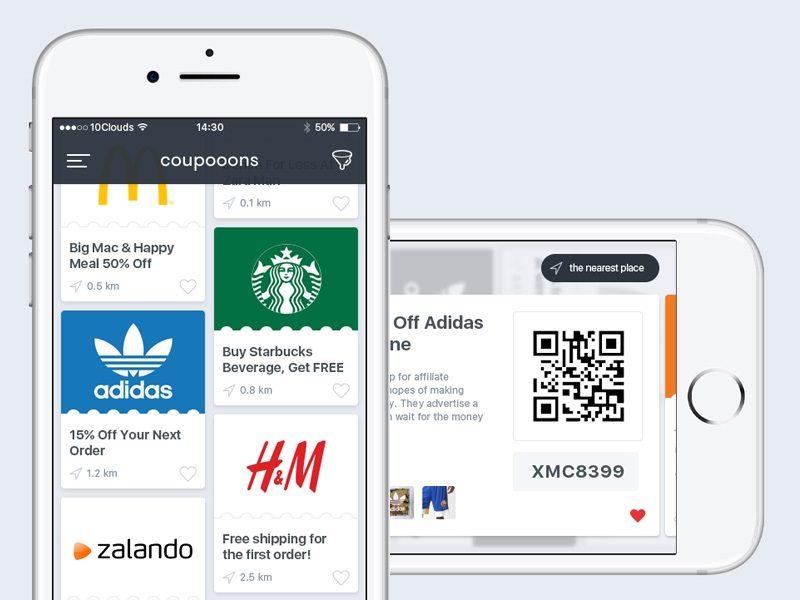 Final Words on Mobile Coupon Apps
Using coupons, loyalty cards and other special deals means you need never pay full price. So the wide popularity of couponing apps is inevitable.
Use of coupon apps means you don't have to think about printable coupons, coupon booklets and membership cards any more.
Our collection of best mobile coupon apps will let you view and use hundreds of digital discounts now.
Am I missing anything? Feel free to share your favorite coupon app in comments. Also, share your feedback upon reviewing our top 20 casino bonus codes or the list of expiring online casino promo codes so team WinMeNot brings the best as always for players from USA.