This weekend I am driving to Oklahoma, the South Central region of the states as one of my friends invited me to watch the finals of the World Cup of Softball at the ASA National Softball Hall of Fame Stadium featuring teams from the USA, Japan, Australia, Canada, Puerto Rico, Mexico, and the Philippines.
Also on July 8th, there is the Beats & Bites Music & Food Truck Festival at Riverwind Casino. This casino has over 3000 slot machines, 45 blackjack tables, and 23 poker tables to enjoy. Also, there are frequent poker tournaments throughout the week.
Though I will be enjoying myself with my friends, I also want to visit the new casinos in Oklahoma. After the state of Nevada which has over 400 casinos, Oklahoma is the second largest state in terms of real casinos and houses 136 and over land casinos full of slots, table games, events, music, and various promotions.
Games to enjoy at Oklahoma casinos
All casinos in Oklahoma are affiliated with Indian Tribes. You can find slot machines, games of bingo, and more. Here the gaming machines are not allowed to accept or payout in coins. All payouts must be done by a printed receipt or via an electronic debit card. Also, no public information is available concerning the payback percentages on gaming machines at casinos in Oklahoma.
Traditional roulette and dice games are not permitted at Oklahoma casinos. Instead, the casinos offer card-based versions where the result is determined by playing cards, rather than dice or a roulette wheel.
Some Oklahoma casinos that have card games, such as blackjack, let it ride, or three-card poker, etc., offer a player-banked version where players must pay a commission to the house on every hand they play. The amount of the commission charged varies, depending on the rules of each casino, but it's usually 50 cents to $1 per hand played. You can always check at the casino help desk and find out if they charge a commission.
There are also two horse racing facilities in Oklahoma which do offer slot machines to play. All of the Indian casinos in Oklahoma offer gaming machines. Other games include: blackjack, craps, roulette, mini-baccarat, poker, three-card poker, pai gow poker, ultimate Texas hold 'em, let it ride, Mississippi stud, bingo, and off-track betting.
The largest casinos in Oklahoma are Riverwind Casino, Choctaw Casino Resort, and the WinStar World Casino. Also, note that not all Oklahoma casinos serve alcoholic beverages and all casinos in Oklahoma are open 24 hours. The minimum gambling age is 18 at some casinos and 21 at others.
New Casinos in Oklahoma
Coming back to new casinos here are the five best new casinos that have been launched or are coming up for you to enjoy the latest slot machines as well as thousands of dollars giveaways in bonuses.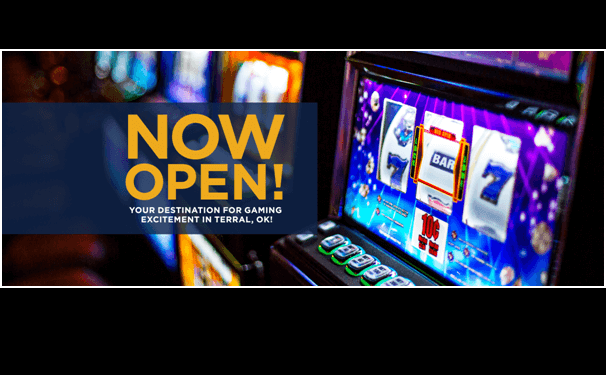 Location: 11801 E 2160 Road, Terral, Oklahoma
Phone: +1 855-748-3778
Launched: 2018
This 36,000 sq ft facility is owned by the Chickasaw Nation
Games offered: 600 slot machines; Six table games with four blackjack tables, one three-card poker, and one Ultimate Texas Hold Em.
Latest bonus offer: The Riverstar Casino is giving away up to $1,000 each month in Weekly Wild Mega Frenzy Bingo Tickets to all qualified Patrons throughout the "Get Frenzied" promotion. A total of up to $1,000 in Weekly Wild Mega Bingo tickets will be given away each month. Patrons will receive $2 in Weekly Wild Mega Frenzy Bingo tickets for every Special Win or Jackpot of $1,200 or more.
Dining: Kitchen 81 restaurant, The Port Bar, and Adrift gift shop. The restaurant serves delicious treats including mouthwatering burgers, tasty entrees, catfish, chicken-fried steak, and much more. Enjoy a variety of beverages including monthly specials on some of your favorite beverages at The Port Bar.
All slot games are open 24hrs and table games are open from 11:00 till midnight Monday through Thursday, 11:00 am to 2:00 am Friday to Saturday and 1:00 pm to 10:00 pm on Sunday.
2. Fancy Dance Casino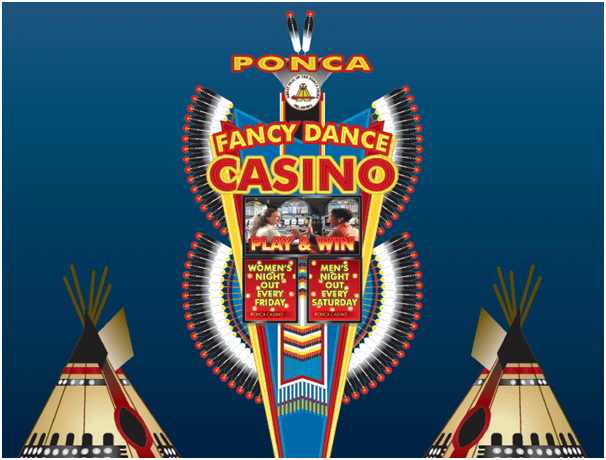 Location: Interstate 35 & U.S. 412, Perry, Oklahoma
Launched: 2018
Fancy Dance Casino from the Ponca Tribe of Indians of Oklahoma located east of Enid is spread across 12,000 sq ft. The Ponca Tribe of Indians of Oklahoma previously owned and operated two casinos in Ponca City, but both are now closed.
Games offered: 250 slot machines and other games include video poker, video keno, and electronic roulette terminals. As this casino is yet to be launched we will update it on its bonuses and other dining and gaming options.
3. Rock & Brews Casino & Resort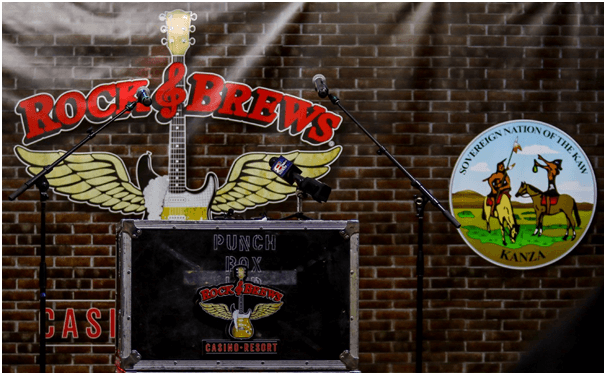 Location: I-35 Kaw Nation, Braman, Oklahoma
Launched: 2019
This new casino is coming up in Oklahoma in a partnership between the Kaw Nation and Rock & Brews – KISS co-founders Paul Stanley and Gene Simmons and partners. The official groundbreaking for the casino took place on January 12, 2017, with construction expected to be completed in two years.
This casino resort will include a 250-room hotel with a spa and fitness center, a 77,528-square-foot casino, a bingo hall, a conference center, four "luxury" retail stores, a travel plaza/truck stop, and a 1,500-seat events center.
In addition to Rock & Brews Restaurant, a rock-inspired restaurant and entertainment concept founded by Simmons, Stanley, and their partners, the casino will reportedly include will include a 100-seat restaurant, a World Tour Cafe, and a Start Me Up coffee outlet.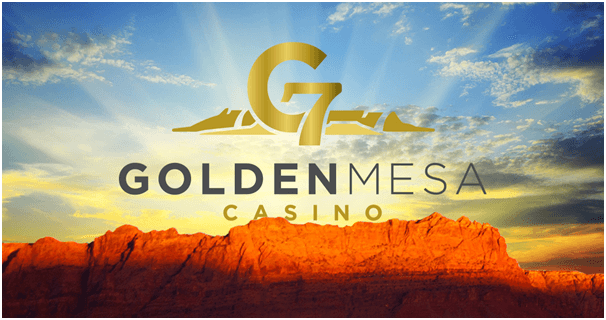 Location: U.S. 54, Guymon, Oklahoma
Launched: 2019
Games offered: 600 slot machines and 8 table games
On May 31, 2018, the Shawnee Tribe held a groundbreaking ceremony for its 42,000-square-foot Golden Mesa Casino located on 107 acres southwest of Guymon. Future expansion of the casino could include a hotel with meeting and event space, an entertainment venue, an RV park, and 500 additional games.
The Shawnee Tribe and its partners, Global Gaming Solutions, will build the contemporary 42,000-square-foot casino entertainment center on the land about two and a half miles southwest of Guymon, Oklahoma, on the south side of State Highway 54. Designed by architects to allow for future expansion, the venue will reportedly include approximately 8 blackjack tables, 600 electronic gaming machines, a restaurant, and a bar.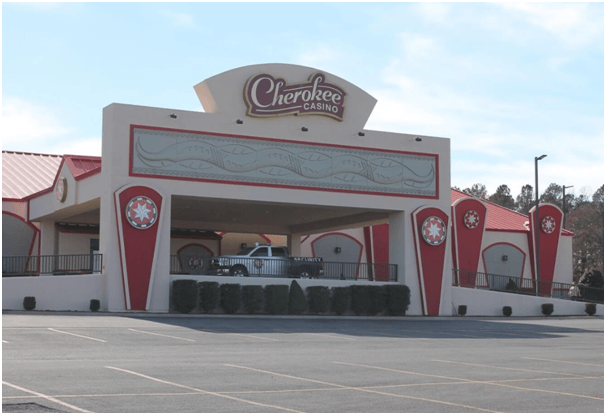 Location: Cherokee Springs Plaza Nancy Ward Drive, Tahlequah, Oklahoma
Phone: +1 918-207-3600
Launched: 2018
Games offered: 525 gaming machines with slots and poker games
The existing Cherokee Casino located a few miles south of Tahlequah, OK at 16489 Highway 62 will be replaced by a new Cherokee casino under construction in the Cherokee Springs Plaza. The 92,000-square-foot facility will feature 525 electronic games, a restaurant, a grab-and-go cafe, a live music venue, a full-service bar, and complimentary non-alcoholic beverage stations. The property will also offer more than 33,000 square feet of convention and meeting space.
The current Cherokee Casino will reportedly be donated to the Cherokee Nation's Cherokee Immersion Charter School.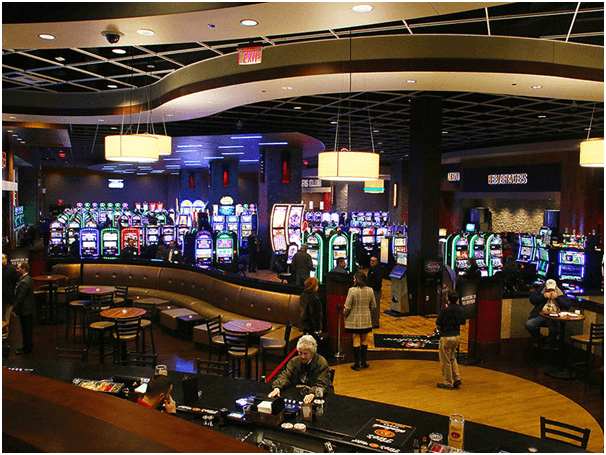 The Cherokee Nation owns and operates several casinos in the state including the Hard Rock Casino Tulsa. The Cherokee Casino at South Coffeyville offers 300 gaming machines. This casino is located at 1506 North Highway 169, near the Kansas/Oklahoma border in South Coffeyville, Oklahoma – about 70 miles NE of Tulsa. The 17,000-square-foot facility is open 24 hours a day, 7 days a week the casino also offers a full-service bar & grill open until 2 am daily.
The gaming machines look and play just like a Tunica or Las Vegas slot or keno game. Be sure to sign up for and use your Cherokee Star Rewards card to take part in giveaways, promotions, free play, dining discounts, and other perks.
The Bar and Grill at Cherokee Casino in South Coffeyville offer a variety of appetizers, snacks, all-American entrees, desserts, and drinks starting at 6 am seven days a week. Breakfast is served until 11 am with the Sunshine Breakfast served all day and night costing $4.95. Lunch and dinner entrees include comfort foods such as chicken fried steak, catfish, Indian tacos, and a country chicken dinner. Members with a Player card can get a $3 discount.
When you make your next trip to Oklahoma, visit these new casinos and have some fun. Meanwhile, visit online casinos and enjoy the latest bonus offers to fill your gaming appetite.