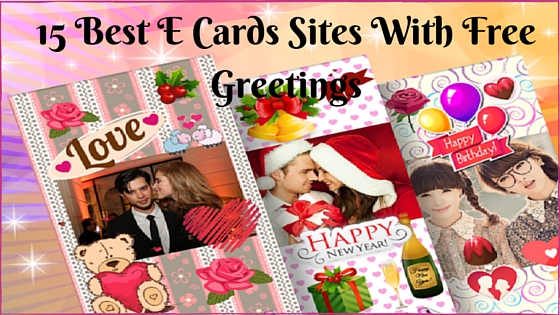 Best E cards websites to send free greetings are handy at the time of festivals and holidays. This means the time has come to wish our near and dear ones 'Best Wishes and Season's Greetings'.
I really love shopping for others and sending them Greeting Cards. As a teenager I used to spend hours at the 'Archie's Gallery' searching for the best card for my friends, teachers and relatives.
There were so many cards stacked neatly and categorically tagged for each occasion – Birthday Card, Mother and Father Day Card, New Year and Christmas Cards.. I looked not only at the appearance and the design of the card but to me what was written as a message was more important to convey my thoughts within those few decorated lines.
But few years later with the coming of the internet the whole scenario of sending greetings changed. From physical greeting card came the origin of Electronic cards, Multimedia Cards, Animated Cards and Digital Cards. Now I would look for the best website where I can find wonderful e cards.
This has not only saved my time going out to shop for the greetings but also saved money as most of the e-cards are free to send. Also with e cards thousands of trees are saved as no paper is wasted and thereby helping the conservation of environment.
But do you know what does e-Card (Electronic Card) mean?
An electronic card (e-card) is a special occasion, greeting or post card created and customized within a website and sent through the Internet to the recipient. Customizations may include a wide variety of backgrounds and text fonts including some as cursive writing, graphic images, cartoon-style animations (proprietary to Adobe), video and sometimes even music.
How it all started?
According to Techopedia Virtual cards were first started by Judith Donath at MIT Media Lab in 1994 and were created by the website called The Electronic Postcard. Over the first few weeks, dozens of cards were sent out each week. The first summer resulted in up to 2,000 cards per day. In the 1995/1996 Christmas season saw days where up to 19,000 cards were sent. By late spring of 1997, a total of 1.7 million were electronically distributed.
In 2022, the global greeting card industry stats reached US$ 7508.8 million due to the COVID-19 (Coronavirus) pandemic.
Types of E Cards
There are six types of e cards which you will find in almost all the e greetings websites.
1. Postcards and greeting cards
They are like a paper "postcards" that have visual art, static or animated images or video and provide a space for a personal note to be added. These were the first type of E-card in use. Variations range from E-cards with fixed greetings like a paper card to selectable greetings (from drop-down lists or other selection options) to changeable suggested greetings.
2. HTML animation
This type of E-card is based on two-dimensional vector animation controlled with a scripting language. The format is HTML 5; however, and allows this type of card to be easily viewed on most of today's computers and web browsers. The recipient sees an animated short usually 15–30 seconds in duration. The animation often appears to have a cartoon style due to the nature of the content, though some HTML 5 creations can be quite sophisticated and realistic. A sound track which may contain speech or music usually accompanies the animation. Also many come in interactive format.
HTML5 animated cards are offered today by almost all major E-card publishers and are consequently the most common format used.

You can create animations with HTML5 by combining HTML, CSS, and JavaScript (JS), with which you can build shapes. Also, you can control animations and edit images, video, and audio by means of JS or CSS elements, all of which you then add to a drawing board.
3. Video E-cards
"Video E-cards" use a combination of personalized text and video to convey the message to the recipient. A number of such services exist such as Rattlebox where the user selects and customizes text on a pre recorded video, and DVCards.com where a user with a web camera actually records their own video to send.
4. Mobile E-cards
Multimedia Messaging Service (MMS) which is basically picture SMS, became more and more popular. E-cards can now be sent to mobile devices and phones.
Mobile E-cards or 'MCards' as they are more commonly known are then offered by different mobile content providers and carriers. Similar to E-cards, MCards can contain multiple pictures, music and text messages. Also MCards are considered the cards sent via one or another mobile application.
One of the first companies that created MCards is a Dutch Company called Mgreetings (established in 2003). MCards can be sent from a PC in a similar way as sending E-cards. Users can go to a website online, select a card enter the recipient's mobile number, and that card will be sent to the recipient's mobile phone as an MMS.
5. Web based multi-media E-cards
The web-based card creation has been evolving becoming more creative. The user can create greeting cards online choosing backgrounds, drag and drop images, animations, similes and write text that look like handwriting. The E-card may contain videos and music as well.
6. E-cards games
Some E-cards include interactive games. The games usually contain animation and music much like other animated E-cards and have the same functionality allowing the sender to add a personal message.
How much does an American spend on Greeting Cards?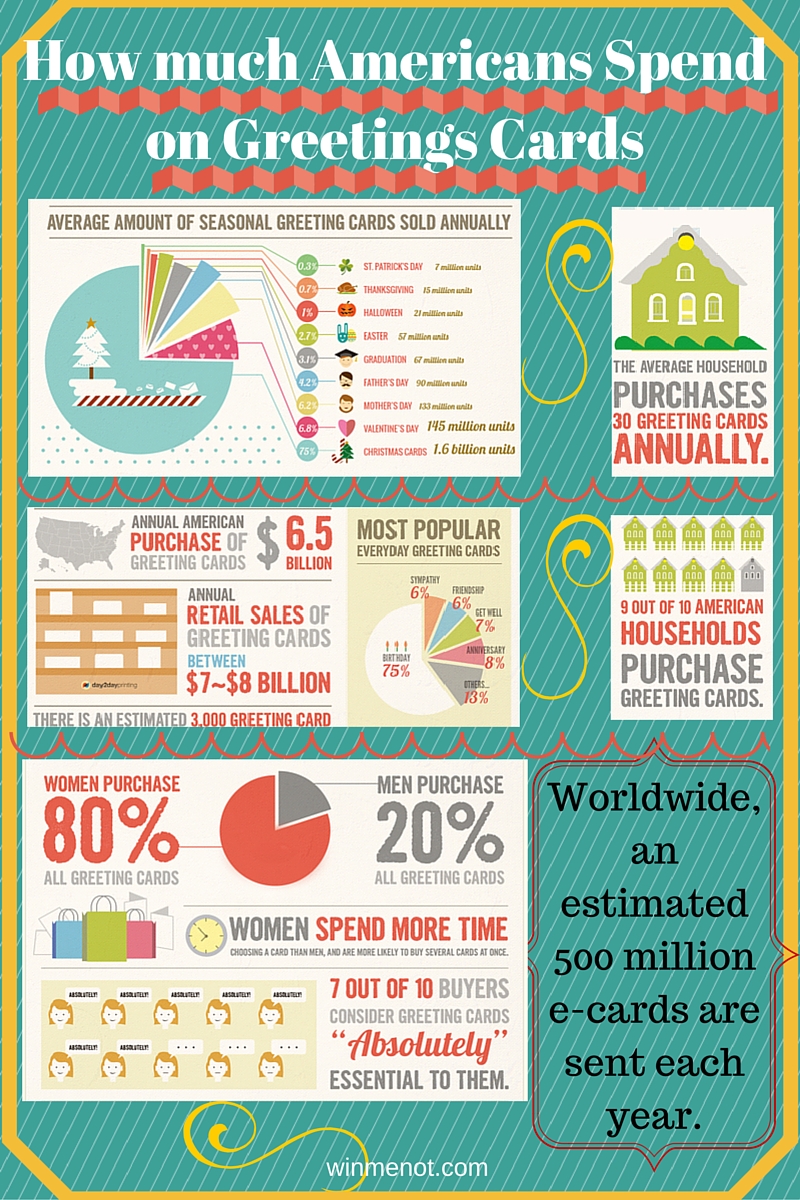 Don't be surprised if you find that 9 out of 10 American households purchase greeting cards. Also the annual purchase is of $6.5 billion according to a survey by E card mint.
Where still many of us think that sending physical greeting has more sentiments attached to the card it is but a sheer waste of paper and money. Worldwide it is found that people use more of e-cards these days and about 500 million e-cards are sent each year.
The popularity of sending e greetings is more in demand now whether it is send through your email, face book, mobile or any other device.
Here are the 15 best e card websites where you can send free greetings to your loved ones in seconds of time this holiday season.
At Punchbowl you can send free greetings and you will find wide variety of e cards that look and feel like paper cards. You can send free e-cards choosing from various designs. Also you can personalize with custom greetings and accents such as envelope liners, custom postage, and rubber stamps. Or you can also attach a gift to your e-cards.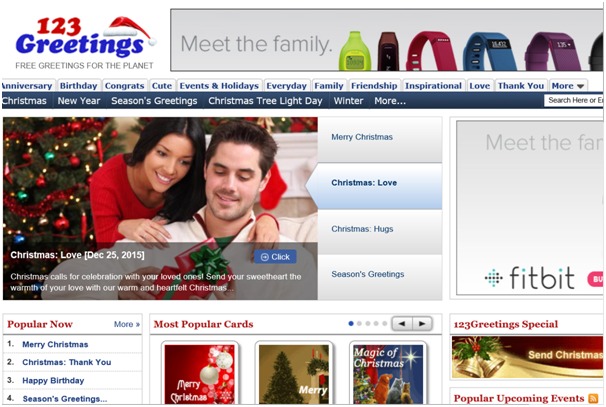 This is most popular e greeting site to send free greetings. You can create and send free e card or select from the 3000 categories among 20,000 cards. 123Greetings.com allows you like other sites to customize the e card with your personal messages using an advanced text editor. Once done you can either send your e-cards immediately or scheduled up to 60 days in the future. You can send your e-cards to as many as 100 recipients.
For more additional benefits and features you can register with 123Greetings connect service for free where you can get reminders for birthdays, upcoming events, and holidays, import, store, and access an unlimited number of contacts in an online address book, track, edit, and delete e-cards you have sent in the last 30 days, and keep track of e-cards you have received in the last 30 days.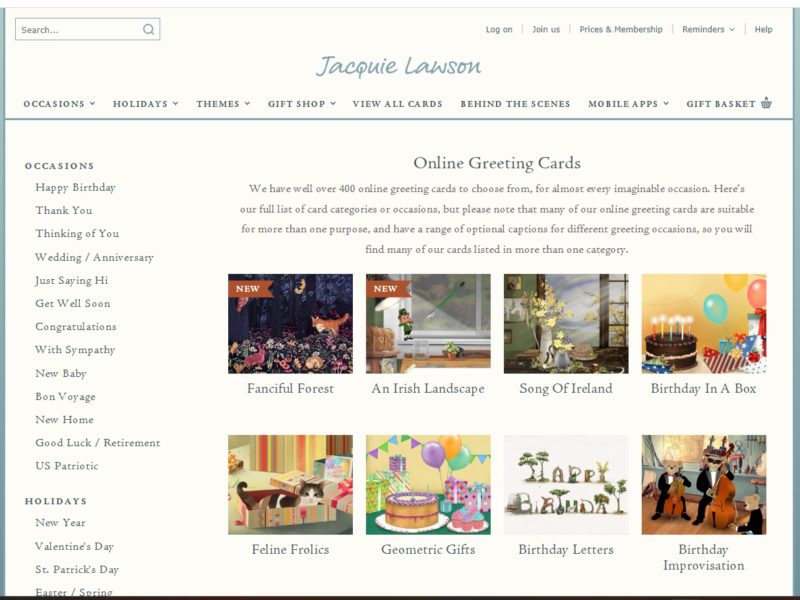 Jacquie Lawson ecards are renowned for the quality of their art, animation and music and you can send send free greetings. You can even download their app and send the free ecards, or purchase a membership to send the entire range of over 400 greeting cards.
From birthdays to Valentines, from congratulations and commiserations to Christmas and New Year, they've got it covered. Also so easy to send by email, text, Facebook or other social media, straight from the app. Choose from a range of captions, and add up to 1500 characters of your personal message to be displayed inside the greeting card.
Sometimes just sending an ecard isn't quite enough, and you want to make a more generous gesture. The perfect solution is to attach a virtual gift card along with your ecard. Purchase and send gift cards for retailers, restaurants, and more.
They use traditional artistic techniques using paint and pencils on high quality paper, and then scan and animate the results, with music carefully selected and arranged to match the mood.
Somee-cards.com allows you to send free greetings as you choose by filtering the e cards from some cards to user e-cards. They have further categorised the cards like popular, classics and newest e-cards. These cards have famous sayings and quotes from popular and legendary people among them are funny e cards too. All these cards are free to send and you can subscribe to their newsletter to get updates on new cards, categories, site features, and upcoming holidays.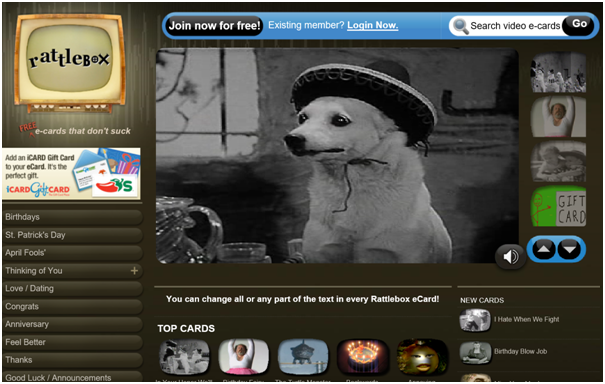 Rattlebox is the best site to send free greetings that allows you to create free "video e-cards that don't suck" for many different occasions. The site homepage has some funny videos to explore. They offer over 1,000 fully customizable free online, video e-cards. You can send Rattlebox cards easily via email or IM, post them on blogs, or circulate them on social networking sites.  Also you can add an iCard/Gift card to your e card to make it more attractive and sensational.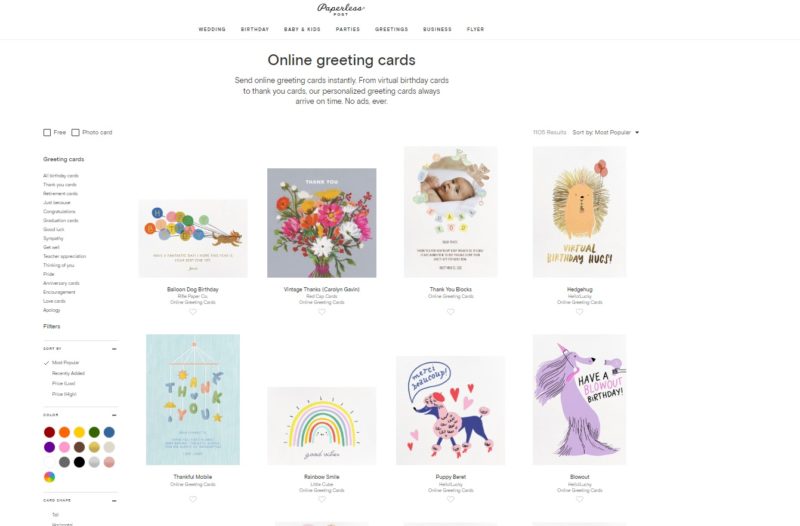 At this site you can send free greetings. You have beautiful invitations, cards, Flyers, and designer collections to celebrate all the moments that matter at this site. You can customize in minutes, then send email, text, or shareable link.
Get everyone together with their online invitation maker—browse, create, send your way (email, text, or shareable link), and track RSVPs all in the app.
They have online card Invitations. Exclusive partner designs from Rifle Paper Co., kate spade new york, Oscar de la Renta, and more. Choose your own envelopes, liners, stamps, and backgrounds for truly custom invitations. Instantly track delivery, opens, and RSVPs. Send event reminders and message guests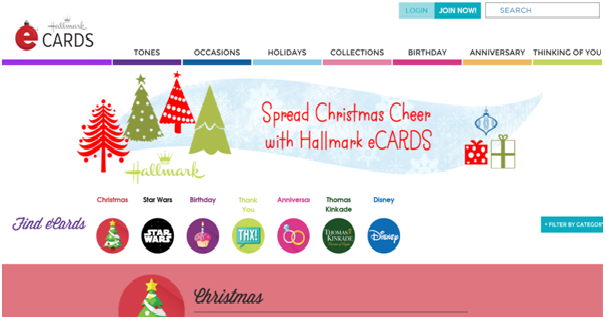 Hallmark is really good site to send send free greetings. It's Hallmark and one of my best e-cards website that features both free and paid e-cards. Initially you can send free e-cards from this site for a month. After that they offer many premium services to choose from. And if you just wish to use their free offer then after a month trial pack you have to cancel the further automatic subscription services.
Choose your e-cards from the category listed on the left and select any of the e-cards that say "FREE" underneath them. The unique thing is that this site features e cards from your favourite classic characters like Peanuts, Maxine, Hoops and Yo Yo. The sponsored e-cards are sponsored by companies such as Campbell's Soup or Bissell.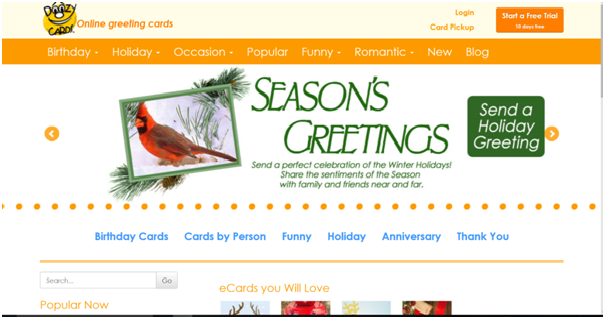 Doozy cards another site to send free greetings that allow you to create and send e-cards free for a trail period.  When you sign up for premium membership you will get benefits, such as helpful birthday reminders and free tech support.  Additionally, a portion of the proceeds from the premier membership goes to St. Vincent Meals on Wheels, the largest privately funded meals program in the US.
You can send as many thoughtful e-cards, holiday e-cards. Their e-cards also feature a special cast of characters that you and your loved ones will come to love, including the Doozy Birds, a four-legged Mariachi band and the Caribbean Hippos. Treat your friends and family to one of a heart warming e-cards from The Dionne Warwick collection, starring Grammy-winning singer Dionne Warwick in a huge selection of e-cards recorded exclusively for Doozy. Or come up with your own greetings and have one of their talking e-cards speak your message aloud.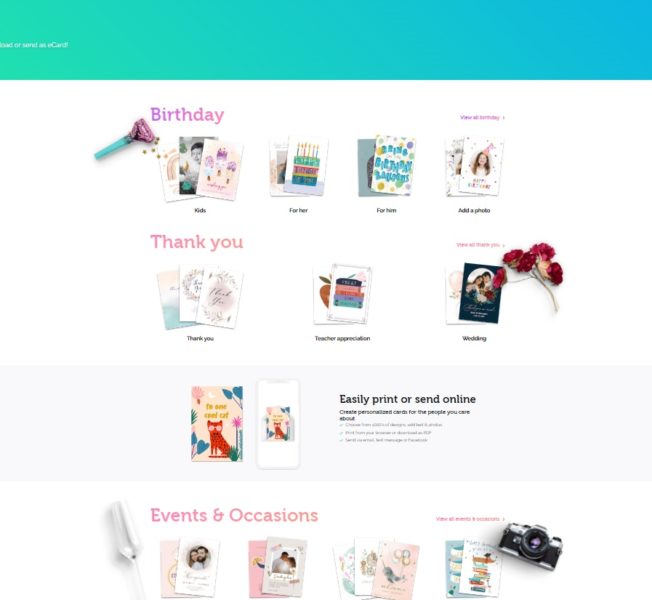 To send free greetings here you can find emailed, hand-delivered, or posted with a stamp, greeting cards are timeless expressions of thoughtfulness. Images and texts capture your message and speak for you in a personalized, custom greeting from their extensive gallery of selections. Every card is both printable and available to share online via email, Facebook or whatsapp and their DIY digital Card Maker walks you through the simple process of using their template, step by step.
Their online card maker offers a wide range of card designs to wish a happy birthday, congratulate an anniversary, express your thanks, say you're sorry, or send caring thoughts for any holiday or occasion on the calendar from your computer, phone, or tablet. You'll find designs and styles for every taste, and it's easy to edit the text or write your own, add photos, and embellish with sticker images that match the mood of your card.
You have multiple options for sharing your unique card creation, and there's never a charge for any of them from us. Print your card at home directly from their site, download your files for later printing on your printer or at a print shop, or share your online cards electronically.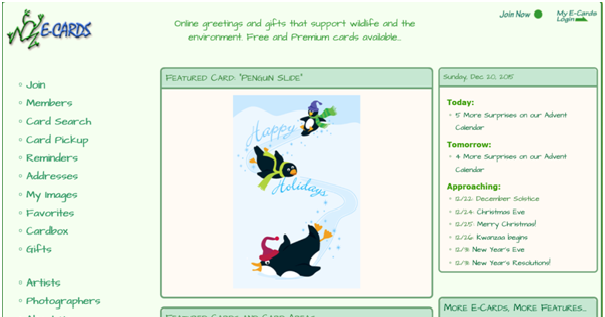 At E-Cards.com you will send free greetings and love its light green color design loaded with e cards. It allows you to send online greetings and gifts to friends and family that also support wildlife and the environment. Every card you send using E-Cards.com helps generate a donation for wildlife and nature.
If you want access to additional e-cards and features, sign up for My E-Cards for $12 per year. This will allow you to access more cards, save cards, upload your own images, add effects to cards, use a birthday reminder calendar and an email address book, schedule cards to be sent on future dates, an avoid advertisements, as well as many other features.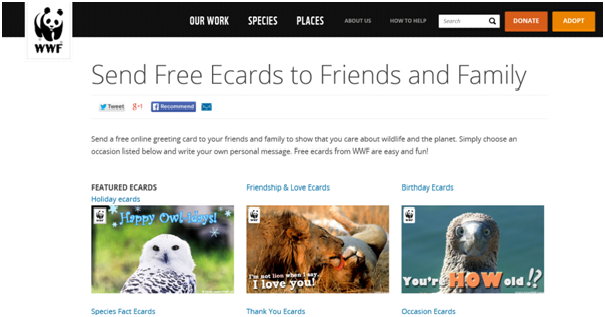 One of my favourite website to send free greetings with beautiful wildlife photos on e-cards that you can personalize and send. This site gives you a chance to show a kind gesture towards wildlife and supporting the conservation cause of our planet by sending free e-cards to your friends and family from the World Wildlife Fund.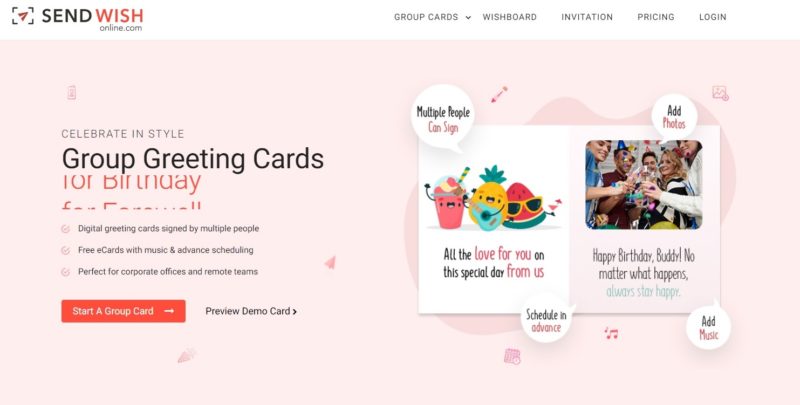 Send Wish is an online platform to send free greetings and create digital group greeting cards & free eCards. Start free group ecards for birthdays, farewells, anniversaries, retirements, and get it virtual signed by multiple people.There is no limit on the number of ecards that you can send although they have a daily limit of 10 ecards. This has been created to prevent people from abusing the free services and sending spam to people. If you are looking for bulk ecards, check their business version.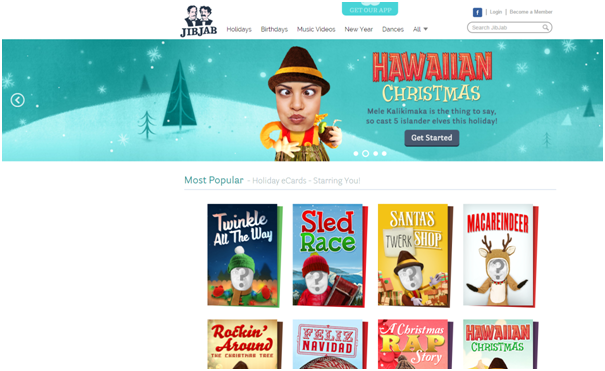 If you wish to add fun and laughter to send free greetings to your e-cards then JibJab is the best site. You can share some funny stuff with your loved ones and make them laugh. From political to offbeat Sendables e-cards and personalized Starring You videos, will make people happy. To send the e-cards either join and register or log in with your facebook account and browse more than 1500 e-cards and enjoy sending them with your personal messages. You can even use free coupons if you want.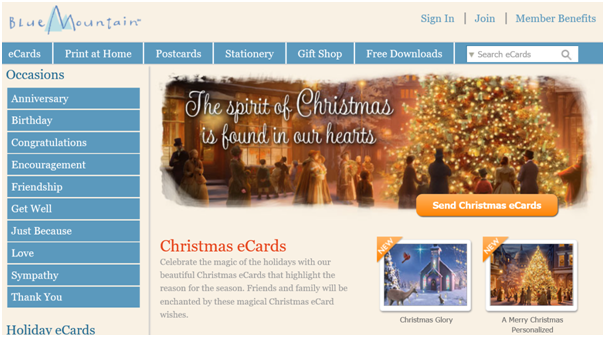 Blue Mountain has its own history to tell. It offers several categories of e-cards, including ones on friendship, love, holidays, birthdays, anniversaries, thank you cards, and more. They even have talking e-cards.
Talking e-cards say exactly you type onto the card. You can write as much as you want in your e-cards. In order to send a talking card or any other e-card from BlueMountain.com, you are required to purchase a membership.
But don't worry they have an affiliate of website called E-greetings which is a free e-card site You will find here several categories of cards to choose cards based on love, friendship, anniversaries, babies, sympathy, religious, and other common topics. After selecting the e-cards you personalize the card and send. Only drawback in this is that because it is free to use there are advertisements that show up once you browse the website.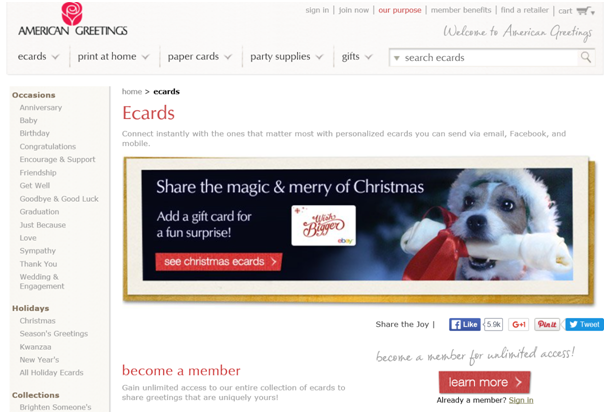 American Greetings is reputed website for e-cards. You can send free online greeting cards with your no-risk trial and send free beautiful animated e-cards for 7 days. You can then start with a low premium member ship that starts with $3.99 for a month and for a year the subscription rate is $19.99 (which is $1.67 a month) and for two years you have $29.99 (which is $1.25 a month).
Also you can find American Greetings App at iTunes for free and send e-cards with your smartphone or iPhone devices. There is a Live Greetings App for members also where you will find digital interactive cards to share and pin at social media sites.
There are many other sites like myfuncards.com, crosscards.com, all4love.net where you can send e-cards. All these virtual card recipients are often sent an email with a link to a website where the card was created. Then the card may be viewed, played, copied, printed, etc.
Some websites use virtual cards to market and draw attention to their other products and services, which may be their main product or service like e-cardsica.
One thing here is important to inform that though e cards are popular and quick way to send greetings you should always check the sender's email and name when you receive an e card as many times they are spam mails. The legitimacy of the sender and the website is important too.
In addition to websites allowing you to create and send e-cards, you can also create and print your own cards using Microsoft Word or animate it by Microsoft PowerPoint.
Now Get- Set- Go to e-cards!
Any other websites for sending e-cards… Do share!