Casino in Nebraska offer slots, table games and horse racing. When it comes to real casinos in US states then the state of Nebraska has 20 casinos in which you'll find more than 899 slots and gaming machines. Also one can enjoy poker as there are poker tables at casinos and NL Texas Hold'em Tournaments are held where players take part with great enthusiasm. Some Nebraska casinos also offer convention centers, horse races, great dinning options, bars and meeting spaces.
Also all legal forms of gambling such as raffles and lotteries, which is where Pull Tabs/Pickle Cards, Punch Boards, Keno, and Power Ball are found in these casinos that are spread across 15 cities throughout the state.
Casinos in Nebraska – Revenue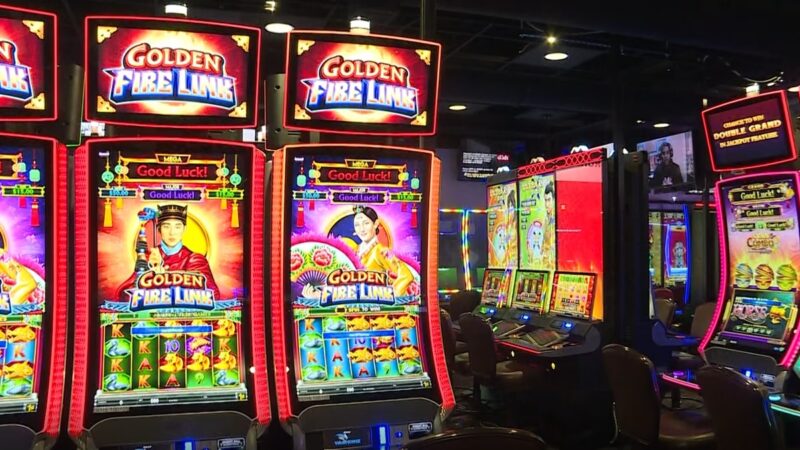 Nebraska features four Native American casinos, with two operated by the Winnebago Tribe, and the other two owned by the Santee Sioux Tribe and Omaha Tribe. Tribal casinos aren't taxed by the state, nor do they have to report their earnings at the state that has just over 1.88 million residents, and Nebraska also doesn't have a big gambling culture.
Nebraska's biggest gaming sector that reports revenue is charity gaming. A 2016 report shows that charity operations made over $280 million in revenue, with $6.2 million being paid to the government in taxes.
The other big source of Nebraska gaming revenue comes from the lottery. They sell nearly $180 million in tickets, and over $40 million of this goes directly into state programs. The $180 million in annual sales ranks 39th out of the 44 states with a lottery, and they also rank among the lowest states in terms of per-capita lottery sales.
Few gambling facts of Casinos in Nebraska
•The state's casino industry is limited to four tribal casinos, including the Iron Horse Bar & Casino, Lucky 77, Native Star Casino, and Ohiya Casino.
•Operating under the Indian Gaming Regulatory Act, these casinos are allowed to offer Class II gaming like slot machines, keno, bingo, and live keno.
•Certain lawmakers continue to push for commercial gaming, believing that a state-run casino can bring in over $100 million in tax revenue. But again, Nebraska is a conservative state that's not crazy about gambling, so it's little surprise that these measures keep being defeated.
•Regulated by the Charitable Gaming Division, there are plenty of bars and restaurants throughout the state that offer charity gambling. Any business that wishes to offer this style of gaming must obtain proper licensing. Upon doing so, they're allowed to offer bingo, lotteries, keno, pull-tabs (pickle cards), raffles, and gift enterprises. The Charitable Gaming Division website features full versions of each act that governs specific charity games.
•Pari-mutuel betting was the first type of gambling to be legalized in Nebraska, with voters approving it in 1934. This remained the state's only legal form of gaming until 1958, when charity bingo was legalized.
•Today, Nebraska features four racetracks, including AgPark, Fonner Park Casino, Horseman's Park, and Lincoln Race Track. All of these tracks offer simulcast wagering, which was legalized in 1988.
•Nebraska voters approved a state lottery in 1992, and tickets went on sale the following year. A mix of multi-state and in-state lottery games are offered, including Mega Millions, Powerball, 2by2, MyDay, Pick3, and Pick5.
•Nebraska is the only state that has a minimum age requirement of 19 for buying lottery tickets. A handful of other states require that lottery players be 21, while the majority set the minimum age at 18.
•When Omaha, Nebraska was settled in the 1850s, it featured saloons, prostitution, and gambling. Poker was so big in the city that a popular variation is now named after Omaha.
•Attitudes towards the game changed, though, and live poker was eventually made illegal along with other table games. Those who want to play at a live poker room must cross into neighboring states like North Dakota and Iowa.
•Charity poker is also legal in the state, although no entry fees can be charged. This limits the action to free tournaments held at bars and restaurants.
•Most of the casinos and charity gaming venues are located in the southeastern part of the state, near Omaha and Lincoln. Another cluster of casinos can be found in the Scottsbluff area, near the Wyoming border.
4 Wonderful Casinos In Nebraska
Here are the four wonderful casinos in Nebraska to enjoy slots with exciting promos. These casinos in Nebraska offer great bonus offers where you can take part on daily basis, weekly or monthly. Also there are many even based promotions where you can win big cash prizes and rewards.
1. Ironhorse Bar & Casino
Location: 1106 Main St, Emerson, NE 68733, USA
Phone: +1 402-695-0180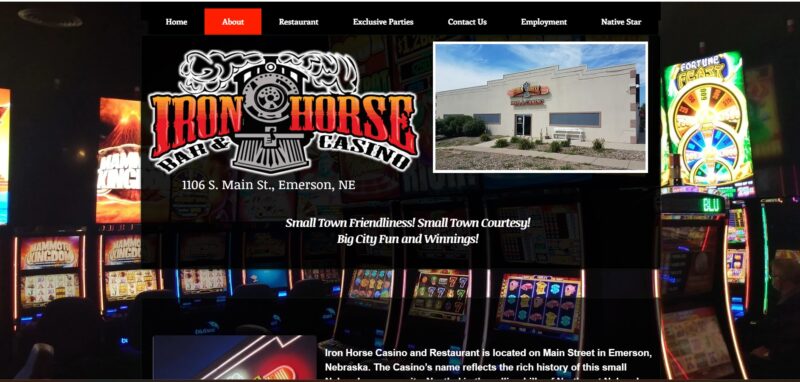 Iron Horse Casino is owned and operated by the Winnebago tribe of Nebraska. This casinos in Nebraska is located on Main Street in Emerson, Nebraska. Nestled in the rolling hills of Northeast Nebraska, the town of Emerson was established as a junction on the Chicago, St. Paul, Minneapolis & Omaha Railway in 1881. It also borders the Winnebago Indian Reservation.
Iron Horse Bar & Casino is one of 5 properties owned by Winnebago Tribe of Nebraska. The casino offers Multi-Denomination Games  along with Progressive Jackpots, In total there are 87 slot machines to play including gold series gaming machines. The minimum Bet for slots games here is $0.01.
This casino is a great gathering place for friends and neighbors to enjoy a delicious meal, their favorite beverage and plenty of fun with 89 casino gaming machines. You can visit the casino anytime which is open from Tuesday to Sunday 10 a.m. There are many ongoing promotions at the casino as well as night stay packages for you to explore.
2. Rose Bud Casino
Location: 30421 U.S. 83, Valentine, NE 69201, USA
Phone: +1 800-786-7673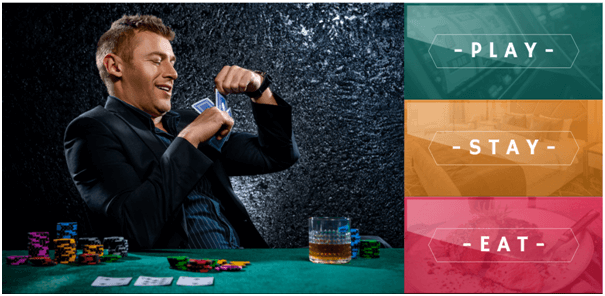 The Rosebud Casino, casinos in Nebraska, opened on August 14th, 1994 in what is now the Annex area. The Casino consisted of a small deli, two bathrooms, a cage and a few slot machines.
Rosebud Casino is an Indian gaming casino owned by the Rosebud Sioux Tribe. The casino opens daily 24 hours. You can play slots from a penny to $5. The most popular three Table Games to play are Ultimate Texas Hold'em, Three Card Poker and Blackjack. There is also a Bingo Hall to play bingo games.
This casino has been revamped several times and now offers 250 slot machines, one Ult. Texas Hold'em, one Three Card Poker and Two blackjack tables, bingo hall, restaurant and deli and bar. The Quality Inn Hotel and entertainment center were added in 1998, and the hotel has a total of sixty rooms. Also the casino host some of the industry's top entertainers, and have the best concerts for hundreds of miles around.
You can attend one of their weekly promotions for more ways to have fun and win. As you make your way through the casino, you'll also find an assortment of entertainment and dining options that will satisfy any palate, including the popular Rosebud Room Buffet.
3. Ohiya Casino & Resort
Location: 53142 NE-12, Niobrara, NE 68760, USA
Phone: +1 402-857-3860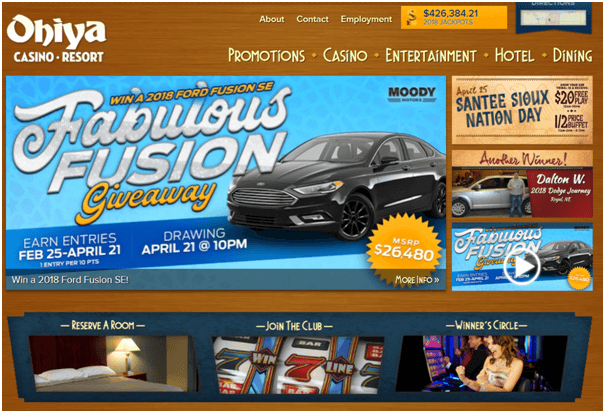 With more than 410 slots and gaming machines this is the largest casino in the area of Nioboara. The Ohiya Casino & Resort casinos in Nebraska total casino square footage is 34,500 square feet. To have a great meal there are two restaurants.
The first thing to know is that it's pronounced 'Oh-Hee-Ya' in the Dakota language… Ohiya means win! With their delicious food and buffets, big jackpots, entertainment, events and bingo, they are the place to be, and the place to win.
This casino was established 20 years ago and was the first casino within Nebraska which is now the ideal entertainment destination for excitement seekers in northeast Nebraska, southwest Minnesota, southeast South Dakota, northwest Iowa and across the upper Midwest. There are several ongoing promotions which you will love to grab.
4. Lucky 77 Casino
Location: 200 Main St, Walthill, NE 68067, USA
Phone: +1 402-846-5545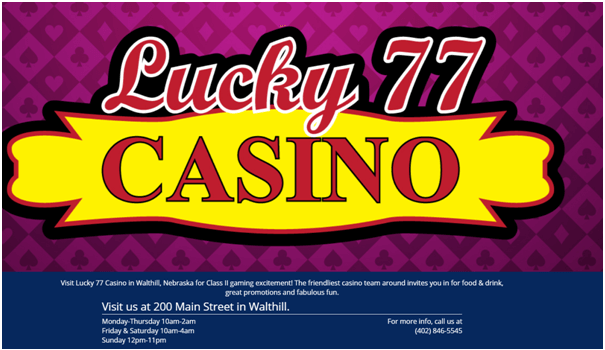 Chartered in 2009, the Blackbird Bend Corporation is the independent entity that manages the gaming enterprises of the Omaha Tribe — Blackbird Bend Casino near Onawa, Iowa, and Lucky 77 in Walthill, Nebraska. Walthill is a very small town of about 770 people located in the very east of the state of Nebraska. It is placed about 60 miles north of two larger cities which are Fermont and Omaha.
This casino has more than 64 slots and gaming machines and Electronic Bingo. The Lucky 77 Casino total casino square footage is 1,200 square feet and also offers Live Blackjack and electronic roulette game. There are various bonus offers at the casino as well and a upstream Café to enjoy your meals.
Lucky 77 Casino is an Indian gaming casino owned by the Omaha Tribe of Nebraska. The house keeps it going with many promotions and drawings. No table games and poker can be played at this establishment. Refreshments and quick bites are served at the casino's snack bar.
Besides these four wonderful casinos at Nebraska, the other casinos that you will find only offer horse races or house bars and restaurants with few gaming machines.
Online Casinos in Nebraska
Online Casinos in Nebraska also offer slots to play. You can join any online casinos in Nebraska and head to the play now or join now button given at the casino website. Sometimes you need to register at the online casino to play the casino games. Moreover remember that the online casinos here offer you two ways to play slots: Free and real money. This means you can play all the slots all free without spending any money. You can play as long as you want day and night. Only thing to remember is that you need a proper internet connection and a WIFI connection to keep the reels of slots moving.
If you want to switch to real money games, to make some real cash wins, you can do so anytime you want. All you need is to make a deposit at the casino with real USD or BTC at the casino. Simply head to banking page and find a suitable payment mode to transact the amount in your casino account. Once the balance appears you are ready to play real money slots and casino games. One more thing to note is that you can go for the welcome bonus and no deposit bonus and other bonuses offers to play the games and add value to your bankroll.
Online casinos in Nebraska is the best option for those players that doesn't want to venture out to the land casinos in Nebraska to play slots. As online casinos offer you games on your smartphone, PC or tablet and you can sit at your own comfort zone be it your own home, office, store or any other place of your choice to enjoy and explore the casino games.