Monte Carlo casino is situated in Monte Carlo along the French Riviera which is known for its luxury and high rollers.
The Monte Carlo Casino is located in the country of Monaco, specifically in the district of Monte Carlo. Monaco is a sovereign city-state situated on the French Riviera, bordered by France on three sides and the Mediterranean Sea on the fourth side. The casino is an iconic landmark in Monte Carlo, which is known for its luxurious resorts, high-end shopping, and glamorous lifestyle.
How to reach Monte Carlo Casino?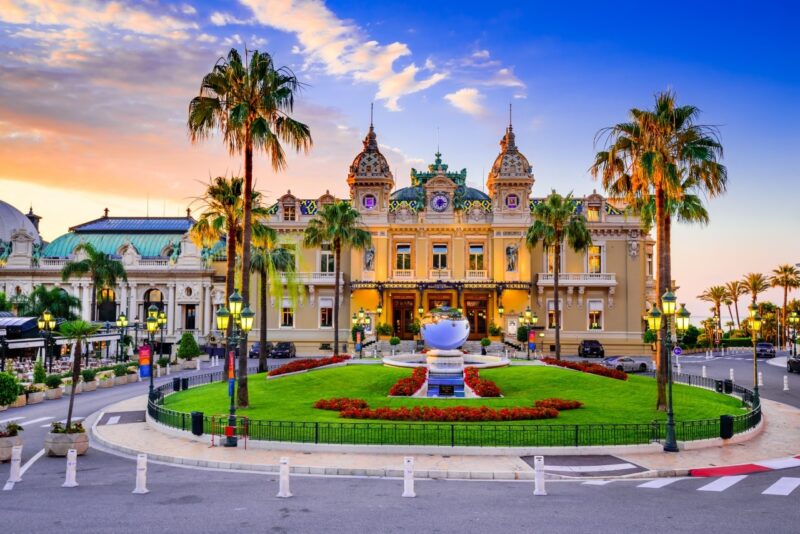 There are several ways to reach the Monte Carlo Casino in Monaco, depending on your starting point. Here are some common transportation options:
By Air: If you're arriving from a distant location, the closest international airport is Nice Côte d'Azur Airport (NCE) in Nice, France. From the airport, you can take a taxi or a pre-arranged transfer to Monaco, which is approximately a 30-minute drive away.
By Train: Monaco has its own train station called "Gare de Monaco-Monte-Carlo." You can take a train from various cities in France and other neighboring countries to reach Monaco. Once you arrive at the train station, the Monte Carlo Casino is within walking distance or a short taxi ride away.
By Car: If you prefer to drive, you can reach Monaco by car. Monaco is connected to the French road network, and there are multiple entry points into the country. However, keep in mind that parking in Monaco can be limited and expensive, so it's advisable to use public transportation or park in designated parking areas.
By Bus: There are regular bus services that connect Monaco with neighboring towns and cities. You can check the bus schedules and routes to find the most convenient option for your location.
By Boat: Monaco has a port called Port Hercules that accommodates cruise ships and private yachts. If you're arriving by boat, you can disembark at the port and reach the Monte Carlo Casino by walking or taking a short taxi ride.
Once you arrive in Monaco, the Monte Carlo Casino is located in the district of Monte Carlo. It is situated in the Place du Casino, which is easily recognizable by its grand facade and prominent location.
It's always a good idea to plan your transportation in advance and consider the most suitable option based on your location and preferences. Additionally, check for any specific entry requirements or restrictions that may be in place during your visit.
Games to play at Monte Carlo Casino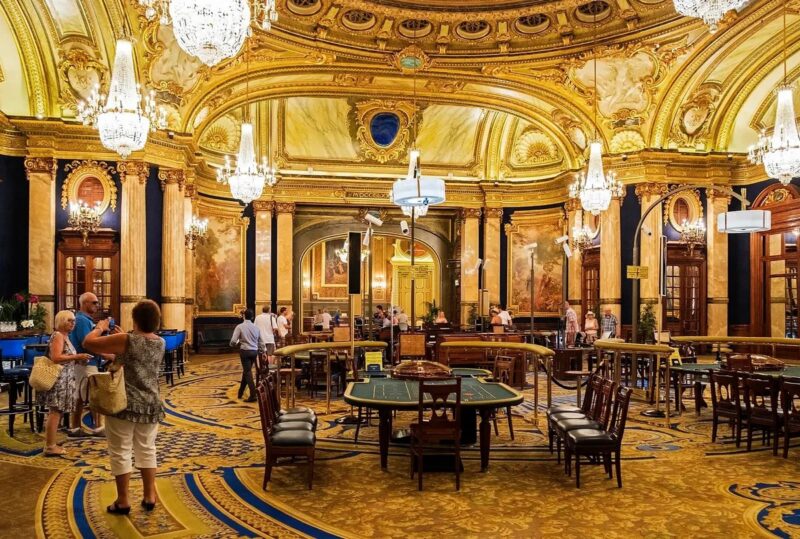 The Monte Carlo Casino in Monaco offers a wide range of games for visitors to enjoy. Here are some popular games you can play at the casino:
Roulette: Roulette is one of the most iconic casino games, and the Monte Carlo Casino is known for its elegant roulette tables. Place your bets on numbers, colors, or combinations, and watch as the ball spins around the wheel to determine the winning outcome.
Blackjack: Blackjack is a card game that involves trying to beat the dealer's hand without exceeding a total of 21. Take on the challenge of strategic decision-making as you aim to get as close to 21 as possible without going bust.
Poker: The Monte Carlo Casino offers various poker games, including Texas Hold'em, Omaha, and Stud Poker. Test your poker skills and compete against other players in exciting tournaments or cash games.
Baccarat: Baccarat is a classic card game that involves comparing the hands of the player and the banker. Bet on the hand that you think will have a total closest to nine, and see if luck is on your side.
Slot Machines: The casino also features a selection of slot machines for those who prefer spinning the reels. Enjoy a variety of themed slot games, from traditional three-reel machines to modern video slots with immersive graphics and bonus features.
Craps: Craps is a dice game where players place bets on the outcome of a roll or series of rolls. It offers a lively and social gaming experience, with players cheering for their wins and sharing the excitement of the table.
Punto Banco: Punto Banco is a variant of baccarat that is popular at the Monte Carlo Casino. It follows similar rules to traditional baccarat, with players betting on whether the player or the banker will have a higher hand.
It's important to note that each game may have different betting limits and variations within the casino. Additionally, certain areas of the casino may have specific game offerings or higher stakes. It's advisable to familiarize yourself with the rules and etiquette of each game before playing to fully enjoy the experience at the Monte Carlo Casino.
What to Wear Visiting Monte Carlo Casino?
Planning a trip to Monte Carlo to gamble in this season? You need to dress differently when you plan to visit Monte Carlo than you visit Las Vegas! In Vegas, no one cares about your dress. You will find there people wearing dresses and tuxedos, and also people wearing shorts and flip-flops. But in Monte Carlo the entire dress sense is different.
Let's have a close look at the dress code when you plan a trip to Monte Carlo or to any luxurious place!
Monte Carlo A Place of Luxury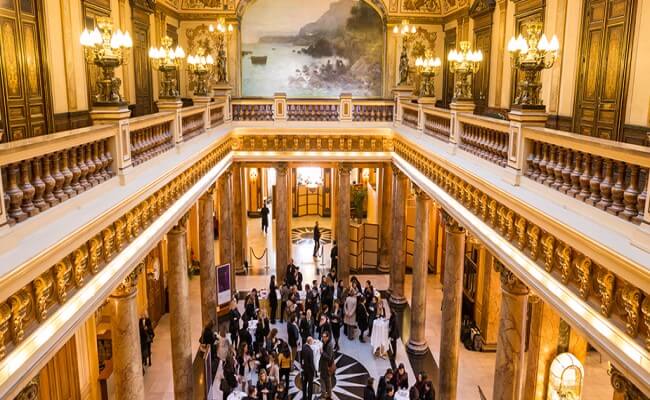 Monte Carlo is the capital of the small city-state of Monaco which sits between France and Italy. The Grimaldi family is the owner of the majority of the land in Monte Carlo, who have been the rulers of Monaco since the 13th century. While other earlier casinos in Europe were also splendid, none of them could compare to the casino in Monte Carlo. You will find touches of gold gilt and plush settees in the entire casino.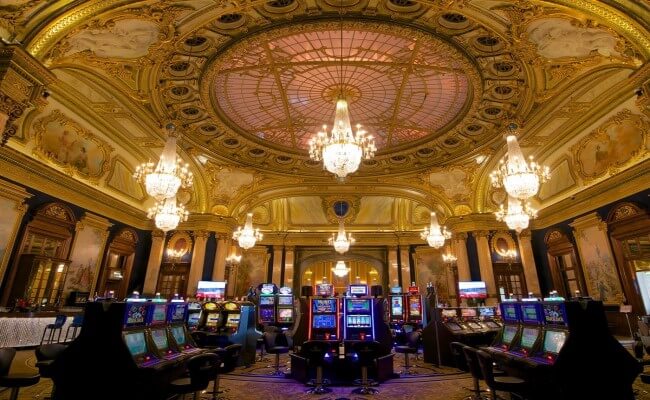 As Monte Carlo Casino is located in a warm and pleasant climate, there is no downtime. In the summertime, it becomes hard to get in. April is a difficult month to travel to Monaco. But if you want to attend several events occurring at the same time as the Grand Prix in May, better to make reservations much in advance. In case you want to visit this casino in less crowded condition, late fall and winter months are the time.
The Dress Code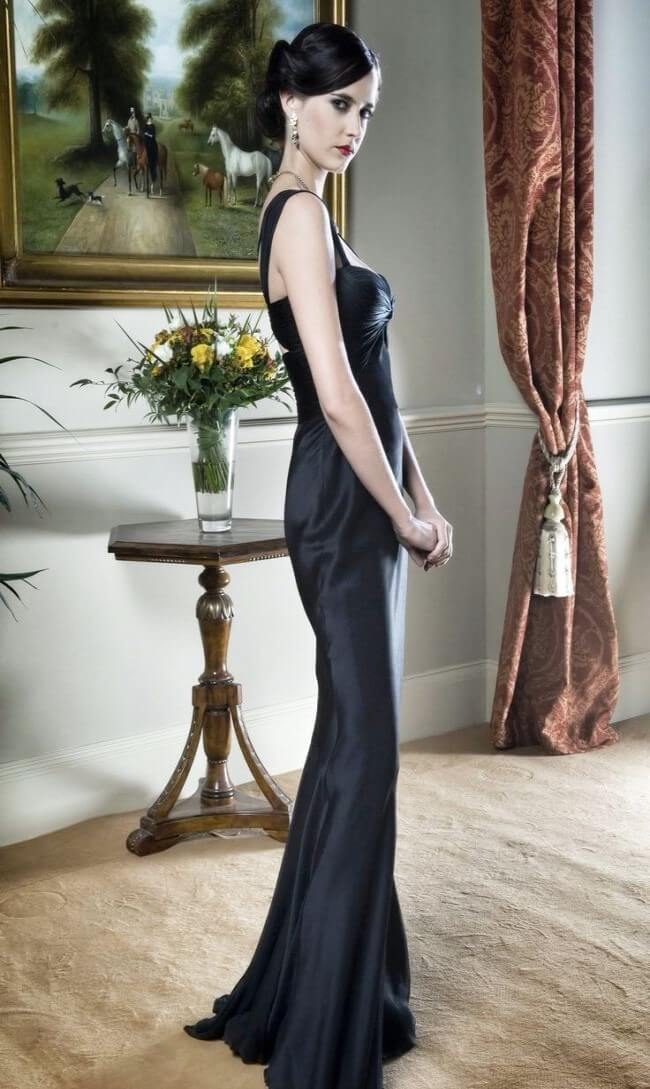 It is obvious, the Monte Carlo Casino is not like any other average Vegas casino. As Vegas casinos don't have a dress code, but the scenario is not the same in Monte Carlo casino. You need to dress according to the occasion and events that you are going to attend and also the time of day.
Visiting Hours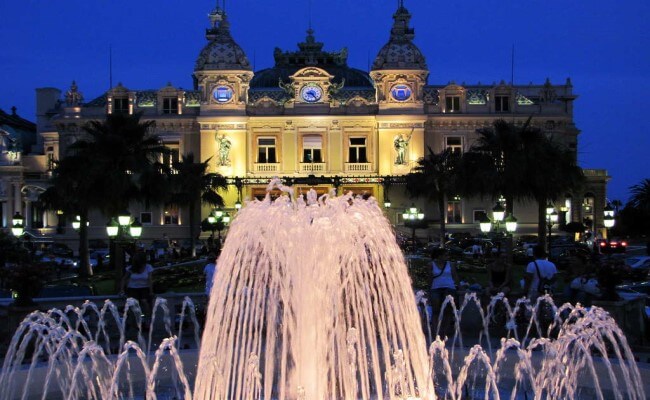 Unlike any other casino, you cannot enter the Monte Carlo Casino 24/7. There is no such thing like a breakfast buffet before early morning hours. In fact, the casino opens at 2 p.m. every day and runs till 4 a.m. including Christmas and New Year's.
Banned Attire in Monte Carlo Casino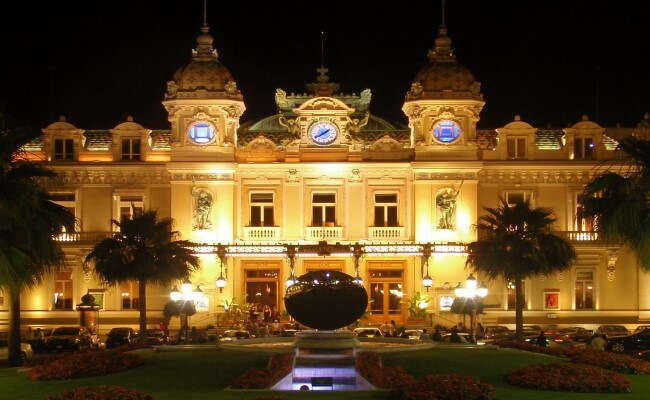 When it comes to dressing, the Monte Carlo Casino has strict regulations. Although, some of the rules are a little vague. This casino does not allow people with shorts, tennis shoes, and flip-flops. Bathing costumes are also a big no. Jeans are also frowned upon.
In fact, the casino specifies that people should wear "proper attire." It is up to you to decide what you can wear. Like khakis and dresses are always acceptable. Pants and skirts are also acceptable, not t-shirts.
In addition, the casino also suggests a difference between attire that you can wear in the afternoon and in the evening. This means the casino expects men to wear jackets in the evening and women to wear something more elegant. Dresses or suits for women are acceptable.
So, What Should you wear?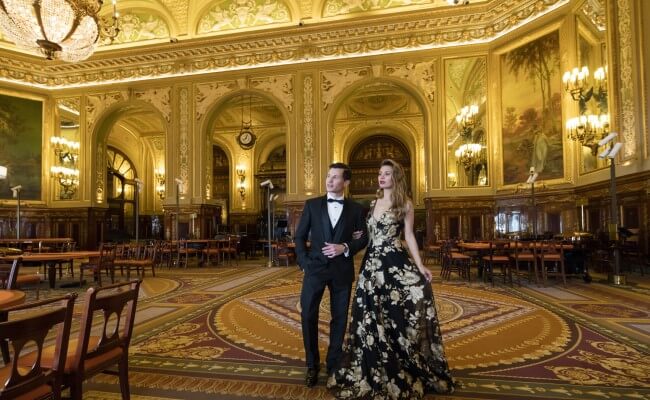 When visiting the Monte Carlo Casino in Monaco, it's important to adhere to the dress code to maintain the elegant and sophisticated atmosphere of the establishment. Here are some general guidelines on what to wear:
Formal Attire: The Monte Carlo Casino has a strict dress code, particularly in the main gaming rooms. Men are expected to wear a formal suit with a jacket and tie. Tuxedos are not mandatory, but they are a popular choice. Women should dress in elegant and formal attire, such as a cocktail dress, evening gown, or tailored pantsuit.
No Casual or Beachwear: It's important to avoid casual clothing such as shorts, flip-flops, t-shirts, sportswear, or beachwear. These items are not allowed in the casino.
Smart Casual for Certain Areas: While the main gaming rooms require formal attire, there are other areas of the casino where a smart casual dress code is acceptable. This includes the Atrium, Salle Renaissance, and Salle Europe rooms. Men can wear dress pants or smart trousers with a collared shirt, and women can opt for elegant dresses, skirts, or dress pants with a blouse.
Dress for the Occasion: Keep in mind that the Monte Carlo Casino is a prestigious establishment, so dressing for the occasion is essential. Make an effort to dress elegantly and stylishly to fully enjoy the experience.
It's worth noting that the dress code may vary depending on the specific events or areas within the casino. To ensure compliance with the dress code and avoid any inconvenience, it's advisable to check the official website or contact the casino directly for the most up-to-date information on their dress requirements.
Before you plan to make a trip to the Monte Carlo Casino, decide about the time of year and the occasion you will be visiting. If you plan for winter, you need to dress for warm days and cool evenings. It rains more in the winter than at other times of the year. You will not find a huge influx of people trying to get into the casino. Hence, a little bit laxer dress code would do.
However, the scene will change altogether if you plan to visit it during the spring, and, especially, during the high social season in the summer. In fact, this is the time when the Grand Prix and the Prince's Red Cross Ball takes place in the late spring and summer months. In this season, you need to step up your dress code game.
In this season the casino would receive loads of footfall hence don't stand out in a bad way. When there is competition with other tourists, for men you should rely upon a nice suit. You may leave out the ties, if you do not like but not after 8 p.m. Women should come with a nice evening suit or dress that would work after 8 p.m. Cocktail dresses can also work after dinner.
Synopsis
Visiting Monte Carlo casino is a big affair and you cannot avoid the dress code. Whenever you go, do not forget to take lots of pictures. That way, you can ensure to show everyone how much glamorous fun you have had.