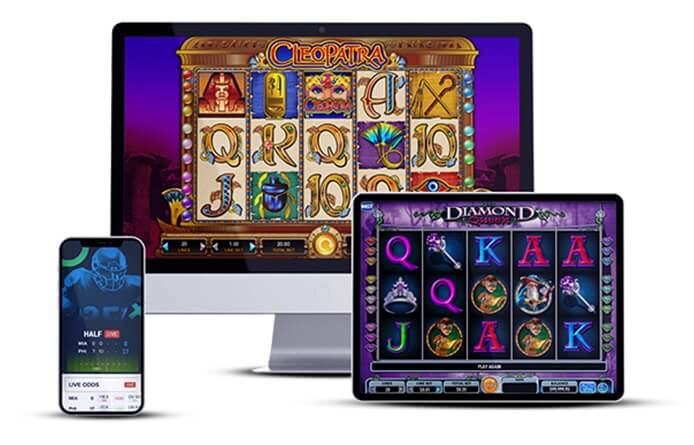 Mohegan Sun Casino located at 1 Mohegan Sun Boulevard Uncasville, Connecticut has made its presence online so that players have the ease to play slots and other casino games on their mobile or PC at the comfort of their own place.
In 2021 Mohegan Sun casino became the internet online casino for players to get the online casino experience and play real money games online. You can play your favorite casino games – Slots, Roulette, Blackjack, Video Poker, Baccarat, and at your own convenience safely and securely.
How to play online at Mohegan Sun Casino?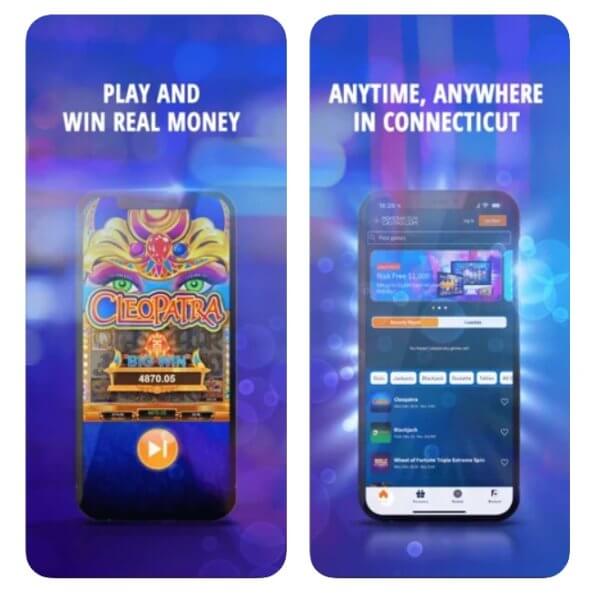 There are two ways to play online at Mohegan Sun Casino:
Download the free Mohegan Sun Casino App on your mobile
Or
Play instant games online on your PC or desktop
Click here to download the free app on your iPhone
Click here to download the free app on your Android
To play instant games without any download on your PC simply type the casino URL https://ct.mohegansuncasino.com/ on your chrome or safari browser and get going.
The Mohegan Sun website is best viewed using FireFox version 45.x or later, Chrome version 48.x or later, Edge version 13.x or higher or Internet Explorer version 11.x or later. The website also supports Safari version 8.x or later on a Mac and the native browser, Safari on an iPad 3 or later running iOS9 or later.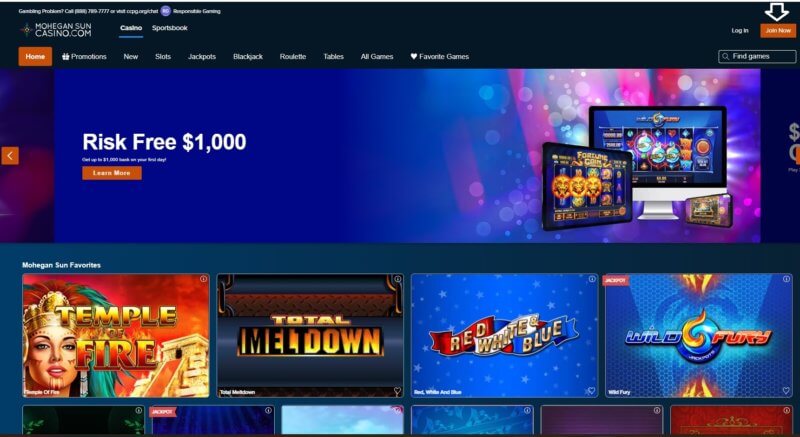 At the casino home page click on Join Now
Now you need to register yourself and open your onlie casino account to get started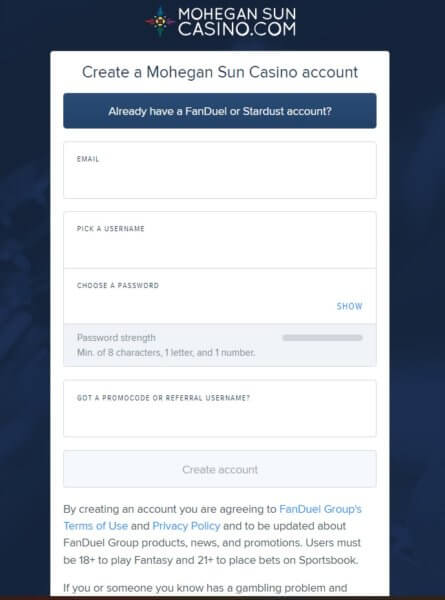 Fill a short form and set up a user name and password.
Next enter your full legal name, address, date of birth, phone number, and the last 4 digits of your social security number. Then, read the Terms of Use and Privacy Policy, check the boxes to confirm a few things, and hit the Confirm Identity button.
You should be 21 and above years of age to play at this online casino.
The casino will verify your details and then confirm you to play real money games.
Since Mohegan Sun Casino online is limited to players within the state of Connecticut, location permissions must be enabled on your device.
The state of Connecticut passed Sports betting and real money online gaming in the spring of 2021. It is legal for anyone 21 years of age and older. While you don't need to be a resident of Connecticut, you do have to be physically located within the state while playing.
Besides sports betting you can enjoy hundreds of digital slot games, plus some of your favorite table games including Blackjack, Roulette and Baccarat.
How to make a deposit at the casino?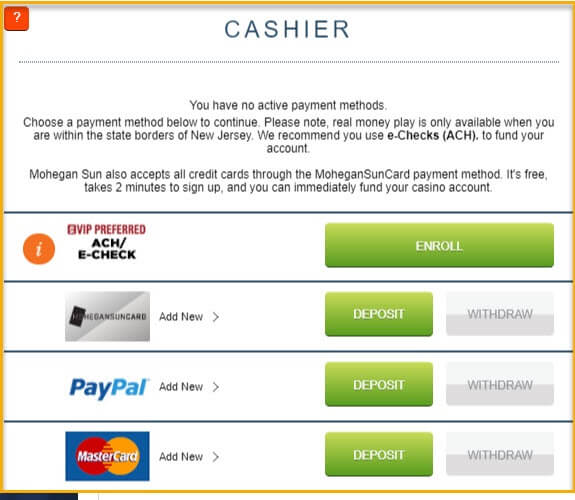 For real money games you have to make a deposit with real USD with Debit, Credit Cards, ECheck, Paypal, Paynearme, GiftCards, MoneyOrders, GreenDotMoneyPark, FanDuel Racing Prepaid Card, TVG prepaid Card, Apple Pay and Direct Payments also can be used to make payments in the casino app.
You need to set a deposit limit. If you are a resident of (or physically located in) Massachusetts, Maryland, or Tennessee, you may be subject to a state-imposed deposit limit. If you would like to raise or remove these limits, you have to complete the appropriate form, depending on which state you're in. Once you've signed the form, submit it to casino support team at support@fanduel.com for processing.
Below are the states which require a monthly limit.
Massachusetts- $1,000
Tennessee – $2,500
Maryland – $5,000
Note that in some cases, additional documentation may be required to raise your deposit limit. If this is the case, casino will send you an encrypted link upon request where you may upload the requested documentation.
You can set daily, weekly or monthly limits which prevent you from being able to wager more than a specified amount during that period. To do so, simply enter the maximum amount you want to be able to wager over the specified timeframe and submit your request. If valid, your wager limit will be instantly applied to your account.
How to make a withdrawal?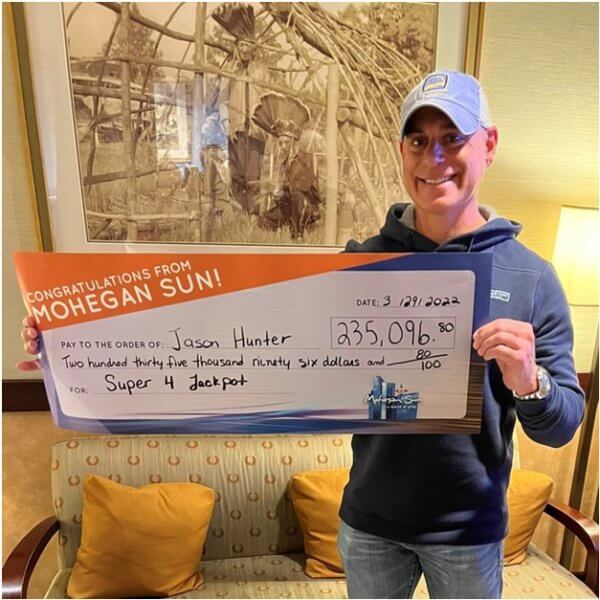 You can withdraw your winnings anytime through PayPal, Prepaid Card, Check, Venmo, and Online Banking. Remember, some states may limit which withdrawal options are available within their borders. You can view all of the available options in your state by going to the "Withdraw" page.
In order to withdraw using Online Banking, Prepaid Card, Venmo, or Paypal, you must first make a deposit using that method. If you have deposited using multiple methods, then all the withdrawal methods listed will be available to you.
PayPal or Venmo withdrawals can take up to 48 hours to be approved. Once approved, you should see those funds within the hour.
Prepaid Card withdrawals can take up to 48 hours to be approved. Once approved, you will be able to access the funds immediately.
Online Banking withdrawals take 3-5 business days to process.
If you withdraw via check, it may take up to 14 business days after it has been approved for checks to be processed and mailed out to the address on file.
You can also withdraw at cash at counter of the land casinos of Mohegan Sun. The three retail locations have limits on Cash at Counter withdrawals. A user is limited to two withdrawals per day at the Golden Nugget, Valley Forge, & Blue Chip Casino locations.
Bonuses and Promotions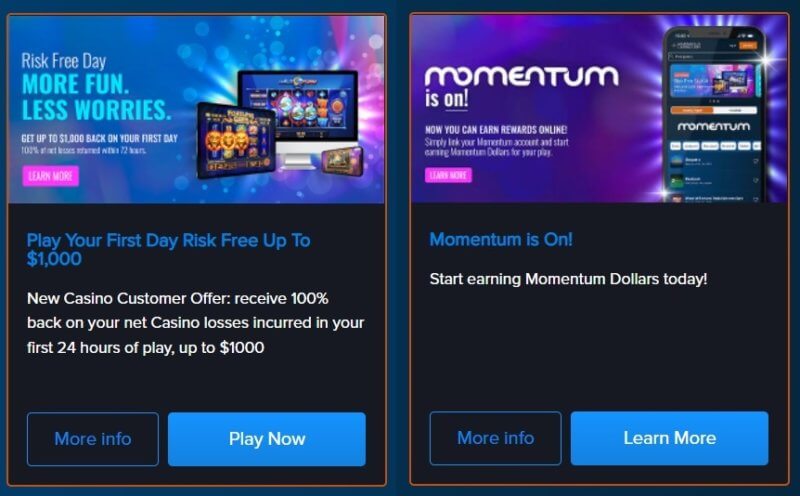 Mohegan Sun online casino offers various bonuses and promotions which are quite lucrative. When you make your first deposit you play your first day risk-free up to $1,000 (net losses refunded as casino site credit)
Then there is $10 risk free bet on table games.
Bet $50 and get $5 free on game of the week.
Link your Momentum account and start earning Momentum Dollars for your play. Then, visit Mohegan Sun to redeem your Momentum Dollars at any of their award-winning dining, shopping, hotel or entertainment outlets.
Momentum Dollar earnings vary based on wager and game type. Sports betting and video poker do not currently award Momentum Dollars. Also Momentum Status, Status Points and associated benefits are not currently awarded or recognized online. To enroll yourself and get a Momentum card visit the land casino Players club or do ti online and enroll yourself to earn Momentum dollars.
Then get it link to your account, click the momentum button in account menu if you are on mobile or the momentum tab if you are on desktop.
You can find daily offers at Mohegan Sun Casino here.
About Mohegan Sun Casino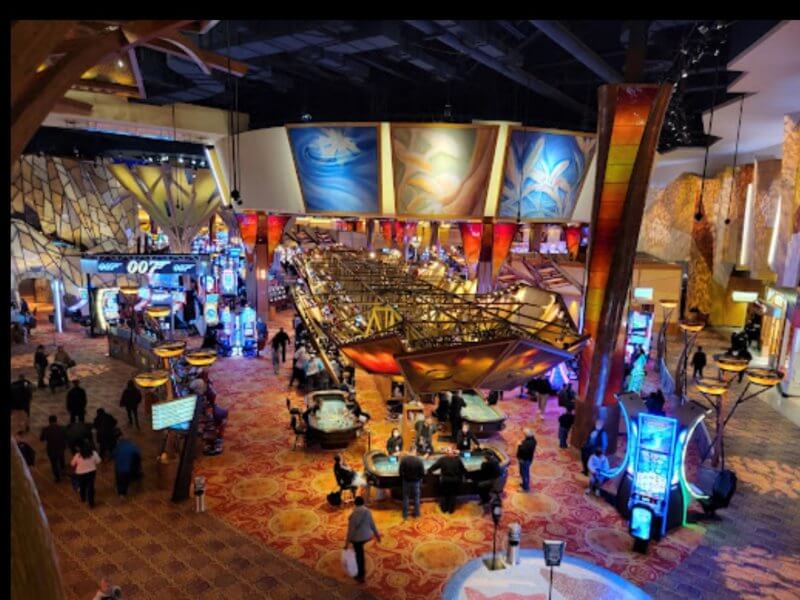 Mohegan Sun Casino the best payout casino, came into existence in 1996 by the Mohegan Tribe of Connecticut in partnership with Mohegan Gaming & Entertainment, and is one of the world's most amazing destinations with some of New England's finest dining, hotel accommodations, retail shopping, live entertainment and sporting events.
Boasting two unique casinos, Mohegan Sun is also host to the Kids Quest/Cyber Quest family entertainment facility, two luxurious spas, world-class meeting facilities, a state-of-the-art Poker Room as well as three major entertainment venues with seating from 350 to 10,000. People from across the globe come to see live concerts with some of today's top headliners, along with major sporting events including Mohegan Sun's very own WNBA team, the Connecticut Sun.
How to contact the casino?
You can contact the casino by live chat, phone or email.
Contact Mohegan Sun at 1.888.226.7711 or by using the Mohegan Sun Directory.
Email at onlinecustomerservice@mohegansun.com Or at support@tvg.com
From the desktop site at tvg.com, simply select the yellow Message Us icon at the top of this or any page in their Support Center.
On the TVG mobile app simply select the More menu in the lower right-hand corner, then select the Support button at the bottom, and finally, you will select Message to begin a live chat with one of their Support Agents. (iOS users must allow pop-ups in Safari to use messaging through the iOS app.)
Click here to browse FAQs and for live chat with the casino help support.