Random Jackpot slots are those slots which give you a chance of winning one or even more than one progressive jackpot. If you wanna know as how to win a random jackpot first you should know as how these random jackpot machines work. Also you need to understand the types of Random Jackpot slots machines that are found in an online casino. These slots are powered by different gaming software companies like Real Time Gaming, Betsoft, Microgaming, Playtech and others.
Types of Random Jackpot Slots machines at online casinos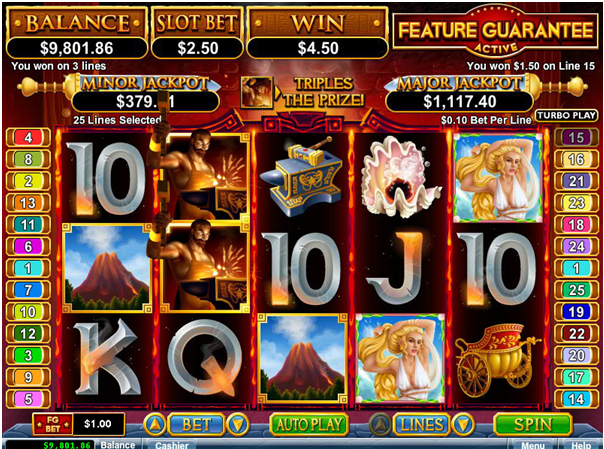 1. Three reel slots:
The 3reel was the first kind of slot machine to be invented, and still today it holds its appeal. The most basic model features all three spinning pieces, each moving separately from the other and all with five symbols printed. When activated, all the reels spin until they stop at the same time showing a random jackpot slots picture, and this is what determines the result.
2. Five reel slots:
The mechanics of this machine is fairly similar to the previous one, except that instead of three spinning pieces, it has five in a row, still with the same amount of symbols printed on every one. For many players, the classic 3 reel machine is better to play because the odds are better, and for others the better payouts offered by the 5 reel machines is more attractive. So you have to try and see what works the best for you.
3. Progressive slots:
This particular slots are the one that tend to offer the biggest jackpots, and it can be either one machine that makes the cumulative prize or it can be from a group of them. The way it works, regardless if it is an individual or a group, is that for every wager that is placed on one of these slots, a percentage is taken towards the collective prize, so the jackpot increases with every bet.
4. Multi spin slots:
In these slots, the way the multi spin works is fairly simple, you spin the reels as you normally would, and when they stop you decide which ones you want to hold, the ones that are left you can re spin those. These variations of the games offer the lowest payout when compared with any other slots.
5. Multi line slots:
These random jackpot slots allow players to place bets on more than just one pay line at a time. This category includes several other kinds of slot machines, like the three reel and five reel ones. It still features the traditional jackpot but it will also payout when there are combinations on specific lines, and not just the bigger prize.
So there are different Random Jackpot slots you will come across at various different online casinos some will be awarded to you as mentioned above at the end of any winning or losing base game spin completely at random.
However, some of these types of random jackpot slots, usually the ones which have more than one progressive jackpot on offer, will award you initially with a randomly awarded bonus game, but that bonus game will be one on which as soon as you have played off that bonus game you will be guaranteed of winning one of those progressive jackpots, usually irrespective of the stakes or number of paylines you have but into live play.
Real Time Gaming Random Jackpot slots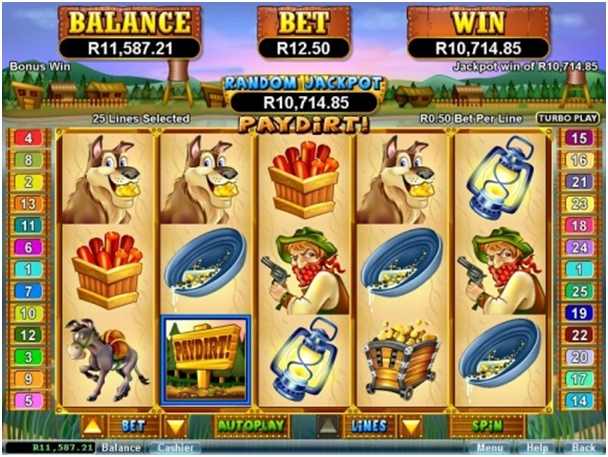 As said above there are now many different gaming platforms offering a different suite of slot games which boast large numbers of slots which award random jackpots. The largest collection of Random Jackpot slots games are to be found in the gaming suite of casinos using Real Time Gaming software (RTG). These slot games are known as their Real Series games and when you are playing any of them you stand the chance of winning big at any moment due to the way these jackpots are awarded.
In fact RTG were the first software developers who truly started the craze for random jackpots and now many of the top software developers are copying RTG's amazing idea. The majority of random jackpot slots games will not require you to wager the full amount in order to compete to win the progressive jackpot. You can either wager the smallest amount of money or the largest amount of money, either way you will still have the equal opportunity to win.
As you have the chance of winning one of these jackpots for any stake amount, then a proportion of each player's stakes, irrespective of the amount they are wagering, will be fed into the jackpot pool. So a player playing for stakes of let's say 0.25 per spin is paying a much smaller contribution to the jackpot pool than a player who is playing for example 25.00 per spin.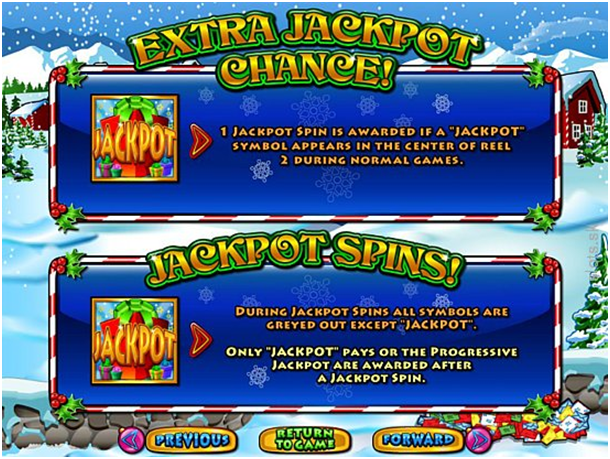 The best way to describe the way in which the jackpot is awarded is like a raffle or a lottery. The more tickets that you have in a raffle then you will have more chances of actually winning that raffle, but as long as you have a ticket in the raffle you have a chance of winning, which is exactly how these slot games work, as long as you have paid to spin the reels you have a chance of winning the jackpot.
When a player is awarded the Random Jackpot then the balance of the jackpot is put into that players account and the jackpot meter will then reset to its seed amount. When more players play that slot game the jackpot will start to grow.
You will notice that it is only paid for base game spins that could see you being awarded the progressive jackpot, you will not be able to win one of them for example when you are playing off a set of free spins as those spins are free and not paid for, if that makes sense.
RTG has more than ninety different slot games that have random jackpots with them. Some of these RTG games will have four, three progressive jackpots in each game. This will include a Mini, Major and the Massive jackpot. Each one of these jackpots will still provide you with a huge amount of money to be won which is what every player loves about these random jackpots. Every single time you click the spin button you might be spinning towards the progressive jackpot.
Tips to win Random Jackpot online casino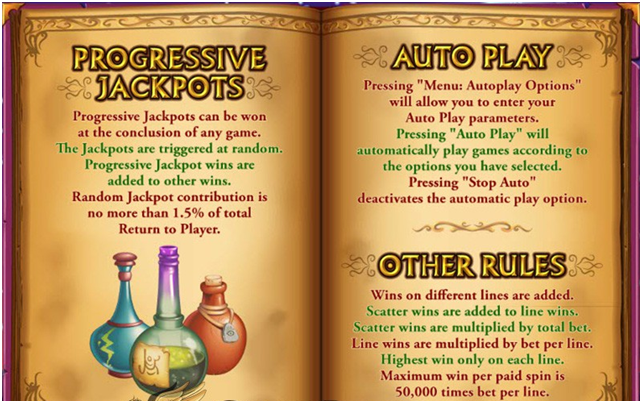 Here are the few tips you can use when playing random jackpot online casino which may give you some improvement in winning one of those illusive jackpot payouts.
1. Allocate more spins
When you choose to play a random progressive jackpot slot machine then each paid for spin on that slot games reels you send into motion will give you a chance of winning the jackpot or triggering the bonus game on which you could win one of several jackpots if the slot you are playing offers multiple progressive jackpots.
•In these type of slots, set the reels into play automatically and for tiny stake amounts. Most random jackpot slots will give you the chance of winning their respective progressives jackpot payouts no matter how much you wager per spin and as such you could set the slot to play via the Auto Play settings and on stake levels as low as one cent or one penny per spin.
•You are going to have thousands of spins when playing for 0.01 per spin on even the most modest slot playing bankroll, and by setting the slot to play automatically for low stakes then every single spin played off will give you an addition chance to win and walk off with the jackpot payout.
•Also ensure you get the maximum number of spins per session to see if the slot you are playing has a fast play option, and if so and you only have a limited amount of time to play that slot, simply turn on the fast play and that will allow you to get the maximum number of spins in the minimum amount of time.
2. Play when the Jackpot has reached a certain level
Try to play when the current jackpot displayed on the jackpot meter is above the usual amounts that is won on average by other players on a slot machine.
•Study all of the previously won progressives jackpots amounts, find out when they were won and on what slots they were awarded, however once you do this you will then discover something known as a progressive slots random jackpot payout amount.
•You then simply need to have a listing of those average jackpot amounts and check out all of the jackpots when you log into an online casino site, and should you find any slots on which the jackpots are higher than they usually are then those should be the slots you choose to play as their progressive jackpots may just be about to be won and awarded!
•Remember a slot game is random, and even if a slot games current progressive jackpot is higher than it has ever been before there are no guarantees that it is going to be won soon, however over time you tend to find many such slots do tend to award their respective jackpots at a similar average value amount.
3. Grab the online casino bonuses
Many online casinos let you claim one of their new player or ongoing promotional offers and use the bonus coupon or cash claimed via that bonus on any of their Random Jackpot slot games. So play on a casino and grab such an offer if you want an added chance of winning one of the jackpots through having an enhanced gaming budget.
But you need to read the terms and conditions that come along such bonuses before you redeem them. These rules will have something like a maximum Cash-Out Limit. When you play any slot game which offers a progressive jackpot then you will not want any rules in place that is going to limit just how much you can win and cash out when playing such a slot with a bonus. Many RTG casinos will have such a limit in place and usually the amount you can withdraw is a percentage of your deposited amount.
So avoid taking any form of bonuses that is going to restrict the amount of cash you can win when playing such slot with a bonus, for you do not want to win big only to find out that you can only cash out a small percentage of your win.
4. Play at any stake level
It is always proclaimed that the higher the stake levels you play any random jackpot awarding slot machine game for the most chance you will then have of winning one of the progressive jackpots attached to those slot games.
However, the best aspect of choosing to play such slot games is that it doesn't matter at what stake you do play them for every single base game spin you play off will give you a chance of being awarded with the progressive jackpot either instantly or via some form of bonus game or bonus feature.
Many slot players do tend to play any slot game offering a random jackpot is for them to set the stake levels as low as they possibly can do and then play off hundreds or thousands of spins per session. Each of those spins will give that player more chances of winning the random jackpot.
Finally it is best advised to play random slots with patience and wisely with a cool head for it can often become quite addictive to play such slots when you are chasing a progressive jackpot, and there is always the very real chance that after spending so much of real money on such a slot you may never win the jackpot.
Always set yourself a sensible bank roll limit for playing any type of progressives slot game and if you do not win then simply believe that it was not your chance to be lucky enough to win and better try next time.