The one fundamental aspect of players at the casinos is to win and win big. May be that is the reason mostly people are lured to progressive slots. These machines have a progressive jackpot which could be a huge amount of money. Random Jackpot slots are also offering wins and you only need to choose the random slot and play with any additional bonus game that it offers like the free spins round. When you complete the spin or game you have a chance of winning the random jackpot.
The chance of you winning a random jackpot is based on a $1 bet in total. This chance is increased or decreased proportionately based on your total spin amount like if you are playing a single line spin on a coin value of 1 cent then you therefore have a 100 times less chance of winning the random jackpot than a $1 spin. A proportion of your stake is put towards the random jackpot and this is, in most cases no more than 1.5% of the return to player.
What is Random Jackpot?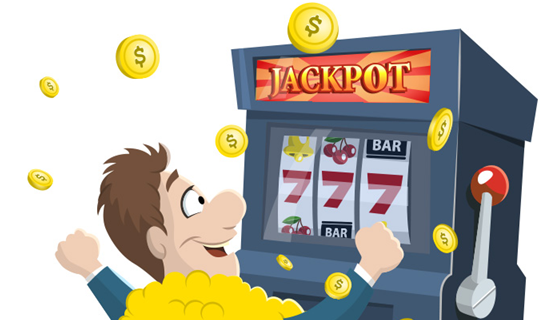 In most of the progressive slots you need to bet a sum of money to make yourself eligible for the jackpot. Like suppose the maximum coin size is $1.00, you might have to wager this amount just to qualify for the top prize.  This offer sounds good to players who have enough amount of bankroll to play but for low stakes player it is not so interesting.
This is where "random jackpot" slots games play their role as you can win on any spin, regardless of how much you bet. Even if you wager just $0.01, you're entered for the top prize, which grows progressively with every bet. Suppose you're a frugal slots player hoping to have a shot at the jackpot, random jackpot casino games seem perfect.
Features of Random Jackpots
Random Jackpots does not offer big prizes as that of Progressive Jackpots
The random progressive jackpot games does not have their top prizes rewards that big as progressive ones. Many of these payouts start at $10,000 and hit around $15,000 – $18,000, and that is also cool. If you are trying to reel the spins into riches overnight then these games are not for you.
But if you're the type to fill your wealth slow and steadily then it is the right choice.
Random Jackpots offer less chances of winning huge rewards
This somewhat tallies with the above mentioned feature; as you don't have to wager $1 or more just to compete for a random progressive jackpot.  You don't have the same opportunity to win as the players who bet the maximum amount. You will think this not so fair betting $1, only to see those who wager $0.01 have the exact same chance at the jackpot. Therefore playing low stakes will have less chances to grab huge wins
Random Jackpots provide more fun and excitement
As a low stake player these random slots offer more fun and excitement.   Most of the players cannot  afford to risk a dollar or more per spin. So random slots provide the perfect alternative since you can wager as little as one penny in many cases. Also since you have an opportunity to win big on every move, it creates more suspense and overall enjoyment.
The thing that I like playing random jackpot slots is that I can afford it as it in my budget and I can compete for big wins without risking my wallet.
Where will you find Random Jackpot Slots games?
Random Slot games are mostly powered by Real Time Gaming (RTG) software and can be found at online casinos offering RTG games.
The RTG slots have Random Jackpots attached to them and are known as the Real Series slot.
All RTG casinos have this range of slot machines and they all come with a random jackpot feature that can be triggered at any time. The random jackpot can range from $1000 all the way up to over $10,000 and more.  Some examples of Real series slots are Rain dance, Goldbeard and Ronin.  There are over 100 plus games to choose from all with its own random jackpot.
When you play these slot games you simply have to play them in a real money mode, and for any stake level to have a chance of winning the randomly awarded progressive jackpots. The more higher the stakes you play these slots for, more chances you will have of being awarded a Random Jackpot.
There is no strategy involved in being awarded a Random Jackpot, for a random number generator will determine just when the jackpot is going to be won, and it is at the end of any one single paid for spin you play that is when you will discover whether you have been awarded the jackpot or not.
You will also find a range of Random Jackpot slot games powered by both Microgaming Software and Playtech Software with great variety
If you choose to play at Microgaming software powered online casino sites then look out for their Mega Moolah Slot games as these slots have four random jackpots that can be won. If you prefer the many different slot games on offer at Playtech software powered online casino sites then give some of their Marvel Jackpot Slot Games some play time for these slot can and do award some fairly large valued Random Jackpots.
Church goer goes to Church every Sunday and kneels in front of God and says, " Lord please help me win the lottery this coming week".

God does not respond

Months pass and the Church Goer has the same prayer every Sunday

After few months Church Goer: Lord, why don't you speak. I have been begging since months praying to help me win the  lottery"

God Replied, " I didn't knew you to be such a fool. Go and at least buy a lottery ticket so that I can help you win".
How to know you have won a Random Jackpot or not?
When you play random slot games  with any Real Series you spin the reels and when the reels come to a stop you will come to know  if you have been awarded the random jackpot  by a message that will be displayed on the slot games screen alerting you your win.
As soon as you are awarded one the entire jackpot as displayed on the jackpot meter will then be added to your casino account and that jackpot meter will then be reset back to its seed value, and will slowly start to grow in value as more players give that game some play time.
Each real money spin of the Real Series slot games five reels will see a tiny amount of your stake being fed into the prize pool, so the more you are staking the more you are feeding that jackpot. You will always have a chance of winning no matter how much you wager.
Suppose you stake more means that you are a whale in the casino playing a Real Series slot then you will have more chances of winning one of the Random Jackpots than a player who is playing that slot for pennies, but either player can win one of those jackpots, which is why these games are popular with players.
If you will look at the past records you will find that many low stake players  have been lucky enough to win a Random Jackpot, so never be put off giving them any amount of play time solely due to the fact you only have a limited amount of cash available in your gaming budget, for you do not know that you can be the next winner of one of those jackpots.
Are Random Jackpot Slots Network Wide?
The Random Jackpot slot games are only networked into the casino at which you are playing them. This is quite an important aspect of playing them that you need to be aware of for this means that unlike other suppliers progressive slot games which are linked into different casinos that use their software, you will find the jackpots attached to the Real Series slots are going to be won only by players playing at the casino you are accessing and playing at.
This means the jackpots cannot and do not grow to the huge values often seen on slots such as the Mega Fortune Slots or the Mega Moolah Slot, but they do grow to values which makes them worth winning and they are won very regularly.
If you choose to play for example progressive slot games at casinos powered by Microgaming or Playtech then the jackpots on offer are fed by players stakes playing at any online casino using that software platform, but when you pay Real Series slots the jackpots are fed from player's stakes only at that one casino.
This does of course mean that when you are playing these types of slot games at some of the more popular and busier RTG casino sites the jackpots will grow much quicker and also the jackpots will be won much more regularly.
Random Slots Bonus Play
Many RTG powered casinos will new players welcome bonuses or ongoing promotional offers and use the bonus cash claimed via that bonus on any of their Real Series slot games. So do consider taking a casino up on such an offer if you want an added chance of winning one of the jackpots through having an enhanced gaming budget.
Microgaming's Mega Moolah series of slots, share four live networked jackpots, and you will be guaranteed of winning one of them only when the Mega Moolah bonus game is awarded at random to you at the end of any paid for base game spin.
Random Jackpot Rules in some RTG Casinos
In some RTG casinos you will find some weird rules in place regarding bonus play and Real Series slots, and as such you must always go through the terms and conditions of any bonus and rules that may be in place.
You may find rules like maximum Cash-Out Limit. When you play any slot game which offers a progressive jackpot then you will not want any rules in place that is going to limit just how much you can win and cash out when playing such a slot with a bonus. Many RTG casinos will have such a limit in place and usually the amount you can withdraw is a percentage of your deposited amount.
So avoid taking any form of bonuses that is going to restrict the amount of cash you can win when playing Real Series slot with a bonus, for you do not want to win big only to find out that you can only cash out a small percentage of your win.
Sometimes there may be a stipulation in a random progressive slot machine that the random progressive jackpot can only be won if you bet with max coins. However, the important key factor to remember is that the jackpot is progressive and it is awarded randomly and this is the case in both land based and online casinos
This feature is most commonly found in online slot machines like Cleopatra's Gold, Aztec's Millions and Paradise Dreams. Just like in many progressive slots the progressive ticker shows the amount rising and usually the more you wager the greater your chances are of triggering the random progressive jackpot.
There is also an online slot machine manufacturer Cryptologic that makes online slot machines with random progressive jackpots. Some of these are Marvel themed slots which are extremely popular as they include slots games such as the Incredible Hulk and Spider Man.
If you have ever asked yourself just how random these random jackpot slot games are then as long as you are playing at a well known and respected casino site utilizing any of the above mentioned software providers games then you are going to be playing fair and random games, and this will mean you will have a chance of winning one of these progressive jackpots when playing any of the slots which offer them.
You can visit any RTG casino and select these slots to play, set the game to play via the auto play settings with just one payline activated on coin values of 0.01, and set the game to play thousands of spins consecutively.
Now play 8 Random Jackpot Slots at online casinos and see how it works for you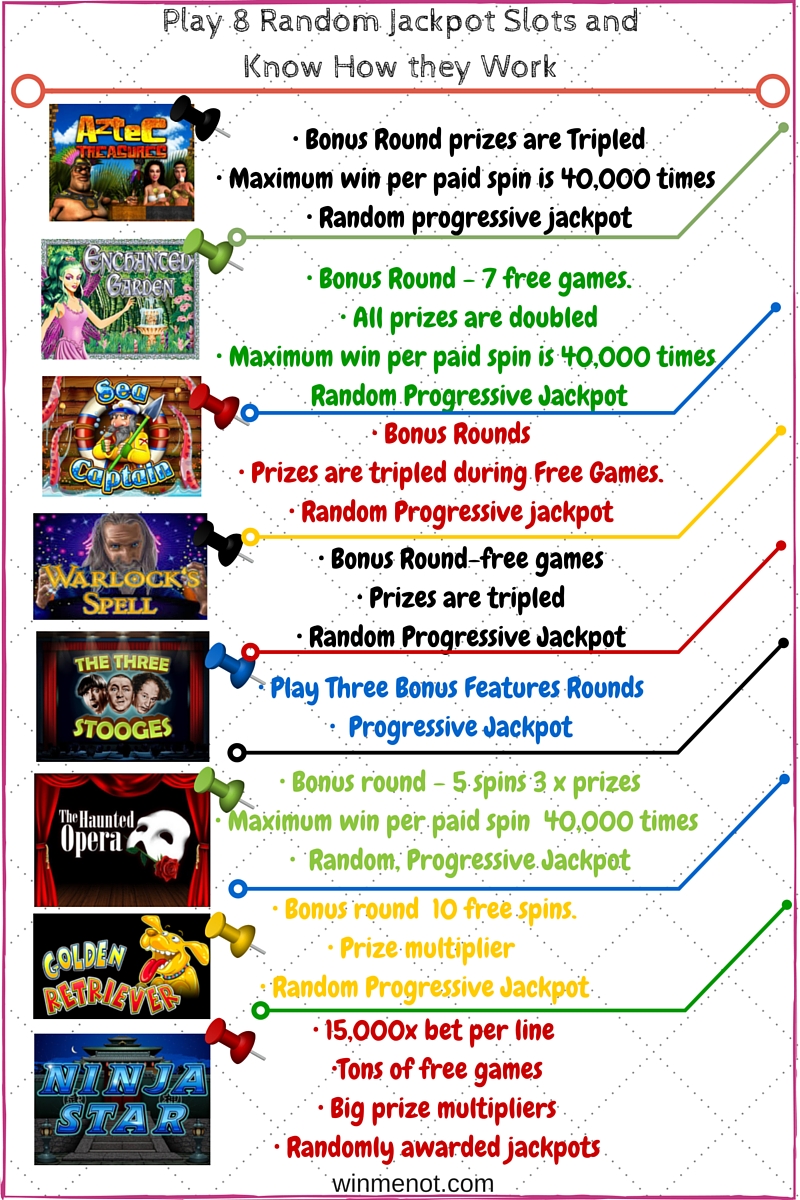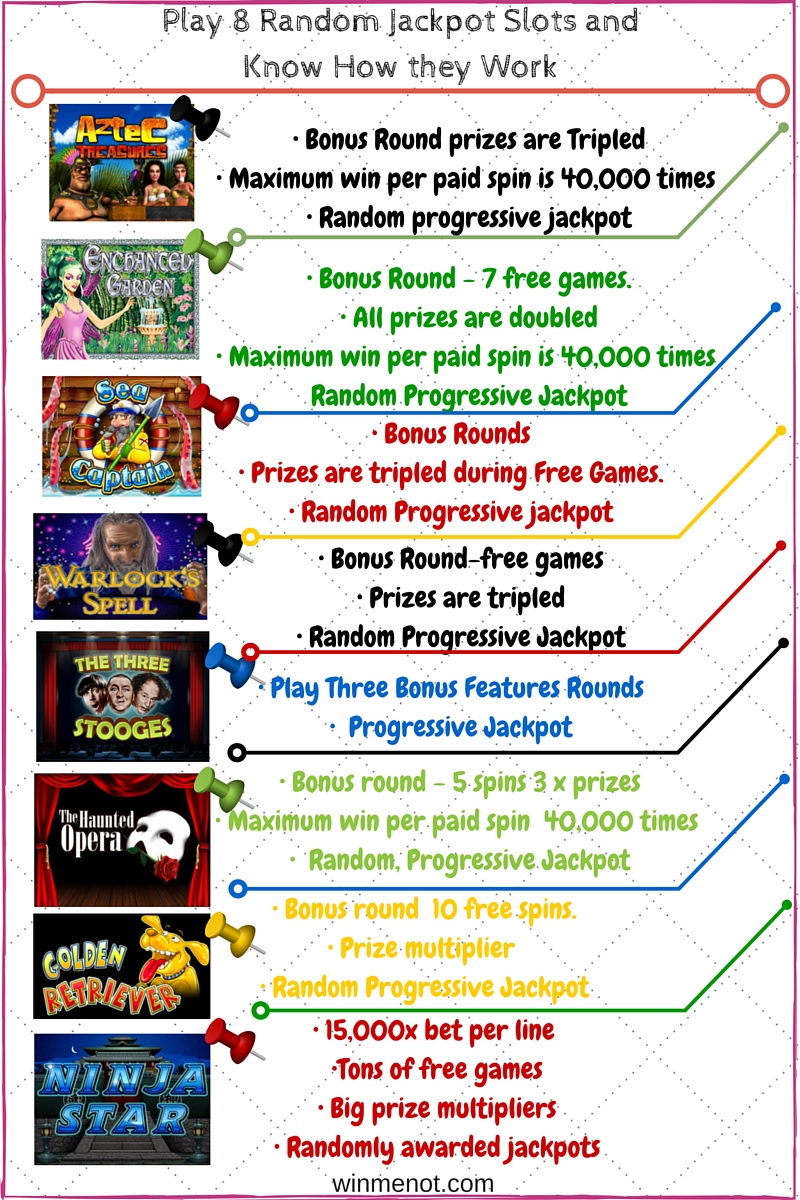 These eight Random Jackpot Slot games are Aztec Treasure; Enhanced Garden; Sea Captain; Warlock's Spell; The Three Stooges; The Haunted Opera; Golden Retriever and Ninja Star. Among the new slots you can play The Big Bopper; Zhanshi and Lucky 6 plus many more to come.
Now enjoy these games but remember that no random jackpot slot game is going to award you its progressive jackpot when you are playing out a free spins bonus game, for it is only paid for spins that will give you the chance of winning a random jackpot. Also use coupon codes and special bonus offers at online casinos for great wins.