Las Vegas sports books are fun to visit. There are so many things to explore when you are in Las Vegas. Be it enjoying at the casinos or strolling at the Fashion Show Mall or having an open bus tour to view the city's surroundings- all this and more. Similarly one more place to enjoy is sports books. As legally the state of Nevada allows betting on all major sporting events these sports books are flourishing in the city as well as admired a lot by people who visit the sin city.
Best 12 Las Vegas Sports Books
There are hundreds of Las Vegas sports books to visit. But not all sports books are created equal. as some are good in services and not in sports and vice versa. Here have a quick look into the best 12 Las Vegas Sports Books and know their secrets.
Sports book is also called race book and it is a place where you can wager on various sports competitions like golf, football, basketball, baseball, hockey, soccer, horse racing, boxing and other marital arts.
1. Caesar's Palace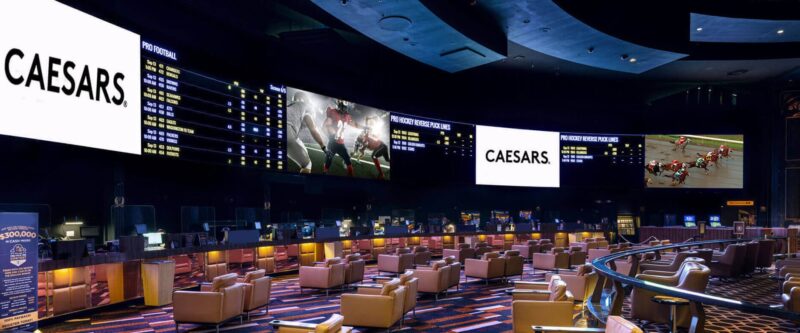 Caesars Palace Race and Sports Book is number one Las Vegas sports books and have been selected as the number one sports book in Las Vegas Review for four years in a row. It is a luxurious sports book with great atmosphere, high betting limits, wide selection of parlay cards. You can watch live sporting events with beautifully laid six over sized 12' by 15' screens, a 20' by 50' LED board and twelve 50" plasma screens throughout the Sports Book plus 140 sports seats and a 12" flat screen at every table.
In fact, Caesars is No. 1 in the minds of many horse-racing fans, as plenty of space in the book and many of the TV monitors are devoted to the ponies. The Kentucky Derby parties Caesars throws for its VIP customers are legendary. The book's large, easy-to-read electronic sports betting board displays all the day's action, along with other wagering options, and promptly updates scores of ongoing games.
For high rollers, Caesars has some of the highest betting limits in town. Also for those addicted to parlay cards, the book offers daily cards just about every day of the year even in the middle of summer when nothing but baseball is on the board.
Secret: If you reserve your seats in advance you will receive complimentary Miller Lite and Coors Light, as well as Woodford Reserve and Woodford Reserve mint julips, Veuve Cliquot Yellow Label Brut champagne, Sonoma- Cutrer chardonnay and pinot noir, well brand cocktails and non-alcoholic beverages.
2. Las Vegas Hilton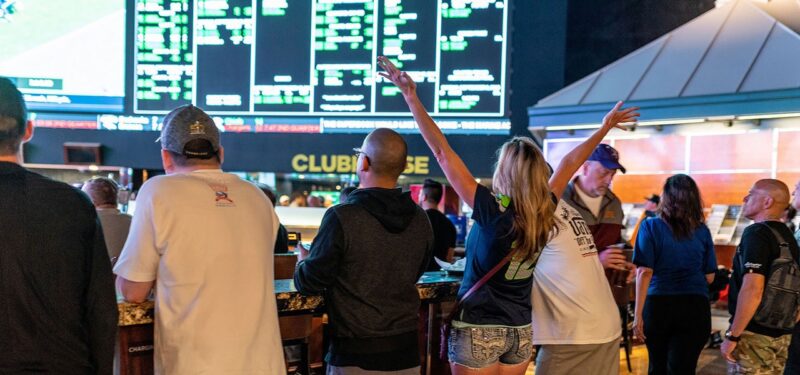 Las Vegas Hilton is the world's largest Las Vegas sports books. The sports book totals 30,000 square feet and offers 1000 seats on two levels, an up-to-the-second 75-foot sports ticker and 60 viewing monitors, including a mammoth 15-foot-by-20-foot screen that you can practically see from Arizona, that is usually playing the biggest event going on at the time.
Secret: The casino offers generous comps and discounts to their favorite high-rollers so ask for it. If you rise early you can grab some of the goodies from the Superbook Super Snack Bar, which serves sandwiches, salads, snacks, and breakfast.
3. MGM Grand

MGM Grand Las Vegas sports books is spread across 5,300-square-foot establishment and offers seating for 104 guests, with 36 65-inch plasma televisions and 47 42-inch plasma screens. Sports Book is capable of handling more than 53 channels of simultaneous sports action from all major international athletic and race events. Featured broadcast events include the four major sports along with NASCAR, boxing, MMA, soccer, championship golf, championship tennis and thoroughbred racing
A unique feature in the race and sports book is the availability of skyboxes for guests. The four second-level skyboxes each range from 300 to 325 square feet and can fit eight to 10 guests. They are each equipped with plasma TVs, CD systems and surround-sound audio. The book offers pari-mutuel and nonpari-mutuel race wagering, daily games, sports futures and some proposition wagers, particularly for major sporting events. The MGM Grand race and sports book also offers seasonal events and contests for race and sports players.
Secret: As a High-rollers you can ask for the MGM Grand's four above-ground sky boxes. Skyboxes offer a special second-level view and can comfortably host up to 10 guests. SkyBox 2 and SkyBox 3 can be configured to comfortably accommodate up to 20 guests with their own beverage server.
4. Red Rock Casino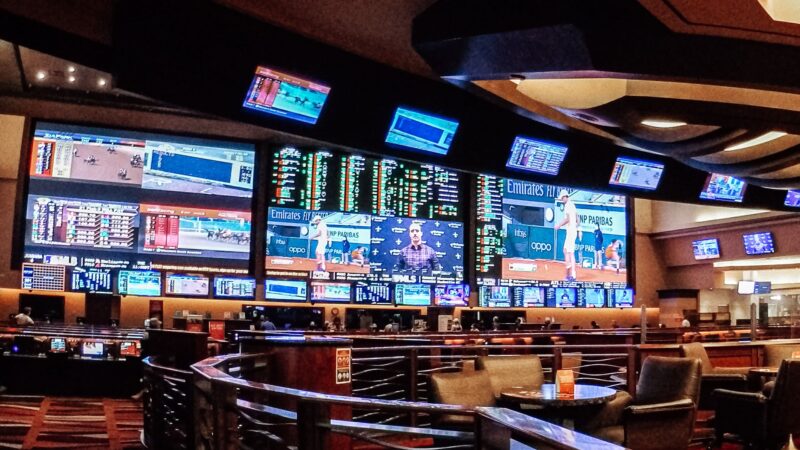 Red Rock Casino Las Vegas sports books with 206 seats puts you in the center of the action with the largest continuous wall of televisions in Las Vegas. You can watch the hottest sports action from coast to coast on a bank of monitors measuring 96 feet wide by 18 feet high.
Eighteen projectors are used on the wall, which combines three giant-screen, 25 large-screen and 15 traditional big-screen television monitors. The wall bank is touted as the largest in any race and sports book in the state. But the barrage of screens doesn't end there. The Red Rock's sports book has 213 individual monitors as well, providing patrons the opportunity to watch the game of their choice anywhere in the race and sports book arena. The spacious race section also offers a VIP area as well as 18 individual player terminals to give pony enthusiasts a plethora of options.
The Red Rock Race and Sports Book takes wagers on all major sporting events including NASCAR, golf, tennis, horse racing and boxing, as well as futures wagering.
Secret: If you are VIP then Red Rock offers a luxurious VIP lounge with full range of betting options with lines on all major race and sports events, including NASCAR, golf, tennis, horse racing, and boxing, as well as futures betting.
5. Planet Hollywood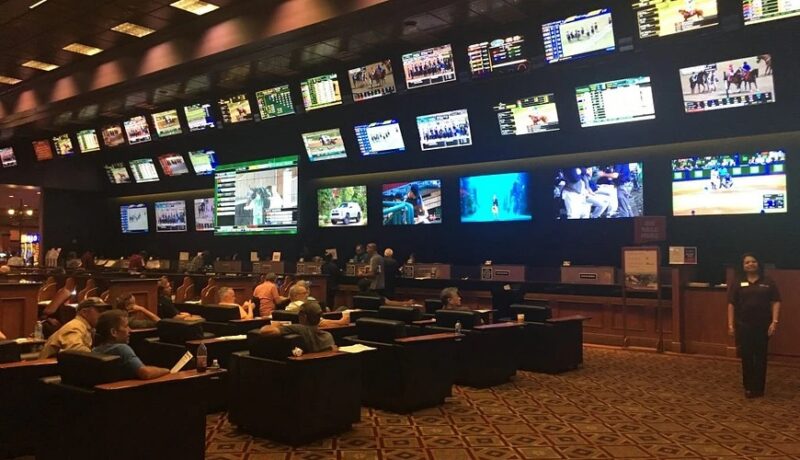 Planet Hollywood Las Vegas sports books is a quiet a cool sports book to visit. Its relatively low lighting and collection of 75 black-and-red-leather chairs, in which bettors can sit back and watch the action on their choice of 30 60-inch plasma screens, providing a casual and cozy atmosphere to catch your favorite game on the plasma televisions, while large digital boards keep you up-to-date on the latest scores.
Secret: Visit during the Super Bowl, March Madness and the Breeders' Cup, when it hosts some of the biggest and most memorable parties in all of Las Vegas. You can win some too.
6. Wynn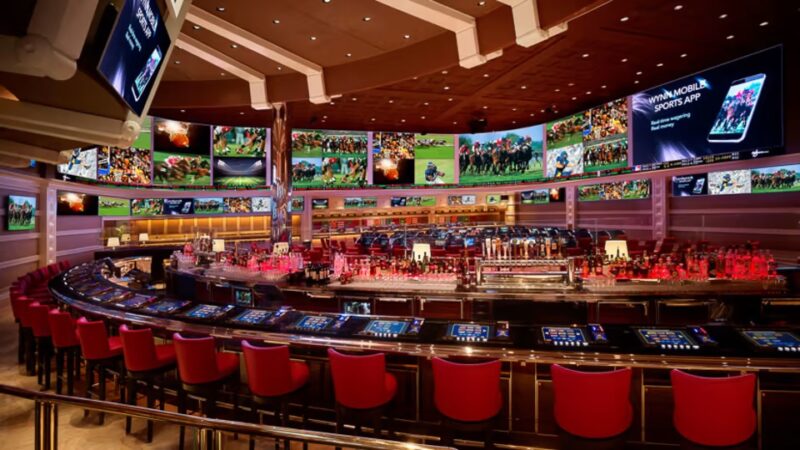 Wynn Las Vegas sports books is one of the most respected and luxurious establishments in Las Vegas. You will find the gorgeous dark-wood decor, ample plush-leather swiveling armchairs and an exclusive VIP lounge with seating for 26 to watch the live sports events. Gamblers can watch the action on one of 52 TVs that are 50 inches or larger and there are three 20-foot-by-20-foot big screens. All of the race bettors have Interactive Personal Terminal machines at the seats in the book, allowing them to place bets on horse races without having to go to the betting windows.
The Wynn race book is unique in that it takes horse racing future bets, including the Breeders' Cup and the Kentucky Derby. The book also offers the usual straight bets, money lines and totals wagers, as well as propositions and futures on all major sporting events, including NASCAR, tennis, golf and soccer.
Lines at the sports book are often long, as there just aren't as many betting windows as there are at other sports books in Vegas. As the seating is few you need to book it in advance if you wish to be here.
Secret: Visit in August. Wynn takes horse racing future bets and offers an annual horse-racing contest each August with $100,000 in guaranteed prize money
7. Mandalay Bay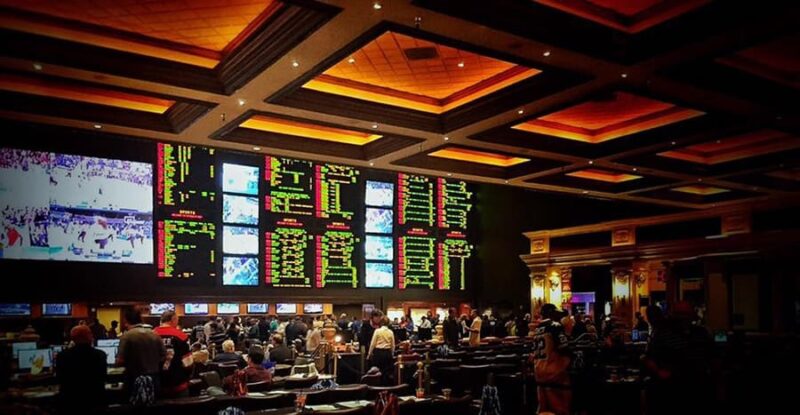 At Mandalay Bay Las Vegas sports books, you can enjoy high-limit gaming on all major sports and horse-racing events. Located at the west end of the casino floor, this airy venue features 17 big-screen televisions, a 28-foot-by-30-foot projection screen and seating for 300 to watch real time betting and having the fun. Seating cannot be reserved in this Sports Book. You must be present to wager. You Wagers must be made with Mandalay Bay casino chips or cash only.
The Mandalay Bay hotel-casino has hosted some of the best boxing matches in Las Vegas in recent years, especially in the lower weight classes, so gambling action on the fights is always fast and furious and comes with a comprehensive menu of betting propositions. In fact, for serious sports gamblers, Mandalay Bay offers some of the highest betting limits in all sports.
Secret: If VIP then go for VIP Luxury Box. It not only offers the VIP treatment for groups of 1 to 8, but lets you wager on horses from your seat on a touch-screen monitor.
8. Mirage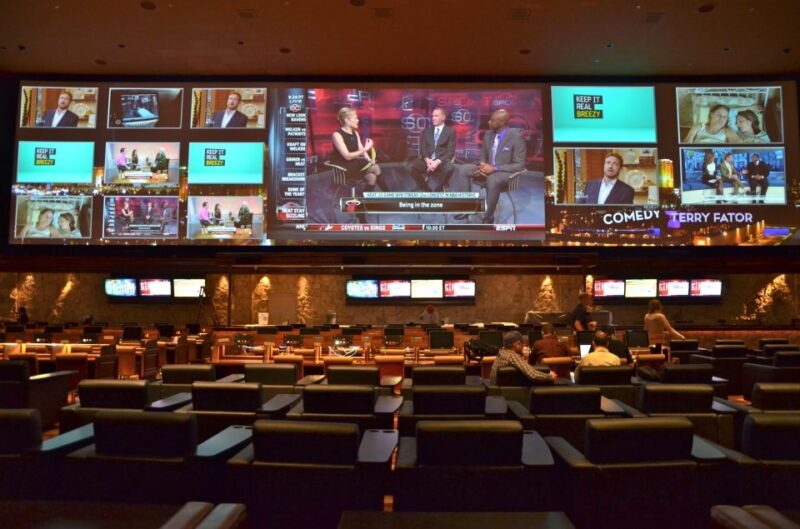 Mirage Las Vegas sports books spread across 10,000-square-foot venue features 10 big-screen TVs, 150 individual desktop monitors and plenty of individual self-wagering terminals, where you can bet on the action at all the major racetracks around the U.S. Mirage offers some of the largest betting limits available anywhere on straight bets, parlays, totals, money lines, and teasers, while also serving up seasonal parlay cards, including the always popular "Money Line Card."
At playoff and World Series time, odds to win the series are adjusted and updated after each game, rather than being taken down once Game 1 starts (the way they do it at some casinos). Odds also are posted on how long a playoff series will last — for instance, "Lakers in four games," "Lakers in five games," "76ers in six games," etc.
The Mirage offers betting lines and totals on WNBA games and is the only property in Las Vegas to hang numbers on every game in the NCAA women's basketball tournament — including early round games.
Secret: Mirage has some of the highest limits: $30,000 max on NFL sides, $10,000 max on moneylines, $5,000 max on totals. Casino players get even higher limits. Race players get a free drink for every $5 bet.
9. Orleans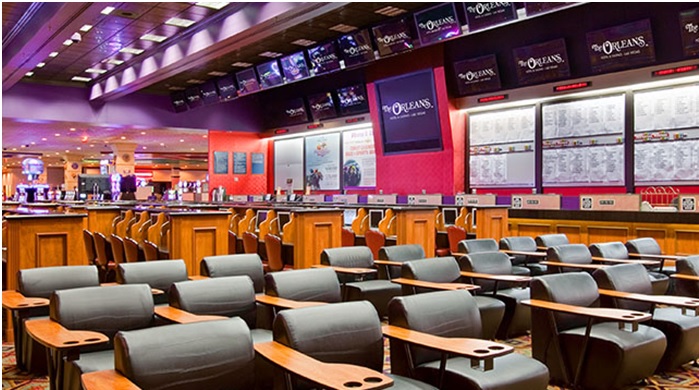 The Orleans race and sports book offers you a better view of your favorite action than even the luckiest visitor usually gets for Mardi Gras. The spacious nature of the book makes sure you can see what you want to see, whenever you want to see it. Screens line the length of the top of the book and bigger TVs are placed strategically throughout the area. You can relax in seats with individual 22-inch TV monitors, including 25 individual race betting terminals.
Orleans is equipped with 125 seats with new generation LED reader boards, and the latest high-resolution giant screen televisions, the Race and Sports Book makes all major race and sports events instantly available. The Race Book provides 13 betting windows for pari-mutuel wagering, while the Sports Book features seven betting windows.
Secret: Ask for exciting promotions to celebrate each sports season
10. Golden Nugget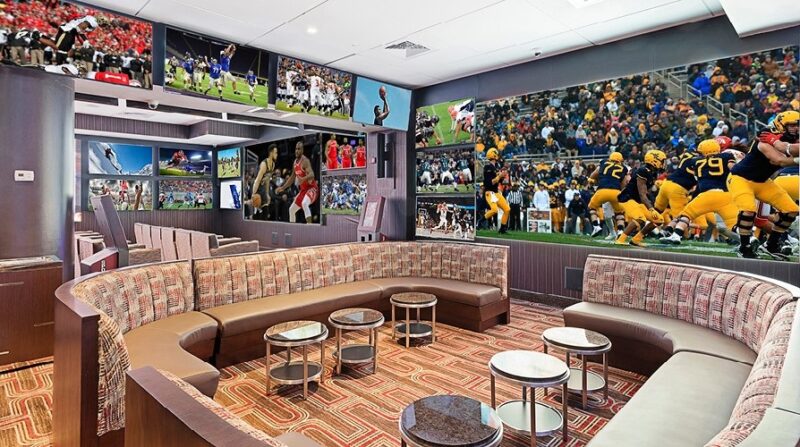 Golden Nugget Sports book is equipped with next-gen LED reader boards, 57 plasma televisions screens and seating for 100, which makes it the perfect place to let it all ride on a wide assortment of daily games, futures, match-ups, propositions, and horse racing. Hardcore bettors will especially enjoy the venue's 45 single-screen and luxurious booths to spend a game night, a race day, or for the ambitious, an entire Sunday of football and more football.
Decorated in fine dark woods and sports-related art on the walls, it's very attractive and inviting. With a number of leather circular booths and couches, it has a clubby, living room-like feel. It also has a fantastic display of plasma screens and electronic billboards stretching across its walls. On the right hand wall, there are banks of individual 60-inch televisions with grouped screens simulating giant screen displays. It's impressive.
Secret: Each Friday throughout the football season, unlimited numbers of contestants are allowed to enter for $2,000 each entry per person
11. Aria

You can place your bets in a comfortable environment at the Aria Race and Sports Book. Conveniently located off the main floor of Aria, guests can relax on comfortable couches or in chairs with separate monitors. The race and sports book has more than 10,000 square feet of space. More than 75 monitors are placed throughout the sports book. Watch your favorite sporting event on one of the two available 9 foot by 16 foot big screen televisions. There are two self-betting kiosks that can accept betting wagers. There are also nine betting windows available. If you get hungry, steps away you'll find fabulous oven-baked pizza and handmade pastas at the adjacent FIVE50 Pizza Bar by chef Shawn McClain.
Secret: Sit near the wall of 90 HD screens guarantees you'll have the best view of every pass, catch, basket, goal or home run.
12. Flamingo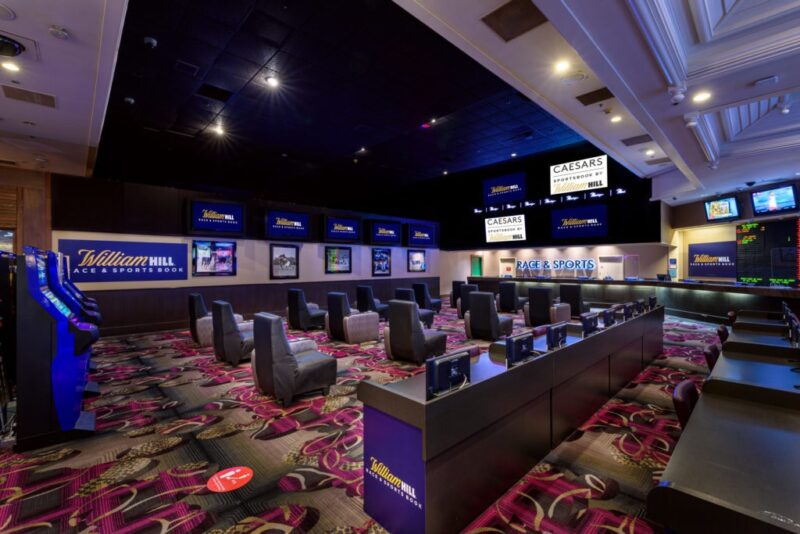 The Flamingo features a relatively large Sport Book, with an emphasis on the race area. Horse players will find three long aisles of individual TVs anchored on desks. The desks face the book's betting counter and its two big screen TVs, which are surrounded by three banks of eight smaller TVs each.
The sports area is significantly limited and simple but is a friendly, comfortable place to watch a game. Three rows of over sized leather chairs with drink holders face nine 35-inch and four big screen televisions.
Secret: The Flamingo offers decent food options for those looking for a quick bite. Johnny Rockets and L.A. Subs in the nearby food court are a couple of the choices.
Have your take in these 12 best sports books and remember the secrets when you visit any of these at Las Vegas. If not interested then find many online casinos where you can play the tournaments which are not like the sports book but have that same excitement and are fun to play with special bonuses that are offered from time to time.