With some of the best rafting, riding, climbing, and skiing in the world, Colorado's stretch of the Rocky Mountains is a paradise for adventure seekers. The good news is that whether you're an amateur or a seasoned adrenaline junkie, Denver makes exploring Colorado's outdoors easy. Here are the coolest 7 Outdoor Expeditions in Denver with day trips and other activities near the Mile-High City. Enjoy.
1. Ski and Snowboard at Vail Mountain Resort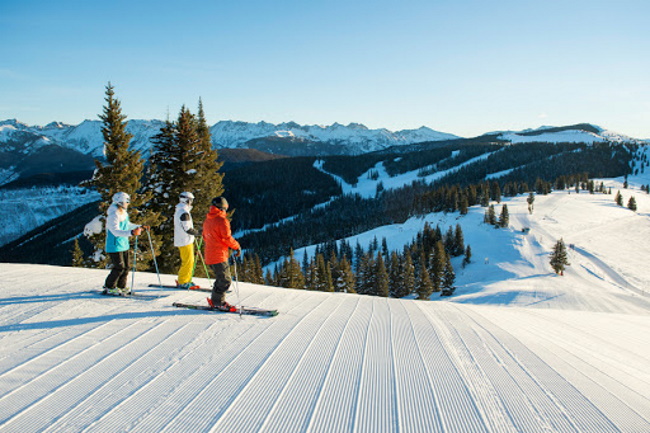 With Vail's 3,500 vertical feet of the mountain, 31 ski lifts, and 5,000 acres of rideable terrain, outdoor lovers can shred everything from long expert runs to powder-filled back bowls. Hit one of Vail's many watering holes for good barbecue or pub grub. The George restaurant has killer happy hour specials from 3 to 7 pm. You will find most of the restaurants and bars within walking distance from the 5-star Vail Four Seasons.
To reach there, follow I-70 west from Denver into the Rocky Mountains for 97 miles. To avoid heavy traffic, start before 8 am or after 10 am, and home before the last lift or after dinnertime.
2. Whitewater Raft the Colorado River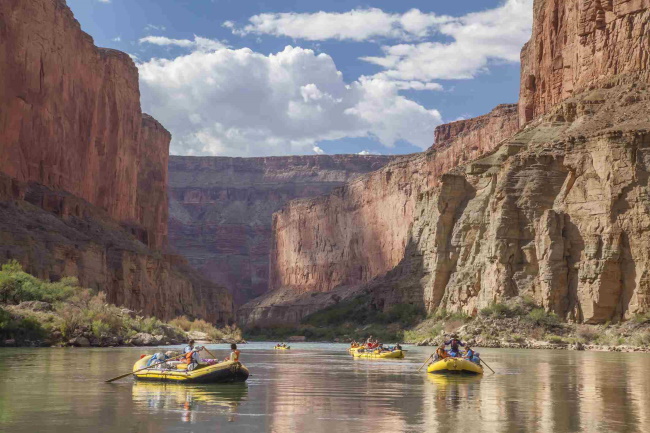 You can't visit Colorado without taking a whitewater rafting trip. From May to September, Geo Tours provides access, gear, and guides who take you down Class IV rapids. The company take you to and from parts of the Colorado River, Arkansas River, and Clear Creek. It also organizes overnight trips and inflatable kayaking if you'd like a multi-day excursion.  
To get there take Highway 6 West to 470 South for 17 miles to Geo Tours in Morrison base for free transportation to rafting locations.
3. Boulder the Flatirons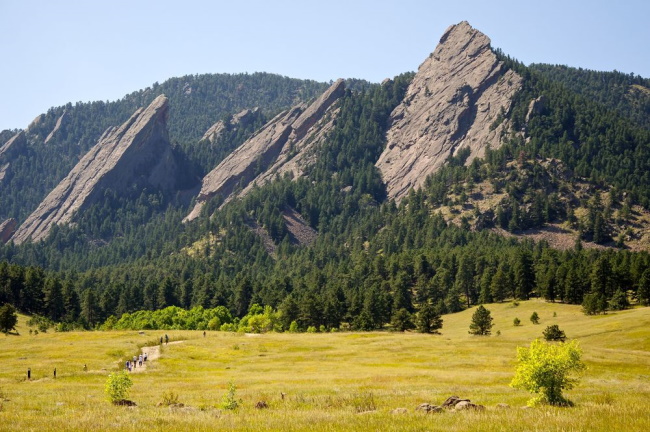 Also termed as the flatirons, the large rock formations jutting up from the Rocky Front Range south of Boulder offer some of the best short technical climbs near Denver—and you won't need gear. The softer sandstone rock is challenging but doable, bouldering ascents with holds varying from open ledges to small crevices and deep fissures. The slanted slabs in Boulder Mountain Park are great for starters and intermediate climbers. You can reach here using dozens of access points from the network of hiking trails.
4. Mountain Bike at Buffalo Creek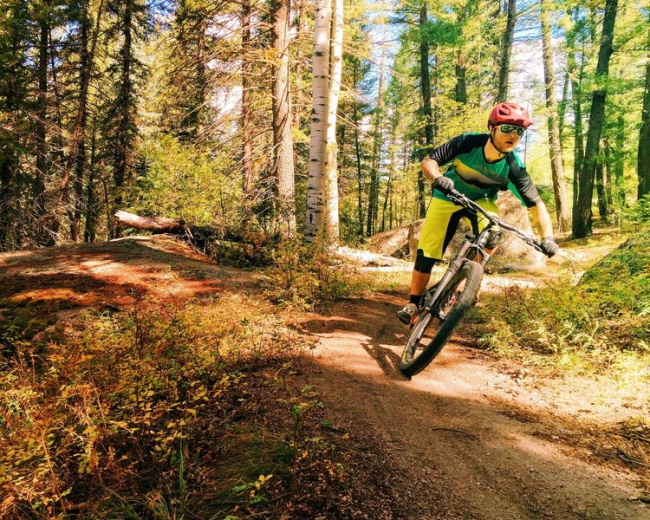 The Rocky's front-range is a heaven for mountain bikers. The crème de la crème is Buffalo Creek is a 23.6-mile trail an hour west of Denver. It features a mostly smooth, rolling single track trail that rises and drops nearly 3,000 feet in elevation. Along with a backdrop of massive rock and mountain, you can travel the buttery single track over tabletops and whoop-de-doos for an amazing rollercoaster like slope. The trails intersect in many areas so you can decide your ride to how far you want to go.
To reach here follow I-70 West to 470 East to 285 South to Pike National Forest where you can hop the trailhead from the Buffalo Creek Campground parking area.
5. Snowshoe in Rocky Mountain National Park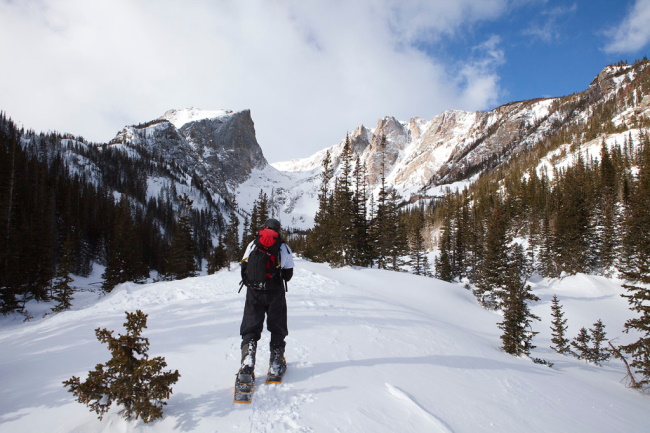 At Rocky Mountain National Park from November to April, you can do that. Rent a pair of poles and shoes from R.E.I. in downtown Denver, and go to the park entrance. You can pick from there, your trailhead, strap on a pair of snowshoes, and hike over 25-30 inches of drifts and banks.
You can take highway 36 northwest for just over 70 miles directly into Rocky Mountain National Park. Take first left after the ranger station and head until the road ends at Bear Lake trailhead.
6. Backcountry Ski in Estes Park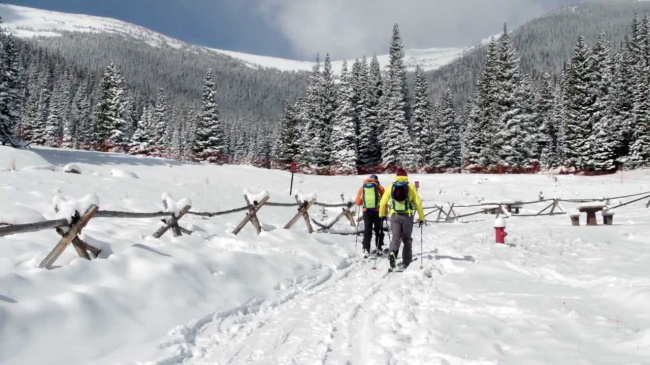 From Estes Park, you can reach some of the most amazing skiable mountain terrains in the lower 48 states. Climbing Life leads guided adventures with varying degrees of difficulty and experience. From November to July, it's possible to summit peaks with altitudes from 9,500 to 14,200 feet, and your guides will take you to the safest snow routes.
To reach there, follow Highway 36 northwest for just over 70 miles to Estes Park.
7. Ride Horses Under a Full Moon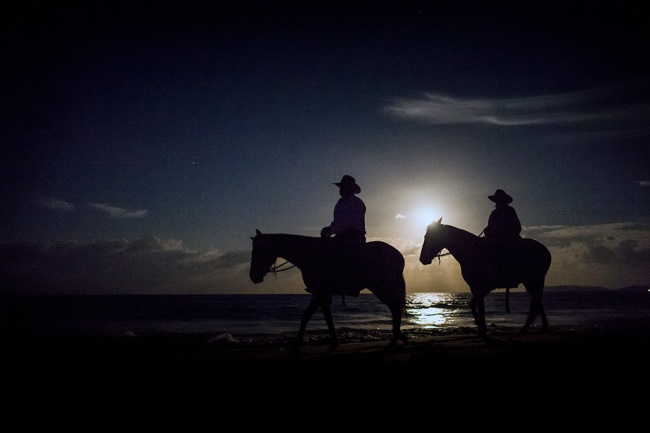 To enjoy the Wild West, go for horseback riding in the Rockies. You don't need to have cowboy expertise to ride. It offers unique packages beyond traditional out-and-back rides that include overnight trips and fireworks shows. You can ride and experience the best of Colorado mountain towns. Later in the evening, you'll ride the horses home in the moonlight.  
You can reach there, drive I-70 West for 40 miles and take exit 243 toward Central City. These are the 7 Outdoor Expeditions in Denver.