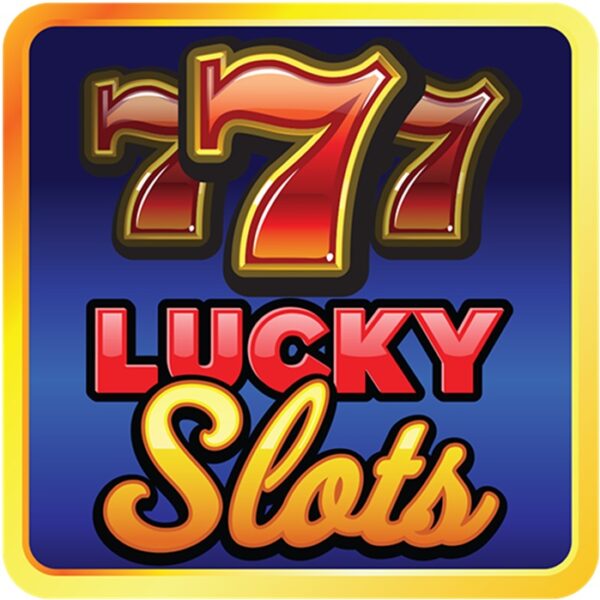 Lucky Slots has made a name for themselves as on of the best casino games on Facebook. Over the years they have accrued millions of users. Their generosity & steady flow of free chips has left users raving. They have used this wild success to provide players with a continuous wave of new bonus games.
Lucky slots boost of making you build a fortune with huge Payouts, Bonus Games, Free Spins and more! You can WIN BIG on the most exciting slots game on mobile, tablet and Facebook.
Lucky slots app features
Exciting slot machines with Free Spins, Wilds and Bonus Games you won't find anywhere else!
Win up to 3 TRILLION coins on their MEGA Jackpot.
Get free Coin bonuses every day.
Also get Bonus FREE SPINS every 4 hours.
A huge variety of machines with different themes and ways to win.
There is an Auto-spin where you let the machine do the work for you while the coins roll in!
Also you can play with your Facebook friends. Send and receive free coins.
How to play Lucky Slots?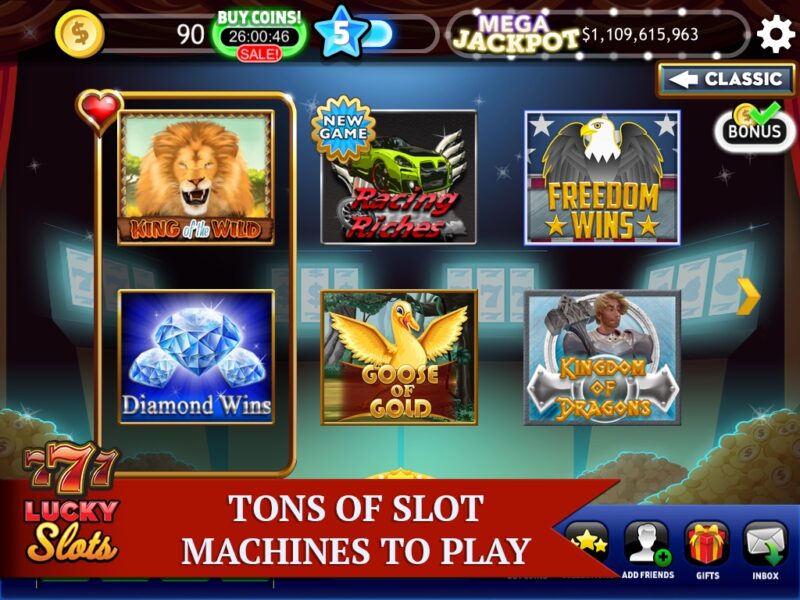 To play Lucky slots you can either play with mobile smartphones or play at Facebook.
Download Lucky slots for iPhone
Download Lucky slots for Android
To play Lucky slots first, choose the slot machine you want to play. Then, use the Lines and Coins fields to change the number of lines you play and the bet you wish to make per line. The Spin button will start the reels spinning. When they stop, you can see whether you've won.
All wins are based on the same symbols appearing on a win line in consecutive reels, starting with the first (leftmost) reel. Wins only occur on active win lines, from left to right, and only the biggest win is paid per line. Wild symbols can be substituted for any symbol except Bonus or Scatter when determining a win.
Three or more Bonus Game symbols on a win line will start the Bonus Game for the current slot machine.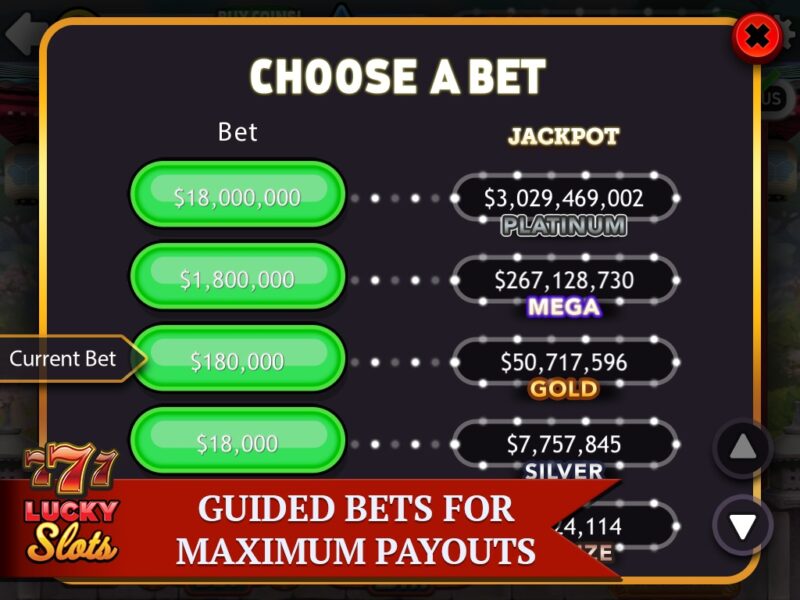 Three or more Scatter symbols anywhere on the reels will activate free spins. Bonus Pool symbols will be added to the pool at the left of the reels.
Win lines are paid in addition to any other bonus or scatter symbols. Win line amounts are multiplied by the per-line bet.
You can also use the Auto-Spin button to keep spinning, and you can use the Max Bet button to immediately make your highest possible bet on all available lines. When you want to choose a different Slot Machine, use the Lobby button to return to the Machine Selection screen.
Also don't forget to Collect your Bonus from that screen every four hours.
What was shocking at this slot game?
Curious to see if this game still lived up to the hype, I decided to dive head first into this notorious slot game. What I discovered was nothing short of shocking. Enjoy the most provocative review of Lucky Slots on the web!
Lucky Slots Gameplay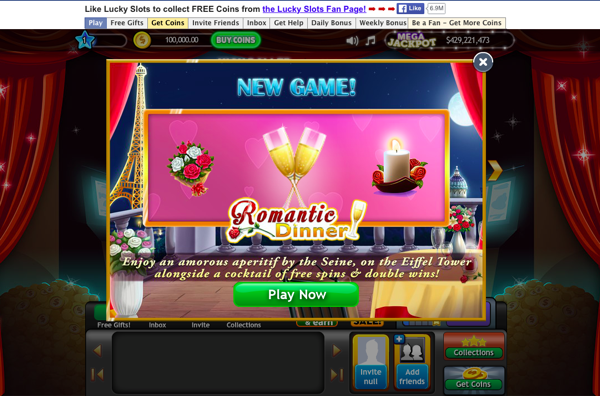 When I first joined I was greeted by a wide variety of slot games. Felling frisky, I ended up choosing Romantic Dinner. Unfortunately, there seemed to be a never ending stream of proposals for other games. As Romantic Dinner was loading I was alerted to two other games that were at my disposal. I was also notified that I could buy 65,000 coins for $10. I had 100,000 coins to start with. I wasn't in a hurry to buy more coins, so I dove head first into the game.
As I refused the offer to purchase more coins, I was alerted to the betting rates. To be eligible I had to bet at least $2,100 for the bronze jackpot. I went with that since I had $100,000 at my disposal.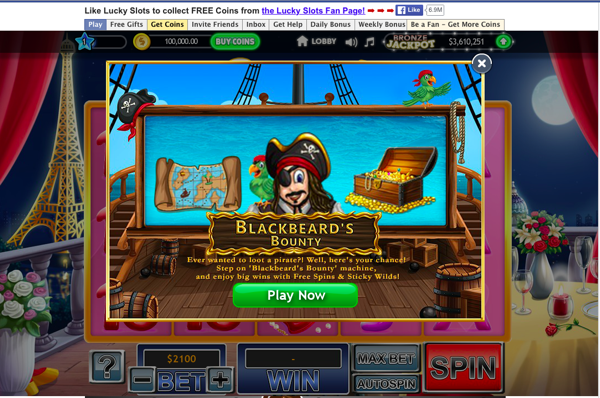 As I tried to access Romantic Dinner, I was bombarded with offers for other games. I was astounded at the amount of games I had to refuse. Finally, after clicking out of at least 10 games I made it to Romantic Dinner.
After one spin, I had already gotten to the third level! This must have been my reward for enduring so many outrageous offers to switch games. I was slightly puzzled by the quick advancement, but happy to finally be playing something.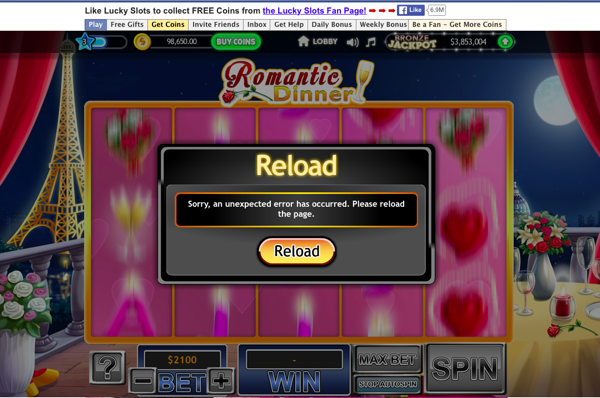 Once I got my feet wet with the game, I decided to use the auto spin option. This overloaded the game & I was met with an error message. After reloading the page I was invited to play Lucky Slots, where I was forced to publicly announce my relationship with Lucky Slots on my feed.
After that I had to endure another flood of invites to play random games that Lucky Slots offers. To shut them up, I accepted the invitation to play Heart of Texas. After one spin I reached the 4th level! I was awarded new coins. 1 spin later, I leveled up again. This was getting pretty bizarre. It seemed that it was nearly impossible to play the game without getting bombarded with worthless level ups & promotions.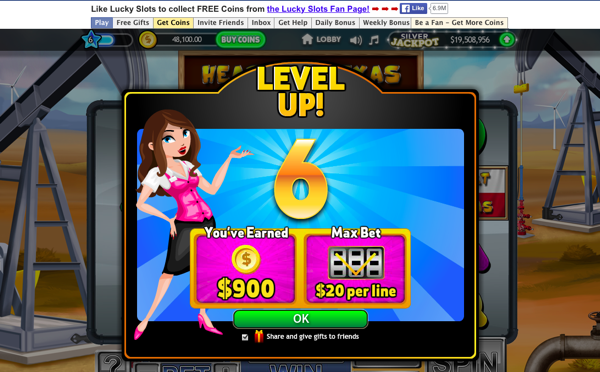 Not impressed with their antics, I continued to play. The next spin I was alerted that I had reached level 6. Lucky Slots had also posted a message on my Facebook wall. That was the last straw, I quit with no hesitation.
How to play Lucky 777?
Lucky 777, is a brand new type of slot machine in Lucky Slots, a Progressive Jackpot Machine. In this new machine, every player makes the same bet, which adds more coins to the Progressive Jackpot total shown at the top of the screen. Also every player has the same chance to win that Jackpot by getting five Jackpot symbols in a row.
The amount of lines and bet per line are locked at a set amount, so everybody playing on the machine is betting the same as everyone else. For Lucky 7's, each player bets 25 lines at $20 Coins per line, for a total bet of $1,000 coins per spin! You can win on any of these 25 lines:
You may have noticed the large JACKPOT counter above your reels — each spin adds to the jackpot!
In order to play on the Progressive Jackpot machines, your device must have an active internet connection. Note to mobile players this does not mean you have to connect to Facebook.
Once someone has won the progressive jackpot, it will reset and the winner's name will be shown along the Recent Winners ticker below the reels.
You can get Scatter wins and Wilds in these machines, as well as the new Jackpot symbol, but Progressive Jackpot machines do not have bonus game, bonus pool, or treasure spots.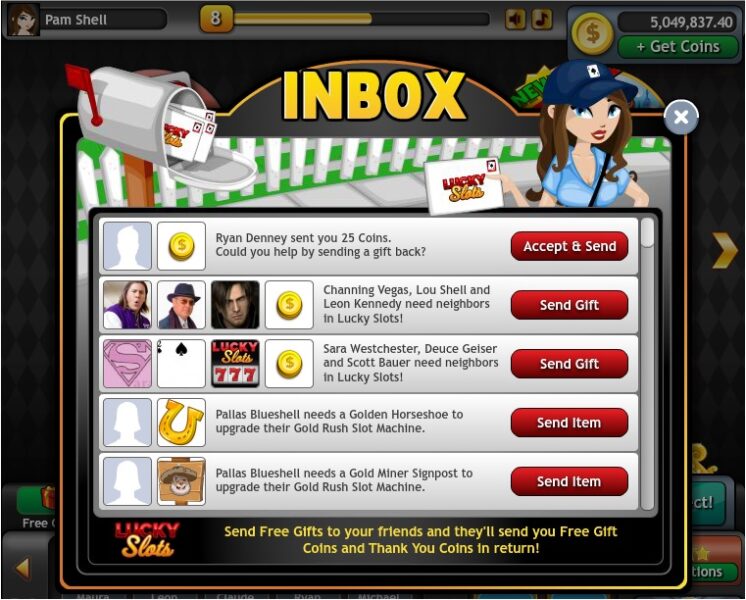 To Request Collection Items at Lucky slots
You can either ask your friends (neighbors) to send you collection items or you can buy missing pieces or all items in a collection.
To Ask your friends or neighbors, Go to Collections, Scroll to the slot machine of your choice and select the Ask button. This will prompt you to ask your Slot Friends, Recommended Friends or All Friends to send your collection item.
Your friends or neighbors will receive a notification prompting them to "Send Item" to help you upgrade a slot machine.
To Receive Collection Items:
Go to your Lucky Slots Inbox (in the top or bottom navigation bar) and accept the Collection Item(s).
Confirm you've received your Collection Item(s) by going to your Collections page and scrolling through the slot machine pages.
Once you've completed the required items for each set, you are eligible for an upgrade, a higher jackpot amount, an increased number of scatter spins (when prompted) and more bonus coins.
What are Power Ups at Lucky slots?
Power Ups at Lucky slots are items you can purchase to Supercharge your Spins. You can find the button inside any eligible slot machine, in the lower left corner, and click it to buy a 5x, 25x, or 100x multiplier from there. When you get one, the button will change to show your Power Up multiplier.
When you are ready to use it, just Click the Button again to Start! Your next Five Spins will not cost you any coins, but will Play 30 Lines at 10 Coins per line!
All the Wins from those Five Spins will be Multiplied by the Power Up strength, including any Bonus Games or Treasure Spots you get during those Spins!
You get one Free Power Up when you first get Access to the Feature at Level 3! After that, you can buy as many as you want.
The bonus symbols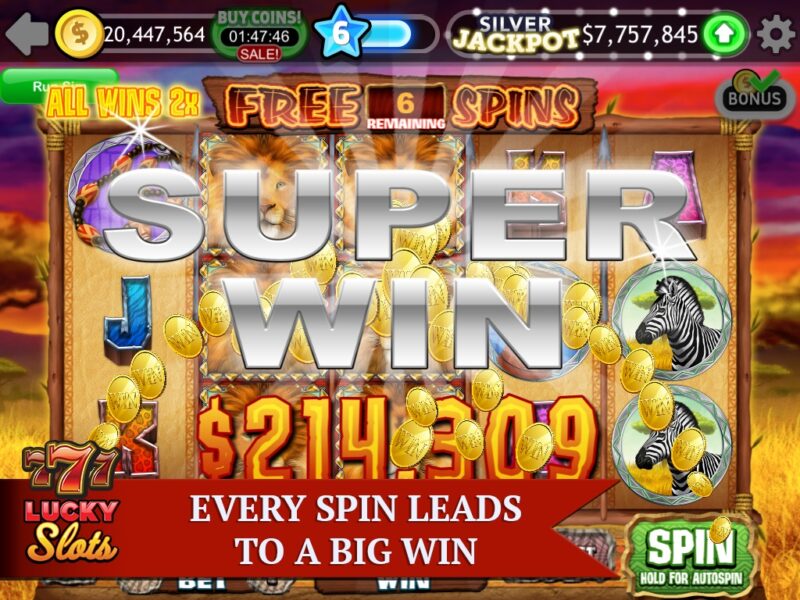 The Bonus Symbols are part of the Bonus Pool feature in Lucky Slots.
Sometimes, when you spin, a bonus symbol shows up on the reels. It gets added to the bonus collection on the left side of the screen, starting a 12-hour timer for you to collect all five bonus symbols for that machine. As you continue to bet and spin, the bonus pool counter goes up. If you collect all five symbols within the time limit, you get a payout equal to the bonus pool counter multiplied by a number between 2 and 10.  If time runs out before all five are collected, the bonus pool symbols and amount reset to zero.
How to post bonuses on your Facebook profile?
Go to your app settings: https://www.facebook.com/bookmarks/apps
Find the Lucky Slots App and hover over the Edit Pencil
Edit Settings to Lucky Slots
Change your Visibility of app and posts to either: Public, Friends or Friends of Friends
Overall Review
Lucky Slots is so hard to play it's painful. To say that this game was the most dysfunctional slot game that I have ever played is an understatement. The graphics are appalling & you cant play in peace. It's nearly impossible to play more than one spin without some sort of offer, random post on your wall or level up. This takes all the fun out of the game & makes you deeply regret giving them access to your Facebook account. Apparently Lucky Slots' glory days are long gone. Now they have become nothing more than mindless spammers. I wouldn't recommend this game to my worst enemy. Do yourself a favor & play a better game!