GrandWin Slots is a free slots game app. GrandWin Slots is the ultimate destination for classic Vegas-style casino slots action. Get ready to play, win, and experience the excitement of a real casino right from your Android smartphone. Download now and discover massive jackpots, amazing bonuses, and endless fun.
There are over 100 free classic and modern slot machines to spin. As a new player you get 1 million free coins and daily bonus that will help you play longer and win bigger. There are huge variety of slot games with incredible payouts. There are special hourly bonus as well as weekly deals  and gifts that fetch you free coins along the game play.
Lamp of Aladdin is the first slot game to play. The Lamp of Aladdin slot can whisk you away as this young and handsome adventurer has found the Genie locked inside a magical lamp. He will help you as you look to match three magical lamps that bring Bonus Spins, where a randomly-selected symbols is an Expanding Symbol to help win up to 5,000x. Match more lamps during the Bonus Spins for even more spins.
GrandWin Slots Facebook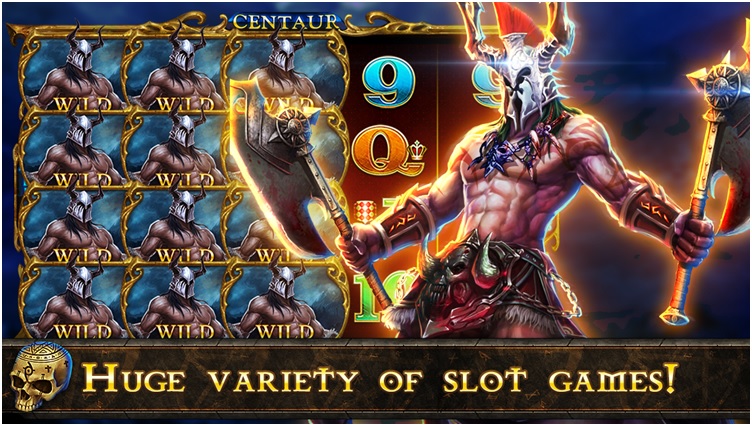 There's a lot of casino games on Facebook, but none have the loyal fan base of GrandWin Slots. In just a few months, when it was released it had made a name for itself as a rambunctious slot extravaganza. They claim to offer the most authentic casino experience online, with incredible payouts and countless games to choose from. To spice up the deal, GrandWin Slots. even offer a one million coin welcome bonus. That's plenty to dive into the game, and thousands of players have taken their offer. In short amount of time, they have accrued over 69,000 likes and 10,000 monthly players.
This impressive display of affection has made this game to revered to ignore. Faced with this new trend, we decided to see if it lived up to the hype. After spending over an hour playing it, we were able to create the most in-depth review of GrandWin Slots. Prepare to be surprised by what we found, this game was more complicated than we thought!
GrandWin Slots Gameplay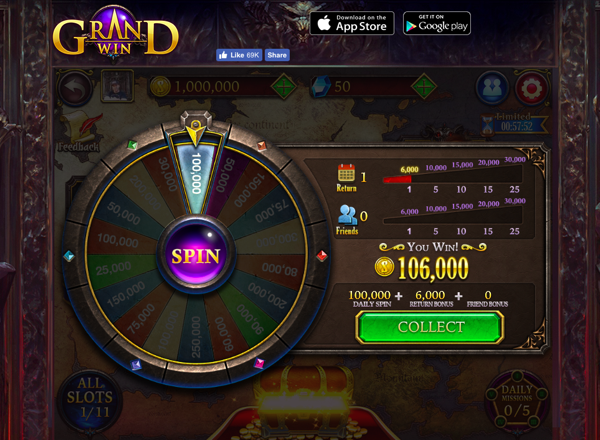 As the GrandWin Slots game loaded, the screed was consumed by a scantily clad dominatrix. This was shameless promotion for their game Domina, which evoked many questions about this game. Slightly puzzled by this wild choice for an introduction, I hesitantly made my way into the lobby. After being tempted to purchase coins, I was thrown into a bonus game. Curious to see how this will pay off, I spin the wheel as instructed. This ended up winning me 106,000 credits!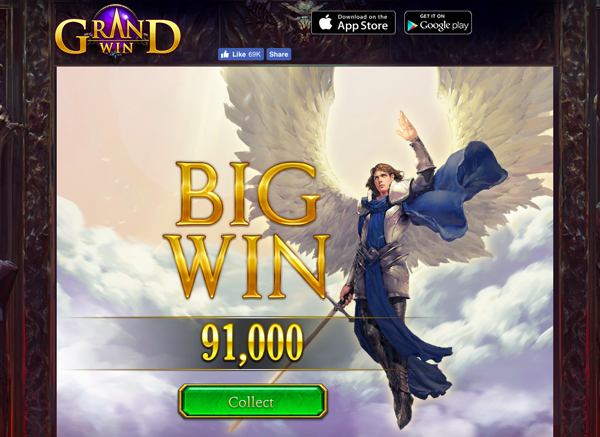 Invigorated by this lucrative start, I continued to the lobby. Once I accepted my coins, I was guided to a medieval themed map. There was only one icon available, and it contained a scantily clad woman. This was my only chance at breaking free from the map, so I hit the spin button underneath her. Before I knew it, I was told to spin 20 times and thrown into a map. The first few spins were uneventful, netting me poultry sums. I was just about to lose hope, but then I won 91,000 credits!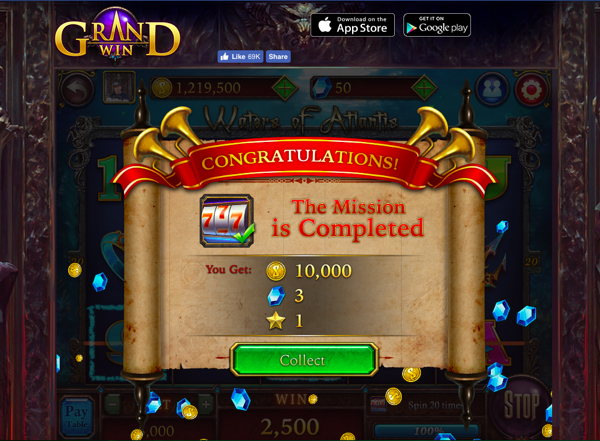 This put me back in the game, so I continued spinning with zeal. After a few rounds I was awarded 15 free spins! This was a welcome break, so I kept spinning until the free rounds were over. In total I won 70,00 coins, so I kept playing until I completed the first mission. This won me one star, three diamonds and 10,000 coins. This threw me back to the map, so I gladly accepted the next mission. This time I had to spin 20 times with the max bet. This was only 10,000 per spin, so it was easily within my 1,171,000 budget.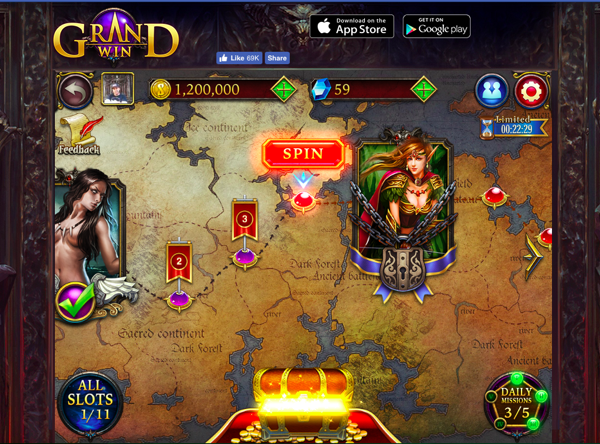 After a few lackluster wins, I ended up winning 22,500 coins! This kept me in the game, so I continued testing my luck. Once I had completed the challenge, I was led back to the map. When I was hurled into another mission, I couldn't help but feel jaded. The graphics were great, but I kept getting hurled into the same level. The missions were becoming repetitive, so I spun through the round hoping for some variation. Unfortunately, I was met with the same level and little to no changes. When I was led back to the map after completing the round, I knew it was time to leave.
Other free slots to play on your Android
1. Tycoon slots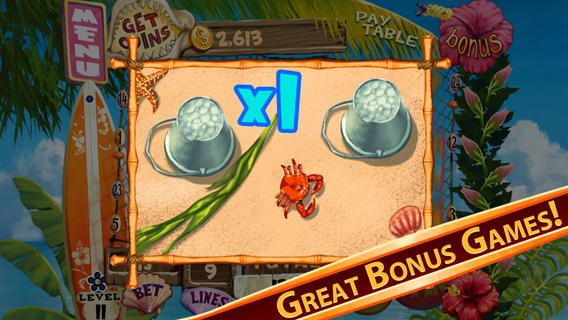 Developed by Triwin Games, Tycoon casino is actually a social casino app readily available for all of gaming devices be it iPhone or Android or PC. This free casino was launched in 2018 and now has grown in popularity with the rating of 4.8 out of 5 at app stores, it's just superb. There are ways to find free coins at Tycoon casino within the game play or use the best cheat that works and solves your purpose to get free coins.
There are so many slot games to play Tycoon Casino and win huge prizes as well as progressive jackpots. There are over 30 slot machines with amazing casino bonuses and various of free slot casino machines.
Fantastic Pearl, Eastern Riches, Frosted Fortune, Clover Treasure, 777 Vintage Motor, Vegas Holiday, Pharaoh's Glory,  Epic Phoenix, Grand Theft Cat, Kingdom Treasure, Rising Shoes, Mariner Treasure, Tigers treasure, Lucky Chilli, Billionaire's Riches, Hot Night Club, Happy Lion, Scarab Riches, Fairy of Sacred Lotus, Star Panda, Grand Mayan, Jungle Grand Master, Tiki Holiday, Zeurs Rule, Mia's Fortune, Volcano Riches, Strong Egg, Buffalo Battler, Win with Vintage Reward progressive jackpot game, 88 Grand and many others.
2. Coin Carnival Pusher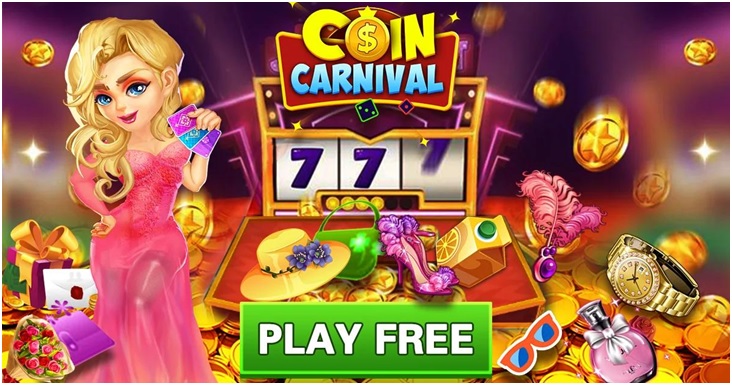 Coin Carnival, the Vegas-style arcade coin pusher game, featuring amazing slots experience, invites you to join the thrilling coin pushing adventure. In this game you can drop coins, raise the coin walls, shake the board , roll the slot, rake in all the rare prizes and hit the Jackpot! Collect prizes and puzzles to get special rewards and additional reward from coin pusher.
Play entertaining Mini Games, including Wheel of Fortune, Scratch Card, Lucky Cards to win BIG in coin pusher. Collect hourly and spin the surprise wheel to try out your luck for bumper coin pusher rewards. You will find 20+ different style coin pusher games from real casinos to virtual innovations in coin pusher. You can spin to win mega jackpot when slot machine coin collected. Hit lucky 777. Get daily and hourly rewards make lucky day at coin pusher machine.
3. Grand Jackpot Slots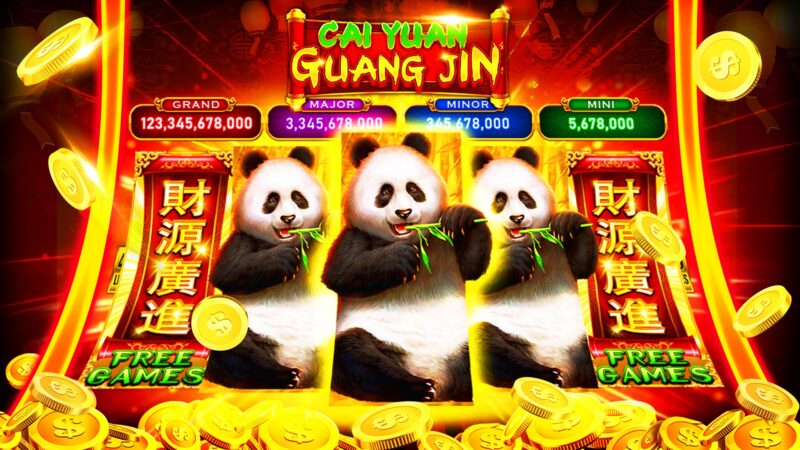 Grand Jackpot Slots brings you the hottest slots casino and you can enjoy the most burning thrill ever. There are lots of video slot machines with huge payouts, spins, and grand jackpots. With amazing graphics and stunning effects, each slot machine brings special features and gives you free spins. There are tons of slots machines such as Rhino Rush, Trove of Pearl, Paper Cutting, Princess of Jagaur, Beer Carnival, Night of the Wolf, Desert Treasure, Wild Green, Flame to Heaven, Mystery of Maya and etc. When you play you multiply your wins by X2, X3, X5, X10, X20. The slots have high payout and grand wins with lots of feature games such as FREE SPIN, HOLD & RESPIN, RESPIN, bonus games.
4. Gold Fortune Casino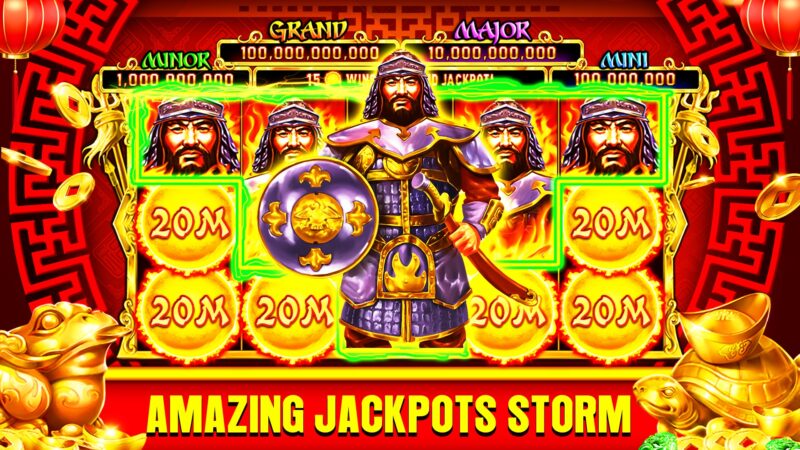 With Gold Fortune Casino, enjoy the most exciting feature games, bonus wheels or even bigger wins! Get free coins and free spins on a winning casino slots game! Come and get your best and REAL Vegas casino games and enjoy jackpot mania! You are now experiencing real Vegas casino game on Gold Fortune, all casino slots are designed by casino professionals.
Join millions of slots game players to spin the real vegas casino slot machines, with daily rewards, bonus wheel, free coins, special bonus, mega jackpots and exclusive themes of casino slot games to WIN BIG jackpots.
You will get the best online free casino slots game and spin to get your luckiest winnings and tons of free coins! The more you bet, the higher you win. As you play you get free coins and giant jackpot rewards already prepared for you.
5. Cash Storm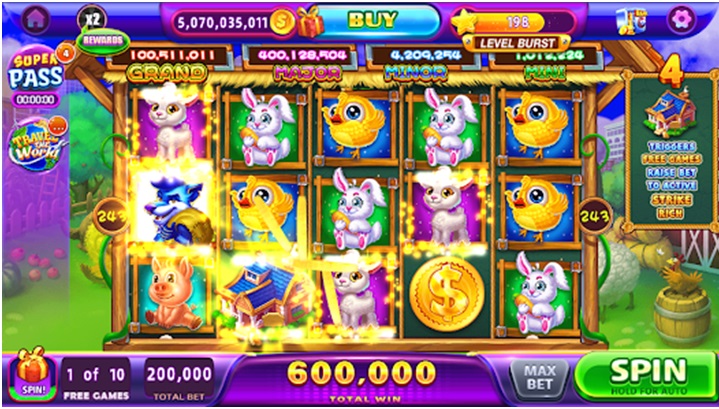 Play video slots and real Vegas casino slot machines on Cash Storm. Win coins and play for HUGE jackpots on all the best slots! Get coins and bonus increases on video slots machines and real Vegas casino games. With super fun social casino tournaments and regular slots promotions, Cash Storm is your ultimate social casino & slot machine playground! Get the best slots online casino fun today!
Spin the wheel for big win Enjoy casino games, slot machines at the Cash Storm! Get the best slots & coin rewards from dazzling online slots games, directly to your phone! Play at Cash Storm and hit the Jackpot.
When you download this free slots app you will receive 100M bonus coins as Welcome Bonus. Store gift every 12 minutes and bonus spin every 4 hours. Keep spinning and win big with awesome graphic, smooth animations, and vivid sound offer you the real casino atmosphere.
There are different feature games, huge prize, and bonus, winning symbols like Scatter & expanding wild. New slot machines introduced on a regular basis with mega progressive jackpots. The goals and daily events for bonus coins and more spins. Participate in different events to win extra prizes in special slot machines. Get 5 scatters in Dragon Spin and win games. Spins and get specific wolves in special reels to multiply your prizes. The slots that are popular are Star Panda, 88 Grand, Volcano Riches and others.
With super fun social casino tournaments and regular slots promotions, Cash Storm is your ultimate social casino & slot machine playground! Get the best slots online casino fun today.
Overall Review
GrandWin Slots has an interesting premise, but it fails to showcase enough diversity to keep players hooked. Their levels are filled with great graphics, and the map theme is intriguing. Unfortunately, these great qualities are overshadowed by the painfully mundane missions. Instead of packing the game with surprises, each mission is practically the same. Hopefully the developers throw in a few more twists, because this game has a lot of potential!