Learn to surf is not a daunting sport. Surfing is gaining more and more momentum these days as it is also now a Olympics game. If you love to surf chances are you need to find the right place to learn it.
Why to learn to surf?
1. You feel good
There are many reasons to learn to surf. It benefits your body and mind, taking your stress out and breaking your workload. Many new surfers report that one of the biggest improvements was in their mental health. Being in the water and connecting with the ocean is one of the most refreshing, excuse the pun, feelings there is. There was an awarding winning documentary on Netflix that shows how surfing is being used as a life changing therapy for wounded veterans.
2. Makes you see the world
When you learn to surf it can take you all over the world. With incredible spots such as Hawaii, Australia, Morocco, Portugal and Spain, there are plenty of destinations to choose from to suit every travellers' needs.
When you are not on your surfboard perfecting your pop up, another benefit of learn to surf in an exotic destination is the awesome opportunity to explore and soak up a new culture.
You make friends at the surf school and travel to discover new places. Even a surf road trip near your home town makes you see the world around.
3. Feel the ocean 
When you learn to surf you feel the ocean and the nature. There are an infinite number of reasons that contribute to perfect waves and all of which relate back to the ebb and flow of the earth.  The sea air not only improves your mood, but will help improve your sleep cycle.
Whenever you will venture to surf in the ocean you will find that it has become a second home for you. You are disconnected from this world and enter the world where all your focus is on finding and catching that next wave. 
What tools you need to learn to surf?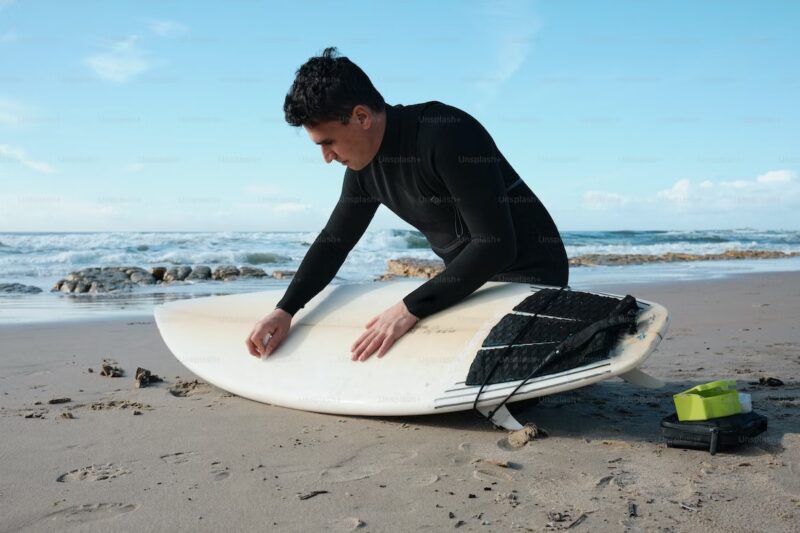 There are certain tools you need to learn to surf and that include:
1. Surfboard
You need to get a surfboard under your feet to surf. It's the most important equipment you will need to buy. There are many types of surfboards that are available in the market. And they come in all shapes and sizes.
Shortboards for fast, steep waves
Fish boards for flat and wide for fast snappy turns
Funboards for wide, stable and easy to maneuver for beginners 
Longboards also for easy to paddle and catch waves on for beginners
Hybrid boards tend to have more volume for larger experienced surfers
Gun boards tend to have a narrow nose and offer speed and control for experienced surfers
Sup boards are wide and designed so you can stand up while paddling
Which one you need?
To get the right surf board you need to find which one is best for you. A general rule is that the bigger your board, the more stable it is in the waters. Look for a board that offers enough volume to allow you to easily stand up and catch waves. If you're a beginner, you want to choose surfboard made from polystyrene and epoxy covering because they tend to offer a good balance between price and durability.
2. Board cover
Next you need a Board cover. This helps you protect your board. You can Look for good surfboard cover designs with extra padding within the nose and tail and added layers of protection. You also want to consider covers with shock-absorbing foam. Having a board cover allows you to transport your board safety without risking damaging it.
3. Wetsuit
This is also an important gear you need that fits your body. You can get the cut of the wetsuit and remember that the pockets of air within the suit get filled with water making you somehow feel uncomfortable, slosh around annoyingly, cool you down, and weigh you down. Also, you need to know what wetsuits tend to be 100 per cent memory foam. It's best to try a few on in a reputable store before purchasing, that way you can get a good understanding of the look and feel you want.
4. Changing Mat
Changing mats are to change your wetsuit. As your feet can leave sand on the wetsuit when you are putting it on. Choose a durable changing mat that is waterproof. Again, ensure that the mat is able to stand any kind of surface from rough concrete to fine-grain sand.
5. Leash
Leash is what newbie surfers use. This crucial piece of gear ensures you don't lose your board when surfing big waves. Get a double padded ankle straps to provide you with additional comfort. Your leash should also be durable and should offer additional strength as well as flexibility within your leg rope. 
What else you need to learn before you learn to surf?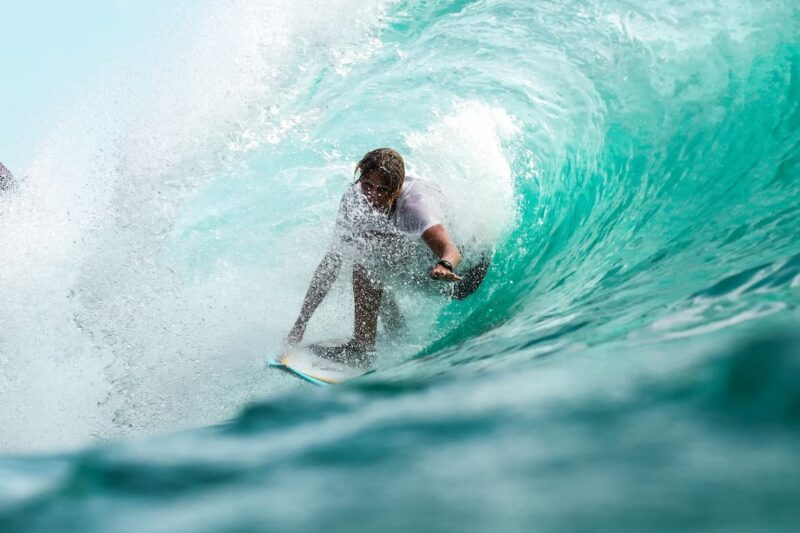 To learn to surf you need to learn few things before hand. The essentials to learn are:
Swimming: If you can't make it to ten strokes without flipping backward and floating the rest of the way down a swimming pool, you better put off learning how to surf and focus on becoming a stronger swimmer. Things happen in the ocean that are completely out of your control and you'll need swimming prowess to survive.
Paddling: You need to learn to do it as to get out there, you need to paddle. Lie down on your belly and practise paddling with your arms. If you're not used to it, you'll feel the burn in a bit, and that's without the resistance of water. You'll have to build strength in your arms to even get to the surfer's line-up. This comes in time with practice and persistence.
The rest of the things to learn follow your learn to surf classes. That includes:
Tackling a breaking wave
Duck diving
Slice and duck
Eskimo or turtle roll
Push up
Shoot and scoot
Catching a Wave
Balancing on the board
Popping Up
Riding the wave
Best Places to Learn to Surf
Here are a few places that are best for learning to surf.
1.

    
Huntington Beach, California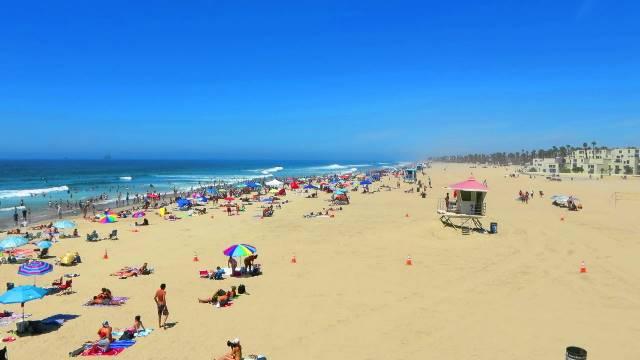 This place is also has a nickname "Surf City USA," so it is no wonder both novice and professional surfers visit Huntington Beach to play with the waves. Here in this beach on any given day you will see at least a dozen surfers in the sea waiting for the right wave. You can sign up with a local surf school, like Clint Carroll Surf School for instruction and guidance. Slip into a wetsuit, fasten the board to your ankle, and be ready to go.
2.

    
Nags Head, North Carolina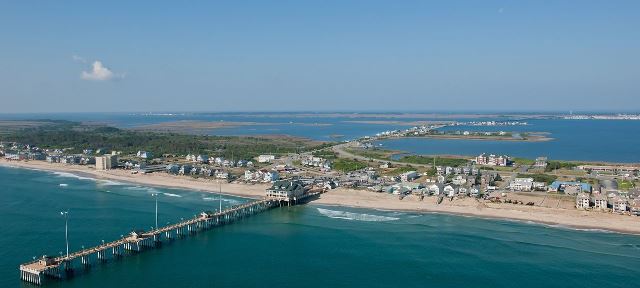 If you are residing to the east of Carolina and do not want to go as far as Florida, Nags Head on the Outer Banks of North Carolina is the place you can visit for surfing. For a long time, surfers have been mapping the waves just off of Jennette's Pier. This place is very popular and is actually home to the annual Easterns Surfing Championships, which is held every year in mid-September. You can join surfing school for lessons and also two-and three-day surf camps for kids five to 10 years of age bracket.
3.

    
New Smyrna Beach, Florida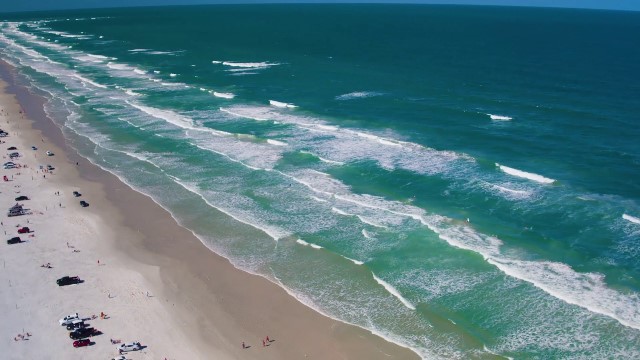 This Florida beach is one of the Best Surf Towns in America as per the Surfer magazine. New Smyrna Beach is spread across more than 17 miles, which includes North Beach, a stretch of beach popular amongst surfers. You will be able to catch a wave in New Smyrna Beach. There is another go-to for a surfer is Bethune Beach, which is less crowded and best for learning. You can rent a longboard or book a lesson with a local shop for better learning.
4.

    
Costa Rica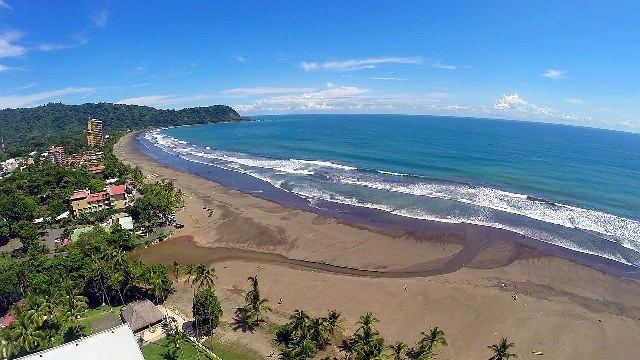 Costa Rica has been the heaven for surfers for long. It is believed that the best waves in the world crash down on the shores of Costa Rica. If you are eager to see and catch a wave, you should start with a surf camp like Peaks 'n Swells Surf Camp, which is located on the famed Nicoya Peninsula on Costa Rica's Pacific Coast. Here you can receive technical surf instruction, along with regular yoga and nature-based excursions. Or, check out Kalon Surf. It is a luxury surf coaching school that will also help you rejuvenate and make you a pretty good surfer, too.
5.

    
San Clemente, California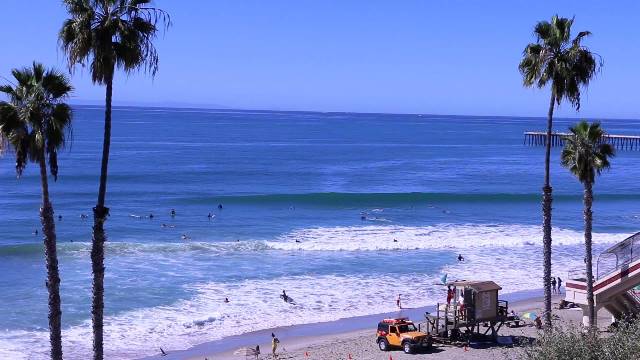 Here in Orange County, surfers of all levels visit San Onofre State Beach in San Clemente. It is known as one of the most visited state parks in California. Here you will find gentle waves, which are perfect for beginners as you would get knocked down again and again. To the north of San Onofre State Beach is situated Lower Trestles, a popular location for pro surf events. You can book a lesson or two with San Clemente Surf School to build up your confidence.
6.

Oahu, Hawaii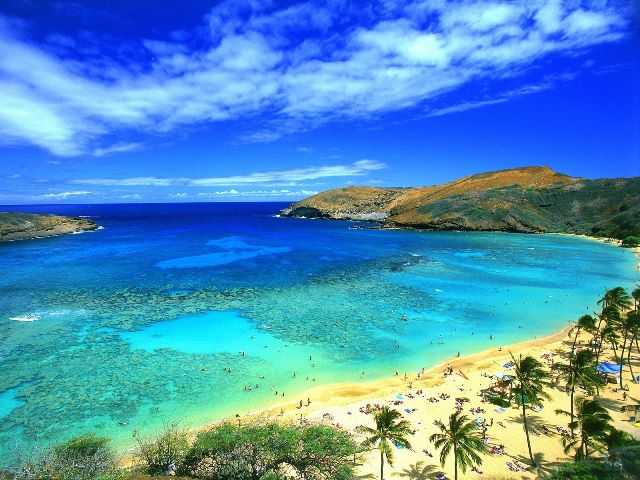 The North Shore of Oahu is also considered as a popular center for surfers and those eager to take up the sport of surfing. It is said if you find the perfect wave on the North Shore. This area also attracts some of the best surfers in the world to its beaches. There are many mesmerizing beaches on Oahu, but if you are looking for gentle waves go to the beaches of Waikiki. You may also have the facility to learn about joining any school nearby like Ty Gurney Surf School.
7.

    
South Padre Island, Texas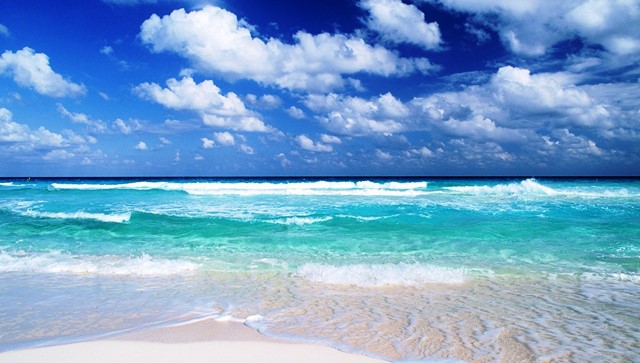 Texas does not come within the top five list or even top 10 when it comes to prime surfing locales, but it is known for cattle ranches, cowboys, and barbecue and then there's South Padre Island. This island is famous as a spring break destination and is off the southernmost tip of Texas which is also the heart of the state's surf scene. Here in this beach town, you will find miles of coastline which keep swelling consistently with novice surfers. You can learn here surfing the basic lessons. 
FAQs
Q1. How much duration do one surf session last?
A normal surf session is about 1-2 hours. When you're learning to surf, 2 hours will feel like a long time. If you last the full 2-hours on your first session, and are now efficient in paddling then you can go up to 4-5 hours.
Q2. What is the right age to learn to surf?
The more younger you start is better. The right age to learn to surf varies between 5 years kid to even 40 year adult.
Q3. Which is the best place to learn to surf?
California is the US state with the most surfing locations, with 403 surf spots in total. This is perhaps unsurprising; the Golden State is well known for its surfing tradition, and the International Surfing Association has its headquarters there. The state with the second-most surf spots is Hawai'i, with a total of 267. Thus California and Hawaii are the best destinations for learning to surf. Also quiet coves in Texas, Michigan, and Oregon offer surprisingly welcoming waves.