Caesars slots and casino is the number one game and casino app for smartphones to play free slots.
In total there are more than 250 slots to play at Caesars slots casino that lays out for its fellow "Caesars", you won't be disappointed when you play. A story of collectibles that helps you reach amazing bonuses as you strive to complete the collection and solve the mysteries as you spin, spin, and win. Join the "Reel Travelers" couple through a thematic of casino slot games, each with specific slot missions that once completed, reward you with fantastic bonuses and more excitement jumping from slot to slot. Experience what it means to decorate "My Fortune Palace" and become the grand ruler of all Palace bonuses once you complete adorning each of the rooms available in their casino slots game.
Of course, their game would be incomplete without Freddy their beloved "Freddy's Food Trucks" bonus feature lets you master special dishes that reward you with prizes and a savory experience that's bound to leave your mouth watering.
You can say hello to their precious "Prize Pet"! Grow them and spoil'em to the max with super fun treats and special features that reward you with even more bonuses and prizes in their ocial casino game.
If you are photo savvy you can join Amelia and her ostrich in "My Safari Snaps" and chase after fun and cute photo ops that provide a sweet bonus each time so you can keep enjoying their casino slots.
Download Caesars slots and casino on iPhone
Download Caesars slots and casino on Android
Playing Caesars slots and casino on Facebook
When it comes to slots on Facebook, Caesars Casino reigns supreme. They have artfully managed to bring the bustling casinos of Las Vegas to our computer screens. On Facebook they have accumulated over 6,000,000 likes & 1 million loyal players. This stunning success is a testament to the quality of their games. We decided to explore the gameplay to give you an in-depth review of this legendary app. Prepare to be immersed in one of the most acclaimed slot games of the year.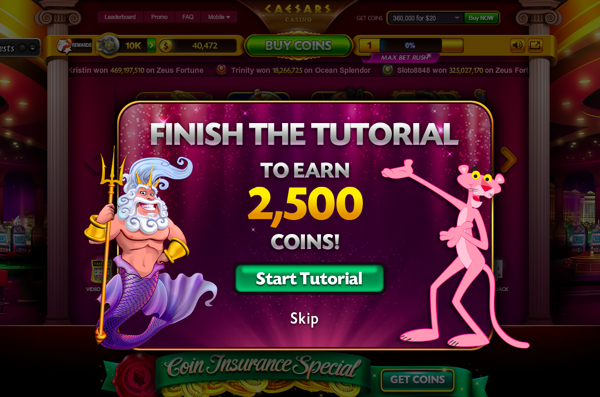 As the game loads you are greeted with a 40,000-coin bonus! After receiving this welcome gift I was given a daily bonus spin. This gave me an additional 472 coins & a friend bonus. From there I was hit with an offer to join the Caesars Casino vault as well as a 2,500-coin reward for filling out a tutorial. I had a review to complete, so I declined both offers. After being bombarded with offers I finally made it to the lobby. There I was greeted with a 500-coin hyper power bonus. I quickly collected it & joined X-mas Wonderland.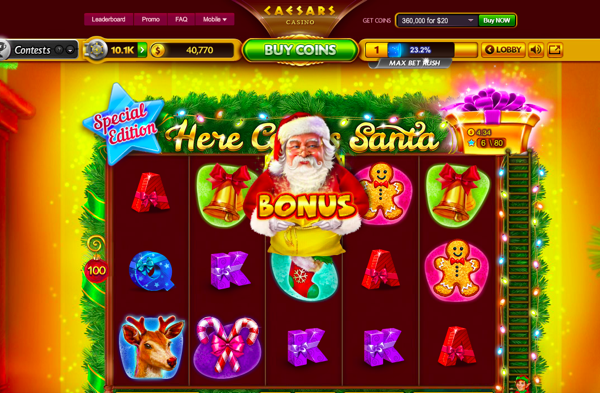 X-mas Wonderland was absolutely packed with Christmas spirit. The screen came to life with elves, reindeers & wild Christmas trees. With these top notch graphics it was a feast for the eyes.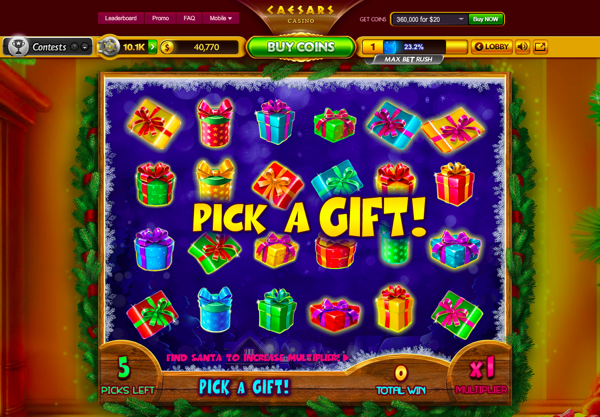 I set it on auto spin & let the prizes come to me. After winning a few bonuses, Santa popped out of the squares. I was alerted that it was Christmas Eve Bonus time, & it was time to open presents. Curious to see what this new twist had in store for me, I quickly joined the bonus round.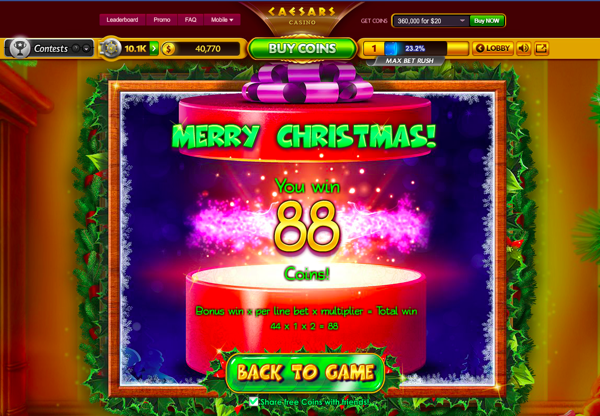 I was ushered into a festive bonus round that was filled with presents. I was instructed to pick 5, each one was filled with coins. On the 5th pick I got lucky & found a 2x Santa multiplier. By the end of the round I only walked away with 88 coins, but the experience was still enjoyable.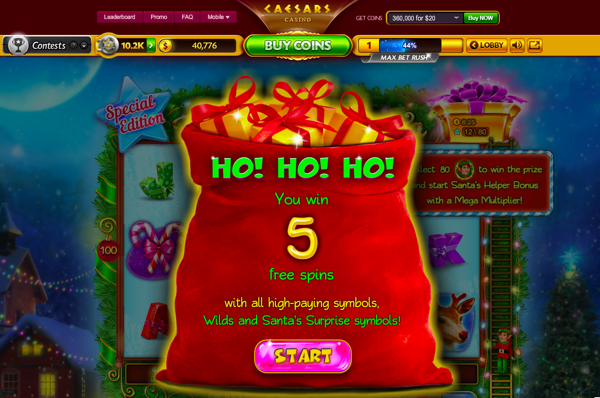 Before I knew it I was back in the game. After a few spins I hit a 5 of a kind! This motivated me to continue playing. A little while later Santa returned to my screen. I had just won 5 free spins with all high paying symbols!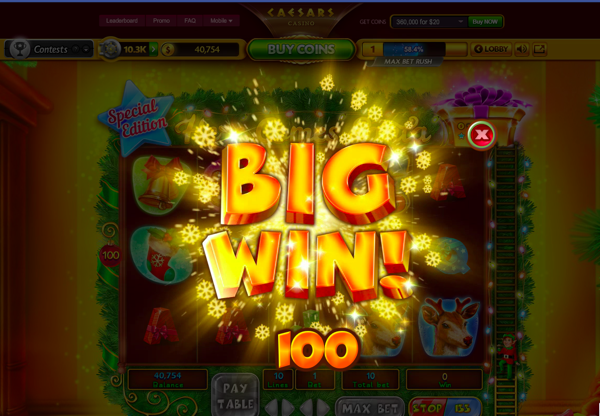 Unfortunately nothing came to fruition with these free spins. I was a little disappointed but fortunately I had lost no coins. I continued spinning furiously until I hit a big win of 100 coins! From there I dove head first into the game. Before I knew it I had spent over an hour completely immersed in the game. There were Mega Wins, wild cards, & multiple bonus rounds. After playing for 30 minutes more, I decided to pry myself away from the screen.
How to play Reel Travelers?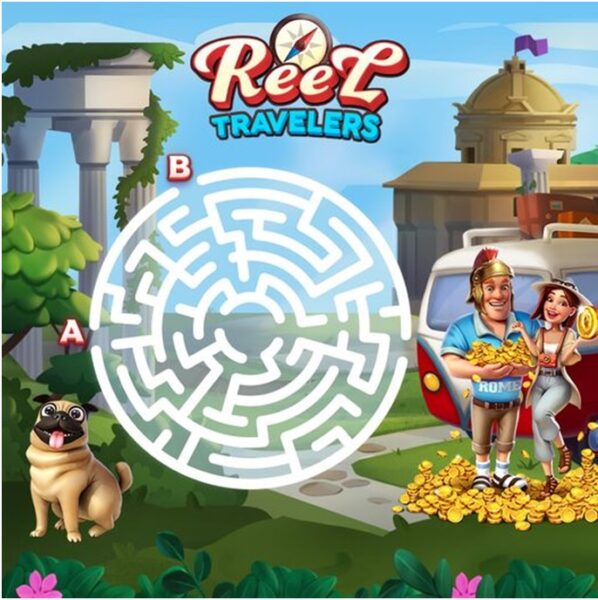 To play Reel Travelers at Caesars slots and casino press Let's Go in the Reel Travelers welcome window and choose your preferred difficulty. The bigger the challenge you take on, the higher the reward!
Next, open the first game to receive a message with your goals for this stop. Keep an eye on the Reel Travelers sidebar on the left of the slot machine to track your progress. You can press on the arrow symbol next to each progress bar to view mission details.
Progress can only be accumulated while playing in the Reel Travelers game room, and not from the slot machines of the same name in the regular game lobby. The regular versions of Wild Howl and other games will show a notification that you can win more by playing from Reel Travelers. Press Go to switch to the correct machine and start working towards your prizes!
Complete all your goals inside the current machine to unlock a prize. After you collect your prize on the path, the next slot machine will be unlocked.
The Speed Booster will help you journey faster. You have the option of unlocking it with a purchase to gain twice the normal rate of progress in Reel Travelers.
Once the Journey is completed you can replay it to earn rewards once more until the feature is closed. 
How to play My Fortune Palace?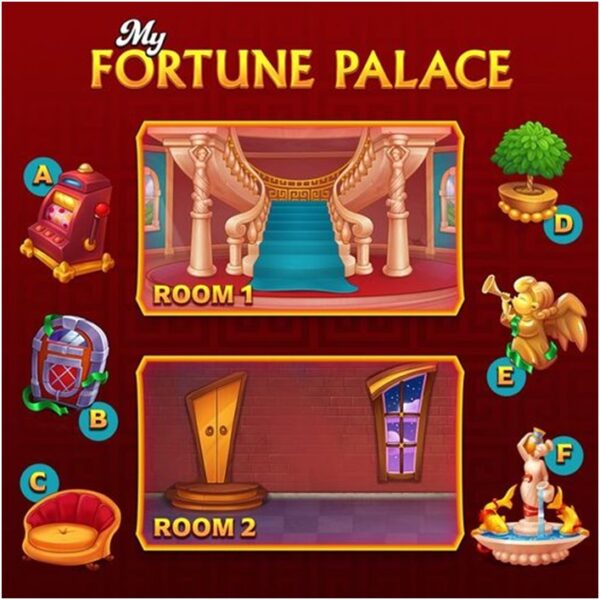 To play My Fortune Palace you can enjoy 10 New Rooms in season 5. Lodge memorable tenants and help them fulfill their dreams in your very own Palace.
There are three main elements to playing My Fortune Palace:
Collect Goldies
Build Elements
Win Rewards
Build your palace by earning Goldies from Daily Quest Missions, Big Wins, Mega Wins, and special offers. The Goldie Reward from each mission will be displayed next to the Coin Reward.
While spinning, make sure to activate the Goldie rewards by increasing your total bet amount. Higher bets will allow you to win more goldies from Big Win and Mega Wins by upgrading your Goldie rewards.
You can collect up to a maximum of 50 Goldies. Make sure to build occasionally so you don't miss out on getting new Goldies.
The next step after collecting Goldies is to Build Elements. Press the Build button to view the Elements that are waiting to be built in the room. Each Element has a Goldie cost. Press the button to pay the Goldie cost and the Element will be built in the room.
Be on the lookout for the build notification which will appear on the Goldie indicator in-game as well as the Build button in the Lobby when you have at least 1 element available to build.
Each Element you build will fill your bar towards your Chapter Completion Reward. Enjoy 10 beautiful chapters and fully furnish them to receive chapter rewards. Finish all normal chapters to collect your Joker Chest!
Build regular items, bonus decoration items, and special sought-after items to receive leaves. Fill in the Leaves bar to unlock a spin of the Majestic Wheel.
Caesars slots and casino – Free Coins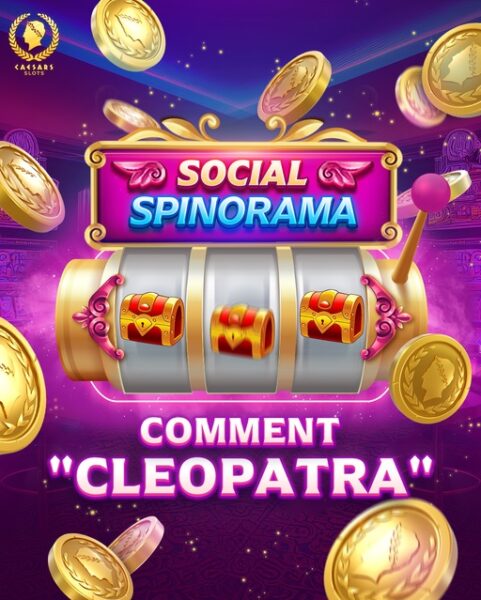 Caesars slots and casino is a game built around free play bonus codes, with a plethora of bonuses, side games, and other features giving you the opportunity to collect coins.
There is no need to pay to play! Collect your bounty of free coins every day and play the Caesars way!
Lobby Bonus – every 3 hours, wait time can be reduced with the help of the Express Bonus (by half) and Hyper Power (1h)
Legacy Bonus – Each day, reset at midnight UTC.
Super Bonus – 23H cooldown, wait time can be reduced with the help of Express Super Bonus. Requires 30 spins to activate.
Coin Store Bonus – Each day, reset at midnight UTC, open the coin store page to collect.
 Also get social free coins
Friend gifts – send and accept friend requests to populate your friend list via the Playtika Social Network. Add hundreds of friends this way to share gifts every day. Connect with Facebook and give Caesars Slots permission to view your friend gifts. Your ingame friend list will then include any Facebook friends that also play Caesars Slots!
 Here are the free coin links for Caesars slots and casino:
Other ways to get free coins
Daily Quest – Spin to win and complete missions to claim your quest mission rewards! Each mission also gives you points for the Binge Bar and the chance to win additional prizes.
Bonus missions – Are you done with your Daily Quest. You have time until your next Daily Quest is up to chase the bonus mission. Get lucky to claim your prize.
Collection – Complete missions, level up, and participate in other activities to collect chests and complete your Album! Each completed set awards a huge coin prize.
Daily Belly Bonus – Each day. Pet must be awake to give you the bonus. Accessories increase the bonus amount.
Palace – Build elements to decorate rooms and collect prizes. Collect leaves as you build up your rooms and you'll trigger the Majestic Wheel.
There are rotating limited challenges that you complete and get free coins.
Treasured Pearl – Level up to drop the Pearl.
Reel Travelers – go on a trip around the world by playing in specific machines and collect prizes
My Safari Snaps – snap pictures of animals and rush to capture photos or rare endangered species.
Tournaments – compete against other players to win the Caesars Reward!
Legions – partner with other players to win the ultimate prize as a team and many more!
Facebook Group Games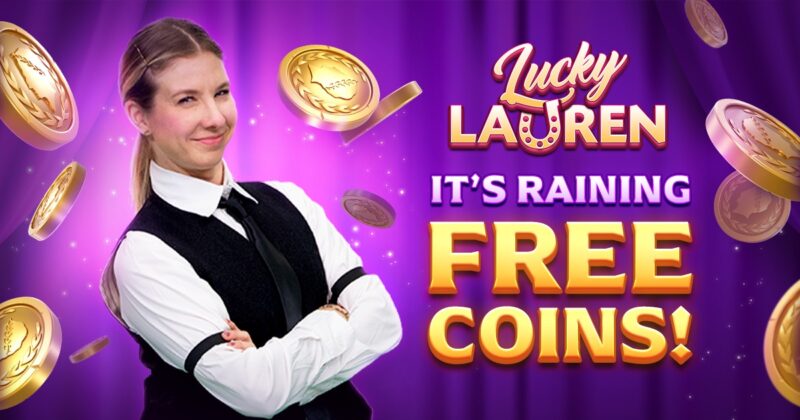 Caesars Stomping Ground is a Facebook community made up of Caesars slots and casino players from all over the world.
It's a social environment where you can meet other players and strike up new friendships. You also have a chance to win free Caesars Slots coins in the games held regularly and the occasional link parties. It is also a place where you can take your suggestions/feedback, and get real-time assistance from other Caesars Slots players.
Click here: https://www.facebook.com/groups/206491379515413 to join the Caesars Stomping Ground group!
Customer Support can occasionally help out with free coin gifts to help get you back in the game after a bout of bad luck. Open a ticket to say hi to the team and see if there if a coin gift available.
Overall Review
Caesars Casino is hands down one of the best slot games on Facebook. Their immense library of games are entertaining enough to keep you playing for months. Combine the epic themes with the brilliant graphics & you have an app that anyone could fall head over heels for. Just make sure to keep your eyes on the clock, it's easy to get lost for hours with this game!