VIP Deluxe slots is the best app to play free slot games on your iPhone and Android smartphones.
Click here to download VIP Deluxe slots for iPhone
Tap here to install VIP Deluxe Slots for Android
Once you download VIP Deluxe slots you get 100 million free coins to play the casino games. Moreover you have the choice to play VIP Deluxe slots online or offline , with or without wifi: any place, any time!
Play over 55+ Slot Machines in VIP Deluxe Slots.
Free Coins and Bonus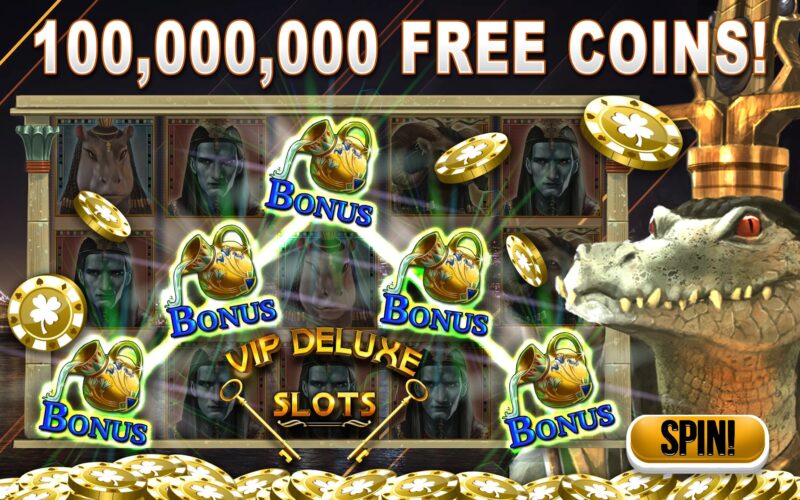 You can earn free Coins by:
Collecting the bonus that they provide every few hours 
Completing the Daily Goals
Participating in Clubs
You receive a spin on the Login Bonus Wheel every 4 hours, which can be collected when you open the game, or from the Bonus Window. Spin for free Coins!
You can decrease the time between each spin with the 2 or 3 Hour Power perks. 
Perks are temporary bonuses that give players an extra edge during gameplay. For example, they can give you the chance to redo your Free Spins or increase your chance at winning the Jackpot.
Active Perks can be checked on the Clover Timer in the slots lobby next to your Coin balance. If there aren't any Perks active, the Clover Timer will not appear.
Perks will become available in pop-up sales randomly, and will award Coins with their purchase!
VIP Deluxe Slots – Facebook
There's a lot of slot games on Facebook, but few are as captivating as VIP Deluxe Slots. In a short amount of time, this game as risen to the top. It has taken Facebook by storm with its fun graphics & multiple levels to choose from. These features have seduced over 100,000 loyal fans. They swear that it's the most hypnotic slots game of 2017. This was a pretty bold statement, so we had to investigate. After spending an afternoon playing the game, we got to know it inside & out. Discover if the game lives up to the hype!
VIP Deluxe Slots Gameplay
Once the game loaded, I was greeted with a slew of games to choose from. True to their promises, VIP Deluxe Slots offers 25 levels to new players. This is both a blessing & a curse, since picking a game is difficult. After some hefty deliberation, I ended up picking the Mystery of Machu Picchu. This was an interesting theme, & I was instructed to accumulate 100 million in 50 spins to win the house prize. This seemed like a daunting task, but I was down to try.
Armed with 100,000,000 credits, I was ready to take on the game. As the reels spun, they came to life with a variety of interesting characters. Inka kings, Peruvian women, tumi's & llamas filled the screen. Even though the level was delightful, these spins were equally rewarding. On multiple spins I managed to win over a million credits! Before I could celebrate, I was notified that I placed 87th in a tournament. This was surprising news, since I had no idea that I was competing. Slightly puzzled, I continued spinning…
As the game progressed, it became painfully obvious that I wasn't going to win the house prize. I only had 10 spins left, & I was still 90 million credits shy of reaching the goal. This wasn't time to play it safe, so I raised my bet from 250,000 to 1 million per spin. After this bold move, I ended up winning over 20 million credits! My winning streak didn't end there. As soon as I collected my winnings, I was awarded 10 bonus spins. This won me 16,200,000 credits, which was a welcome surprise. I was still betting a million credits per spin, so this gave me 16 more spins to test my luck with.
Curious to see how far I could push things, I raised my bet to 50 million credits per spin. This was a daring move, but I decided to take it. It ended up being a great change, since I instantly won enough to claim the house prize. This threw me into another mission to accumulate 200 million in 50 spins. Emboldened by this surprise victory, I kept spinning.
After a while, I ended up having to call it quits. Betting big was the way to go, but it didn't stop things from becoming redundant.
The Double Up Feature in Slot Games
The Double Up feature is a mini-game that allows you to bet the winnings from your most recent spin for a chance to win Double!
Here you need to guess which color card comes next in the sequence, and if you guess correct, you win double your winnings! Try for four times your winnings by guessing the suit. You can enter the Double Up feature by tapping the yellow button which appears randomly after winning spins in any machine.
How do you win Jackpot in VIP Deluxe Slots?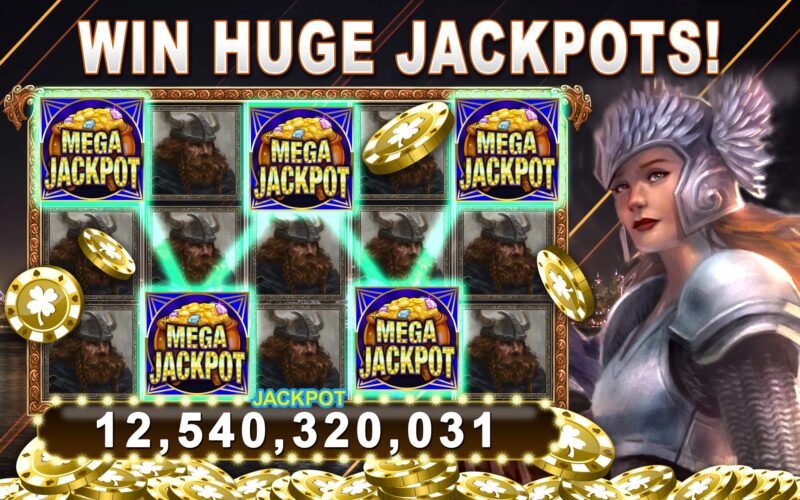 A Jackpot can be won by getting Jackpot symbols on all reels. The paytable in the lower left of each machine will specify how many symbols it needs.
The Jackpot amounts are displayed in the upper right corner of the screen. If it is covered by an "x", you will need to increase your bet to qualify for a Jackpot.  The type of Jackpot (regular, Mega, or Epic) you win is determined by the various Jackpot symbols. Note that WILD symbols do not count toward the Jackpot. Other than that, it just takes a bit of luck.
How your wins are calculated?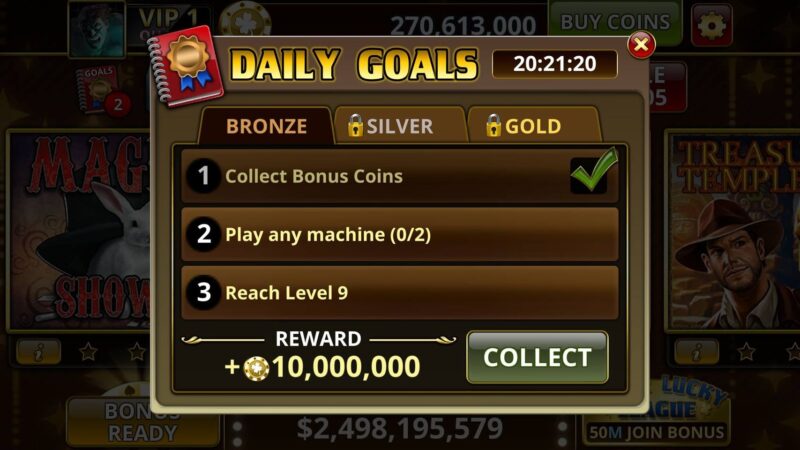 At VIP Deluxe slots most machines in the game have multiple lines, which are patterns the symbols need to line up in to qualify as a win.
The bet you place while spinning is divided up among each of these lines. If you get wins on multiple lines, most machines will cycle through them until the next time the spin button is pressed. For every line that is a winner, the portion of the bet that was divided onto that line is increased by the multiplier.
You can find out how many lines each machine has by checking the paytable in the lower left hand corner. With that information, you can calculate the total wins like so:
(bet)/(lines)*(multiplier for winning line 1) +
(bet)/(lines)*(multiplier for winning line 2) +
(repeat for any more winning lines)
= total win
For 144 or 243 line machines you'll need to use a different number that varies depending on the machine, let us know if you want more info. If you have any questions, you can use the "Contact Us" feature in the game app for your solution.
How to create Clubs?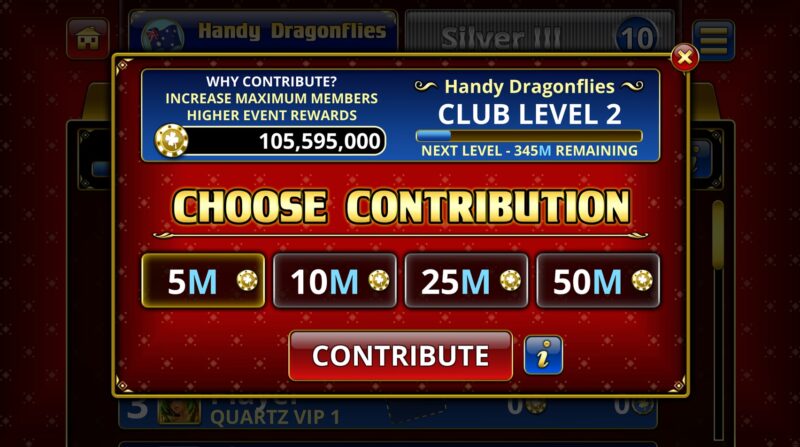 To create your own Club, go to the "Super Lucky Leagues" area at the bottom of your screen. If you are not currently in a Club, you will see the option to either Join a Club or Create your own Club.
When creating a new Club, you will need to choose a name and pay a fee. You will then be able to select a Club avatar and motto. You can also set a required VIP level. and if the Club is invite-only.
"Invite only" clubs will not allow new members entrance unless approved by a Leader or Co-leader.
What are Super Lucky Leagues?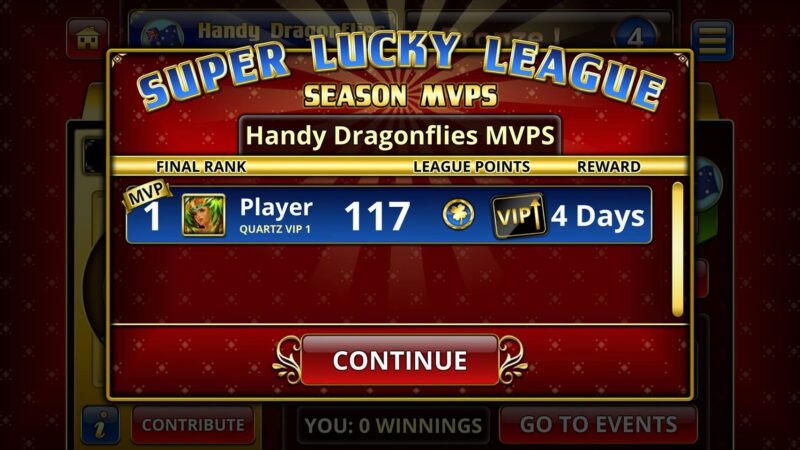 Super Lucky Leagues are a chance for players to form and manage Clubs and work together completing Events. Events are specific tasks that all Club members can participate in to earn large amounts of League Points. When enough wins are accumulated for a specific machine, Event rewards will be distributed to the Club, as well as the League Points for the Tier completed. 
The event bar fills when you get spins where the win is larger than your bet. The more Coins over your bet you win, the more the bar fills!
Each Club will be given up to three Events that reset every 24 hours. Additional events can be purchased by any member.
Wins that are larger than your bet fill the Event bar. When your Club reaches certain milestones when completing an Event, you will all be able to collect a Coin bonus by returning to your League page.
You can contribute Coins to your Club by going to the "Members" tab and selecting "Contribute." The higher your VIP level, the more you are able to contribute to your Club.
Contributions can be made once every 24 hours.
Filling the Contributions bar levels up the Club, which means you will be able to have more members, and completing Events will provide more League Points.
You can also earn League Points to track your wins. However, League Points are just for fun, and there are no bonuses associated with getting the most League Points.
How to get League Points?
You can help your Club earn League Points by playing in the events that are available for the Club that day. You add to the event bar each time you get a winning spin that is larger than the number of Coins you bet. After an event tier is complete, your Club will receive League Points for the tier. You can track how many the Club has earned in this method on the right side of the "Events" tab.
You can also earn League Points through normal gameplay in any machine. To do so:
The winning spin must be at least 10 million more than your bet at the time. So if you're betting 10,000,000 Coins per spin, you will get a League Point when you win 20,000,000.
The win must be from a single spin. For a set of 10 free spins, each individual spin may contribute League Points (based off your bet when triggering the spins), but the final total from all 10 spins will not have League Points calculated based on it.
You must have been a member of your Club for a day. After joining a Club, you need to wait until the next rollover for the system to lock in your new location. When the new events are ready to go, so are you!
If you have the League Pro feature, a multiplier will be added on to your Points as long as the feature is active (for example, if you have 100 points and the 25% boost, you will effectively have 125 Points until Pro expires).
Try online casinos for real money wins.
Overall Review
VIP Deluxe Slots is an enchanting game that's full of surprises. There is a staggering amount of levels available. Each one is packed with big wins & interesting bonus rounds. Betting big is advantageous, since you start off with a massive amount of credits. The only place where this game falls down is after an hour of gameplay. Things start to get stale, but you can shake things up by changing levels. Overall this is a great game that's well worth the hype.