Slots No Limits is the free game app to install on your Android and iPhone and play more than 30 Vegas style free games. Slots No Limits games you can win jackpots and bonus games. Slots No Limits doesn't need any internet or WIFI to play free slots. You can play offline too.
Install Slots No Limits on your Android
Play Slots No Limits with your Facebook Account
Slots No limits as the name speaks means no bet limits to play slot games and unlimited winnings. When you join the app to play free games you are offered 10 million free coins to play the games of your choice. Each month two new slot machines are added for you to play with new theme.
Slots to play at Slots No Limits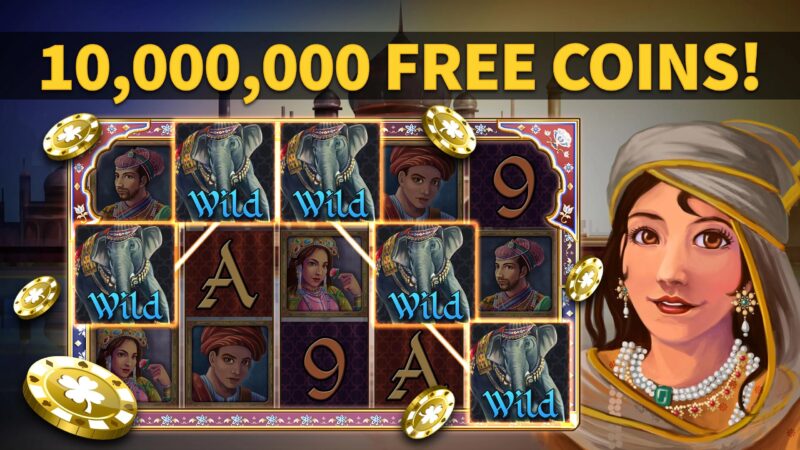 Following are the popular slots to play at Slots No Limits to play and have fun. Hot cash slots, The Winged Goddess, Feline's Fortune, Gods of Rock City, Arabian Nights, Slots of Fish, Duck's Fortune, Siren Song, Twelfth Night, One hot penny, Unicorn Legends, Lady of Rio, Cleopatra's Fortune, Raja's Harem, Hollywood Glamour, White Whale's Winnings, Safari Adventure, Wizard of Oz, Blue Badges, Turning Tides and more.
In slots machines a wild can be presented as almost any symbol on the payline. For example: If two of the same symbol are on a line a wild will be counted as a third. Note that the Wild symbols do not count towards Jackpots or bonus symbols.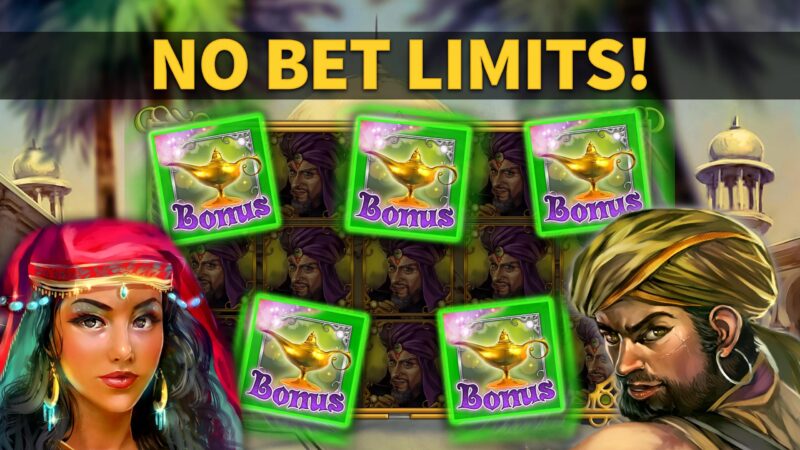 When you get the Wild Streak bonus each spin adds to your total automatically as they happen. When the final spin finishes the total that displays is for all of the spins. At that same moment the final spin is finishing being added. If you are watching your coin total at that moment. It will be increasing the amount of the last spin and not of the total of all spins that's being displayed.
As you play the slots you level up. Leveling up means that your player level has increased. Every spin you make will grant XP or Experience points. As your player level increases you will be able to unlock various bonuses and features in the game.
Double Up Feature
The Double up feature is a mini game that allows you to bet the winnings from your recent spin for a chance to win double. Guess which color card comes next in the sequence and if you guess correct you win double your winnings. You can try for four times your winnings by guessing the suit. You can enter the double up feature in slots by tapping the yellow button which appears randomly after winning spins in any machine.
Free Coins
To play these slot games you are offered free coins. There are many ways to get free coins.
Collecting the bonus that the app provides every four hours
Completing the daily goals.
Participating in Clubs
Playing the tapping game on the loading screen
Collecing the more games bonus every 24 hours
In the game app the stars and diamonds are achievement badges for receiving milestone big wins in each machine, To see how high your next win need to be to progress to the next star or Diamond, tap on the area above your bet where wins are displayed.
Free Time
Free Time is a random feature that maybe offered when entering the slot game. Free time begins when you enter a slot machine and begin spinning. For the length of the timer, all spins will be at a fixed bet.
The coins are added to your total with each spin and a grand total of how many coins you have won over free time are displayed at the end.
After free time is over, you will have a limited time in which you can reactive it.
To do so you need to spin enough times at a high enough bet before the timer runs out.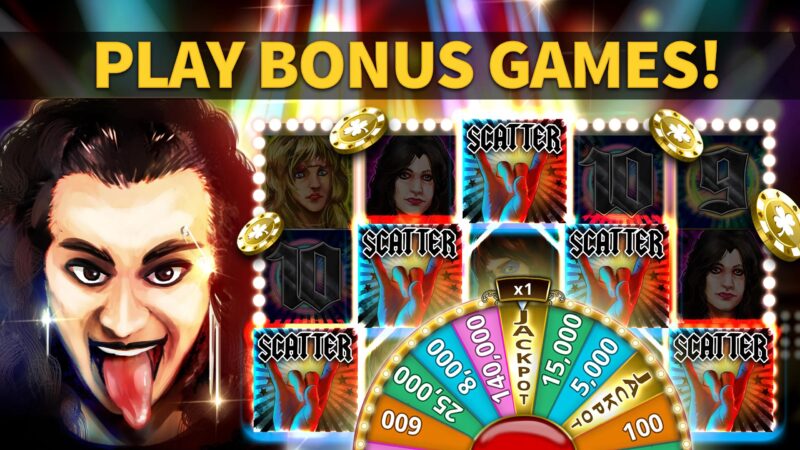 Multiplier Wheel Bonus
When you get a big win you may be offered a chance to increase the win by buying the multiplier wheel upto 50X. Each purchase of the multiplier wheel gets you two spins, and each unique hit from the spin will apply the multiplier from the wedge on the win.
Get all the wedges from the wheel and unlock a free spin on the golden multiplier with even bigger bonuses.
Daily Goals
The Daily goals in slots no limits app are three sets of goals for players who want an extra layer of challenge or to win coins.
They go bronze, silver, gold. After completing a tier you will be prompted to collected the bonus and proceed to the next tier.
Slots No Limits – House Prize
The house prize is a progress bar that tracks your winnings in over 50 spins in all machines. If you reach the top of the house prize bar, you will receive a bonus at the end of the 50 spins. The more levels you complete, the higher the bonus will be.
There are 100 levels to the house prize, and when you complete them you will earn one Master Crown. The house prize can then be restarted by tapping on it and purchasing the sale which appears.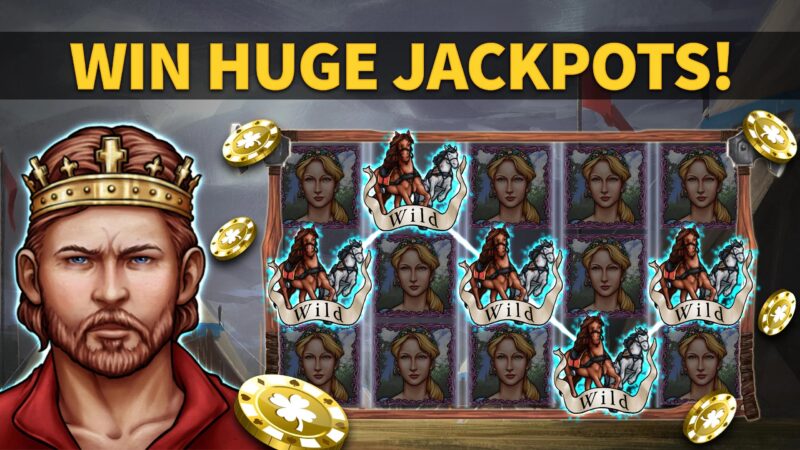 Slots No Limits on Facebook
There's a lot of new casino games on Facebook, but none have outdone Slots: NO LIMITS. In a short amount of time, this innovative newcomer has won over 50,000 loyal players. They have achieved a shocking amount of notoriety, & garnered praise from critics that normally bash new releases. While this success may be attributed to their marketing, their fans claim otherwise. They say the game offers unparalleled slots action with their free collections of multi-line slot machines.
To top it off, every month new slot machines are offered to players. Each provides a unique gaming experience, so the slots never get old. All these vibrant features have made it impossible to ignore. For this reason, we selected this game for review. What we found was shocking, so prepare to be blown away by the best review of Slots: NO LIMITS online!
Slots No Limits Gameplay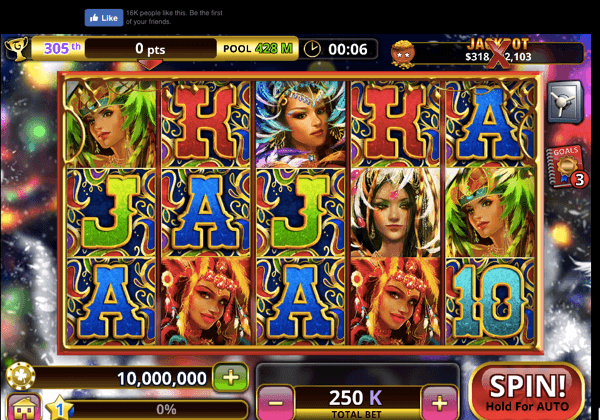 As soon as the game loaded, I was thrown into the lobby. There I was confronted with dozens of options, which made picking one difficult. I started browsing their robust library of slots games, & one ended up catching my eye. It was Lady Rio, a theme dominated by a seductive Brazilian woman in full Carnaval makeup. After selecting it the game downloaded, & I was tossed into the vibrant world of Carnaval!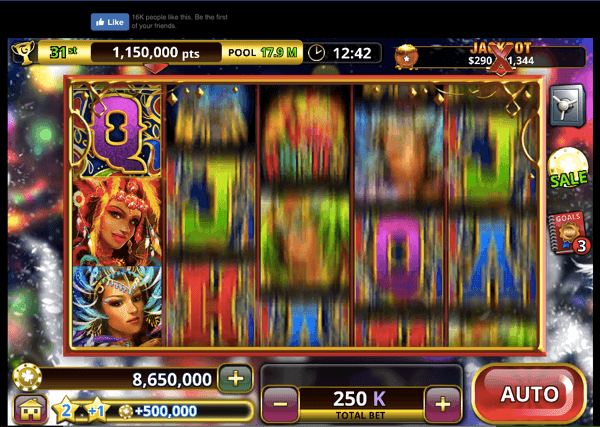 The reels came to life with a colorful display that revolved around Brazil's world-famous celebrations. Armed with 10,000,000 credits, I was unfazed that each spin cost 250K. After a few uneventful spins, I reached the second level! This awarded me 500,000 coins which was little disappointing since I spent over 2 million to reach this point.
Just when things were starting to get repetitive, I was thrown into an interesting bonus game. Without warning, I was instructed to open a large treasure chest. As soon as I tapped it open, I was awarded 250K credits & 10 bonus spins. This round won me 5,790,000 credits, which put me back in the game!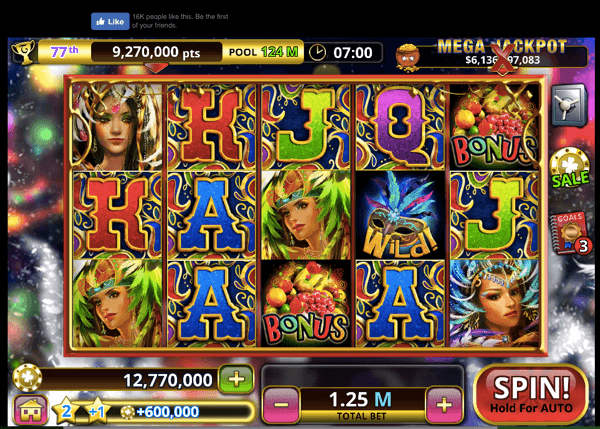 Emboldened by this unexpected victory, I raised my bet to 1.25 million credits a spin. I had 14 million credits to work with, so I thought nothing of taking this daring increase. The first massive spin didn't win me anything, but I did manage to reach level 3. This gave me 600,000 credits, which was about half of what I had bet.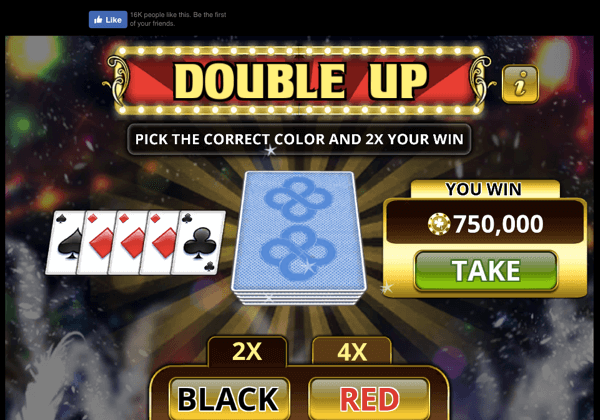 Unfazed by this cushioned loss, I continued to spin with the stakes as I has I could afford. On one spin I won 750K credits, but it was still a far cry from what I was spending. Just as I was losing interest with the game, I was given the option to Double Up. I eagerly accepted the offer, & was told to pick a card suit. I won on the first card, but lost on the second. This sent me back to the game, but by now I had seen enough. I politely exited, since there was too much repetition.
How to win a Jackpot?
A Jackpot can be won by getting Jackpot symbols on all reels. The paytable in the lower left of each machine will specify how many symbols it needs. The jackpot amounts are displayed in the upper right corner of the screen. If it is covered by an x you will need to increase your bet to qualify for a Jackpot. The type of Jackpot you win is determined by the various Jackpot symbols.
Perks in the game
Perks are temporary bonuses that give players an extra edge during gameplay. For example, they can give you the chance to redo your free spins or increase your chance at winning the jackpot. Active perks can be checked on the clover timer in the slots lobby next to your coin balance. If there are no perks active the clover timer will not appear. Perks will become available in pop up sales randomly, and will award coins with their purchase.
Find more slot games to play online here
Super Lucky Leagues
Super Lucky Leagues is the club feature in this game app where 15 clubs compete against each other for the highest ranking. Here if you participate each competition will last for 7 days or one season. During this time players will be able to earn League points for their club. At the end of the competition your club's tier may go up and down depending upon how you ranked against the other 14 clubs. The higher your club's tier the better rewards you receive.
Overall Review
Slots no limits offers a unique gaming experience. From the get go, their lobby is bursting at the seams with options. There are dozens of slots games to choose from, & they all seem to be wildly entertaining. The game offers an interesting mix of bonus rounds, but unfortunately its hard to win big on normal spins. The graphics are also a little grainy, but overall this was a good game. For a new release they did well, hopefully they improve this game with an update.