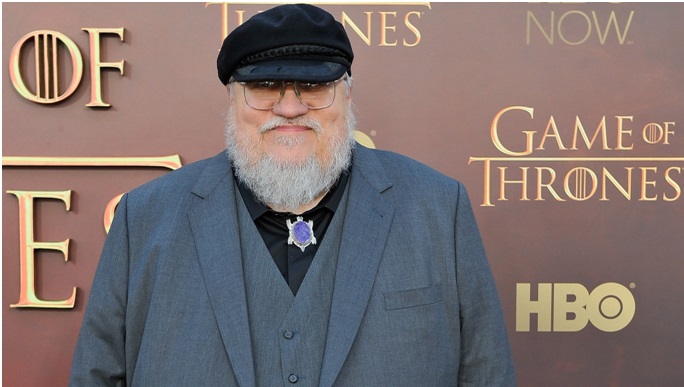 Game of Thrones has to do with George Raymond Richard Martin. He has disclosed recently in one of his blog post that Game of Thrones Slot Machine cheers him up. He is now so possessed by this game that he wants Game of Thrones slot machine at his home.
"I want one for myself"
George RR Matin often referred to as GRRM does have a cool Game of Thrones Pin ball machine for his amusement but the Game of Thrones stuff boggles him even more.
Not much of a casino fan George RR Martin but do likes to play poker or blackjack and prefers Game of Thrones Slot to play. Martin has no idea whether it is legal for an individual to own a slot machine but he does believe that that Game of Thrones slot machine is located at the Sky City casino in New Mexico.
For those who still do not know who George RR Martin is- here is his brief introduction
According to Wikipedia he is an American novelist and short-story writer in the fantasy, horror, and science fiction genres, a screenwriter, and television producer. He is best known for his international bestselling series of epic fantasy novels, A Song of Ice and Fire, which was later adapted into the HBO dramatic series Game of Thrones.
Martin serves as the series' co-executive producer, and also scripted four episodes of the series. When George R. R. Martin's wrote "A Song of Ice and Fire" it became a super hit among fantasy fans for so many years (way back the series of novels began in 1996), and when HBO adapted it into the critically acclaimed show "Game of Thrones" it made Martin one of the most popular and renowned celebrity. As this television series which have aired so far five full series with the sixth one this year in April; the fantasy drama set in friction Westeros and Essos and boasting various plots and has millions of fans.
George Raymond Richard Martin is an American Emmy winning novelist and scriptwriter working in the science fiction, fantasy and horror genres. He is popularly known as "GRRM" to his fans. He resides in Santa Fe, New Mexico, with his wife Parris and several cats. He wrote Fire novels, on which Game of Thrones is based.
Martin is credited on the Game of Thrones TV series as a producer and consultant. He has written the scripts for the eighth episode of the first season, the ninth episode of the second season, seventh episode of the third season and the second episode of the fourth season.
The show has recently had its large cast of more than 250 extended out for a seventh season, and its popularity has caused Game of Thrones to become a merchandising powerhouse. DVDs, action figures, books, clothing, and other goods branded after Game of Thrones have generated huge amounts of revenue.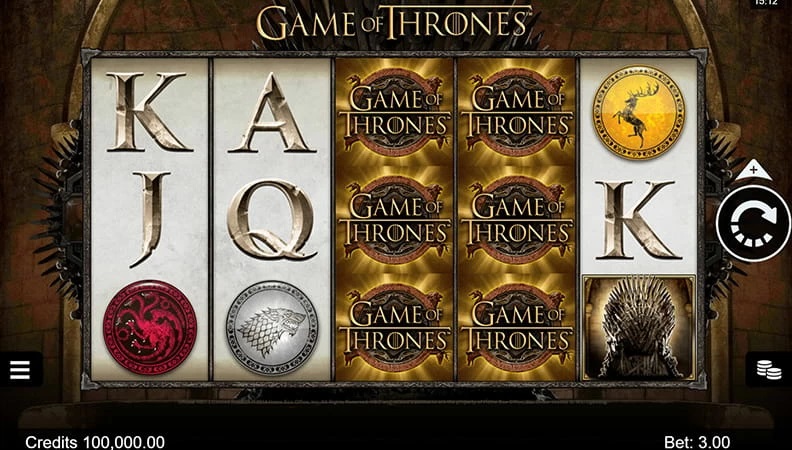 Game of Thrones- Microgaming Slot
Microgaming was the first gaming developer that took Game of Thrones seriously franchising into a slot machine. As the game loads on your PC or mobile screens you can hear the dramatic soundtrack even playing out in celebration of big wins when you trigger the free spins feature to grab a big prize.
Not only you will find the amazing free spins mode, but an animated scenes from the series which play out after special wins which really adds to the drama specially after the maximum win of 121,000 coins.
The most interesting part of the game is that certain online casinos offer two variants of play. One is a more traditional one with 15 paylines as well as one with 243. Both versions are though the same and the number of paylines really doesn't make much of a difference on how often you win.
Game of Thrones – Aristocrat slot
Aristocrat Game of Thrones slot can be found in land based casinos. As the Australian slot developer Aristocrat obtained the licensing rights to develop a land slot based on the popular series it first teased at the Global Gaming Expo in Las Vegas in September 2014 and slot released in early 2015.
You will find the design of the cabinet for Game of Thrones very beautiful, featuring a comfortable seat as well as two curved LED high definition monitors, which are stacked vertically on top of each other. The game features crisp 4K graphics, booming sound, with a progressive jackpot network that can make you win a huge cash prize on hitting the right combination.
Features of this slot machine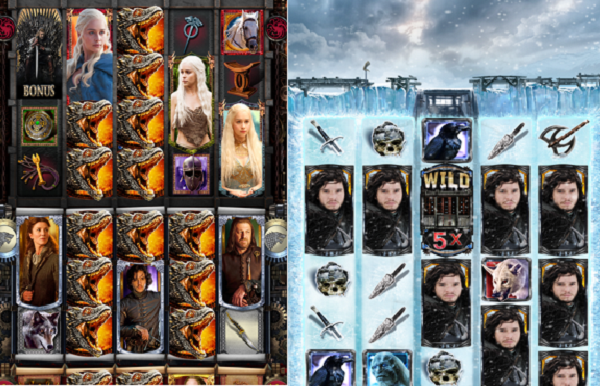 Like most of the slot that you find to play this too has 5 reels and 3 complete games spinning at once
The symbols in the game have the various characters showing up in multiple ways, the iron throne acting as a bonus symbol, thrones, jewelry, wolves, weapons and more.
The game also features Free Spins, Wild Symbols, and Bonus Rounds which are: The Wall, Battle of Blackwater Bay, and Mother of Dragons.
•The Wall Bonus gets you to Free Spins that eventually begin to cascade up the screen, causing the wins to potentially get to be very high as they get to the top of the second screen.
•The Battle of Blackwater Bay video bonus allows you to get Free Spins with Sticky Wilds, which then add up and build to huge wins.
•The Mother of Dragons Bonus sees a huge dragon explode out of the reels toward you before swooping up and down the reels several times, leaving flaming bonus symbols in her wake and allowing you to chain together epic wins.
Where can you play Aristocrat Game of Thrones Slot Machine?
Look what we added to our casino floor! Game of Thrones – Winter Is Here slot machines from Aristocrat Gaming These slot machines are located by our South Entrance, come try them out today! Visit: https://t.co/Li2kDFPGTe to see what other new games we have. pic.twitter.com/wkBa20EEcT

— Barona Casino (@BaronaCasino) May 3, 2021
Now this is very obvious that if the game is so enticing you will certainly look out where to find this slot machine. As George RR Martin himself said that he believes the slot machine is located at the Sky City casino in New Mexico. Also you can find Game of Thrones slot machine at the following land casinos:
•Three Game of Thrones slot machines are in place at the Seminole Hard Rock Hotel & Casino in Hollywood Florida
•You can also play at Orleans casino as it too have couple of Game of Thrones Slot Machines
•In Las Vegas you can play at the Venetian and Palazzo casino
•You can play at Mohegan Sun in Connecticut.
•Also in Las Vegas you can play at Westgate casino or at Wynn casino.
•There are Game of Thrones Slot Machines at Bellagio and Aria Casino as well.
•Enjoy also at Sunset Station, Green Valley Ranch Casino and Palace Station casino in Nevada
Also find other locations in this MAP from Aristocrat as to where to play Game of Thrones Slot Machine.
Playing Game of Thrones Online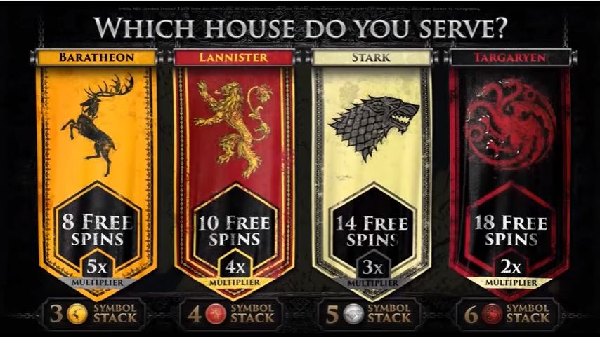 If you but wish to play Game of Thrones online then there are many reputed online casinos that offer this Microgaming game of slot.
In this online slot you will find that the 4 Houses of Westerton, Baratheon, Lannister, Stark and Targarten, are all doing battle for the Iron Throne and you can either join your favourite side and get rewarded for trying to defeat the others – or you can try and beat them all and get on the Iron Throne yourself.
The bet size in this slot is suitable for both the high rollers or low limit players. Choose to play 1 to 10 coins and give each coin a value between 0.01 and 0.1.
However your stake is calculated by an algorithm and will be between 0.15 coins and 15 coins a spin. Also you can enjoy playing Game of Thrones even with your smartphone or mobile devices
Payouts revolve around locating the matching symbols, while the best players in battle will also be awarded bonuses including a Wild Bonus, Stacked Wild Bonus, Scatter Bonus, Free Spins Bonus and a spectacular Gamble Feature.
If you wish to have some rewards then you need to pick-up the lettered symbols that look remarkably like weapons you can use to slay your enemies. Find 3-5 matching letters to win 2 to 100 times your stake.
Also hunt down the symbols of the four houses of Westerton, 5 Targarten Dragon symbols will win you 300 times your stake, 5 Stark Wolves 400 times, 5 Lannister Lions 500 times, and 5 Baratheon Stags 600 times your stake.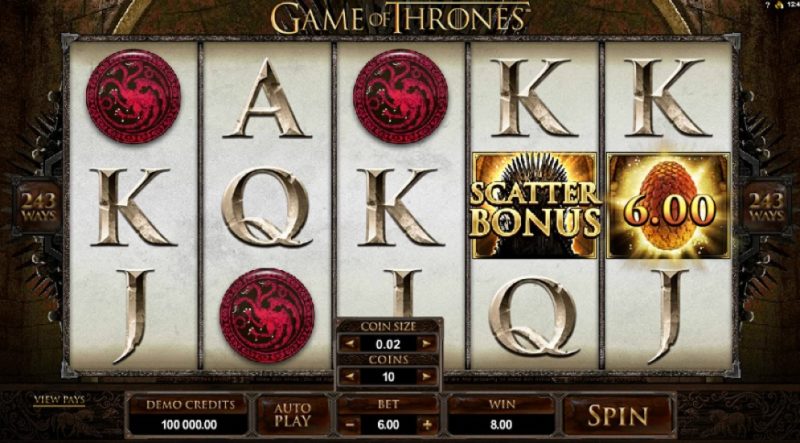 You need to watch out for Scatter and Wild Symbol for great wins. Two Scatter symbols award a random prize, while three or more symbols trigger the Free Spin Bonus which has four random choices. Barathean awards 8 free spins and prizes multiplied x5, Lannister awards 10 free spins and prizes x4, Stark awards 14 free spins and prizes x3, and Targarten awards 18 free spins and prizes x2.
If you find five Games of Throne Wild Symbols on a single spin you'll win 1,000 times your stake, also Wilds can become stacked during the base game and free games.
Any winning line will also trigger the Gamble Feature ever in which you can cross the worlds of the Raven, White Walker, Direwolf and Dragon by correctly choosing heads or tails at each stop. Each correct guess doubles your win.
Game of Thrones slot is said to be the king of slots with plenty of payouts, brilliant bonuses, the best gamble feature that will really cheer you too like George RR Martin.You can also grab some awesome bonuses and coupons when you play this game at online casinos and add more fun to the game
What is the latest from George RR Martin to cheer you up?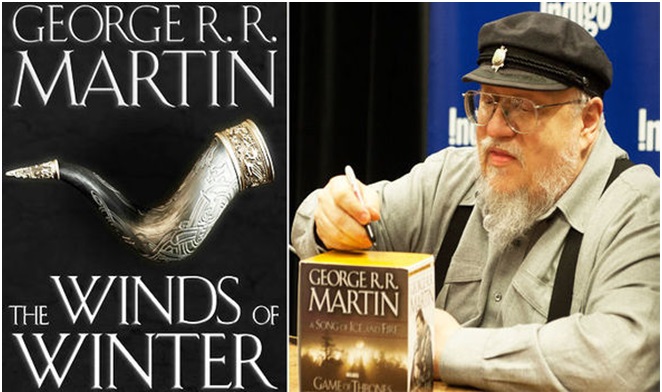 Game of Thrones fans are hoping that The Winds of Winter and A Dream of Spring will be released together as the wait continues. Martin has frequently expressed that he's exasperated with fans and interviewers constantly nagging him about his slow progress on The Winds of Winter, which keeps getting sidelined as he works on other HBO shows and projects.
But here, he seems to at least try to force a sense of humor about the whole thing, with some awkward laughs at the roasting. What he doesn't address is why he doesn't, as Patterson blithely suggests, separate Winds of Winter into releasable sections, given that a 1,700-page book isn't really a physical possibility. "Problem solved!" Patterson says. "You break down the 1,100 pages into three books… You submit one book per year, they'll be happy, and suddenly you'll be ahead of schedule!" Martin just laughs.
Till then Enjoy!