Last week I was so fanatic about playing Fishdom, the colourful online game that I found as how to get free lives and coins when playing this game on my cell phone. To tell you the truth my cell phone was all heated up, battery drained fast and I was desperate to beat the levels. This game is so addictive that even I slept late.
This free game was released by Playrix Entertainment on December 10, 2015 for iO and was released for Google Play and Kindle users in March 2016. By November 2017, the game had been downloaded 52 million times, with almost 3 million people playing Fishdom every day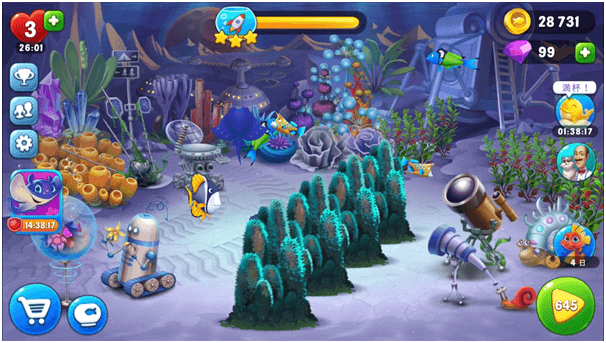 The game is real fun with beautiful aquariums and colourful adorable fishes. Aquariums are need to be decorated by the green plants, old antique treasures and many such things and you obviously need coins to get this beauty from the store on your glass aquarium. Every time you win the level, coins are added and you shop for fishes, decorations with the graphics that are just superb.
Also here you can get creative and design your own personal aquariums, starting with your first tank in a "Pirate's Treasure" theme. The fish tab lets you select from an assortment of aquatic creatures, including exotic fish and seahorses, while the beauty tab displays a list of decorative items like plants, seashells, and sculptures. The comfort tab has items to get your fish cosy, like water filters, heaters, and lights. There's nearly 100 different items to choose from as you advance.
These items you can sell it again by dragging it to the recycle bin. You won't get a full refund, but you will get a nice portion of your money back to spend on other items. You can also click and drag things around on the screen to rearrange them, though this has little impact on your progress.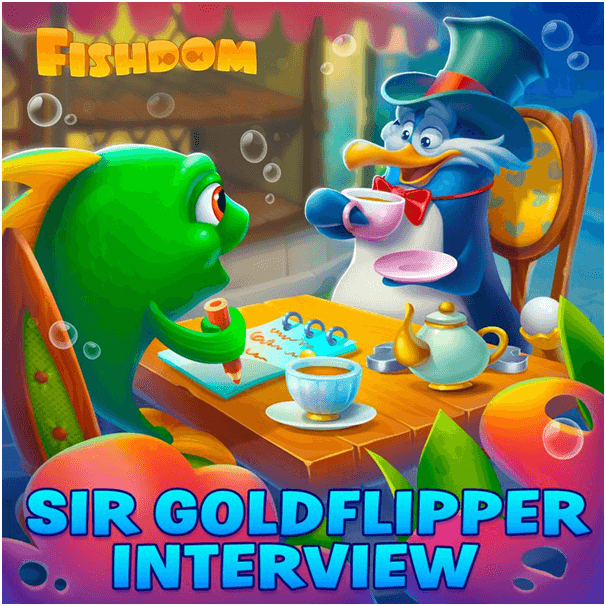 What I like is that the fishes are interactive with you. Once you buy fishes that you want (they are available according to the level on your leaderboard and cost higher when you reach high level) you need to feed them. Feed of fish is all free and when you open the game after a day or so you need to feed your fishes. Each fish has its own name and if you tap on any particular choice of your fish it will respond you back and a bubble text appears on your screen like saying, "did you do this on purpose". "I am full I don't need any more feed" or "Scratch me at my back please". There are very funny comments from fishes.
You will also find Sir GoldFlipper who is a whale fish I suppose and wants more pearls from you. He encourages you everytime you lose or win.
How the game works on your cell phone?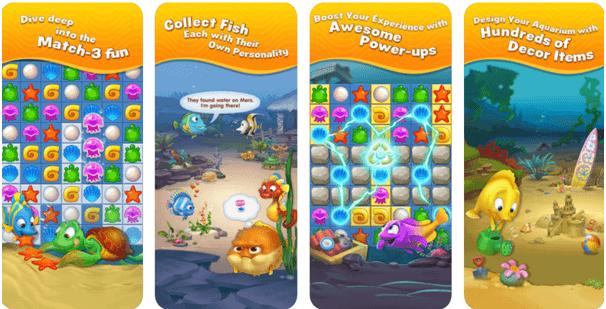 Simply download the game from app stores; for iOS device from the iTunes and for Android smartphones from the Google Play store.
Once this 86 MB game installs on your cell phone you will be given a name for your account. But you can simply change and rename yourself.
The game will ask you to login with Facebook account if you wish to do so otherwise all done with your cellphone number or Google account.
When the game loads you receive your daily bonus which can be a live, coin or tools to break the tiles in the game.
The basic mechanics of Fishdom are like many other match three games in the genre. You need to create matches of three or more in a row by clicking on adjacent pieces to swap them around, and make matches over the golden tiles to collect them.
The level is over when all of the gold tiles are earned. Some tiles are silver, and these squares must be matched over twice to clear. A locked tile, indicated by a chain across it, can only be freed by matching it with other available tiles. Some tiles are even double locked, so you'll need to match them twice to break the chains.
The game is timed, as shown by the bar on your right, so you must clear the board before the clock runs out. If you want to pause your game, click on the eye in the top left, and you can watch the underwater scene without losing any clock time.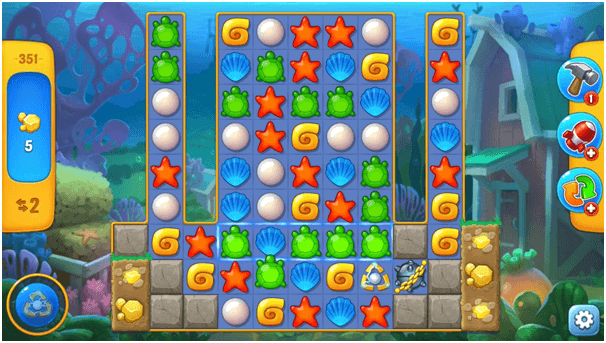 You can earn a variety of explosive power ups when five or more tiles are matched simultaneously. Ignite an explosive by double clicking on it or swapping it with any other tile. Firecrackers destroy everything within a one tile radius, and appear as a result of six or more matching, falling tiles. Depth bombs are earned by matching six tiles, and knock out everything in a two tile radius, while dynamite charges can clear out everything in a three tile radius. The most powerful power up is the lightening bonus, which is earned by using seven explosives on a game level. Swap it with any other tile, and it will clear all instances of that tile on the board!
After each level, you'll be granted a cash reward. Aside from earning cash for collecting tiles, you'll also get a time bonus based on how quickly you completed the level, and a score bonus based on the number of matches were made.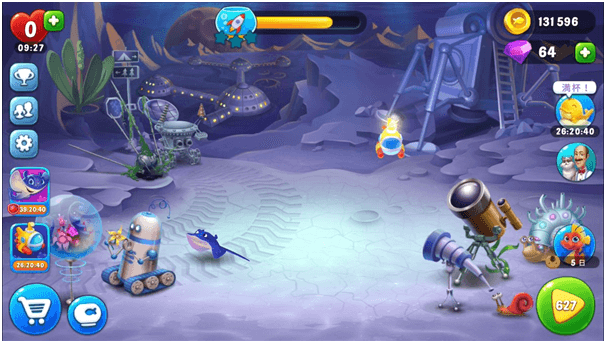 In the top right corner, you'll see three meter gauges measuring the progress of your tank. Filling up all three gauges for fish, beauty, and comfort will earn you a bronze trophy. You'll need the bronze trophy to unlock a new tank, but you can continue to add to your original tank until you've earned silver and gold trophies. All together, there are three uniquely themed tanks to complete, including "Coral Reef" and "Lost Atlantis." Aside from being a fun addition, you also receive a cash bonus at the end of each level for every cup you've earned in the aquariums. If you want, you have the option of using any of your tanks as a screen saver, just for fun.
How to get free Lives in Fishdom?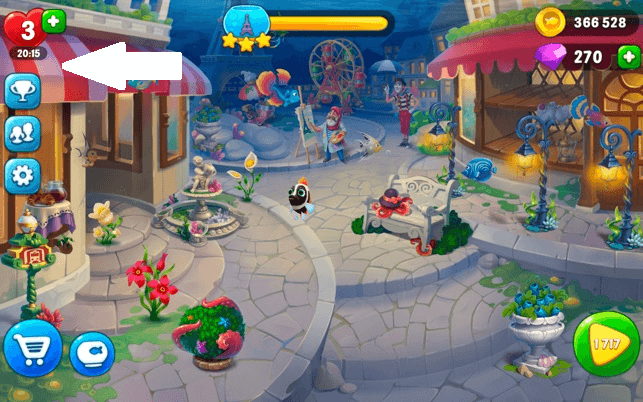 There are many ways to get free lives or known as Diamonds on Fishdom. Lives are attempts to beat levels. You can have a total of five, and you lose one every time you fail a level. It takes 30 minutes to refill one life. Your lives also get refilled at the start of new in-game days. You can see how many lives you have and how much time you have left until one is refilled in the top left corner of the Fishdom screen.
Diamonds are a type of in-game currency. You need them to buy in-game boosters, increase the amount of moves you get for levels, refill lives, etc.
1. Get Free Lives by joining Facebook and completing certain tasks or taking part in contest
2. Ask for free lives from your Facebook friends. Note that if your friend sends you an extra life when you already have five, which is the maximum amount, you won't be able to use it. But don't worry: it'll be available once you lose one of the lives you already have.
Tap the lives icon in the top left corner of the screen and then tap Ask Friends in the pop-up window.. Each of your friends can reply to your request and send you a life as a gift once every 24 hours. The gifts you've received are displayed in the Inbox window when you log into the game or tap the envelope icon in the right part of the screen.
3. Connect your game to Facebook or subscribe to Fishdom news: doing either one will earn you diamonds.
4. You can also buy a full set of free lives using diamonds.
5. You get free lives by watching the in between game video ads. They give you 1 diamond or 1 live for watching the video.
6. Unlock the achievement and as the harder the achievement, the more diamonds you receive. Tap the trophy icon in the left sidebar to see the achievements you have available.
7. Get lives by earning stars and each one of them gets you diamonds.
8. Clean your aquarium and feed your fish on a regular basis, and also help your friends take care of their aquariums. That sometimes earns you diamonds.
9. Opening chests give you free lives. This feature is unlocked once you beat all match-3 levels.
Working hack to get more free lives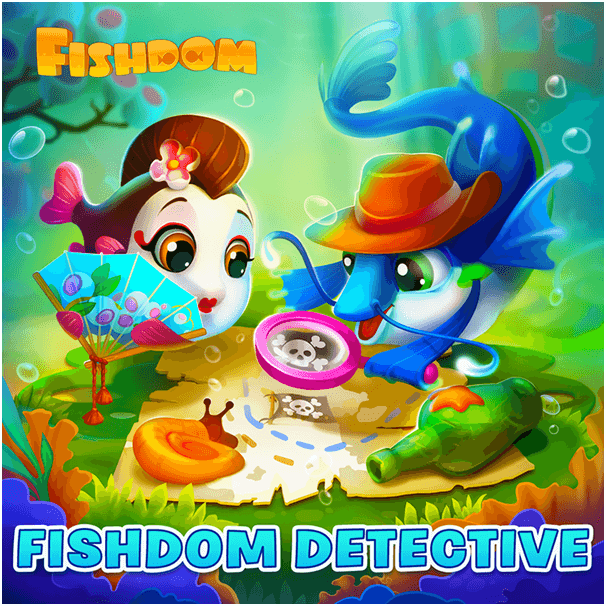 Another way that I used to get free lives when exhausted is that you go to settings on your phone then tap on date and time; now simply change the date ahead of your present day. Click or tap save and get back to your game. You will get another 5 free lives. Note that you need to come back to your original date of play if you win but if you lose you will again have to change the date to some days ahead of your time and play again with more free lives.
When you get back to the game in your original date and time you can play again normally and get more free lives. This hack worked best as it also gave me many more free coins. Because everytime I changed the date further I had to feed the fishes, clean the tank and got more coins and coins all free.
How you can refill lives?
All players can collect a maximum of 5 lives, and losing a match-3 level costs you one of them. Once all of your lives have been lost, you won't be able to play again until at least one of them recharges.
It takes 30 minutes for each life to be replenished. However, there are many other ways to replenish them as well:
1. Ask your friends to send you lives. Select the Lives icon in the top left corner of the screen and then choose Ask Friends in the pop-up window that appears.
2. Each of your friends can reply to your request and send you one life as a gift once every 24 hours. Once you get a life from someone, you'll see an envelope next to the Lives icon in the top left corner of the screen. You can collect the lives via the Lives window. Note that the envelope will only be visible once you have less than 5 lives.
3. Ask your team to send you lives. Just choose the Lives icon in the top left corner of the screen and then select Ask team in the pop-up window that appears.
4. You can also use the Team Chat to ask for lives. Select the Team icon section and pick Chat in the pop-up window that appears. Then select the Request option.
5. Lives can also be acquired by using diamonds.
6. You have a shot at winning unlimited lives when you take part in in-game events.
7. You also have a chance to receive unlimited lives as a gift from us after a large game update.
If you want to receive more lives from friends, go to the fan page on Facebook. You can find more friends there to exchange lives with and to discuss past and upcoming events.
If you are playing the game on your PC go into program files, fishdom, then open base folder, look for the file "GamePlayCost.xml" Right click, scroll down to open with choose notepad. In here change the bonuses to 10,000 to 90,000 etc save and close and have fun.
Also you can fill your comfort, beauty and fish meters to unlock new tanks!
When shopping, hover over each item and watch the meters to see how much it will add to get the most bang for your buck! You will have a new tank in no time!
How to get free coins on Fishdom?
To earn more coins on a level, try to complete it in the shortest possible time while scoring as many points as you can!
Also keep an eye on your fishies. They can give you hints about what they are missing in the aquarium. Take note of their wishes!
Every level has some achievements. Completing achievements will give you coins. For more information about achievements tab the trophy button in the game. After saving enough gems you'll be able to buy power-ups, which can be used in the upcoming levels.
Every now and then the fish food button appears. Once you tab this button your fished will restore health. Yes, your fish need food too! When your fishes already have full health you'll receive extra coins by applying this button. Try to keep your fish in good shape. It will be easier to play the levels.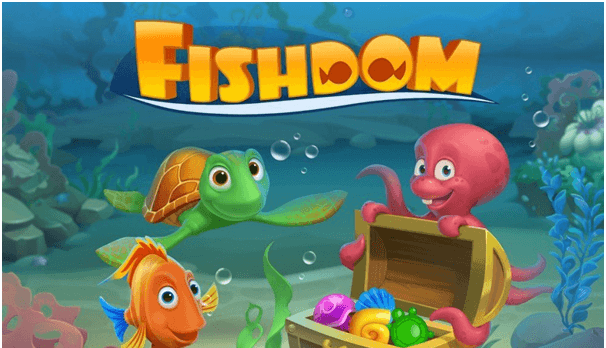 In many levels it's the best to make your combinations at the bottom of the level. By removing tiles on the bottom of the level the upper part will also start moving. This provided a lot of extra 'free' combinations and points. You didn't do anything and the combinations keep coming.

Also many hacks are offered at the game app support for you to get free lives and free coins. Simply click here and get to know more of the Fishdom hacks and cheats. Also there are many third party websites that offer hacks and tools to earn free coins for Fishdom. But you can use these at your own risk and safety.
Finally you can buy diamonds or coins in the store to get more free lives and free coins as an in-app purchase. For more games to play click here.