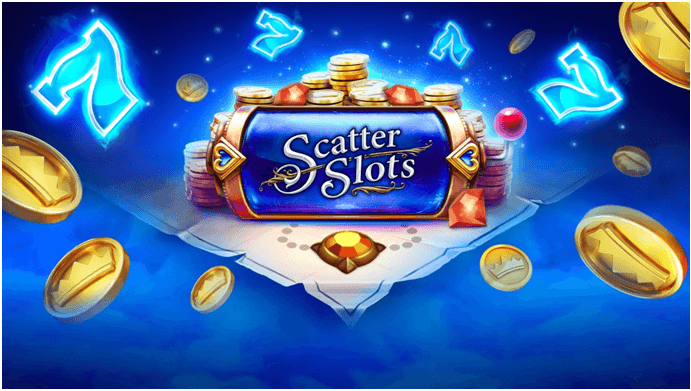 Scatter Slots is a free play for fun casino app to play the best free 777 casino slot machines online. Developed by Murka Gaming in 2015 this app is still popular app to download and have fun playing the best free 777 casino slot machines online. Over 20 million players play at this casino regularly. Like any other play for fun casino, this app also offers you free coins or credits to play these awesome slot machines.
Features of Scatter slots- Best free 777 casino slot machines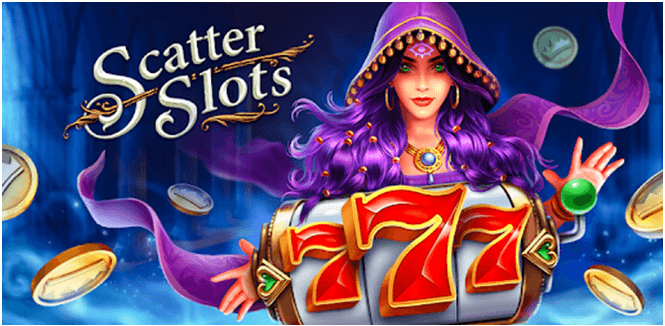 There are over 100 innovative 777 slots and even more are coming.
The unique feature of scatter slots is that even you can play offline, this means you don't need any internet or WIFI to play these slots.
Grab endless free spins, re-spins, bonus games, wild jackpots as well as hourly and daily bonuses
There is a quest system that allows you to choose your own way of beating each and every level on your Path To Glory!
Also offers a Status System to reward the most loyal of players. The longer you play – the bigger the bonuses.
You can even switch the slot machines to Tournament mode to prove your worth to The World!
There are high roller rooms with jackpots slot machines
Also the app offers you extra benefits of other interesting fun games like Bingo, Pachinko, Tabletops, and more
Enjoy Mozart, Beethoven, Bach and many more to bring the lucky sounds of vegas to your ears
777 casino slot machines to play online at Scatter slots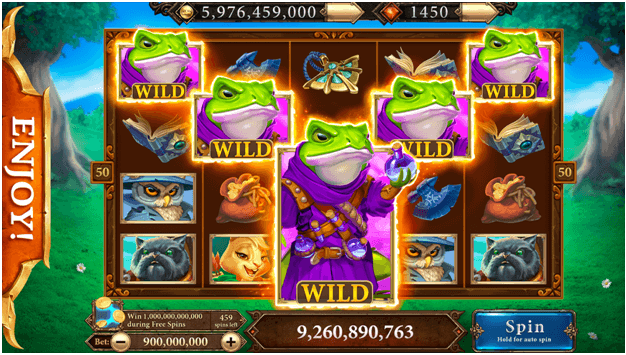 As said above there are over 100 slot machines of various kinds to spin all free and win. There are so many ways to win in featured Scatter Slots Machines, just chose your luckiest one:
* Hooting Owl – a Slot Game as classic as they get. Featuring Old School Reels, Generous Bonus Game and Plenty of Free Spins.
* The Passion – Jackpot Slot with the Highest Stakes Out there! With 3 HUGE Jackpots to win, Free Spins to fill your bank to the brim, and Re-Spins to give you an extra edge, you'll see your wins reach brand NEW heights!
* Lady Femida – Test your luck and spin The Wheel in the Land of Fortune in the Bonus Game. Get enough Re-Spins and you'll activate Free Spins.
* Fairy Tale – follow this playful fairy to the treasures! Search for your win in the Bonus Game. Re-Spins and Free Spins will keep you swimming in coins. Your Happily Ever After waits for you in this Slot Machine!
* Thief – This one is rightfully considered one of the best Slot Machines ever created. Stacked with features too! Frequent Re-Spins, Free Spins that are triggered by them, Bonus Game with generosity to spare and, if that wasn't enough, a cumulative JACKPOT! Strap in for a WILD ride, Slot Fans!
Infinity Slots will give you a taste of Las Vegas luxurious casinos for FREE.
Dragon`s treasury and new `88 Legends` is awesome new slots to enjoy here.
In these slot machines free spins are special symbols that help you to save your coins while you can win some. For example you have got 15 free spins and you won't lose coins for each of them even if you don't get the winning combination. If you win the free spins in the bonus game of some slots they don't count towards the main goal of the mission.

WILD replaces any symbol except free spins and bonus game symbols. There is something you should also know about this symbol. When you have got one wild that participates in a few winning lines the game chooses the winning line with the biggest payout.
Bonuses and promotions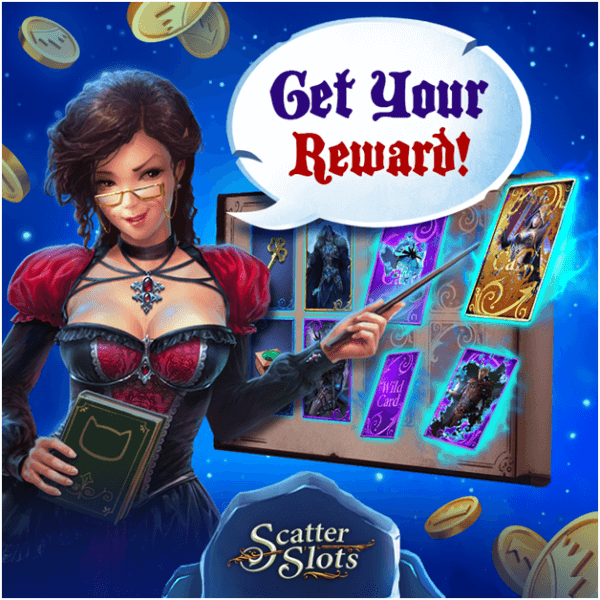 Scatter Slots the play for fun offers free coins to play the best free 777 casino slot machines online
As a new player you are offered 12,000,000 free coins Welcome Bonus.
You can find everything and even more by clicking 'BONUS' button at the bottom of the Lobby. The 'BONUS' button displays usual bonus games (Hourly bonus, Dailly Challenge, Daily Review), regular VIP offers (Hooting Owl, Passion, Game of Slots, etc.) and special holiday offers.
If you've reached level 2, the Hourly Bonus is open to you. Every hour players receive 30 seconds of free spins. The faster you tap the 'Spin' button, the more spins you complete during these 30 seconds.
Tap the 'Upgrades' button and upgrade your gems with upgrade points (you get an upgrade point after filling the flask)! The higher their level is, the bigger your possible winning becomes (you can see it if you tap on one of the items).
After each spin, you get a breakdown of all your wins. This will help you to choose which symbol to upgrade first.
Also, there are 2 more opportunities to get more coins! There are two extra cells, which you can access:
By inviting 5 friends (they need to download the game and connect it to their Facebook account);
By purchasing something.
Make another one without waiting for an hour, by using your gems.
Daily Challenge in the game app will bring some adventures to liven up your day, and rewards to help you reach a higher level. To complete the Daily Challenge, you have to complete at least five of the following tasks:
Spin 100 times
Complete a mission on your map
Play a Bonus Game
Get Free Spins
Play the Hourly Scatter Slots Bonus
Spin twice with Max bet
Buy Coins
Buy Gems
You can get all the information about your current statistics if you tap the Bonus button and choose Daily Challenge.
How to receive free coins in the game?
Thought here are many ways to get free coins, the easiest are the two ways: Chatbot and fan-page

* Fan-page on Facebook. There you will find some mysterious tasks and quizzes that are waiting to be solved!
* Chat-bot. Where you don't lose a chance to receive freebies and complete interesting contests!

Also  don't forget about the regular options! You can always receive some coins by playing:
* the Hourly Bonus;
* reading the review in the Daily Review;
* completing the tasks of the Daily Challenge.
How to get started with Scatter Slots and play the best free 777 casino slot machines online?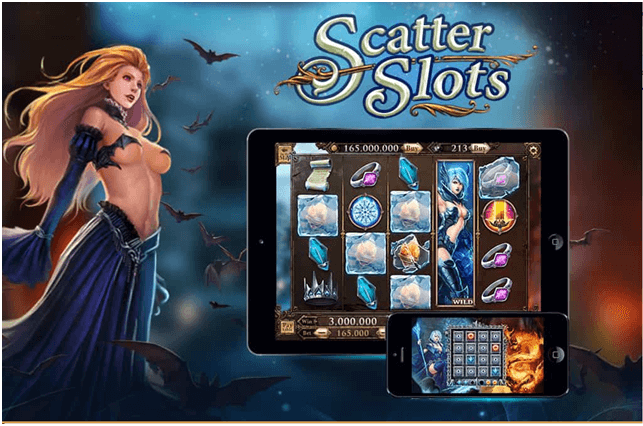 Getting started with Scatter slots is easy. Just pick your cell phone, PC or tablet and get started
Click here to download for iPhone
Click here to download for Android
Click here to play at Facebook
When the app is downloaded you will be prompted to Tap the spin button to start the game
You are offered 12000000 free coins to play 777 slot machines
As you level up in the game more slots will be unlocked to play
The more you play the more bonus you earn
There is a lot of slots with truly exciting missions for you to pass and to reach another level! Hopefully, you never experienced any difficulty playing them, but here is a small piece of advice on the types of our missions just in case you ever hesitated to play any of it:

* Melt the ice – hit more winning lines to melt the ice and pass this level!

* Cut the ropes – you can cut the ropes by the winning lines you receive! Good luck!

* Win on the free spins – here you are to win the exact amount of coins only on the free spins. Please note that the coins received on the regular spins or on the bonus game don't influence the progress bar.

* Win on the Bonus Game – win the specified amount of coins in the bonus game and this mission is completed! And don't forget that only the winning you receive while playing the Bonus Game can be counted. The Free Spins you win when playing the Bonus Game also don't influence the progress bar.

* Collect icons – your task is to collect the required number of icons on any part of the reel. They are counted even if they aren't the part of any winning line.

* Win icons – you are to collect the exact number of icons which are the part of the winning line.

* Win in a row – here you have to win the required times in a row.

* Do spins – when you do the exact number of spins on any bet you like, the mission is considered to be passed.

* Free coins – here all the spins you make are free, usually, the mission is limited in time or in the amount of spins. The mission is completed when the timer stops or when you spun the required number of times.

* Win coins – just win the necessary amount of coins and start playing the next level!

* Do max bets – spin the required times on the max bet.
Each slot is unique, and they have their own winning lines, but you can check them anytime if you tap the 'Paytable' button on your current level and swipe right a couple of times. Once you receive a winning combination, it is highlighted, so that you can see which winning line worked. Also, there could be only one winning combination on one line. Symbols combinations are always absolutely random and nothing influences them – everything is purely down to luck.
Deposits and Withdrawals
This is a free game app and no real money is involved. Scatter Slots winnings can seem so impressive that you want to redeem them. However, as this game is FREE to play, and it was designed in the genre of Social Casinos where it is forbidden to redeem the in-game currency and get cash. So you play with free money and get free coins to play more. There are in app purchases to buy more coins if you want.
Customer support
The casino offers customer support to players in case they need any help playing games. You can contact the casino here or write at support@murka.mail.helpshift.com or contact Ach. Makariou III 195 Neocleous House 3030 Limassol Cyprus