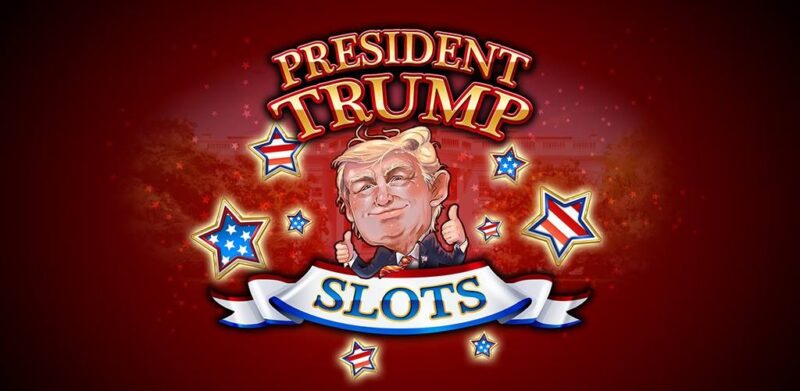 Slots President Trump is a free game app to play and enjoy. Out of all the political apps on the market, none are more entertaining than Slots President Trump. Politics has never been more profitable than with this ground-breaking app. This wild game manages to take the casino action in Vegas to Washington DC. Through the beauty of slots, players get to take a comical look at what goes on in the White House. It's already won over 10,000 players, and the number is growing by the day.
Even if you support the current administration, there's still opportunities to get in on the action. Trump isn't the only leader available, players get to choose from a slew of former US presidents. From Bush to Obama, no one escapes the satire of this hilarious slots game. The growing popularity of this game has made it impossible to ignore. We decided to dive into the details and see what this game has to offer. Enjoy the fruits of our labor, politics will never be the same!
You can download this game app and enjoy Slots President Trump on your Android cell phone. The slot games on the app are available offline to play which means you don't have to struggle to get a WIFI or internet connection to play this slot.
Slots President Trump Gameplay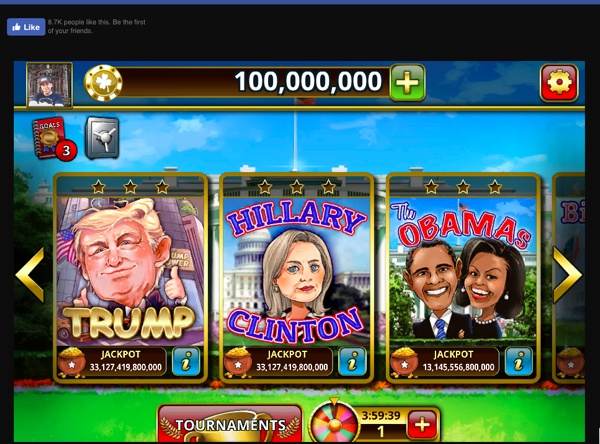 As soon as I was directed to the lobby, I was greeted with a hilarious set of choices. Numerous US presidents and potential nominees where available to play. From Bill Clinton to Abe Lincoln, no one was saved from this game's comical imagery. Faced with so many options, I decided to pick Donald Trump, since he is the most relevant.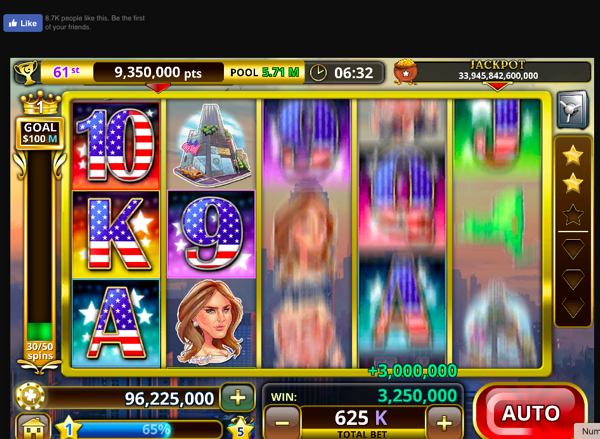 Armed with 100,000,000 coins, I was ready to enter the lavish world of Trump's presidency. The reels came to life with numbers and letters painted with the stars and stripes of the American flag. Trumps wife also flashed across the screen, as well as states that supported him. I spun furiously, but was greeted with lackluster victories. Winning 200,000 credits may seem wild, but it pales in comparison with the 625K spent on each spin. Just as my credits started to dwindle, I managed to win 3 million credits!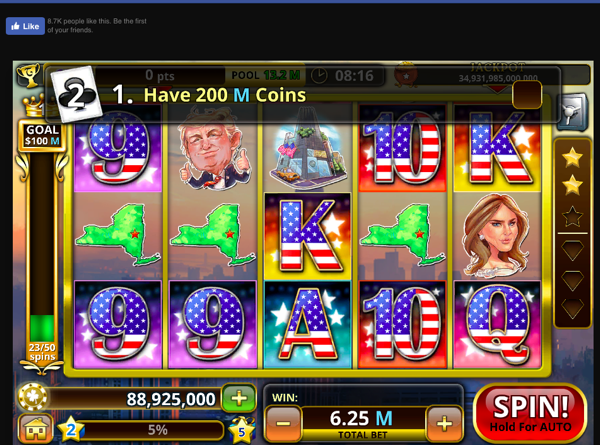 This put me back in the game, but I was going to have to up the ante if I was going to survive. I decided to start betting 2.5 million per spin, since it would increase any wins I made. This proved to be a good move, since I won 1,800,000 credits on the first spin! Emboldened by the improved winnings, I raised the bet once again. This time I was betting 6.25 million per spin, which raised the stakes considerably. I only won me 500,000 credits, instantly debunking my strategy.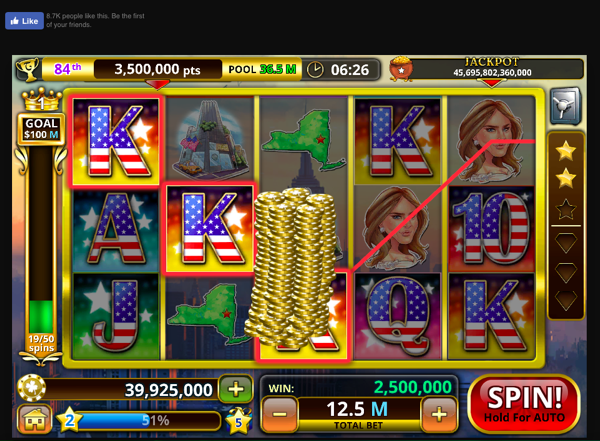 There was still plenty of credits left in Slots President Trump, so I continued betting this obscene amount. My next spin helped me level up, and to celebrate I raised my bet to 12.5 million credits a spin. This was outrageous, but by now I was craving a big win. This sacrifice won me one million credits on the first spin, so I decided to try again. After a few uneventful spins, I ended up winning 2.5 million credits! This wasn't covering my losses, and I was still far from reaching the third level.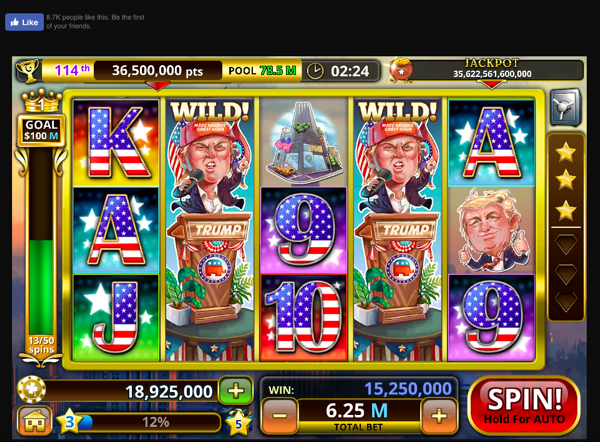 Completely bewildered at how to advance in Slots President Trump, I continued betting 12.5 million a spin. I won 4 million credits on the following spin, which inspired me to keep spinning. Despite winning 6 million and 4 million credits multiple times, my credits disappeared. At the last minute I reached the third level and won an additional 3,750,000 credits. On a last ditch spin I ended up winning 15,250,000 credits, but it wasn't enough to keep me playing. Sick of the monotony, I ended up quitting the game Slots President Trump.
Slots President Trump on Facebook
More slot games to play free on Presidents
Besides Slots President Trump the following slot games are also wonderful to play and explore.
1. Trump It Slot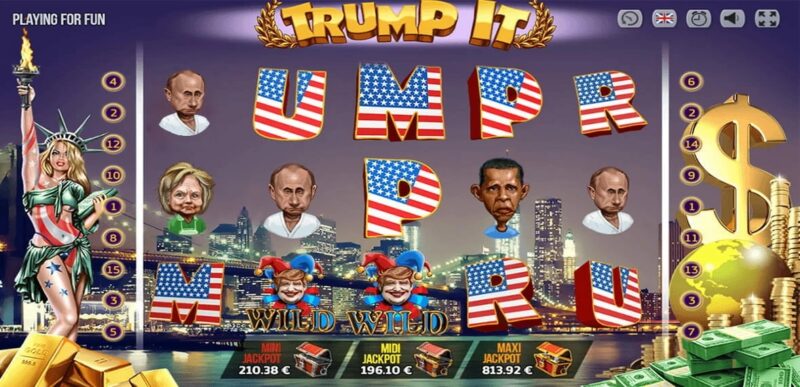 Trump It slot game is one of the funniest game ever. The game features world leaders and you will get as result of your spins Mr. Trump (obviously), Putin, Hillary Clinton, Barack Obama and other symbols. The game has 5 reels and 15 paylines and your entertainment is guaranteed as you will have big laughs at the world politicians.
The Trump symbol can give you a 2X winning multiplier when matched in a winning line. The Russian leader Putin can get you free spins with a 2X multiplier. The same of all other world politicians. The caricatures of the world leaders are absolutely great. The game layout, sounds and images will entertain you for many hours and you will laugh out loud on every spin when new caricatures shows up. Lady Liberty is also part of the game, but in a different style.
2. Rocket Men Slot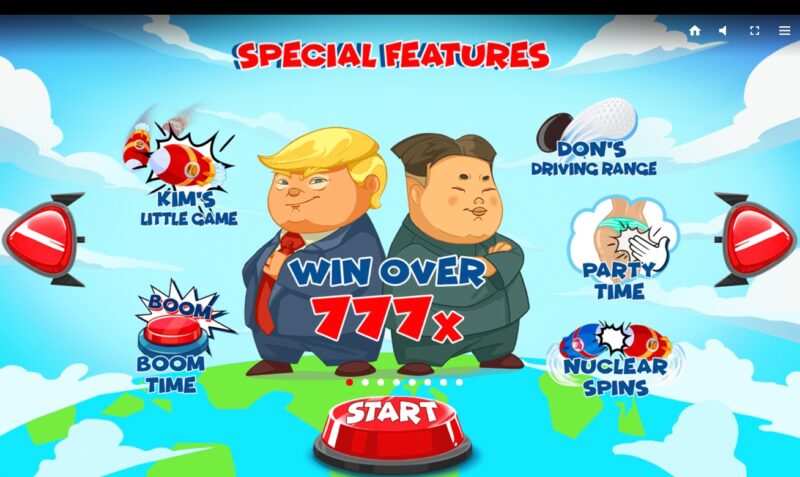 Donald Trump and Kim Jong-un are the main theme in the funny Rocket Men slot game by RedTiger. United States and North Korea nuclear threats and the well-known war of words are very well represented in this game. Donald Trump is on the left side of the game and Kim Jong-un on the right side ready to press his button. Mr. Trump can play golf and the ball will hit symbols in the gameplay area to substitute with new symbols and form winning combinations. In the same way, Kim Jong-un will press his red button to activate his nukes in the gameplay area.
The symbols are funny as well and very coloured. RocketMen slot has 5 reels and 20 paylines (fixed) and can be played from 0.20 to 500 credits per spin making it attractive for penny slot machine players and high rollers looking for the biggest cash prizes. The game has several multipliers and you can have your winnings multiplied up to 500X. The bonus features are simply hilarious and you will laugh a lot during your gameplay.
3. Trump it Deluxe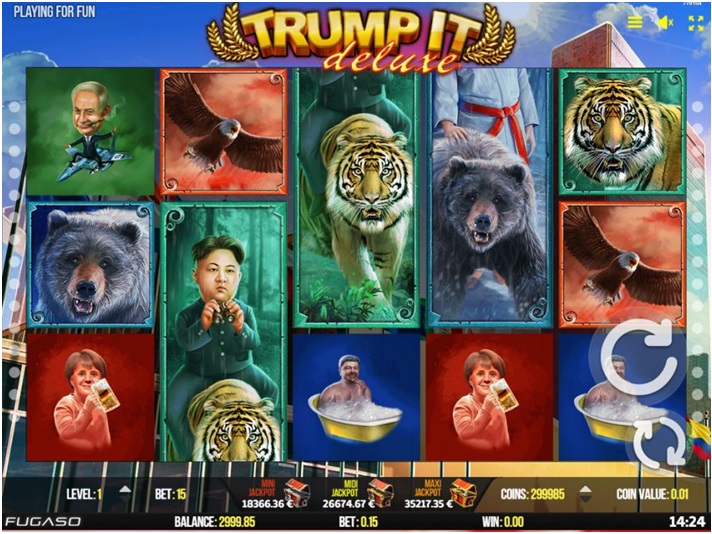 Trump it Deluxe is another game from the Trump It series by Fugaso. Similarly, you can only play this slot online at selected casinos. Trump It Deluxe is optimised for mobile gaming, so you enjoy it on your smartphone or tablet. This time around, the creators took a funny spin on international politics.
Fugaso's impeccable graphics present some of the popular heads of state in an unusual light. For instance, the infamous Kim Jong-un is riding a tiger, and the stone-cold Vladimir Putin is petting a bear. The intro video shows the politicians under the same roof having fun, and the song playing is a version of Despacito.
4. Trump it Deluxe Epicways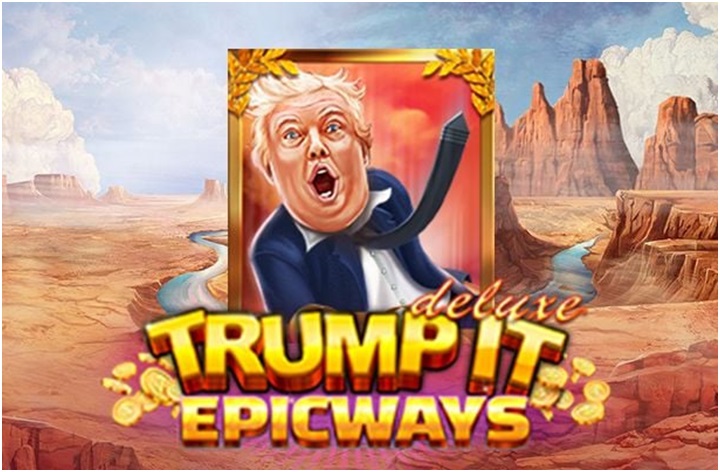 The final top Donald Trump slot machine in our list is the latest addition to Fugaso's infamous series – Trump It Deluxe Epicways. Just like the previous two games, this one is optimised for mobile play, and it can only be played at selected casinos. With this slot, Fugaso takes us on a journey to the wild west in the US of A.
Heads of State of the likes of Vladimir Putin and Kim Jong-un are featured alongside President Trump as symbols in the game. The graphics are just as great as those of the rest of the games by Fugaso. The sound effects transport you right in the middle of the desert and every now and then you hear Mr Trump's iconic slogan – Make America Great Again!
5. Trump vs Clinton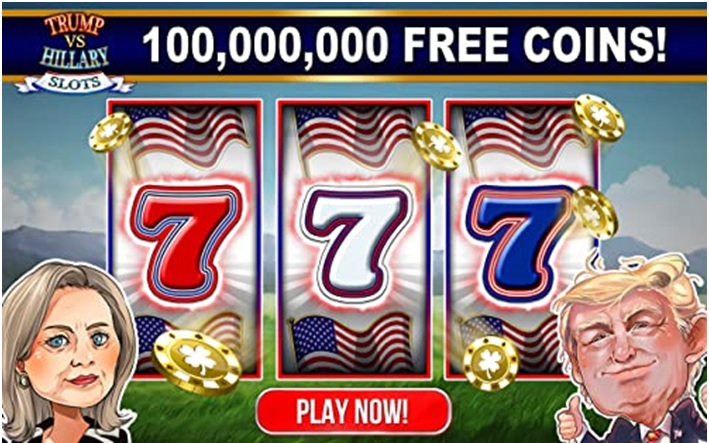 This probably the best of Trump Hillary slots and it takes us back to the 2016 US presidential election. This is yet another game you can play online and offline. Megarama Games launched the app on election day and was quite a hit. This slot game, you can still find it for free at Amazon. Your device must have at least Android 4.0.3 and 51.2 MB to download and run the game.
As you would imagine, the primary focus is on the iconic presidential battle between Mr Trump and Mrs Clinton. But the fun only starts here – Megarama Games' app offers over 30 slots featuring well-known political figures like the Obamas, George W Bush and even Bernie Sanders. Enjoy the sharp and detailed graphics on the go!
6. Hot Trump Casino slots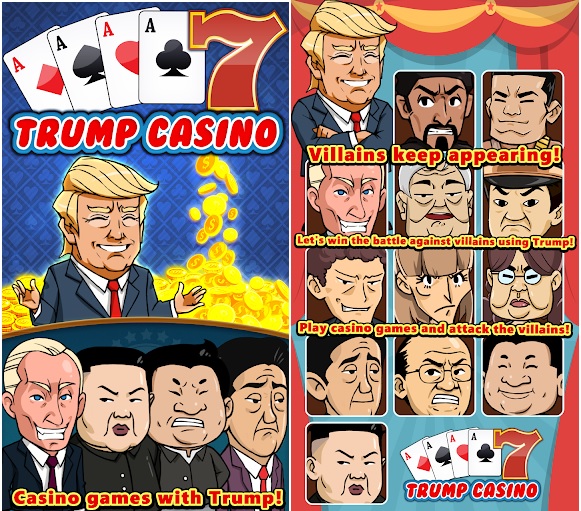 Hot Trump Casino Slots by the Korean developer Funny Apps Plus US. Luckily, the game can be used both online and offline. This slot game application offers two Trump slots and eight casino games such as roulette and poker. To download the app, your smartphone must have Android 4.1 or up, and 40 MB.
This game presents Donald J Trump as a vigilante fighting against all villains of the modern world. But there is a twist – Mr Trump first takes all their money and then sends the criminals to jail. The developer chose anime style for the visual and sound effects. The characters look and sound just as if they are out of an anime series.
7. Donald Trump Slots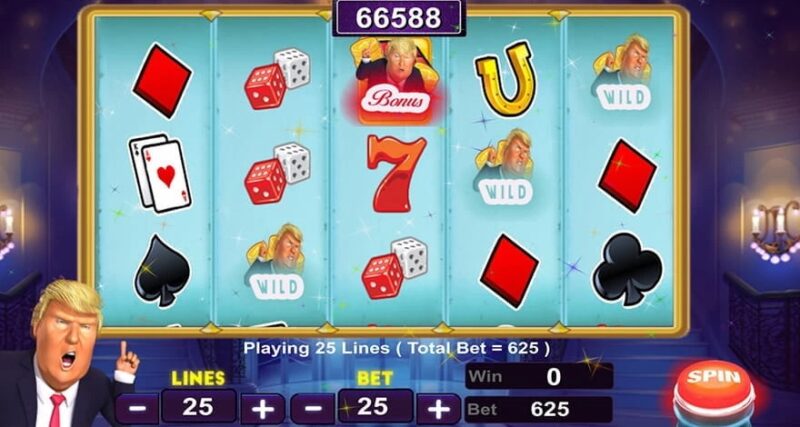 Donald Trump slots on Android is Trump Casino Slots by Adictivo. This application offers three different slots with Don cheering you on the side. Also, all in-app games are available online and offline. To install the game, you need an Android device with OS version 4.0.3 or higher, and 38 MB.
Though this is not politically oriented game, there are three slots games to play here. Each of the three slots has its own symbols, but all of them are rather traditional ones like numbers, letters, diamonds and such. The combination between the cartoon-like graphics and the up-beat sound effects transports you right in the middle of a Vegas casino.
Overall Review
Slots President Trump is a funny premise with a serious lack of diversity. While playing users are encouraged to bet big or not bet at all. Unfortunately, the return isn't enough to keep the show on the road. There are no bonus games, which causes the game to lose its flair rapidly. Despite these shortcomings, the game was still enjoyable. Hopefully the developers add some bonus rounds to give this game the longevity it needs!
Also since the launch of Rocket Men,  Rocket Men, showing Trump and Kim Jong-un recklessly firing nuclear weapons is the best Trump themed slots to play. The game presents the worst-case outcome from the political argument between the American President and the North Korean Supreme Leader Kim Jong-un.
You can play all the games for free as an app or play at reputed online casinos that's your choice.