Play lotteries online in some states of the USA. Generally, you have to visit your nearest lottery retailer to buy lottery to play. Though few unofficial sites do claim and even offer online Powerball and Mega Millions lotto tickets, very few lotteries official websites offer you to play lotteries online.
Play Lotteries Online At Official Lotto Sites
Here are the US official lotteries websites where you can play lotteries in USA online.
Illinois Lotteries
All you need is to visit the above links, create your account, buy the tickets online and play the lotto games instantly.
Which lotteries can be played online?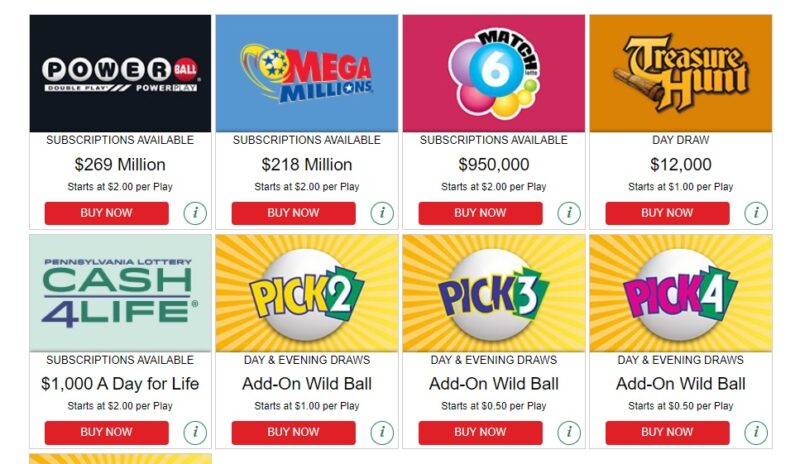 Powerball: Powerball is a multi-state lottery game that is widely played across the United States. It offers massive jackpots and is available for online ticket purchases in select states.
Mega Millions: Mega Millions is another popular multi-state lottery game. It offers large jackpots and is available for online ticket purchases in certain states.
Lotto America: Lotto America is a multi-state lottery game with jackpots that start at $2 million. It is available for online ticket sales in specific states.
Cash4Life: Cash4Life is a unique lottery game that offers a top prize of $1,000 per day for life or a lump sum cash option. It is available for online ticket purchases in certain states.
Lucky for Life: Lucky for Life is a lottery game where the top prize is $1,000 per day for life or a lump sum cash option. It is available for online ticket sales in select states.
Hot Lotto: Hot Lotto is a lottery game that offers a rolling jackpot and several prize tiers. It is available for online ticket purchases in specific states.
How to make a deposit and buy ticket online?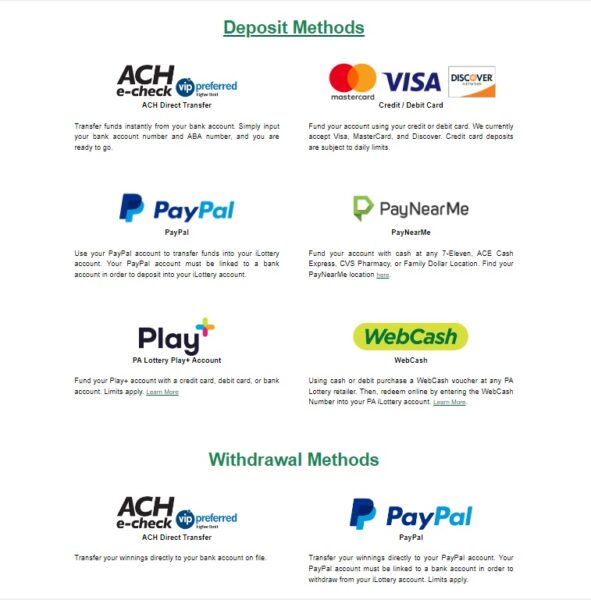 To make a deposit and buy ticket online at official lotto sites, first create your lottery account to play online lotteries.
Next select the lottery game you wish to buy.
Generally all lottery tickets do not exceed $2.
You can deposit or buy ticket with
ACH Direct Transfer: Transfer funds instantly from your bank account. Simply input your bank account number and ABA number, and you are ready to go.
Credit / Debit Card: Fund your account using your credit or debit card. Lotto sites currently accept Visa, MasterCard, and Discover. Credit card deposits are subject to daily limits.
PayPal: Use your PayPal account to transfer funds into your iLottery account. Your PayPal account must be linked to a bank account in order to deposit into your iLottery account.
PayNearMe" Fund your account with cash at any 7-Eleven, ACE Cash Express, CVS Pharmacy, or Family Dollar Location.
PA Lottery Play+ Account: Also Fund your Play+ account with a credit card, debit card, or bank account.
WebCash: Using cash or debit purchase a WebCash voucher at any Lottery retailer. Then, redeem online by entering the WebCash Number into your play online lotteries account. 
Withdrawal Methods Include:
ACH Direct Transfer: Transfer your winnings directly to your bank account on file.
PayPal: Transfer your winnings directly to your PayPal account. Your PayPal account must be linked to a bank account in order to withdraw from your iLottery account.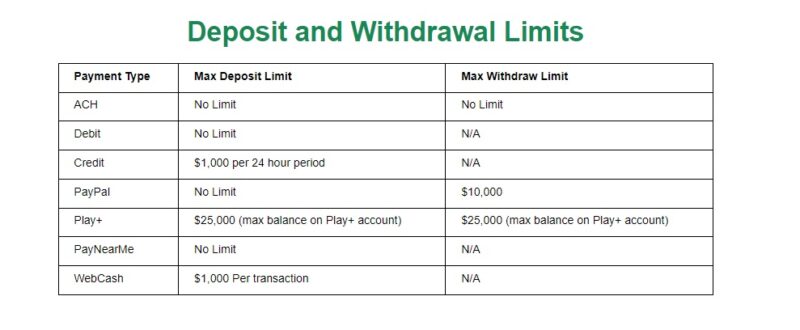 Play lotteries online with Subscriptions
Few US states like New York, California, Florida and others do not yet offer online lotteries. That doesn't mean there is no way to play lotteries online legally. Most of the US lotteries corporations offer subscriptions online for draw games, including State Lottos, Mega Millions, Cash4Life and many other lotteries.
You can choose subscription lengths from two weeks up to one full year.
Create multiple subscriptions and manage them at a time and play multiple sets of numbers all from the convenience of one account.
If you love to play in group with your families and friends you can opt for group subscription. The group leader may manage up to 25 group members. It is easy to pool your resources to take a shot at that big jackpot.
With subscription service online as a member you can order, renew, and manage your subscriptions online. You will never miss a high jackpot and your winnings will be automatically sent to your prize account or paid to you by check.
New to the subscription center is the ability to have your account credited for prizes $600 and under.
How to create a subscription account at the US lotteries?
Before you opt to create a subscription account at the US lotteries remember that many US state lotteries are not offering subscription service at the moment.
Here find how to create a subscription account at the US lotteries. I have taken an example with New York state lotteries.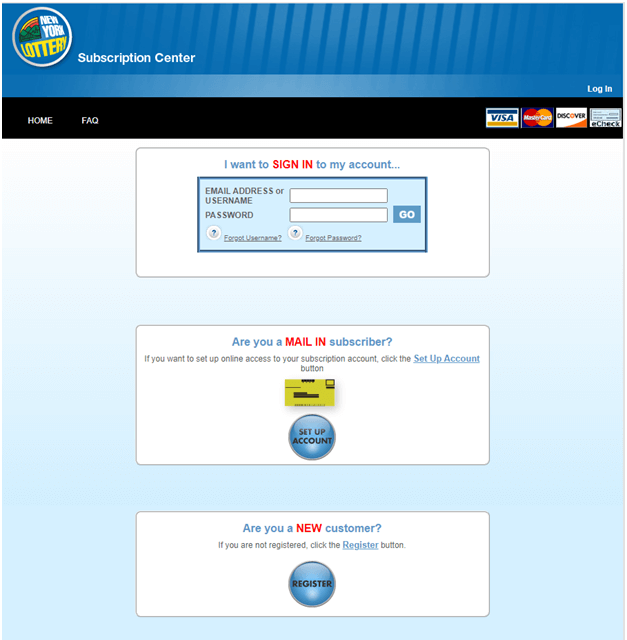 As a first step visit the subscription center at the official lottery website online with your PC. Here at New York Lotteries visit https://www.mynylottery.org/portal/auth/portalHome.do
As a new player click on the register button.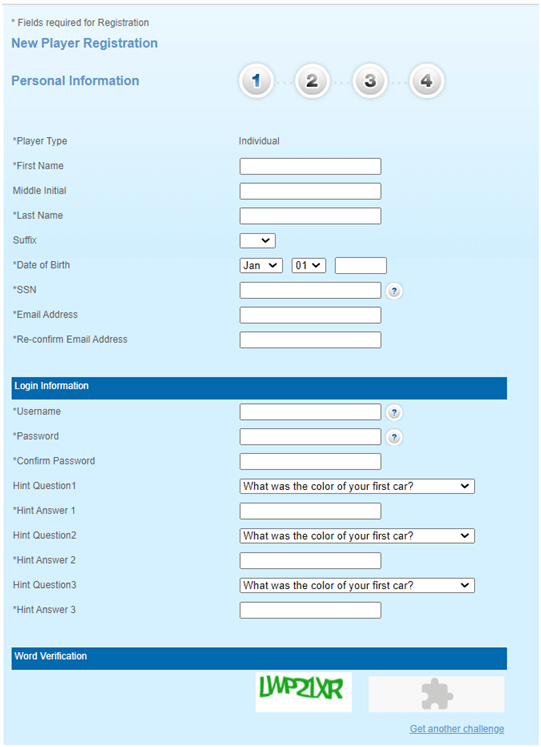 The above form will be displayed which you need to fill your name, date of birth, your social security number, email and set a user name and password.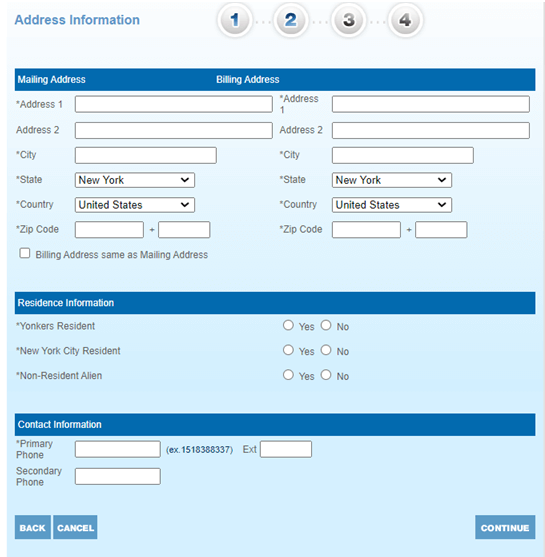 Next fill in your mailing address and contact number.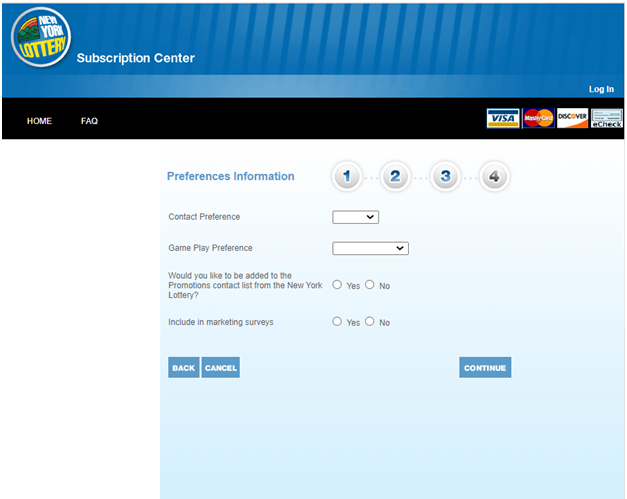 Next set your contact preference that is phone number or email.
Also set your gameplay preference like which lottery game you want to subscribe for be it lotto, numbers, Take Five, Mega Millions, Win 4, Powerball, Pick 10, Mega Millions or Cash4life.
Once you have filled the form, in the next click your details will be displayed and you finally need to confirm it.
When a subscription application is approved by the Lottery, the subscriber is sent a confirmation e-mail within 24 hours indicating the effective date (the date the subscription starts) and the expiration date (the last date or drawing for which the subscription will be active.) The confirmation includes the numbers played. Subscription confirmation is your official receipt for the purchase of your subscription. Do not assume a subscription has been approved until your confirmation has been received.
You will receive an email confirmation from subscription like in this example from center@mynylottery.org.
Payment Methods to Buy Lottery Subscriptions
You can use any of the payment methods to fund the lottery subscription account like using either a Credit Card or a Checking/Savings account as your method of payment. Lotteries in USA accept MasterCard, PayPal, Visa, and Discover and e-check payment. Also, note that the Lottery does not charge any fees for using a credit card and processes the transaction as a purchase. However, some credit card companies assess fees or treat a lottery purchase as a cash advance. Subscribers should check with their credit card company or refer to their credit card agreement.
Also, remember that to purchase a subscription through the Lottery's subscription center, you must access the subscription center from a computer or other electronic device physically located within US State at the time of purchase. It should be noted that mobile devices i.e., IPads, Cellular devices, etc. cannot be used to purchase a subscription.
The Lottery does not issue refunds or credit for any active subscriptions. You can go for multiple lotto subscriptions as well.
Now choose the lottery game you wish to play. Select the Number of Games and Drawings. Choose your Numbers or Quick Pick and complete transaction with payment information
If you choose the Quick Pick option, a random set of numbers will be generated for you when your subscription is processed. This set of numbers will be included in your subscription confirmation (link to subscription confirmation question) and will remain in effect for the duration of your subscription.
What if you win the Lottery with a subscription?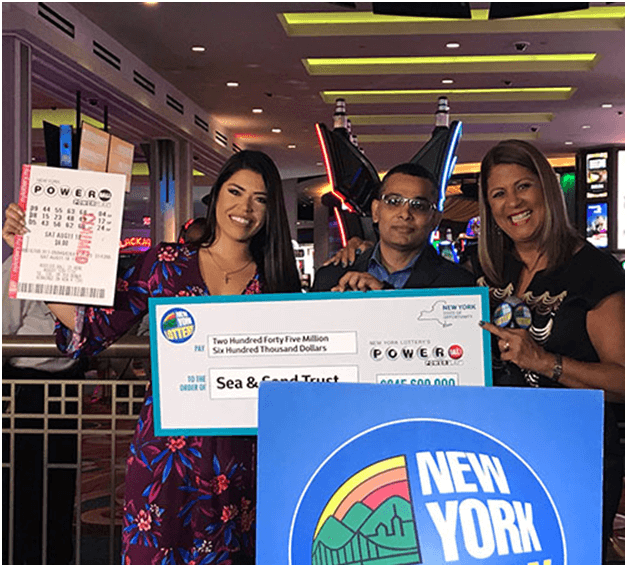 If you win a jackpot prize, you will be notified by an official Lottery representative. The Lottery automatically creates a prize account for all subscribers. All prizes of $600 or less are credited to your prize account. The Lottery automatically sends winners a check for all prizes over $600. The Lottery also sends an email notification of any prize, regardless of the amount, to those players who provide an email address.
To collect your winnings you may request a 'cash out' payment from your prize account at any time. The amount of the payment cannot exceed your prize account balance at the time of the request.
The payment is made in the form of a check and is mailed to the address you provided in your profile.
Any prize account funds identified as "non-refundable" are not available for 'cash out'.
Payment requests are limited to a minimum of $50. If your balance is under $50, the entire balance will be paid upon request.
At any time you may use all or some of the available funds in your Prize Account towards a purchase or renewal on lotto website.
Groups of players can share the cost of a subscription and share prizes when they win. Groups must have a minimum of 2 members and a maximum of 25 members. When playing through the Lottery's Subscription Center, each group member must register and create an online account prior to the subscription purchase. The group representative must access the subscription center from a computer or other electronic device physically located within the State.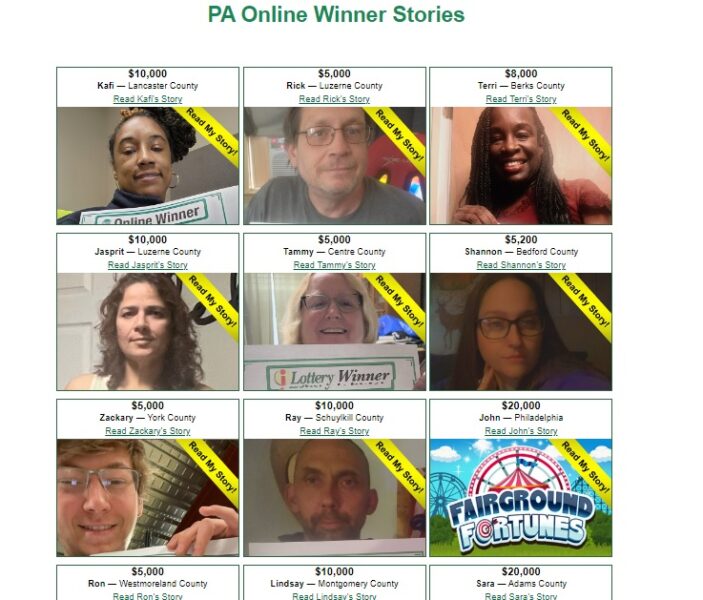 Each group chooses one of its members to act as the group representative. This member is responsible for completing the group application, providing the name, address and residency information for each group member, and indicating the share of the subscription each member owns. (Group members do not have to own equal shares.
For example, two members could own one share each, while a third owns two shares or one member could own two shares while another owns three shares.) The group representative will be sent the group subscription confirmation and renewal notices.
Prizes of $600 or less will be credited to the group representative's player account. It is the responsibility of the group representative to split these prizes among the members of the group or to use the funds to purchase other subscriptions.
Prizes over $600 must be reported to Federal and State tax agencies; therefore, the Lottery mails individual prize checks to each group member using the most current list of members provided by the group representative. It is important for the group representative to review and update the group member information at the time of renewal. Failure to complete this section on the renewal could delay the payment of prizes to group members. The Lottery is not responsible for disputes between or among group members.
Important points to remember
Subscriptions cannot be purchased using a mobile device such as an IPad or cellular device. You need to apply for a lottery subscription with your PC only.
You have to be 18 or older of age to go for a subscription.
You can gift the subscription. With a Gift Subscription, the purchaser selects the game, the number of drawings, and the numbers to be played for the recipient. Both the purchaser and the recipient must be 18 years of age or older.
A gift subscription may be purchased by someone who can access the Lottery Subscription Center from a computer or other electronic device physically located within the State.
When a gift subscription is purchased from the Lottery Subscription Center, the gift recipient will receive an email confirmation the next business day. The gift purchaser may opt to delay notification to the recipient for up to 90 days. I
f the recipient does not respond to notifications to register the subscription under their name within 30 days, a reminder will be sent to the recipient.
If the subscription is not activated within the next 7 days the gift will be activated under the purchaser's name. It is not necessary to provide the gift recipient's social security number if it is not available to the gift purchaser. The gift purchaser should not provide his or her own social security number on the application.
Federal law prohibits the sale of lottery tickets, including subscriptions, across state borders. Prior to any online subscription purchase, the computer IP address is checked to ensure that the purchaser is using a computer physically located within the states.
Note that some internet companies serving the US states also serve other jurisdictions and some of the IP addresses used are recognized as residing outside the states. This could lead to purchases being rejected until IP databases are corrected. Currently, the use of mobile internet providers, dial-up connections, and proxy servers are automatically blocked because the user's location cannot be confirmed.
Finally, remember there are few sites on the internet where you can play lotteries online in the USA to play and win. But you can use those sites at your own risk. We at winmenot recommend you to play lotteries online only at official US lottery websites only.
Also, many online US-friendly casinos offer lotto games of Keno, Bingo and Instant scratch cards that can be played online instantly.