Slots – Titan's Way is free slots app available at app stores. Over the years Facebook has become home to many great slot games, including Slots – Titan's Way. This game was tailor made to be played on iPhones & iPads, but it also crossed over to other platforms. The game features various levels that could enthrall even the most jaded gamer. People around the world claim that this game offers an authentic Vegas gaming experience. When you look at the numbers, this appears to be true. Slots – Titan's Way has won over 800,000 players on Facebook.
About the game – Slots- Titan's Way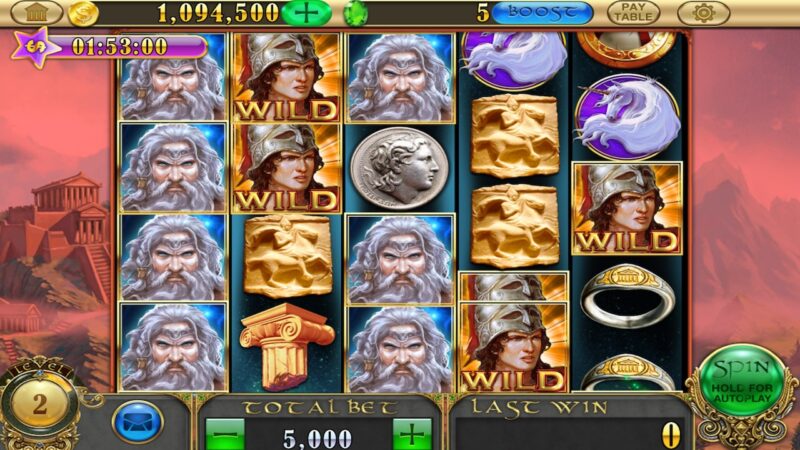 Slots Titan's Way is a mythical hero themed slot machine game, with different areas to move through such as the Valley, Enchanted World and Mount Olympus. In some areas, there may be one or two games which can be downloaded, the rest must be unlocked as the player moves up levels or by spending gems.
Players start with an allocation of coins which are used to place bets on each spin. They are also allocated some gems.
A Pay Table can be accessed which outlines the winning combinations. Wins are collected in the form of coins. Stars are awarded for each spin – accumulating stars takes the player to higher levels. The higher the bet, the more stars are awarded.
This slot game plays multiple lines per spin, which cannot be altered. The amount bet per spin can be adjusted up or down. As the player moves up levels they receive bonus coins and the maximum bet amount is increased.
Additional games are unlocked at higher levels. A "win" frequently occurs, accompanied by congratulatory messages and sounds. Often the win is in fact less than the amount which has been bet. The frequency of rewarding messages and sounds is high. Bonus free coins are awarded every hour, by spinning the Special Bonus slot. Players also receive one free daily spin on a wheel of fortune, on which the prizes are coins or gems. Extra spins can be bought with gems.
In some games, when a player wins coins on a spin, a red and black symbol appears. If the player taps on this symbol, they are taken to an extra game in which they can wager the amount of the last win, by choosing either Red or Black in a double-or-nothing bet. The game flips a card on the screen, which will be either red or black. If it is not what the player selected, their last win is not added to their win and they return to the slot game.
If the player has chosen correctly, their win is doubled and they may either take their winnings and return to the slot game or risk it for the chance to double it again. Players can gamble up to five times.
Slots – Titan's Way App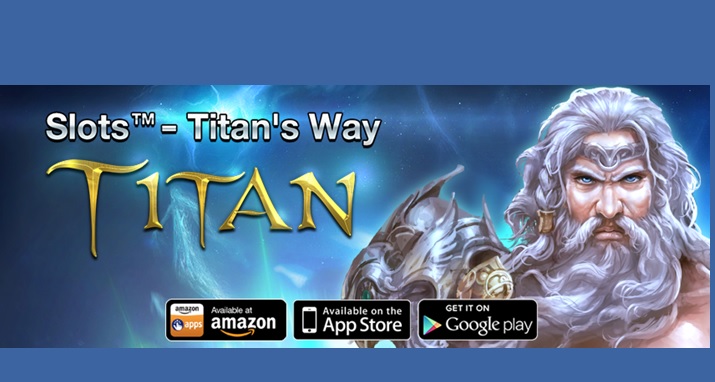 Slots – Titan's Way is a game app that you can play free with your Android or iPhone smartphone or tablet.  With great big payouts this app is packed full of fun and thrills offering you the best of multi slot gaming experience.
Some of the great features of this app include varying play styles, fast-paced tumbling reel action that will keep you winning again and again, super re spin mode that makes your big wins even bigger and get extra bonus chips each hour. You can enjoy the slots with no internet connection through the offline mode.
These impressive numbers made it impossible not to shine the spotlight on this casino app. We decided to dive head first into the game to see if it really warrants this type of praise. Enjoy the most intricate review of this wild slot game!
As for the new features they include:
The Daily Bonus Wheel round in addition to the extra bonus chips supplied every hour.
The Treasure Collection Challenges, added to the Blizzard King slot
New character, added to the Enchanted World, "Sea Siren"
Multiple styles of slots gameplay!
Huge payouts that are more satisfying than anything you've experienced before!
A huge variety of payouts means the winnings just keep on pouring in!
Varying play styles to keep things interesting
Non-stop discounts, so you can always enjoy the best deals
New slot machines added regularly, the fun never stops
Fast-paced tumbling reel action that will keep you winning again and again
Super re-spin mode that makes your big wins even biggerExtra bonus chips each hour
Offline mode available: free to play with or without internet connection.
Theme of Slots- Titan's Way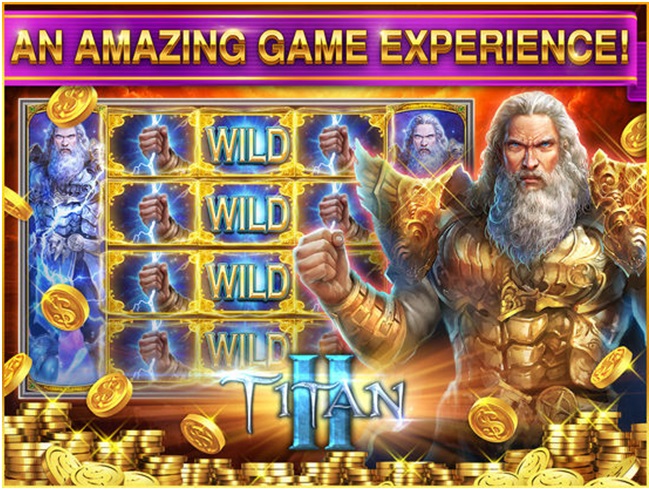 Slots – Titan's Way app make use of varying gods representing a distinct mode of play in every slot machine. The slot machines accessible differ in mechanics to some extent, but generally similar in more ways than one. The games have different play modes to maintain things interesting. Still, many players would have loved it if some additional depth was put in these supposedly godly themes.
Slots – Titan's Way is made on the basis of a mythical Greek theme, which is so unnecessary in many people's opinion. Whilst the designers may have perceived this as kind of creative method to detach them from rivalry, many casino players thought it was excessively bombastic.
Technical specifications of the Slots – Titan's Way app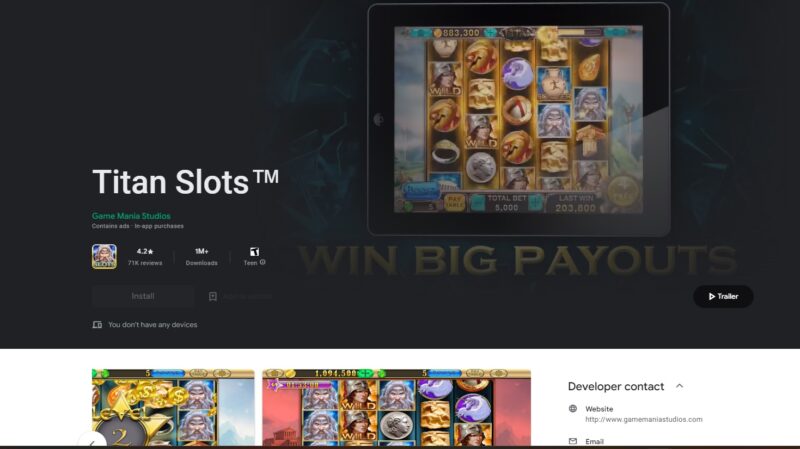 You can get this app free from Google play store with the download size of  48.8MB or 161 or 172 MB depending on the version you get. Developed by TopGame this app and needs minimum Operating System for  Android as 2.3 and takes approximate download time more than 5 minutes. For iPhone you need iOS 8 and above to install this app. The app comes in five different languages basically English, Portuguese, Simplified Chinese, Traditional Chinese and Turkish.
As said above it has fast-paced plummeting or tumbling reels that make the user win frequently. Its super re-spin feature is designed to make a user's great wins even greater.
Titan Slot games are exclusively designed to offer players the feeling of Vegas casino games on their cell phone devices. If a user likes slots, it is undeniable that they will download Slots – Titan's Way app.
Slots – Titan's Way Gameplay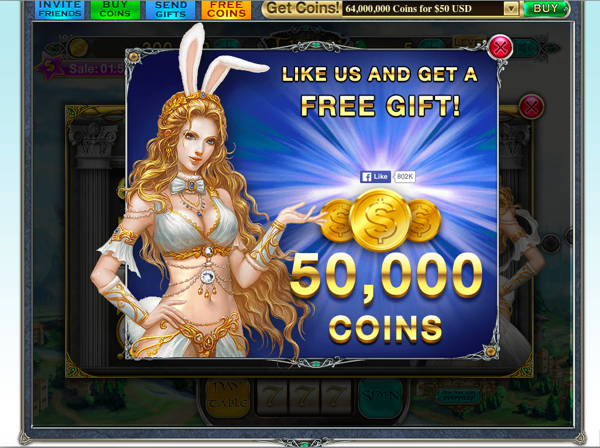 As the game loaded, I was greeted by a bikini clad Goddess. She announced that I could win 50,000 coins just by liking the app's Facebook page. Instead of being seduced by this enticing offer, I decided to dive straight into the lobby. I wanted to see what the game was like without accepting any handouts. Once I hit the lobby I was instructed to pick my character. Only the warrior was available, so I went with it.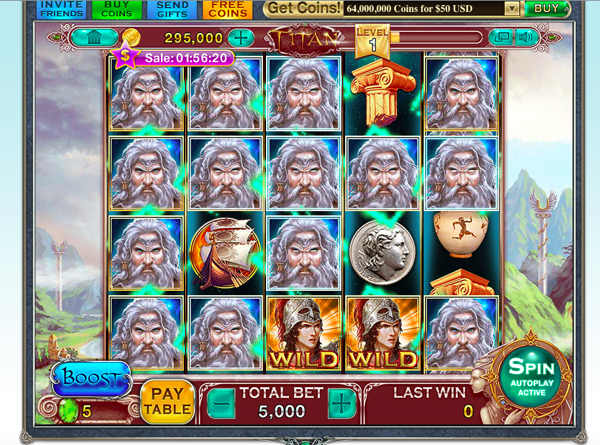 After accepting my character I was ushered into a colorful slot game. The screen came to life with Greek Gods & lightning bolts. I quickly discovered that I had 300,000 coins, so I was ready to take on the game. After a few spins, I had already achieved a big win! This netted me 390,000 coins, so I was back in the game. I politely refused to share this experience with my friends & continued to spin.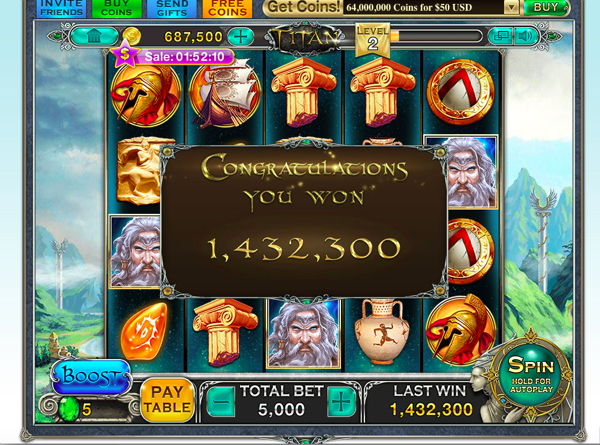 As soon as I spun, the screen came to life with a furious thunder storm. I was alerted that I had just won 10 free spins! From there on every single spin won me a hefty bonus. By the end of the bonus round I had leveled up & accrued 1,432,300 coins! This was a behemoth amount of coins, so I decided to up the anti. Now that I had over 2 million coins I quickly raised my total bet to 25,000 a spin.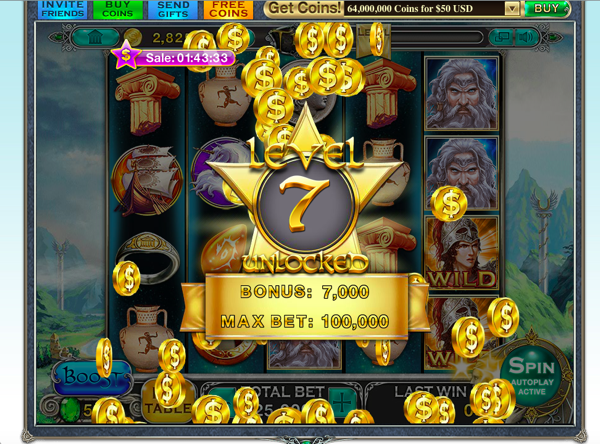 I spun a few times with little luck. Just as I was about to lose hope I hit a 5 of a kind & leveled up! After a few spins I hadn't won a thing, but I still managed to reach level 4. The max bets helped me advance quickly, so I stuck with this strategy. Soon I reached level 5, but the game was starting to get repetitive. I was soaring through the levels, but little was happening in between. I reached the 6th & 7th level, but by then I had lost my enthusiasm. I had over 2,800,000 coins, so I decided to quit while I was ahead.
Slots – Titan's Way – In app Purchases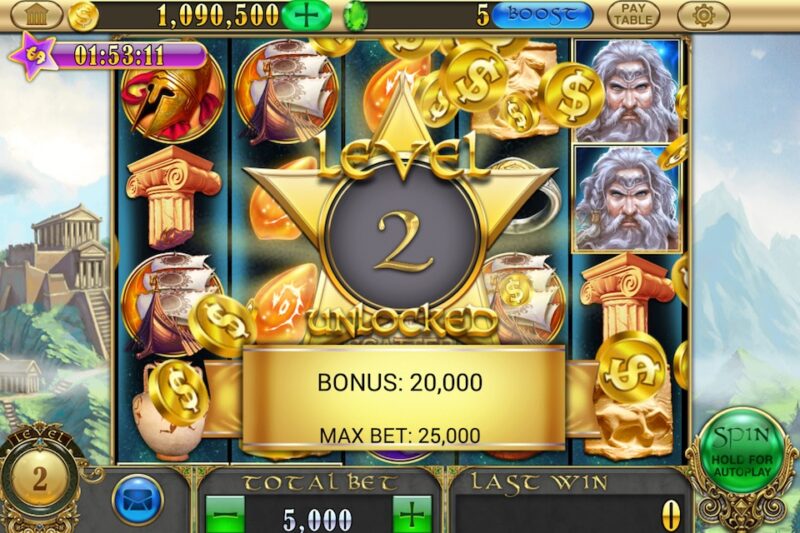 It seems that Slots – Titan's Way free slots app has a tendency to zap a player off their coins. That way, those who wish to continue with their play would have to buy additional coins by way of in-app purchases (IAP). A wad of gems cost you US$4.99 and heap of coins at US$19.99, crate of coins at US$99.99 and barrel of coins may cost your US$49.99 (note that the cost may change so you need to check within the app the actual price of the coins)
If you are not interested in buying the coins then Titan's Way app users would rather wait for the next round of coin supplies that you might get when you level up in the game or earn through bonus features.
Also note that te game is intended for an adult audience. The game does not offer "real money gambling" or an opportunity to win real money or prizes.
Slots – Titan's Way Facebook Community
As this is a social games app you can visit their Facebook page for more recent updates on Titan's Way slot games or to get free coins. You can share your wins among your Facebook friends, invite them to play  and like the posts to grab more and more free coins. Also there are sale of coins which you can take notice of at discounted prices to play more the slot games with this app on your Android or iPhone.
Players can invite friends on Facebook or email to earn extra coins. When a player logs into Facebook, the app receives the player's public profile and friend list. Players can also link to the Game Centre to view achievements.
Overall Review
Slots – Titan's Way is an extremely enticing game. As the wheels spin the screen comes to life with a wide array of Nordic Fokelore. Things get hit by lightning & burst into flames, so there's always something to stimulate the player. Unfortunately, there's a massive shortage of variation. While the levels are vibrant, they fail to vary. In the end the only way to tell you have progressed is by looking at the levels. If they would just add a little variety this would be one of our favorite slot games!