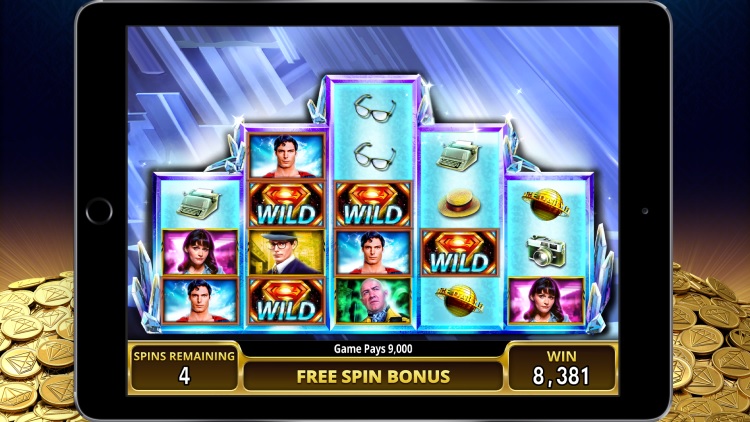 Spin it Rich slots is the popular game from Zynga released few years back. Spin it Rich slots can be played free at Hit it Rich casino app from Zynga gaming company.
Hit it Rich Slots is a fun casino app to play wonderful slots all free without spending any US dollars with your mobile smartphones. You can download the app and begin to play at once with free coins. The slot game will really hit your rich when you spin the reels. Developed by Zynga gaming this slot app is very popular among players. You can even play with your Facebook friends as this is a social gaming app that connects you to Facebook easily offering loads of free coins to play slots. There is no real money play involved in this casino.
With over 2.1 million monthly active users on Facebook you can now play at Hit it Rich slots on the go. As you will find this app available free at iTunes for Apple iPhone and iPad users as well at Google Play Store for Android users at Windows store for Windows phone or even get it free at Amazon.
Slots to play at Hit it Rich Casino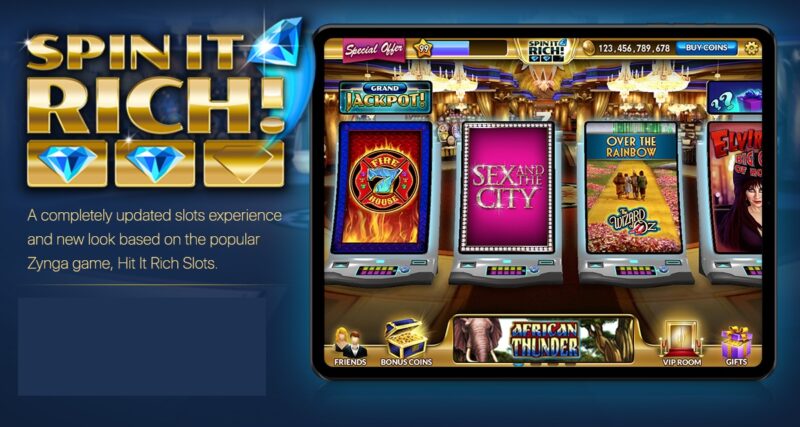 When you get this free slot app on your mobile your thrilling journey begins and you find some of the wonderful slot games like Oz – Over the Rainbow, Pretty Kitty, New York Minute, Duck Dynasty and so much more! With phenomenal features like bonus games, cool videos and crisp animations, you'll have an incredible time trying out each game and playing with your friends in this fabulous online free social casino .
Hit It Rich casino gives you the ability to play a variety of five-reel slots in one place, right away, with no unlocking required. As said above the most popular game is "Oz – Over the Rainbow" game, which incorporates dialogue clips, music, and even short video clips that lead into the bonus rounds.
Some of other slot games you can enjoy are Wizard of Oz Slots, The Terminator, Ted, Ghost Bursters, Willy Wonka and the Chocolate Factory, The Princess Bride Slots, Elvira Slots, Mustang Money, Dragon lines, Steve Harvey, I Love Lucy, Marilyn Monroe, Three Stooges Slot, Real Housewives Slot game, Sex and the City, Splendor of Rome and Jackpot slots of many kinds.
Bonus rounds in slot games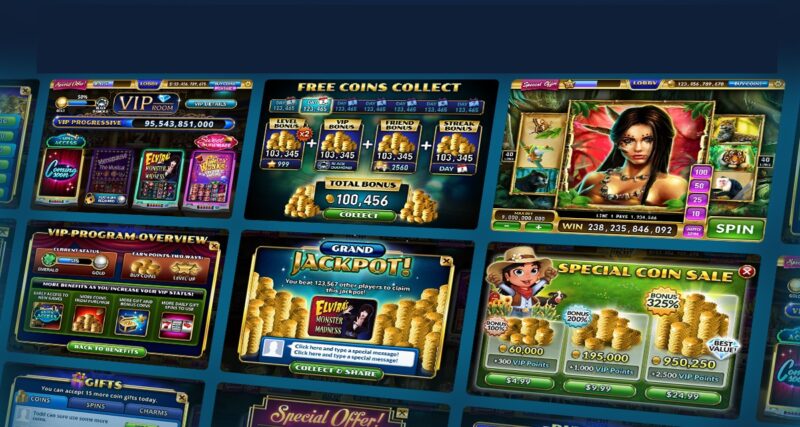 So you have nice mix of themes in slot games. The games vary by bet size and number of lines, but they have some common features too. Bonus rounds are activated by finding three "Bonus" symbols on valid lines, launching either a single bonus game or giving the player the chance to choose randomly between multiple options. Big wins can be posted directly to Facebook, and a special challenge feature can land you some extra coins if you outscore friends in specific bonus games.
All these games including Spin it Rich have awesome graphics and excellent music.
Spin It Rich Gameplay
Out of all Zynga's releases, Spin It Rich has stolen the show. Over the years, this interactive slot game has seduced millions of players. The game's heyday is far from active, but they still command a legion of 100,000 monthly users. These loyal fans are fueling a comeback, & we decided to see if the game still lived up to the hype. Coming back after such a long hiatus is no easy feat, & only a Zynga product could pull it off. Come take a look at this classic, it could turn into your next favorite game!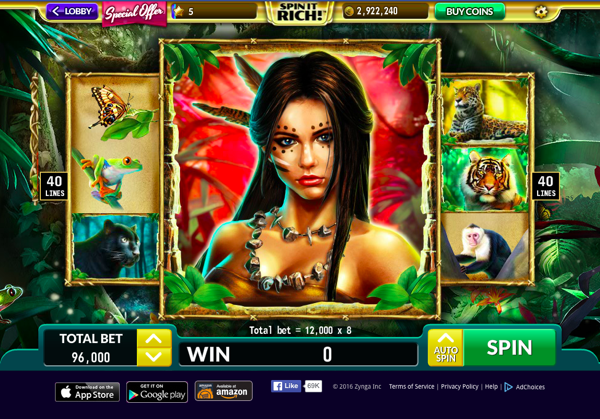 After the game loaded, I was bombarded with a slew of offers. First they offered to sell me coins, which I politely refused. Then they offered to let me join their loyalty club, & I declined. Even after that they still wanted me to look at the VIP lobby, this was too much for me so I kept closing offers until I finally made it into the lobby. Upon making it to the lobby, I was confronted with a slew of choices. The one that jumped out at me was Jungle Goddess, its seductive undertones were highlighted by an exotic style. After picking this game, I wasn't disappointed. I was greeted by a beautiful Amazonian woman who was surrounded by monkeys & panthers. Even though the game was years old, the graphics were still on par.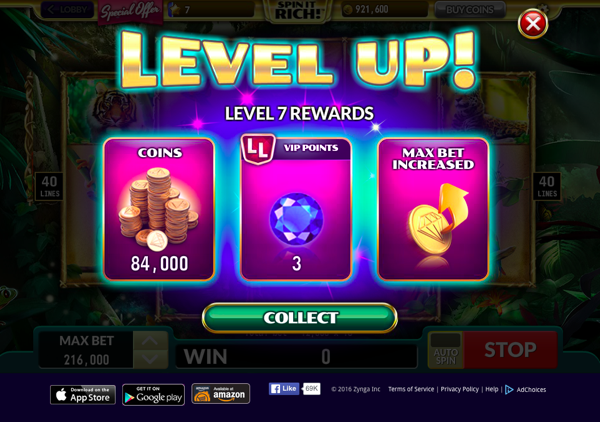 I had 2,922,000 coins, so I was ready to dive into the game. This seamed like a massive amount of loot to start with, until I saw the cost per spin. Luckily I had a lot of coins, because each spin cost 96,000. After a few uneventful spins, I leveled up! This let me increase my bet, which I did just to get things moving. At 216,000 coins a spin, my credit was disappearing fast. I kept spinning, but I wasn't winning enough to justify these bold moves. Just when I was about to lower my bet, I leveled up again! For some bizarre reason, I was already at level 7. Even though I was puzzled, I was in no position to ask questions.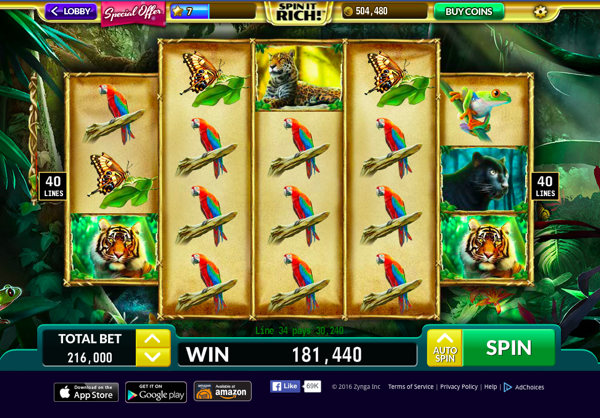 Just as I accepted my bonus money, I was invited to participate in two new games. They were Ocean's Bounty & Elvis, which were both equally unattractive to me. Determined to stay loyal, I stuck with Jungle Goddess. I was back in the game, but this didn't stop my credits from going up in smoke. I was down to 726,120 coins, so that allowed me 3 spins more. I knew that I had my back up against the wall, I had two choices, lower my bet or keep spinning. Since all my other spins had been failures, I had to go big or go home. I continued spinning at 216,000 a spin.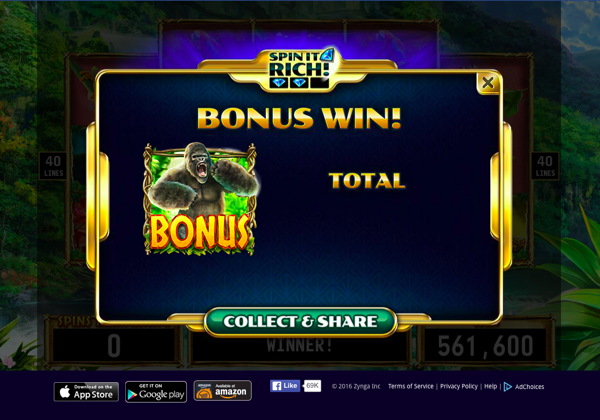 On the first spin I won 25,000 coins, which paled in comparison to what I betted. The second spin was better, I won 181,440. Just as I was about to lose hope, I was thrown into a bonus game. I was instructed to pick a canoe, which gave me 9 bonus spins! By the end of the bonus round I had won 561,600 coins! This was a monumental feat, but it didn't stop me from running through the coins. Spin It Rich happily offered to sell me coins, but I declined. It was time to move onto a new game, this one didn't win me over.
Bonus offers to play Spin it Rich Slot
At the start of the play you are offered 40,000,000 FREE coins welcome Bonus to begin your thrilling journey on Zynga's amazing slot Machines.
Also get 10,000,000 FREE coins just for playing and get Daily Bonuses and Bonus Games to make more free coins.
Connect to Facebook and get 100,000 coin bonus. You can have a back up account progress and coin balance; send and receive gifts from facebook; earn higher daily reward bonus.
Also there are free coins reminder and the casino send your notifications and alerts. Every coin wagered adds experience points to a bar at the top of the screen, advancing you to the next level when you fill it up.
Gaining a level gets you some bonus coins and unlocks new max bets on all machines. Perhaps most intriguingly, leveling up earns you points in the game's High Roller loyalty program, which can eventually lead to perks like bonuses on coin purchases (as you can buy more coins with real money), exclusive content, enhanced customer service, and reduced time between free bonus coins. It's got five tiers ranging from Pewter to Platinum, and feels like a great approximation of a physical casino player's card program.
The Loyalty Lounge is a new VIP rewards program.  Level up your VIP tiers faster by linking all of your accounts across our network of games.  That way each game VIP amount contributes to your overall Loyalty Lounge VIP status.
As this is a fun casino you need not make any deposit and there are no withdrawals because there is no real money Naira involved in this casino. All you can do is if you play with the Hit it Rich slot app on your mobile and run out of free coins then you can have in app purchases too to have more coins to play.
There is a webpage by Zynga where you can seek help and support. Here you will find loads of questions and answers right from starting to play at Hit it Rich slot, creating your accounts, technical support and many more of such kind.
FAQs
Q1. What are Rich Collections?
Rich! Collections are new collectible card items that will be available to your game for a limited time. Find all card items to complete the collection and win HUGE rewards and trophies.
Q2. What payment methods you need to make purchase of virtual coins?
In addition to accepting major credit cards and PayPal when purchasing, they also accept payment from several payment processors.
The accept payment from the following payment processors:
Google (Google Play)
Apple (iTunes, iOS)
Windows
Facebook (Gamecards)
Amazon
Zyngagames.com
Zynga Store
Payment methods may vary depending on which payment platform is being used and some of these platforms may not apply to all of their games
Q3. What is Lucky Pet?
In Lucky Pet you can earn free Treats by visiting your Pet which activates Perks. These Perks can help to improve your spins, collect your Hourly Bonuses, and get a boost to your Weekly Race scores!
Q4. What is Rich Pass?
Rich Pass is a feature in which you can complete special challenges to earn Rich Pass points and unlock rewards. New challenges will unlock each day, allowing you to earn even more points and rewards by playing the game.
Q5. What is Coin Boss?
Coin Boss is a time-limited competition wherein 100 players compete against each other. Players that win the most coins in each round will advance to the next. The better you do and the more games you win, the bigger your reward. Win all of the rounds to earn the Grand Prize. You can participate in Coin Boss by spinning on any machine. When available, the Coin Boss feature will pop up on the right side of your machine. Tap the Join Now button to enter the competition.
Overall Review
Spin It Rich is overflowing with potential, but a few key details destroy the experience. It costs way too much coins to spin, so the starting amount disappears in the blink of an eye. Just when I was starting to get thrown into bonus games, I ran out of coins. There was literally no action on my spins until I was on the brink of runningg out of coins. If they would have started out with the same energy, the game would have won me over. Unfortunately, by the time the game warms up you are out of coins.