Spin Vegas Slots is an exciting slot games and scratch card games app for mobile that gives you a real Vegas experience with the graphics and sounds you love from classic Vegas casinos! At Spin Vegas slots classic slot games and scratchers are filled with progressives, wilds, free spins and lots of bonuses.
Spin Vegas slots is powered by Design Works. After years of creating blockbuster hits for casino game manufacturers, such as Aristocrat, Konami, IGT, Scientific Games, Novomatic and Everi—Design Works Studios presents an immersive experience that is sure to captivate and inspire players from around the world. As a full service studio, with new games released every two weeks, there is always something exciting to play just a click away.
Experience real Vegas-style slots in the palm of your hand. Earn Daily Bonuses to increase your experience level. Share your success with friends on Facebook and let them marvel at your winnings on the global winners' spotlight.
Spin Vegas Slots App Features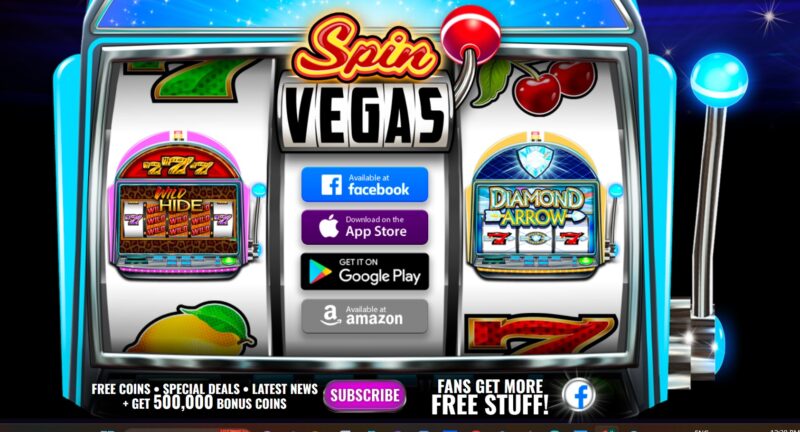 • New slot games added bi-weekly
• 125+ lucky slots and scratch cards!
• Up to 10,000,000 coins daily and even more for VIP Players
• More ways to win: Scratch Card Games, Progressives, Daily Wheel Spins, Daily Bonuses, 3-Hour Bonus and more!
• VIP Room with better bonuses, bigger wins, huge progressives and exclusive games.
Download Spin Vegas Slots for Android
Install Spin Vegas Slots for iPhone
Play Spin Vegas Slots at Facebook
Spin Vegas Slots Games To Play
Spin Vegas slots game app offers both classic and modern video slot games to spin and win. Among the 3 reel classic slot games you can enjoy Diamond Arrow (Progressive Jackpot), Stars and Stacks and Wild Hide popular slot games.
Also have fun playing and spinning the reels of the other best slot games like 10X Fortune,  Super Diamond Multi Wheel, Flash Pays and even more lucky slot games that you're sure to love.
Some of the popular slots to enjoy are:
1. 10X Fortune Slots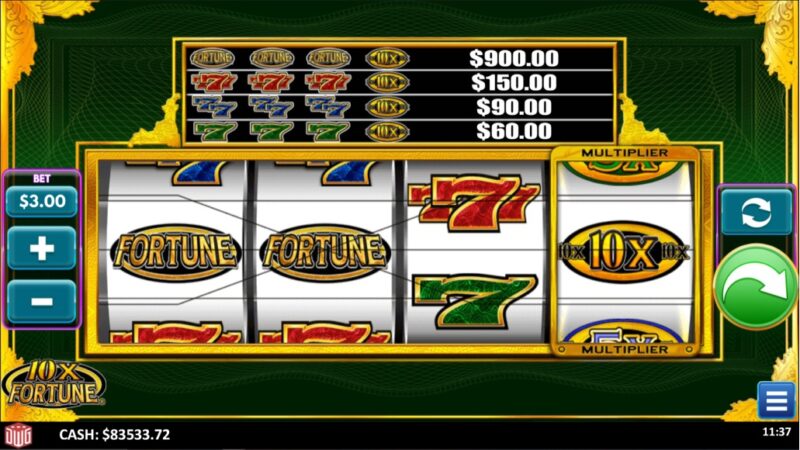 In 10X Fortune, more fortune equals more fun in this classic stepper slot. The Fortune symbol is Wild and substitutes for 7, 77, and 777. If 2x, 3x, 5x, 7x, or 10x appear on reel four of a winning payline, the corresponding line win is multiplied by the reel 4 multiplier.
If Bonus appears on the first three positions of a line, 10 Free Games or more are initiated. If no multiplier is present on reel  four of the bonus triggering line, 10 Free Games are awarded. If a multiplier is present on reel four of the bonus triggering line, the number of Free Games awarded is multiplied by the reel four multiplier.
2. Piggy Payouts Bank Buster LuckyTap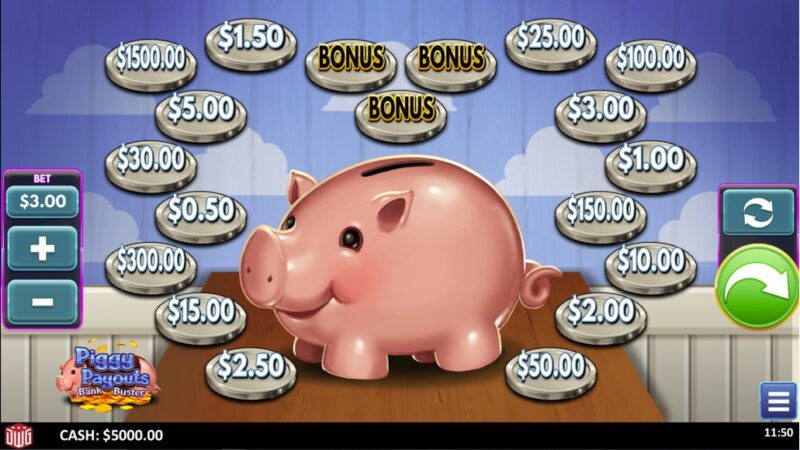 In Piggy Payouts slot game there is a multiplier feature If 10 or fewer prizes are awarded on any winning play, the Multiplier Feature may randomly be activated. If the Multiplier Feature is activated, a Random Multiplier of 2x, 3x, 4x, 5x, 6x, or 7x will appear above the broken piggy bank. All Currency Wins will be multiplied by the Random Multiplier. 10 Free Games are awarded if the 3 bonus symbols are awarded on a winning play. 10 additional Free Games can be retriggered if the 3 bonus symbols are awarded on a winning play during Free games.
3. Tiger Palace Slots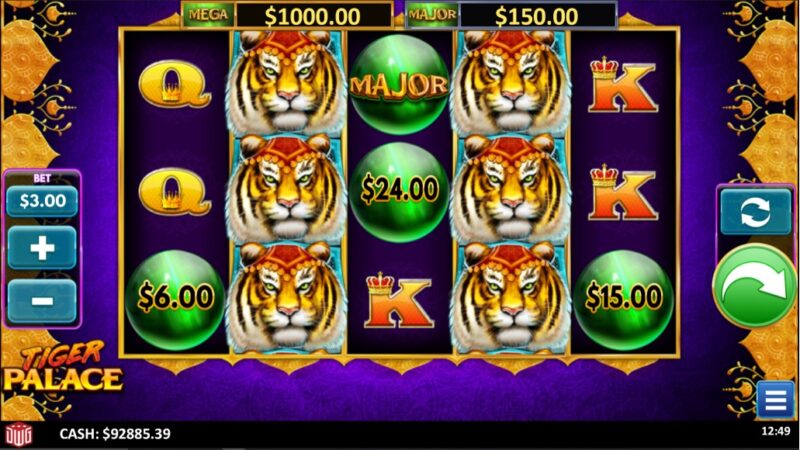 Tiger Palace slots is a social casino fans go wild for the bonus features packed into this game. In this slot game if five or more jade spheres appear on the grid, the re-spin feature is triggered. All jade spheres will be locked in place, and the other spaces will spin independently. Every time a jade sphere lands, it will be locked in place. The feature ends if no jade spheres land three spins in a row, or if all 15 spaces are filled–an award is given based on the symbols that landed. The major progressive is awarded if the jade sphere with the word "Major" is one of the symbols on the grid. The mega progressive is awarded for filling all 15 positions.
12 Free Games are triggered by the appearance of 3 free game symbols. During free games, 3 free games symbols are required to re-trigger 12 more free spins. The re-spin feature is not active during free games.
4. Diamonds Sapphires & Rubies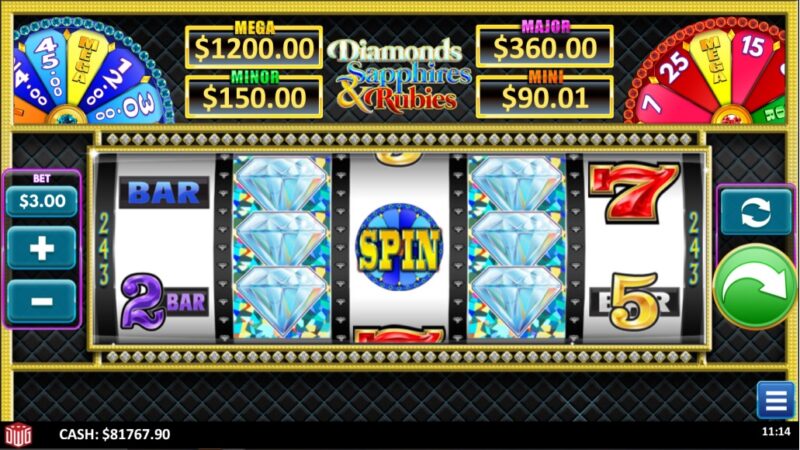 This fan-favorite Diamonds Sapphires & Rubies slot game is adorned with bonus features. In this slot reels 2, 3 and 4 feature stacked wilds in both the base game and in free games. Players have 243 ways to win, and can potentially win up to 27 five-of-a-kind symbol wins from a single spin.
There is a wheel bonus. Sapphire wheel symbols and ruby wheel symbols can appear on all five reels. The sapphire wheel contains credits and progressive jackpots. The ruby wheel contains free games and progressive jackpots. Hitting 3, 4 or 5 wheel symbols triggers 1, 2 or 3 wheel spins, respectively. During free games, 2 wheel symbols will re-trigger 1 wheel spin, while 3, 4 or 5 bonus symbols will re-trigger 3, 4 or 5 wheel spins, respectively.
There are 4 progressive jackpot spaces on each of the two wheels. Any of the 4 progressive jackpots can be won if a wheel lands on its corresponding space during a wheel spin.
5. Break the Bounty LuckyTap Slot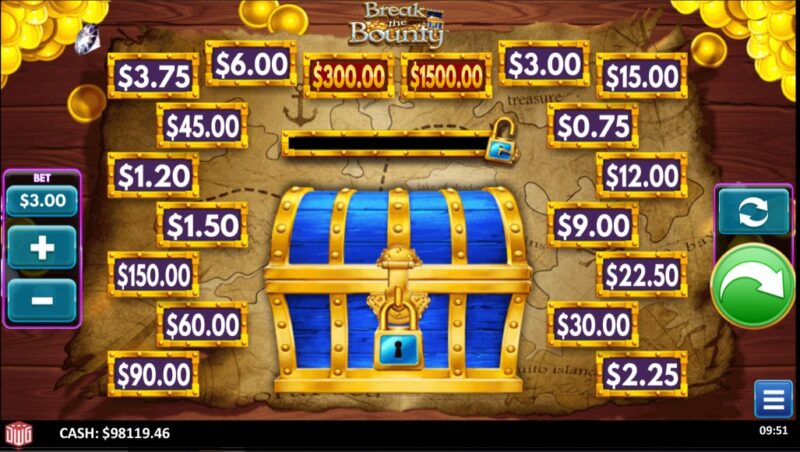 This non-spinning Break the Bounty LuckyTap slot game has a treasure trove of prizes just waiting to be unlocked.
To Play Break the bounty press the play button to attempt to fill the meter bar and reach the lock and key. When the meter fills all the way and the player reaches the lock and key, the treasure chest lid pops open and the player will win various prize amounts displayed around the treasure chest. If the player's turn does not fill up the meter completely, the next play can be started before the meter has emptied. Anywhere from 3 to 18 prizes can be awarded on a winning play. Awarded prizes will light up until the next play is started.
In this slot game the multiplier feature may be activated on any winning play before the prizes are awarded. If activated, a random multiplier of 2x, 3x, 4x, 5x, 6x or 7x will appear inside the top of the open treasure chest and all wins will be multiplied by the designated multiplier.
Scratchies to play
Among the scratch and win games you can enjoy Clover Fields, Molten Hot 7s, Winning Pick, Cash Offer and even more scratchers that you're sure to play.
In this slot game app you are given free coins to play the games. When you win you get more free coins to play more free slots. In case you run out of free coins, there are ways to get free coins such as: leveling up in the game play, winning the quest, daily spin wheel bonus and many more such kind of things will fetch you free coins. Just get hooked to their Facebook page to find out more about getting free coins.
For more free slots app click here
Spin Vegas Slots Facebook
One of the slots games that are rising in popularity on Facebook is Spin Vegas Slots. In the last few months this game has emerged from relative obscurity & won over a shocking amount of players. They now entertain over 100,000 players, & the number is growing every week.This is the first major offering from Design Works Gaming, so they made it count.
According to players it's absolutely packed with surprises. From free spins to bonus games, this release has it all. When looking at a new game, it's hard to tell if it will last. Plenty of releases come & go, since it takes a certain amount of quality to stay relevant. Judging from the praise it has received, Spin Vegas Slots has the potential to be more than just a fad. To get the real story, we jumped into this new slot game. What we found was intriguing, so prepare to experience the most in-depth review of Spin Vegas Slots! Spin Vegas
Spin Vegas Slots Gameplay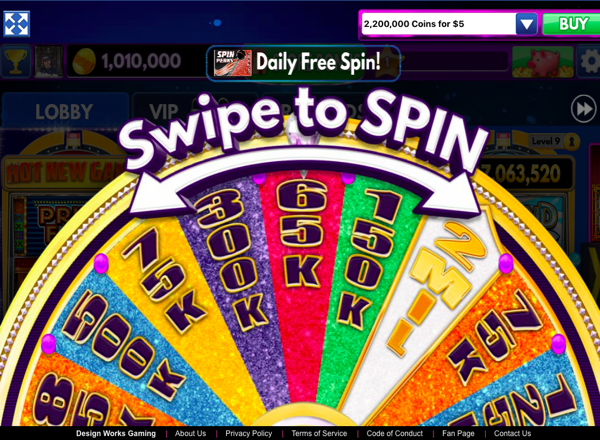 Right after the game loaded, I was awarded a million coins to get into the game. After I accepted this welcome bonus, I was also awarded a daily bonus of 10,000 coins. I was off to a good start, so I tried to access the lobby. Before I could see the options, I was thrown into a Daily Free Spin. Having no choice but to spin the wheel, I gave this bonus game a try. This won me 65 thousand coins, but I was ready to get into the game.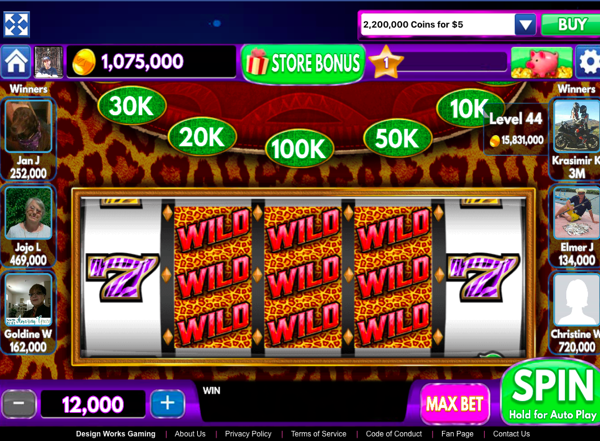 Once I finally made it to the lobby, I thought I was greeted with a slew of choices. Unfortunately they were only available once you reached higher levels, so I really only had 3 to choose from. Faced with this grim selection, I picked Wild Hides. This game revolved around cheetah skins, which was an interesting pick for a background.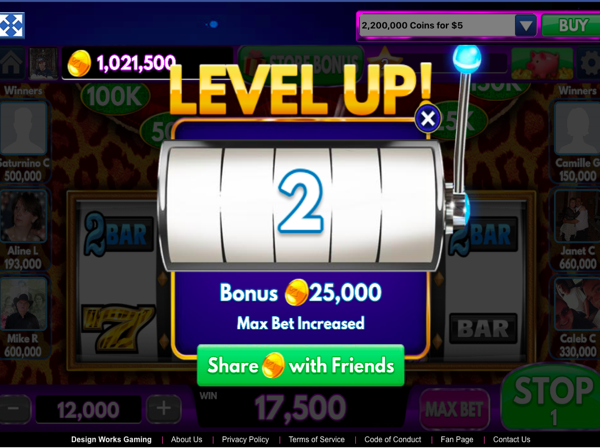 The game had a retro feel to it, which was fine since it matched the theme. After a few uneventful spins, I won 17,000 coins. This wasn't too impressive, since I was betting 12,000 a spin. Desperately searching for a better victory, I leveled up! This won me 25,000 credits, which was still better luck than I had spinning.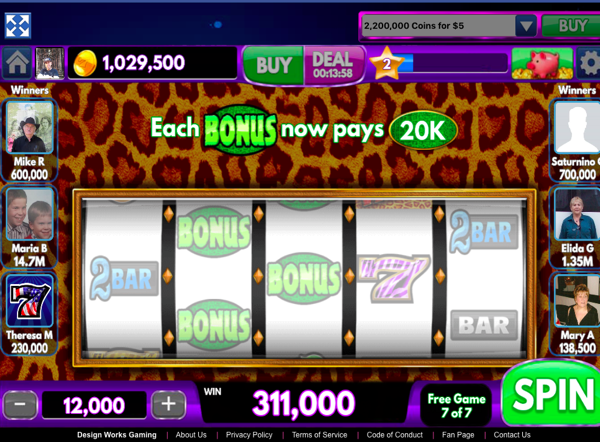 Slightly frustrated with the lack of diversity, I kept spinning. As I kept receiving lackluster spins, I finally got lucky. I received 7 bonus spins, which allowed me to pick a prize from a drop-down table. When I started the bonus game, 20,000 was selected. This meant that every bonus struck on my free spins would win me 20K. By the end of the spins I won 311,000 which was welcome news.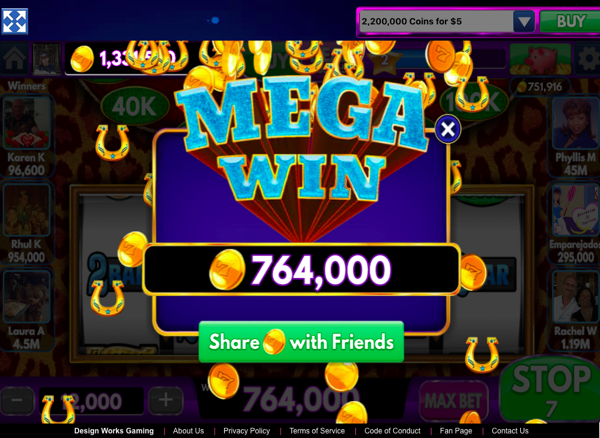 Emboldened by this victory, I returned to the slots with a newfound passion. This excitement faded fast, but was briefly revived by another bonus game. This time I selected 25K, so each bonus would win me that amount. I got 14 free spins, & by the end of the round I won 764,000 coins.This was impressive, but I was still getting sick of the game. Things were a little too repetitive, so I ended up quitting.
Overall Review
At the end of the day, Spin Vegas Slots is a decent game. It still remains to be seen if it will last, since it lacks the charm needed to captivate players. In an age where countless options are available, games need to have something special. Unfortunately, Spin Vegas Slots is average at best. The graphics are lackluster, & the game play doesn't have enough variation. Hopefully their developers make some improvements, or else it will be doomed to becoming obsolete. In case you contact the app for any issues you can do so here.