Lucky North Casino app is a free game app to play slots of your choice. At Lucky North Casino app there are more than 150 free slots to play including video poker, blackjack, roulette, keno and bingo games.
At Lucky North Casino app, you can play all of your favorite casino games all for free.
Click to install Lucky North Casino App for iPhone
Tap here for Lucky North Casino App for Android
The slots to play at Lucky North casino app comes from top gaming developers like Konami, Everi and Aruze.
Playing Konami slots you activate bonus rounds and earn free spins in China Shores and Dragon Treasure Pearls!
When spinning Everi slots you can try your luck with classic slots including Jackpot Inferno and Hot Spot 777!
With Azure slots you experience new slots such as Cash Locomotive Aztec Legend, Flaming Chilies, and Dancing Panda Festival.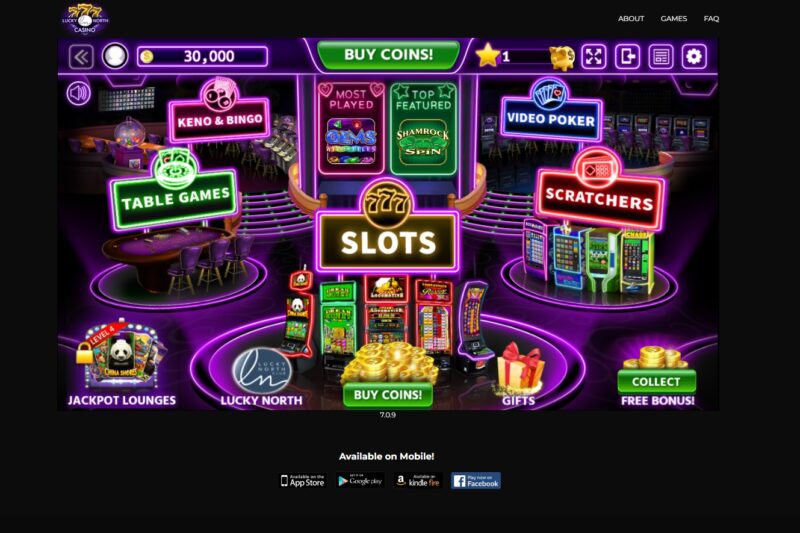 At Lucky North Casino app you can also play more than 50 video poker games. You choose from classic video poker titles like Jacks or Better, Double Double Bonus Poker, Deuces Wild and more. Explore popular MULTI-HAND video poker games from Deuces Wild to Super Double Bonus Poker or Joker's Wild. Also experience MULTI-RISE video poker games including Deuces Wild, Jacks or Better, and Bonus Poker!
Also play lottery games like Bingo, Keno and other such instant games. Daub up to four cards in our themed bingo rooms! Activate power-ups to maximize your bingo play.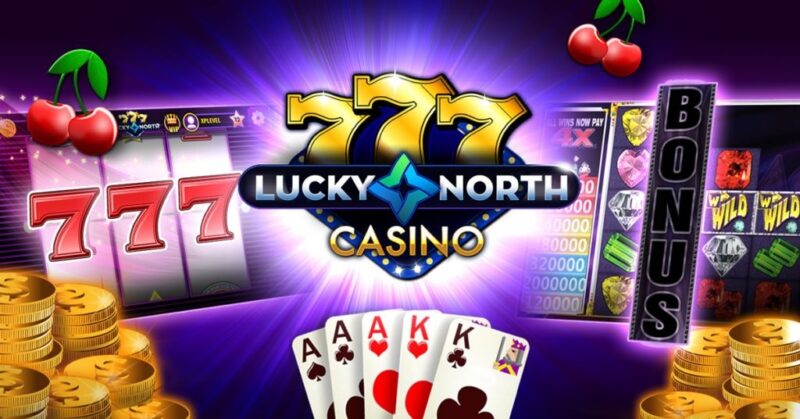 Lucky North casino app also covered with thrilling keno titles such as Pig 6 Keno, Count Dracula Keno, Shablam Keno, and Iscream Keno. Also check out Lucky Roulette or try your luck in blackjack with Three-Hand Blackjack, Blazing Bets Blackjack, and High Roller Blackjack games.
Besides slots Lucky North Casino app also offers live slot tournaments. You can take part in hourly live slot tournaments that take place three times a week. All bets during the tournament are free. You can win huge coin bonuses in the top 3 leaderboard positions!
Remember to play all the slots and other casino games you are offered free coins and bonuses. As you level up you unlock new slots and classic slots and earn bigger bonuses. For more free coins you can compete in daily quests to earn more free coins! Fill up your weekly progress bar to win a 2X BONUS wheel spin. You can collect free Daily Bonuses and Bi-Hourly Bonuses!
Lucky North Casino is for players 21 years or older for entertainment purposes only. The games are intended for an adult audience. The games do not offer real money gambling or an opportunity to win real money or prizes. What you win playing the games is virtual coins to play more.
Lucky North Casino App Features
New slots and fan favorite classic slots are featured every week! Discover something new by exploring featured video poker, blackjack, and keno games!
Explore their Jackpot Lounges for even more chances to win big!
Become a VIP for access to new slots as well as additional bonuses and benefits!
Claim FREE coin gifts throughout the week!
Stay up to date on their latest exclusive offers and featured games!
Become their Player of the Week or help reach the Community Challenge for even bigger bonuses!
Lucky North Casino On Facebook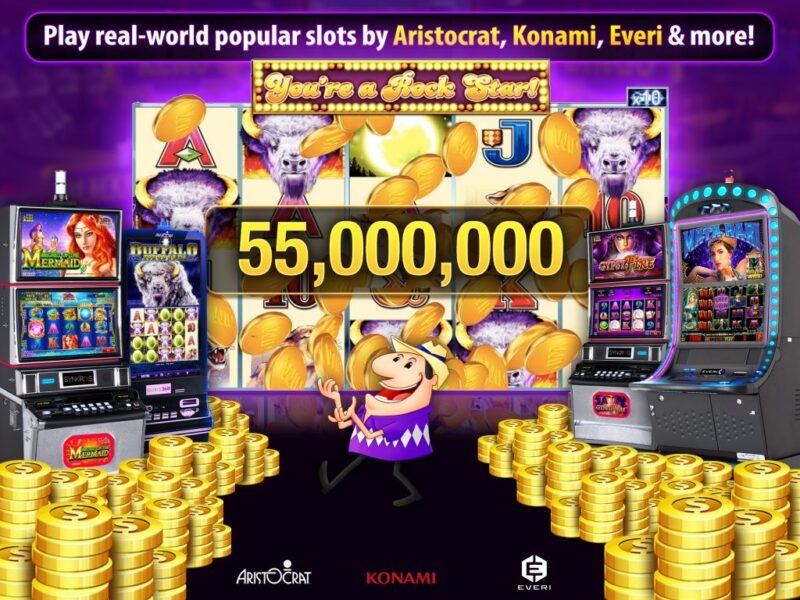 Connecting to Facebook is one of the easiest ways to ensure that your player history is never lost. The casino also adds 25,000 free coins to your account for doing so! You can connect to Facebook when prompted within the game, or by clicking on the blue Facebook icon in the bottom right corner of your screen. You have complete control over what is posted to your Facebook page and we will never share your information with others.
Be sure to "like" Lucky North Casino on Facebook and gain access to the latest news, updates and many free coin giveaways
Out of all the virtual casinos on Facebook, none have garnered more praise than Lucky North Casino. This vibrant app allows players to dive into many of the games found at land based casinos. From keno to slots, Lucky North Casino caters to every player's needs. Their wide selection of games has won them legions of loyal fans. Currently they have 219,680 page likes and over 10,000 monthly players.
This staggering amount of loyalty has made Lucky North Casino impossible to ignore. To see if the game really lives up to the hype, we dove head first into it. After testing it out, we were able to create the most in-depth review of Lucky North Casino online. Prepare to be blown away by what we found, this game is absolutely packed with surprises!
Lucky North Casino Gameplay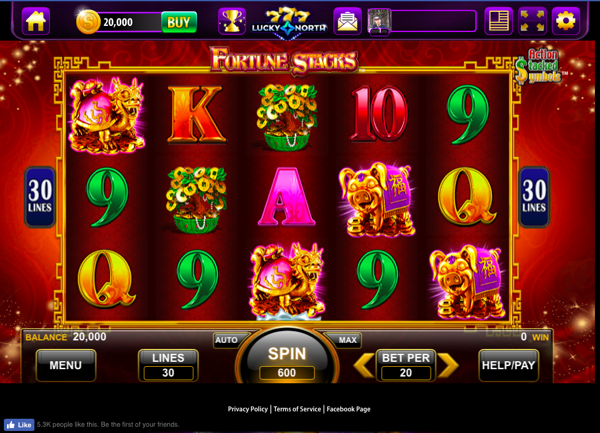 Just as their die-hard fans claim, I was greeted with a slew of choices when the game loaded. The lobby was bursting at the seams with slots, video poker, keno, bingo trivia & blackjack. With some hefty deliberation, I decided to pick slots. After jumping into this category I was thrown into a confusing lineup of levels. Most of them weren't unlocked, so I had to scroll to find a viable option. I ended up picking a Chinese theme called Fortune Stacks. This level was filled with Chinese caricatures that promised an interesting game.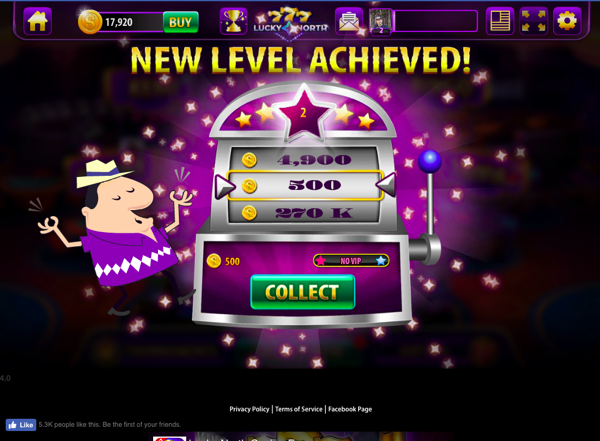 Armed with 20,000 coins, I raised the bet to 1,200 per spin and started playing. The first few spins were uneventful, but I did manage to level up! As soon as I achieved this, a lever spun past potential amounts. I ended up winning 500 credits. This measly win paled in comparison with what I was spending. Hoping for the best, I prayed that the next level up was more lucrative.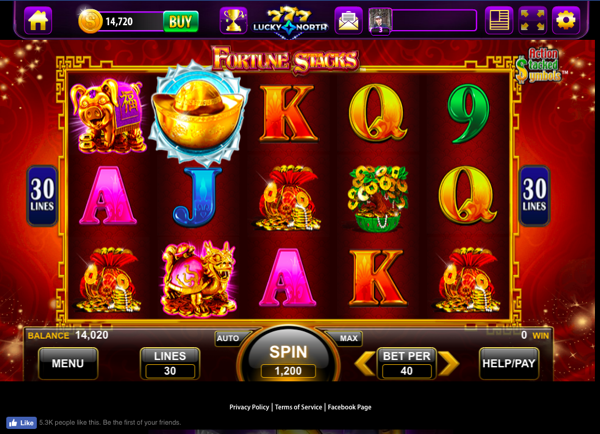 To my dismay, there wasn't an option to win coins when I hit level 3. I had endured small wins of 400 credits a pop, so this bonus was necessary to improve my finances. Unfortunately, I was greeted with no bonus games when entering the third level. Slightly frustrated, I continued spinning.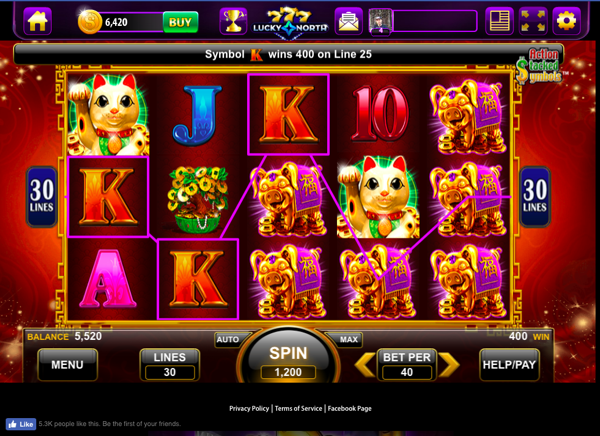 Reaching the fourth level was equally bleak, since I was running dangerously low on coins. After multiple rounds of 1,200 a spin, my budget had gone up in smoke. I was down to 5,220 credits, so it was now or never for a big win. Up until this point, the highest I had won on a spin was 800 credits. Putting my faith in chance, I kept spinning like a maniac.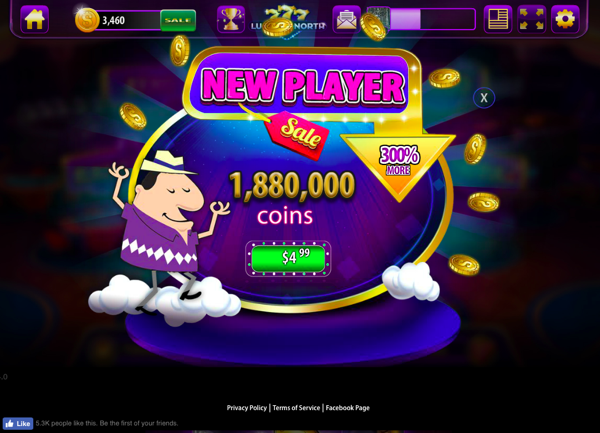 Right when I was down to 3,460 credits, Lucky North Casino bombarded me with offers. They informed me that if I took advantage of their New Player Sale I would get 300% more credits for my money. This ended up being 1,880,000 credits for $4.99. While it was a tempting offer, I decided to stick to chance. This game had a long way to go before I paid them money, so I kept spinning.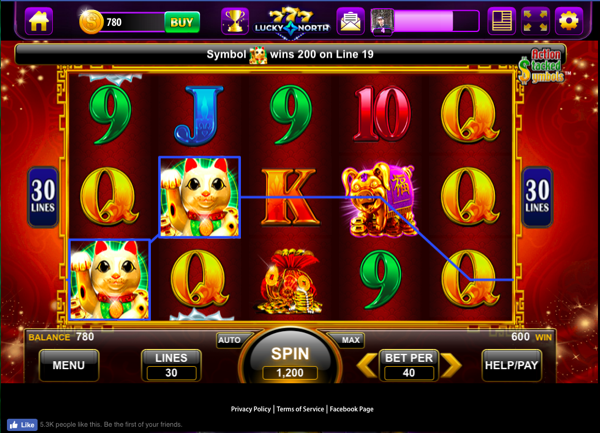 After declining their many offers to sell me credits, I hit my first big win. This totaled 1,520 credits, which barely exceeded what I was using a spin. Slightly frustrated by the lack of prizes, I kept spinning until my balance was 780. Once again Lucky North Casino flooded me with offers to purchase credits. Sighing slightly, I exited the game while I was ahead.
FAQs
Q1. Can you win real money at Lucky North Casino?
Lucky North Casino is a free-to-play social casino game intended for entertainment purposes only. While you may elect to make in-app purchases to enhance your gaming experience, there is no chance of winning real money.
Q2. Where can you find your User ID?
You can find your User ID by clicking on the gear icon in the top right corner of your screen. Your User ID will be located within the pop up window and will begin with "LNC" or "RS" followed by a series of numbers.
Q3. How can you receive notifications for free coins and special offers?
Turn on push notifications to receive free coins and special offers right on your smartphone.
To turn on push notification settings on iOS by entering your phone's settings, selecting "notifications" and scrolling down to Lucky North Casino. From there you may toggle on/off the notification controls. On Android this can be done by entering settings and scrolling to the "Apps" entry. Scroll down to Lucky North Casino to enable or disable notifications.
Players can also receive FREE coins by liking their Lucky North Casino Facebook page!
Q4. What are the odds of winning in Lucky North Casino?
All games in Lucky North Casino are based off the same mechanics as real casino games. The chances of winning and losing with no guarantees is what the thrill of the game is all about! Your odds of winning will not change based on purchases made.
Q5. Will you lose your gameplay when you uninstall the app?
If you uninstall Lucky North Casino and you are playing as a guest your progress may be lost. Updating the game will not cause a loss in player data.
However, the easiest way to ensure you never lose your player history or progress is to connect with Facebook. You may connect with Facebook when prompted or by clicking on the blue Facebook icon in the bottom right corner on the main screen.
Q6. What do if your game lost connection?
You need to make sure you are playing the most up to date version of Lucky North Casino and that your internet connection is operating properly. Casino app always suggest players connect to a secure and strong WiFi network when playing Lucky North Casino. If your game is still losing connection you can contact their support team.
Q7. How does the daily bonus work?
Spin the daily bonus wheel every day to collect your daily bonus! Players can gain up to three consecutive days on their daily bonus to collect more coins!
Q8. How do you level up?
Leveling up is easy in Lucky North Casino – all you have to do is play! Each bet you make or game you play will contribute to your overall XP (experience points) which determines your level. You may increase your bets to increase the amount of XP earned with each spin when playing slots! Level up to unlock exclusive games and new game content!
Q9. What are power ups used for?
You can earn or purchase power ups to give you a big boost in Bingo! Power ups may be normal, unique or rare and escalate in their overall ability to help you achieve a Bingo! To access your power ups or purchase more go into the Bingo lobby and click on the blue lightning icon in the top right corner of your screen.
Q10. How is my bet determined?
There are two important factors in a bet: a default bet, and a maximum bet. Your default bet is determined by your coin balance; the larger your coin balance the bigger your default bet will be. Your maximum bet is determined by your level; the higher your level the larger your maximum bet!
Q11. How do you get on the Leaderboard?
Your Leaderboard status is based on the total amount of wins accumulated during a single session. The largest of these total wins are then recorded and presented on a daily, weekly, and all time Leaderboard! Increase your bet to increase your wins for a chance at dominating the Leaderboard!
For more casino apps click here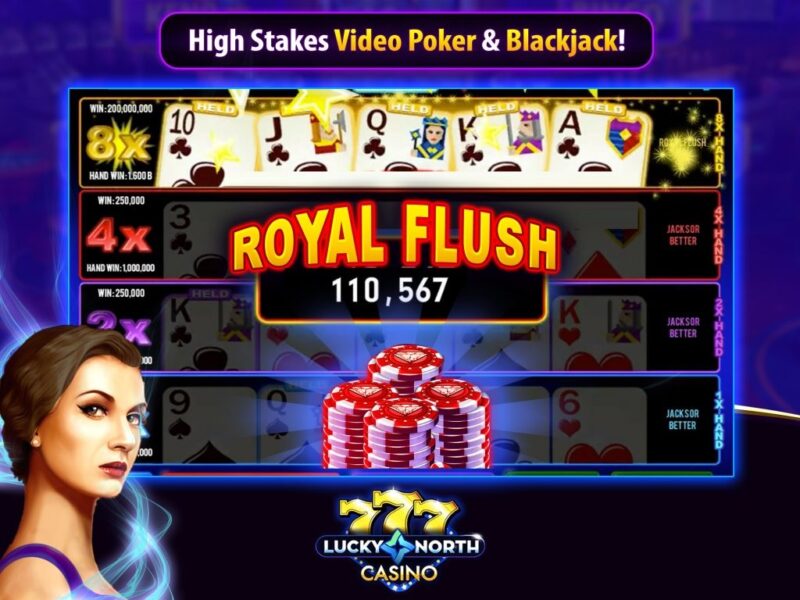 Overall Review
Lucky North Casino App has a staggering amount of options, but the only way to keep playing is to pay money. The wins are almost nonexistent, which forces players to blow through their welcome bonus at an alarming rate. Once your credits disappear, Lucky North Casinos bombards you with offers to purchase credits. There's no telling if the odds of winning increases once you purchase credits. What is apparent is this game is a thinly veiled way to collect your money. The graphics may be beautiful, but the gameplay fails to warrant paying cash.