Loose slots to play are slot machines that are referred to as loose. In casinos you have heard these terms quite often from players "Loose slots"; "Hot slots"; "Tight slots" and "Cold slots". Confusing right. Well, all slot machines in reputed casinos are certified and are checked for its software and the hardware for compliance with the regulations by regulatory and independent labs. These all terms are marketing terms.
Often casinos call a machine loose slots to play suggest that you will be more likely to score on this one. It doesn't mean the machine is programmed to pay out more than it takes in, otherwise you'd see them wheeling it out of the casino pretty quickly. If it has any meaning, it will be that there is quite a high theoretical RTP close to but not above 100% but also high volatility, meaning fewer but larger payouts.
What it means by loose slots to play?
When a player describes a slot machine as "loose" or "tight," she's usually referring to the payback percentage for the game. Slots with a higher payback percentage than average are loose, while slots with a lower payback percentage than average are tight. Loose slots usually have a higher hit ratio than tight slots, too.
Most likely in practice, a game like this will be marketed at gamblers who are less risk averse and like to chase big wins. Slot designers will use the volatility to give the game occasional big payout spikes and some people will be lucky enough to get one quite early on, so they are 'up' quickly. Of course the distribution of these wins is random, and player behaviour unpredictable like a big winner might cash out straight away, but generally the RTP of below 100 means the casino will eventually earn its money back.
Tight slots on the other hand are like progressive slots which would reward you a Mega win of say $1,000,000 in one spin but the chances of hitting the jackpot on a progressive slot are similar to winning in lottery. The casinos promote them and their huge jackpots in order to attract players, but for every player that hits the jackpot, 1,000,000 players loose all their bankroll.
Old slot machines tend to be more loose than the new ones. The reason behind this rule is simple: most of the players that visit the "New Slots" section of the casino are the regular players, the loyal customers that are checking the new game. The casinos are aware of that. They know that new slots is what the regular players are looking for and it's very unlikely for them to abandon the casino after few bad sessions on the "exiting- one of the kind- special-new" slot machine and take advantage of that.
So what should you look for when wanting a loose slots to play. Always look for old slot machines as they are more loose than the exciting ones with special graphics and effects. The reason behind it is that the casinos like to post that their payout is up to 97%/-98%/-99%/ . But that doesn't mean that all slots pay 99%, though still there are one or few that do have that payout. The highest chances to find those slots are between the no more noticed slots, the ones that now no one plays.
How to find loose slots to play?
Well there are lots of myths involved in finding the loose slots to play at the casino. Some will say you to find them near the casino entrance (land casinos I am talking about) or such machines are placed in the end of the line or in the middle so on and so forth. But all these are rumors spread by players and there are certain guidelines that you can follow in order to find loose slots and avoid the tight ones like finding the popular slot machines that are having more players, timing the machine, not playing for too long and more of such kind of tips to follow.
So what about online casinos? Online the situation is a bit more simple since many slot developers publish the expected return on their machines and you need to look out the paytables when playing. You have now understood about what is a loose slot and time to play and enjoy.
Three Loose Slots To Play Online
Below find the three wonderful loose slots by three brand software to play and their official payout rate.
1. Cosmic Quest Slot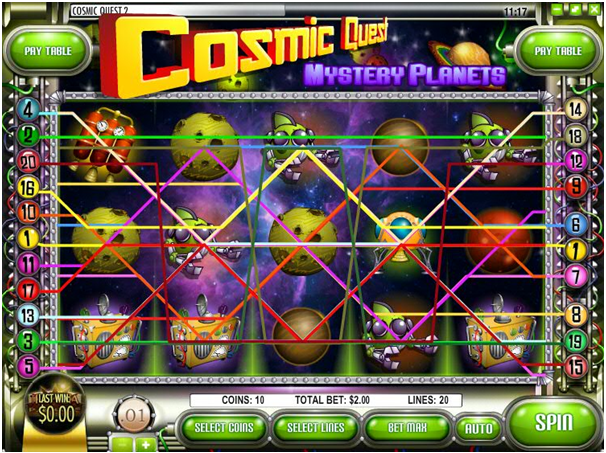 RTP: 98.5%
Software: Rival
Cosmic quest is a 5 reel, 20 lines loose slots to play game. The minimum bet you require is 0.01 per spin and goes up to $ 50. The reason for the high payout is the high Free spins feature and the expanding Wilds. If you land 3 or more Jackpot Jetpack icons you will get 10,25 or 50 free spins. All free spins wins are doubled.
A lot of symbols such as radio, robots, spacecraft, planet etc. fills the 5 reels of the 20 payline slot games. The symbols are in accordance with the adventurous storyline that the game holds. 
This loose slots to play is provided by Rival software that brings out superb slots, with high payouts and medium/high volatility which is perfect combination to generate nice winnings.
Highest Paying Symbol: the symbol with the biggest winning potential is the red planet. Triggering up to five of this special symbol would earn you a jackpot. The possible jackpot that the cosmic quest 2 game offers is 500x what you used in betting. So if you staked $1 across all payline, 5 red planets would see you walking home with $500.
Free Spins: As most players are always on the lookout for the number of free spins that a game could possibly offer. You would hardly find a slot game that doesn't promise free spins to players except if the game's providers do not want anyone to patronise the reels of the slot game. The cosmic quest slot 2 offers players the opportunity of 50 free spins if 5 jackpot jetpacks appear on the reels, 3 or 4 jackpot jetpack would offer 10 and 15 free spins respectively.
Wild and Bonus round: The yellow rocket stands as an expanding wild triggering a lot of bonus and free spins if it appears on the screen while the Scatterstronaut offers players the opportunity of a second screen bonus round which gives a lot of enticing offers to players who are able to scale through.
2. Good Girl Bad Girl Slot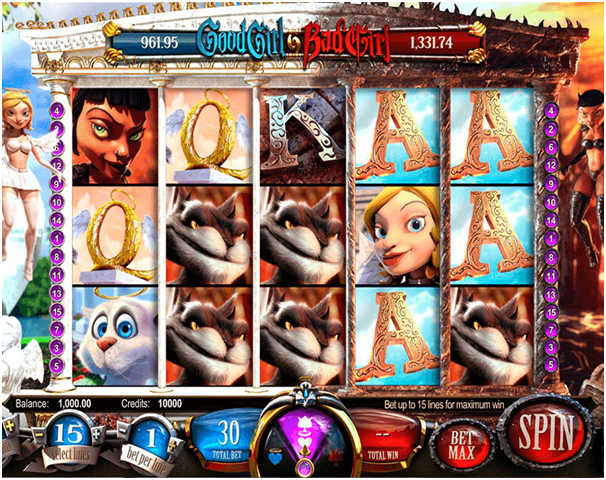 RTP: 97.8%
Software: BetSoft
Good Girl Bad Girl is one of the best loose slots to play online of all times as you can control the volatility of the game. You can pick the Good mode and you have more frequent payouts of lower nature and on the Bad mode you get a high volatility slot with less payouts, but higher chances to win big. Bet Soft is well known brand gaming software that brings you this slot to enjoy. Also popular in 3D slots as their games feature extensive graphics, animations, video effects and sounds.
The scene is set in the background screen, split evenly between the light, bright left hand side, adorned with a stairway to heaven, stone cherubs and a blonde, angelic character, and the darker right side realm dominated by images of dungeons and a black leather clad female figure adopting a rather dominatrix-like pose.
They may be a little clichéd but the icons featured are absolutely spot on, with the good side sporting an angelic young woman and a white cat complete with halo, while the dark side has its devil woman, a cat with a surprisingly sinister smirk and a tree lit by moonlight. The standard number 10 and picture cards, along with the Money Wheel symbol and wilds are shared.
You can enjoy the arcade like look and various bonus features in some of its slots that offer 6 different kind of bonuses. Quite naturally the two major female symbols are the most lucrative, though the top payout for spinning five matches of either is a mere 360 credits, with the cats offering 180 for the same results, and the standard cards managing between 45-90. Of course there are also much smaller payouts for matching three or four icons, but the real riches are always going to be found in the bonus options.
How to find loose slots to play at casinos?
3. Lucky 6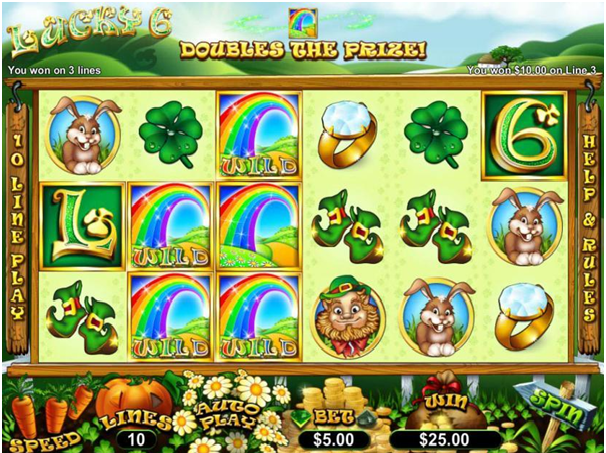 RTP: 95.7%
Software: RTG
Lucky 6 is another loose slots to play by RTG is 6 reels and 10 paylines slot game played by coin value as low as $0.01 up to $0.50. The coin value is multiplied by 10 available bet lines which you can change using up and down arrows. The slot game comes with bonus games, wilds and colorful graphics.
The pot of gold is the highest paying icon, paying up to 5,000 credits per payline. RTG is by far the most popular slots developer on the US market. This brand software develops classic 5 reel video slot, 6 reel and even 3 D slot and has over 200 machines to boost.
There are many different symbols in the game – and some of them are: The leprechaun, bunny, golden horseshoe, golden ring, leprechaun boots, lucky rainbow, and the mushrooms. By combining these symbols in Lucky 6 slots, you will win various big and small prizes. Just hit the spin button, and you're good to go.
One special feature that you can get access to as you play is the rainbow symbol – which will not only be considered a wild symbol that can replace any other symbol, but the scatters – but it will also double up any prize that you will win with its help.
There are various winning combinations of bonuses that you can win with the help of the "lucky 6" letters and number. Also depending on the way you combine them – you will win different prizes. You will win free spins and pots of gold prizes as you play and get various scatter combinations – that pay up from left to right and from right to left.
You can enjoy other loose slots like Doo Wop Daddy O Slot, At the Copa Slot, Sugar Pop Slot, Gold Rush Slot, After Night Falls Slot, Safari Slam Slot and many others.
All these slots can be played online at reputed casinos like Slots.lv; Uptown Aces, Silver Oak casino and many others. Now grab the great bonuses and promotions offered by online casinos and enjoy the loose slots for some great wins.