Out of all the slots games on the rise, none have hijacked Facebook like Hit the 5 Casino. In a short amount of time, this release has taken the genre by storm. From vibrant themes to larger-than-life payouts, this game has what it takes to seduce players. Their wild approach to gaming has paid off, amassing a small army of followers. Currently, their Facebook page has 48,961 likes and 10,000 monthly players.
The unfaltering loyalty of their clients showcases this game's potential. It became too enticing to resist, so we decided to investigate. After spending a few hours playing the game, we were able to create the most in-depth review online. Prepare to be surprised, Hit the 5 Casino managed to surprise us at every turn!
Hit the 5 Casino Gameplay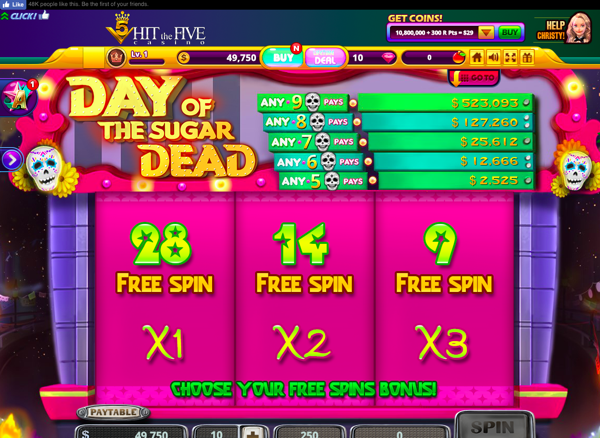 When I made it to the lobby, I was greeted by a staggering amount of choices. There were at least twelve games that were already unlocked. Even though this selection was intimidating, I quickly picked Day of the Sugar Dead. This theme took a comical approach to Mexico's Dia de los Muertos. Even though it was a little too cartoonish for my liking, I started spinning. When the reels settled after my first spin, I was given three choices for a bonus. They all varied in the amount of spins and multipliers, so I decided to go big. Without hesitation, I picked 9 free spins with an x3 multiplier.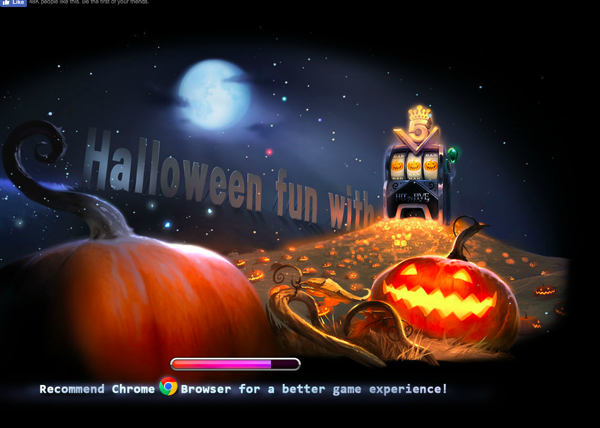 These rounds of free spins provided modest winnings, which only fueled my motivation to get back into the game. To my horror, it appeared that there was a glitch. I was unable to keep spinning, and no total was displayed for how much I had won! Attempting to salvage the gaming experience, I switched to Dragon Fortune slots. As the game loaded, it said that I should use Google Chrome to enjoy a better gaming experience. Curious to see if this was true, I switched browsers. When I did, I was blown away by the changes.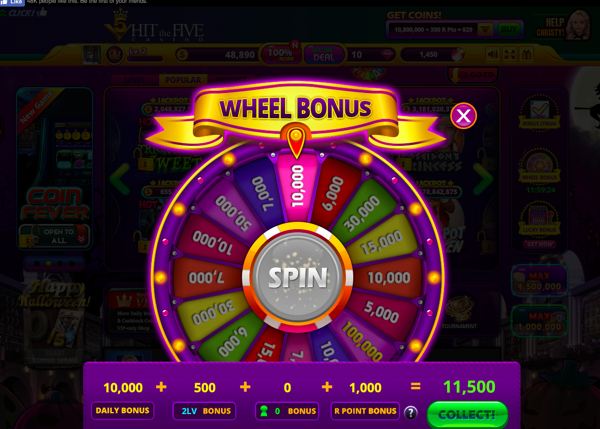 What was once a mute lobby exploded in sound. I was instantly thrown into a bonus game and instructed to spin the wheel. Already entertained, I spun the wheel and won 11,500 coins. Not satisfied with this victory, I tried to collect my coins and make it to the lobby. Before I could leave, I was repeatedly asked to spin the wheel for $10 to possibly win 20 million coins. This didn't sound appealing, so I repeatedly clicked out of the offers.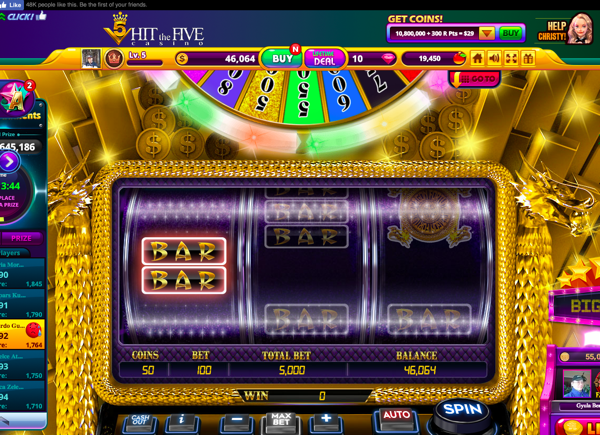 When I finally made it into the game, I was surprised at what I saw. Instead of the multi-reel presentation of the first level, Dragon Fortune was a retro-style three-reel game. The wheels were flanked with golden dragons. The presentation was impressive, so I started spinning furiously. While the spins were mostly uneventful, the level-ups came fast. Within fifteen spins, I had reached level 5! This was exciting news, but it wasn't enough to keep me playing. Disenchanted with the lack of diversity, I quit the game.
Overall Review
Hit the 5 Casino is full of surprises, but not enough variation. At first glance, their levels are colourful and fun. Unfortunately, the charm quickly wears off during the gameplay. Instead of receiving wins, players are randomly given vouchers for coins.
The levels fly by with little to nothing happening. As an added insult, it only works well on Google Chrome, which puts iOS users out of business. While this may be good enough for some, the average player will feel slightly cheated. Hopefully, they make a few necessary changes, because this game is bursting at the seams with potential!