Nature has always fascinated me. I love the trees, mountains, rivers, streams and springs. Whenever I go to visit a new place be it city or country I try to know its culture and traditions and how nature has been the part of their life. Talking of trees, shrubs, and flowers with other ornamental plants, it is seen they play a significant role in mythology and religion like the Christmas Tree, Bodhi Tree, Peepal Tree and the Banyan tree which are very famous.  People considered them as symbols of luck.
I heard of Shamrock from one of my Irish friend. It's story is quite interesting…errr…but don't think Shamrock is a tree. It is a sprig actually with three leaves..Yes three leaves so not to be confused that it has four leaves.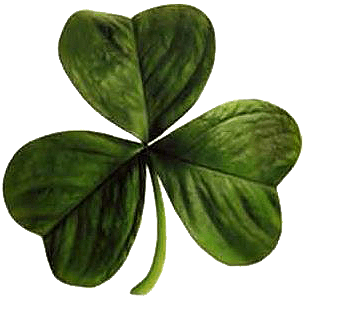 According to Wikipedia shamrock is a young sprig of clover, used as a symbol of Christianity in Ireland. Saint Patrick, Ireland's patron saint, is said to have used it as a metaphor for the Christian Holy Trinity. The name shamrock comes from Irish seamróg, which is the diminutive of the Irish word for clover (seamair) and means simply "little clover" or "young clover".
Not surprisingly many places, organisations, businesses, products, creative works use the shamrock in their names like the famous Shamrock Oil and Gas company of 1929 now known as Diamond Shamrock Corp in USA
Where else can you find Shamrock as an emblem
The shamrock features in the emblem of the Ancient Order of Hibernians, the largest and oldest Irish Catholic organisation.
The Emerald Society includes a shamrock on its badge.
The shamrock is featured in the "compartment" of the Royal Arms of Canada,
The flag of the city of Montreal, Quebec, Canada has a shamrock in the lower right quadrant.
The shamrock is featured on the passport stamp of Montserrat, many of whose citizens are of Irish descent.
The shamrock signified the Second Corps of the Army of the Potomac in the American Civil War, which contained the Irish Brigade.
Flag of St. Patrick's Battalion of the Mexican army
London Irish rugby football club has a shamrock on its crest.
The Shamrocks Motorcycle Club is a USA-based traditional motorcycle club
The basketball team, Boston Celtics, in the USA incorporate the shamrock in their logo. Former NBA player Shaquille O'Neal nicknamed himself the "Big Shamrock" after joining the team.
In Australia, the Melbourne Celtic Club features a shamrock on its emblem.
During the Russian Civil War a British officer Col. P.J. Woods, of Belfast, established a Karelian Regiment which had a shamrock on an orange field as its regimental badge.
A shamrock is the official emblem of Greek multi-sport club Panathinaikos A.O. 
The Danish football club Viborg FF uses a shamrock in its badge
The German football club SpggGreuther Fürth also has a shamrock in its badge
Myth Unfold
It is said that shamrock can be grown only in Ireland or in Irish soil. This myth owes more to marketing wizardry than to any horticultural truth.
In fact, the three-leaf clover grows all over the world from Tasmania to South Africa and from North America to England. It's just called by some other name in those places.
Indeed it could be argued that the plant doesn't grow in Ireland at all.
As Charles Nelson, one of Ireland's leading botanists, puts it, "Shamrock exists only on St Patrick's Day. Every other day of the year it's known simply as young clover."
So that shows Shamrock to be so lucky three leaf sprig. According to the book "The Wearing of the Green, A History of St. Patrick's Day," the shamrock had a long pedigree in the Irish celebration of St. Patrick's Day and the four leaf clover (though it is three leaf) has become one of the most well known good luck charms and lucky symbol around the world and across many very different cultures.
Considering Shamrock as luck charm and leaf of wealth I explored further and found the relation of Leprechaun too with the pot of Gold. Both Shamrock and Leprechaun came from Irish culture.
Known in Irish as the leipreachán, this funny  little fellow is usually depicted as an old man, about 3ft tall, with red hair and beard, dressed in a dapper green or red coat and hat.
His profession a cobbler makes shoes and hides his gold coins in a pot at the end of the rainbow. He is said to be intelligent, cunning and devious, a comical figure who loves practical jokes, a creature neither good nor evil.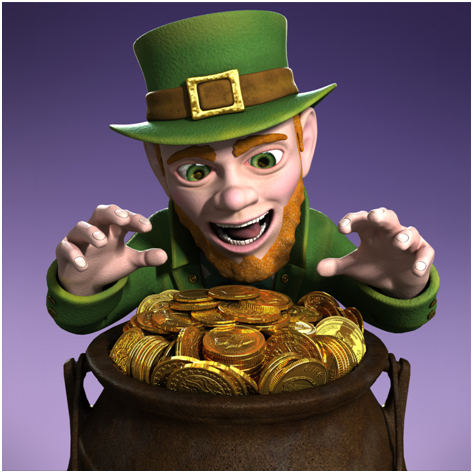 As a fairy being, he is thought to be associated with the Tuatha de Denann, however, there is no mention of such a character in Sidhe or Denann mythology. It is more likely that he has arisen out of local folklore and superstition. Despite his enormous popularity, there is little known about his origins.
But one thing about Lepreachuan is true that he carries a pot of gold…it is not a dream fantasy of mine nor it is what is shown in Magical Legends of Leprechaun but I am talking of the Lepreachaun slot games to be played at the casinos.
The casinos and the top gaming giants like NetEnt, Rival Technologies, Ash Gaming, iSoftbet, Microgaming and other game developers had hit the market with Shamrock and Leprechaun slot games with huge jackpots to win.
You too can play and enjoy these for some exciting wins.
Lucky Leprechaun is 5×3 Reel, fixed 20 Payline online slots game where you could win your pot of gold in record time. Brought to you by Microgaming, it has plenty of features, including Stacked Wilds, Scatter symbols and 2 thrilling Bonus Features, this game will surely having you tapping your feet and ready to claim your fortune of up to 100 000.00.
Lucky Leprechaun loot is 5×3 Reel, fixed 20 Payline online slots game where you could win your pot of gold in record time. Lucky Leprechaun is brought to you by Microgaming, features, including Stacked Wilds, Scatter symbols and 2 thrilling Bonus Features.
Leprechauns Fortune is a 50 line WMS Gaming slot  with 4×5 reel layout with stacked symbols and a free spin feature where any wild symbols are held for the remaining spins.
Leprechaun Goes Egypt is a popular 20-payline video slot running on the Play'n GO software platform. The game features an entertaining blend of the Irish culture and Ancient Egypt, which is demonstrated through the game's wild card and scatter, which are the Leprechaun and Cleopatra, respectively.  A jackpot of 3,000 coins will be awarded when 5 Leprechaun wild icons occur on an enabled payline.
Leprechaun's Luck slot game is 5 reel and 20 payline based on the popular story of Leprechaun's gold pot, where the gnome is looking for the rainbow so that he can find the end of it where the gold pot (according to Leprechaun) is located. There are two different ways to win the progressive jackpot. Wilds substitute all symbols except for bonus and scatters.
Shamrock Isle is a classic themed video slot filled with Shamrocks, Crowns, Hearts, Unicorns, and other lucky symbols. The game is run by Rival technologies, hence, you are to value its prominent soft, amazing animations and stunning graphics. To make things more thrilling, there are bonus rounds, free spins, multipliers, as well as a scatter and a wild. The smiling Leprechaun is the Wild.
Golden Shamrock is 5 reel NetEnt slot game where the Jackpot symbol is the Pot of Gold symbol, and whenever you get a line of five of these symbols on any payline that you have chosen to activate and put into play then you are awarded with a 4000 coin jackpot. So the more coins per line you play the bigger this Jackpot payout will become.
Lucky Shamrock is a classic slot game with $80,000 jackpot. This is merely a 3-reel  and you can win up to 4000 coins with spins that start with just pennies on the dollar. The images on these reels are golden icons with the shapes of shamrocks, gold bars, dollar balls, and a variety of rainbow and money inspired symbols.
There are other such Shamrock and Leprechaun slots to play like Shamrock Slot with an app and Leprechaun Slots App to be played with your Android device.
Casinos and Pot of Gold
Casinos have already made it a rush to the Pot of Gold. Resorts casino is celebrating St Patrick's Day which falls on 17th March and if having variety of festivities for its players like live Irish entertainment, special food and drink menu items, a festive Mr. Lucky Prize Patrol, and a celebratory bar crawl You can also test your luck over on the gaming floor with Mr. Lucky's Leprechaun Prize Patrol will be sharing the luck in Lucky Locations randomly selected to win $1,700 at regular half hour intervals from 5:30 p.m. – 10 p.m on the special day. Any player actively playing in the same bank of machines or table as lucky guests will also receive $50 in Slot Play. Specialty themed cocktails like the Irish Goodbye and the Blarney Stone  will be also available for $5 March 17 – 19 on the gaming floor.
Pot of Gold at Prism Casino
Now if you really wish to have the Leprechaun's pot of Gold then move straight to Prism Casino as they are offering very exciting match bonuses and $5000 worth prizes this month (March 2016).
You can play slots and keno and redeem the two coupon codes given at WinMeNot for Prism Casino and claim for $5000 prizes and $ 50 worth free chip. Also you will find other match bonuses and coupon codes too.
Prism casino is one of the most reputed casino having more than 130 Casino Games with $1,000,000+ in Jackpots offering Easy Deposits & Withdrawals which are safe and secure and has 24/7 support help for you. Not only new players but existing members VIPs can also play for Pot of Golf and make a sure win. VIP coupon Code can be redeemed from the casino.
Winners will be randomly selected and rewards be given out on the 17th of March, St Patrick's Day, and also at the end of March to the players who qualify. All the winners who took away pot of gold will be announced on the facebook page too.
"For each petal on the shamrock
This brings a wish your way-
Good health, good luck, and happiness
For today and every day".
Now you decide whether you want Shamrock, Leprechaun or Pot of Gold and enjoy the season.