Nature has always fascinated me. I love the trees, mountains, rivers, streams and springs. Whenever I go to visit a new place be it city or country I try to know its culture and traditions and how nature has been the part of their life. Talking of trees, shrubs, and flowers with other ornamental plants, it is seen they play a significant role in mythology and religion like the Christmas Tree, Bodhi Tree, Peepal Tree and the Banyan tree which are very famous. People considered them as symbols of luck.
I heard of Shamrock from one of my Irish friend. It's story is quite interesting…errr…but don't think Shamrock is a tree. It is a sprig actually with three leaves..Yes three leaves so not to be confused that it has four leaves.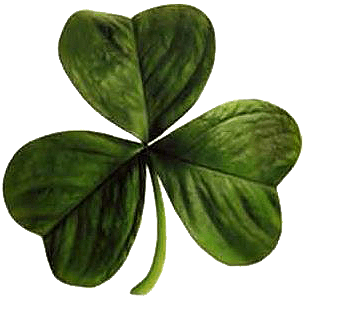 According to Wikipedia shamrock is a young sprig of clover, used as a symbol of Christianity in Ireland and in the world. Saint Patrick, Ireland's patron saint, is said to have used it as a metaphor for the Christian Holy Trinity. The name shamrock comes from Irish seamróg, which is the diminutive of the Irish word for clover (seamair) and means simply "little clover" or "young clover".

Not surprisingly many places, organisations, businesses, products, creative works use the shamrock in their names like the famous Shamrock Oil and Gas company of 1929 now known as Diamond Shamrock Corp in USA.
Where else can you find Shamrock as an emblem?
The shamrock features in the emblem of the Ancient Order of Hibernians, the largest and oldest Irish Catholic organisation.
The Emerald Society includes a shamrock on its badge.
The shamrock is featured in the "compartment" of the Royal Arms of Canada,
The flag of the city of Montreal, Quebec, Canada has a shamrock in the lower right quadrant.
The shamrock is featured on the passport stamp of Montserrat, many of whose citizens are of Irish descent.
The shamrock signified the Second Corps of the Army of the Potomac in the American Civil War, which contained the Irish Brigade.
Flag of St. Patrick's Battalion of the Mexican army
London Irish rugby football club has a shamrock on its crest.
The Shamrocks Motorcycle Club is a USA-based traditional motorcycle club
The basketball team, Boston Celtics, in the USA incorporate the shamrock in their logo. Former NBA player Shaquille O'Neal nicknamed himself the "Big Shamrock" after joining the team.
In Australia, the Melbourne Celtic Club features a shamrock on its emblem.
During the Russian Civil War a British officer Col. P.J. Woods, of Belfast, established a Karelian Regiment which had a shamrock on an orange field as its regimental badge.
A shamrock is the official emblem of Greek multi-sport club Panathinaikos A.O.
The Danish football club Viborg FF uses a shamrock in its badge
The German football club SpggGreuther Fürth also has a shamrock in its badge
Myth Unfold
It is said that shamrock can be grown only in Ireland or in Irish soil. This myth owes more to marketing wizardry than to any horticultural truth.
In fact, the three-leaf clover grows all over the world from Tasmania to South Africa and from North America to England. It's just called by some other name in those places.
Indeed it could be argued that the plant doesn't grow in Ireland at all.
As Charles Nelson, one of Ireland's leading botanists, puts it, "Shamrock exists only on St Patrick's Day. Every other day of the year it's known simply as young clover."
So that shows Shamrock to be so lucky three leaf sprig. According to the book "The Wearing of the Green, A History of St. Patrick's Day," the shamrock had a long pedigree in the Irish celebration of St. Patrick's Day and the four leaf clover (though it is three leaf) has become one of the most well known good luck charms and lucky symbol around the world and across many very different cultures.
Considering Shamrock as luck charm and leaf of wealth I explored further and found the relation of Leprechaun too with the pot of Gold. Both Shamrock and Leprechaun came from Irish culture.
Known in Irish as the leipreachán, this funny little fellow is usually depicted as an old man, about 3ft tall, with red hair and beard, dressed in a dapper green or red coat and hat.
His profession a cobbler makes shoes and hides his gold coins in a pot at the end of the rainbow. He is said to be intelligent, cunning and devious, a comical figure who loves practical jokes, a creature neither good nor evil.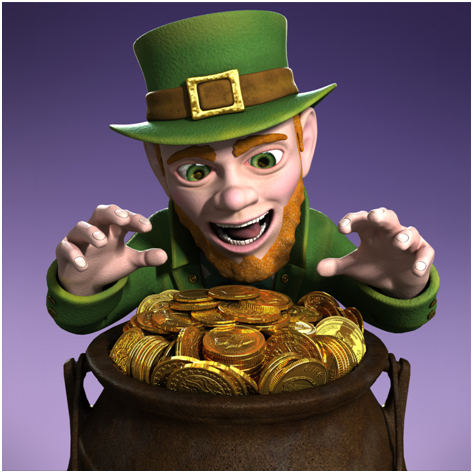 As a fairy being, he is thought to be associated with the Tuatha de Denann, however, there is no mention of such a character in Sidhe or Denann mythology. It is more likely that he has arisen out of local folklore and superstition. Despite his enormous popularity, there is little known about his origins.
But one thing about Lepreachuan is true that he carries a pot of gold…it is not a dream fantasy of mine nor it is what is shown in Magical Legends of Leprechaun but I am talking of the Lepreachaun slot games to be played at the casinos.
The casinos and the top gaming giants like NetEnt, RTG, Betsoft, Rival Technologies, Ash Gaming, iSoftbet, Microgaming and other game developers had hit the market with Shamrock and Leprechaun slot games with huge jackpots to win.
You too can play and enjoy these for some exciting wins.
Best Leprechaun Slots To Play
Leprechauns can also be found virtually in slot games at online casinos and if you want to ask some treasure from them you need to spin the reels. Here are the wonderful five of the best Leprechaun slots to play and these games are available at online casinos and you can play with real USD or BTC and have fun winning something big from Leprechaun.
1. Lucky Leprechaun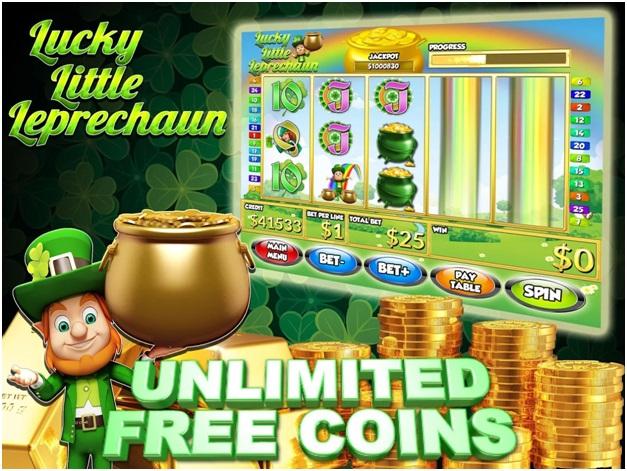 Developed by Microgaming Lucky Leprechaun slots to play game is full of colorful graphics like the sporting a devilish goatee, violins, smoking pipes and of course, Leprechaun and a few pints of dark beer. In the medium-volatility Lucky Leprechaun, the pot of gold symbol is the one you need to watch out for, since if you spin three or more anywhere on the reels, it will trigger the bonus feature.
Once activated, you will enter the mini-game with 4, 5 or 6 spins respectively. You can use these spins to make your way along the lengthy trail to further your progress – and coming across any emeralds on the way will give you even more free spins. Make it to the end and you will be rewarded with 1,000x your total bet!
2. Finn and the Swirly Spin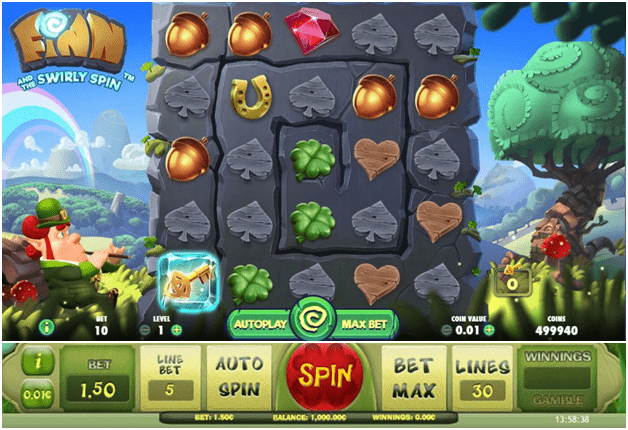 Finn and the Swirly Spin is powered by NetEnt Leprechaun slots to play at online casinos. The background and graphics are straight out of a Pixar film Finn himself is a charming little fella with an unlikely soul patch, who reacts differently according to what happens on the reels. The highlight of the medium-volatility Swirly Spin is when the Free Spins are triggered.
Finn triumphantly flies off into the clouds, and the players get to choose between four different types of Free Spins, represented by four different bars floating on top of a cloud. The bars are all uniquely designed, but the one you need to look out for is the Golden Pot, which is the ultimate free spins round.
3. Emerald Isle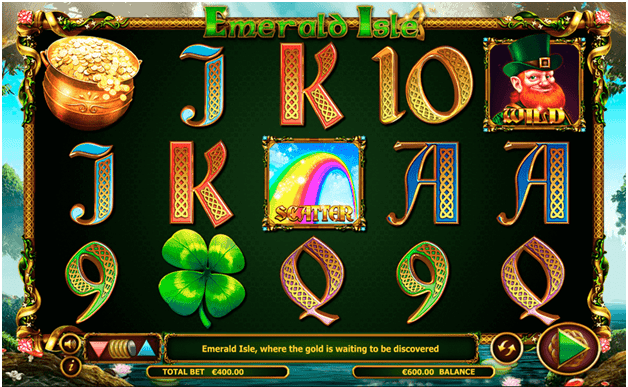 Next gen Leprechaun slots to play game Emerald Isle is set upon a beautiful lake amongst lush green trees standing tall on each side of the reels, Emerald Isle is yet another slot game featuring leprechauns, most notably one with a full beard and a suspiciously smug grin, who acts as the game's wild. Here are 20 paylines in this slot and these are fixed into position for every spin, giving you the maximum number of ways to win. You can alter your coin bet from $0.01 to $2.00 to give a minimum bet per spin of $0.20 and a maximum bet per spin of $40.00. This is a decent betting range so should suit all players, whatever their bankroll.
The ginger-bearded leprechaun is the wild symbol in this game, awarding 6,000x your bet for 5 matching symbols and standing in for all the other symbols except the scattered rainbow to create more potential wins. The best regular symbol is the red-haired woman who pays 1500x your bet for 5 symbols, while the next symbols to watch for are the pot of gold coins and the four-leaf clover, which both pay 500x your bet for 5 matching symbols.
There are a few more wins waiting to be enjoyed from the lower-paying symbols, which are the high cards. The Ace and King both pay up to 150x your bet for 5 symbols, the Queen and Jack both pay up to 125x your bet for 5 symbols, while the 10 and 9 both pay 100x your bet for 5 matching symbols.
The rainbow symbol is the scatter and spinning 5 of these colourful icons anywhere on the reels together awards 100x your total bet. If you hit 3 or more rainbows appearing left to right you can trigger the free spins round. This means you get 10 free spins with tripled payouts. If the ginger-bearded leprechaun appears on reels 1 and 5 you launch the bonus game, which gives you the chance to win up to 500x your original bet!
4. Rainbow Ryan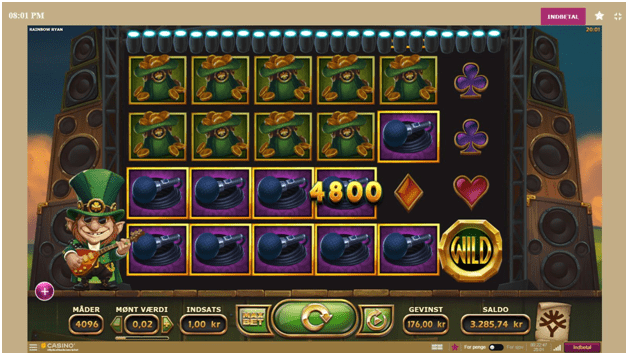 Rainbow Ryan is Leprechaun slots to play powered by Yggdrasil where the leprechaun seems to have been influenced by none other than the Prince of Darkness, Ozzy Osbourne. With game symbols including microphones, amps, beers and hats full of money, this is a bit of a departure from the usual rolling green fields we tend to see in Irish-themed slot games, but a welcome one just the same.
In the Rainbow Ryan Leprechaun slots to play, players are tasked with matching symbols from left to right across the reels. The game features a unique six-reel setup, with four positions per reel. There are no paylines to worry about, however: this game uses the popular "all ways" format, which in this case means you have 4,096 ways to win on every single spin. As long as your combinations start on the leftmost reel and move right consecutively, they will count.
For smaller payouts, players can try to match the four card game suits, with three in a row being required to score any wins (and longer combinations offering larger rewards). More thematic symbols like beers, boots, microphones and hats filled with gold offer bigger payouts, and only require a minimum of two in a row to earn prizes. Keep in mind that with the six reel format, it actually takes six in a row to win the top payouts available in this game.
Another great bonus is the Rainbow Reels feature, which can be triggered randomly on any spin. When this occurs, reels will appear over two or more of your reels. These columns will then be "in sync," and are guaranteed to have identical icons appear on them. Obviously, this gets more powerful as more reels (and, hopefully, consecutive ones) are synced, with the ultimate payoff coming if you are lucky enough to have all six synced at once.
Finally, players can trigger a free spins mode if players can hit at least three scatter symbols anywhere on the screen. The more of these you hit, the more spins you'll receive, up to a maximum of 20 if you hit all six scatters. During these free spins, you will always get the Rainbow Reels feature, and while the number of syncs may increase each round, it can never decrease – a feature that is especially lucrative if you have a lot of free plays built up.
5. Leprechaun Song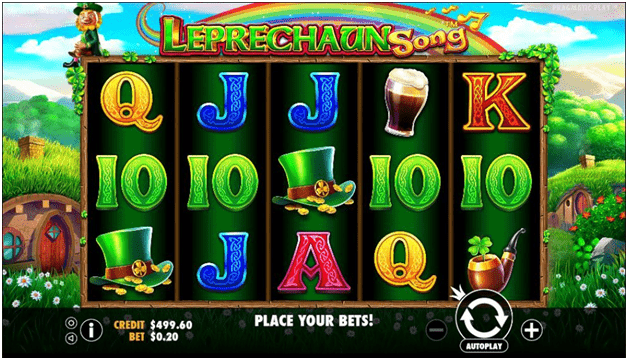 This slot game was developed by Pragmatic Play and Leprechaun Song, whose protagonist is a jolly little fellow with eyebrows that look like croissants. This medium-volatility slot has a pretty high wagering limit of up to $100, making it a good option for high rollers.
The Rainbow is the wild and can be used to substitute any another symbol over the 20 paylines to create a win. It cannot be used to replace the scatter symbol. During any spin a random number of rainbow wild symbols are added to the screen – usually around 3 to 4. After any spin, you may be taken to a click me bonus where you pick from Fiddle to win cash prizes; from 2x to 10x your bet.
During any spin, a giant symbol that covers a 3×3 space, or 3 reels can randomly be added. When three pots of golds scatter symbols show up, you can win one of three free spin bonuses. You start with 10 free spins and a 2x multiplier.  You start with 15 free spins and a 2x multiplier. Every 5 coins you collect during the Leprechaun Song bonus game will give you an additional 5 free spins and increase the multiplier by one. You get 3 free spins where the middle 3 reels are always one giant 3×3 symbol. All these features will win you a random cash prize instantly.
Shamrock Slots
1. Shamrock Isle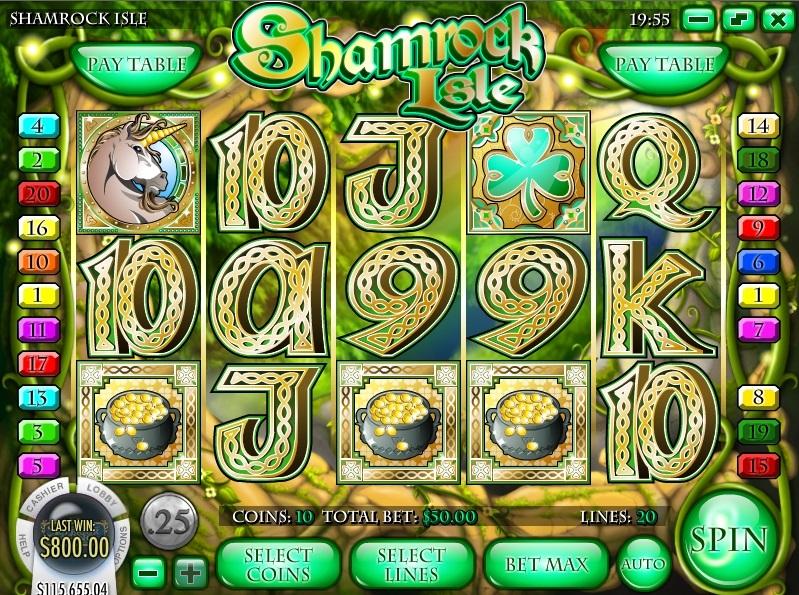 Shamrock Isle is a classic themed video slot filled with Shamrocks, Crowns, Hearts, Unicorns, and other lucky symbols. The game is run by Rival technologies, hence, you are to value its prominent soft, amazing animations and stunning graphics. To make things more thrilling, there are bonus rounds, free spins, multipliers, as well as a scatter and a wild. The smiling Leprechaun is the Wild.
2. Golden Shamrock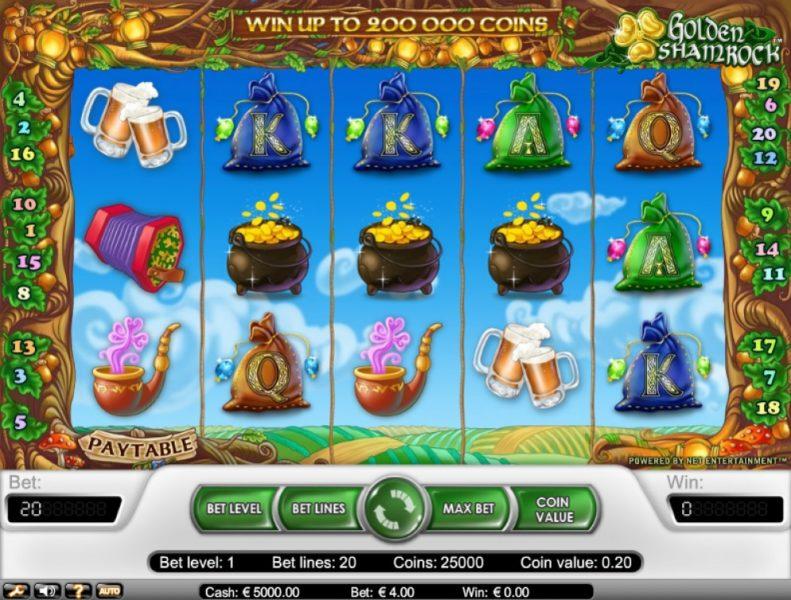 Golden Shamrock is 5 reel NetEnt slot game where the Jackpot symbol is the Pot of Gold symbol, and whenever you get a line of five of these symbols on any payline that you have chosen to activate and put into play then you are awarded with a 4000 coin jackpot. So the more coins per line you play the bigger this Jackpot payout will become.
3. Lucky Shamrock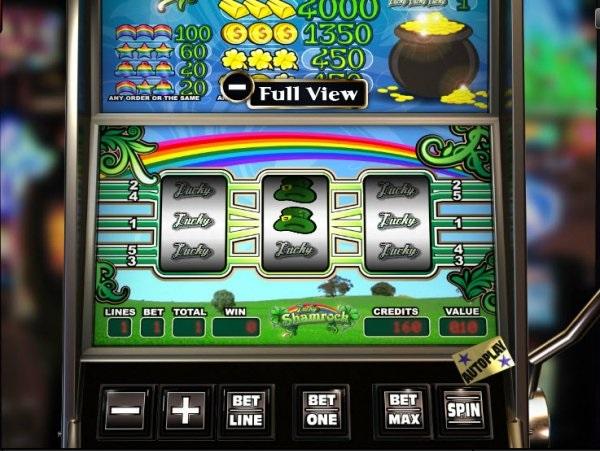 Lucky Shamrock is a classic slot game with $80,000 jackpot. This is merely a 3-reel and you can win up to 4000 coins with spins that start with just pennies on the dollar. The images on these reels are golden icons with the shapes of shamrocks, gold bars, dollar balls, and a variety of rainbow and money inspired symbols.
There are other such Shamrock and Leprechaun slots to play like Shamrock Slot with an app and Leprechaun Slots App to be played with your Android device.
"For each petal on the shamrock
This brings a wish your way-
Good health, good luck, and happiness
For today and every day".
Now you decide whether you want Shamrock, Leprechaun or Pot of Gold you want to play.