Slots Royale: 777 Vegas Casino
Slots Royale: 777 Vegas Casino was earlier called Luckyo Casino. At Slots Royale: 777 Vegas Casino you will find real Vegas Real Casino slot machines. Enjoy your Vegas style casino games free slot machines bonus with the most complete all in one free casino games for Android and iPhone in the form of an app.
Slots Royale: 777 Vegas Casino is Unique. You can enjoy the FULL casino slot experience just in ONE casino Game with free Slot Machines slots, Texas Hold'em Poker, Blackjack 21, Roulettes, Baccarat, Sic bo and Craps.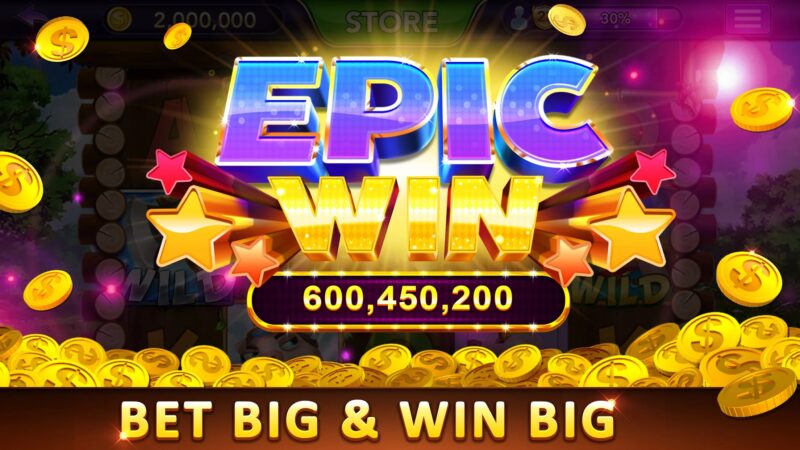 This app has the most authentic casino experience with top-tier graphics, high-quality sound effects, lifelike tables and dealers. There are two ways to get rich from the Scratcher: beat the dealer and tic tac toe. Just hit scratch and try your luck.
Download Slots Royale: 777 Vegas Casino app for Android
Install Slots Royale: 777 Vegas Casino app for iPhone
Download Slots Royale: 777 Vegas Casino app for Windows
Once you download and install the app you will get free chips to play the casino games. There is a daily wheel bonus and friend bonus keep you spinning. Also collect free chips every hour and watch video to get extra chips.
As you level up to unlock more slots machines and earn rewards to fill your pocket. The broke Bonus help you continue playing without any worries. As you hit huge jackpots you win endless free spins to become a slots billionaire.
You can invite your friends or make new friends in game and have fun together anytime, anywhere. Send free chips to friends and chat with them to make your online slots experience more interactive. Complete card albums to fulfill the fun of collecting and get mega chips. You can send and receive the cards to help each other. Become a VIP member to grasp multiplied bonus and enjoy all the exclusive privileges.
Slots Royale: 777 Vegas Casino or Luckyo Casino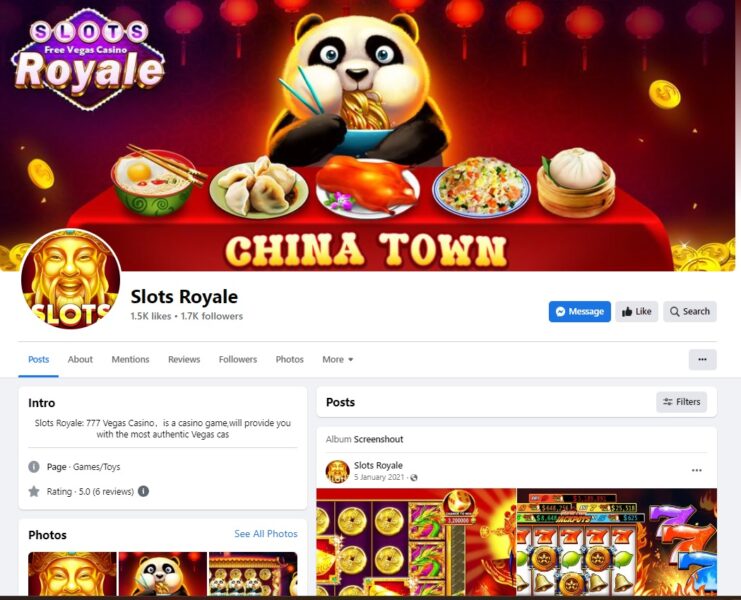 There's a lot of casino games on Facebook, but none have stolen the spotlight like Slots Royale: 777 Vegas Casino or Luckyo Casino. In just a few months this daring app has seduced thousands of punters from around the world. They currently command the attention of over 10,000 loyal fans. While these numbers aren't nearly as impressive as Slotomania's, it's still admirable for such a new release. They have managed to make our list, since they have become one of the fastest growing casino games on Facebook.
On top of captivating players, this game claims to offer amenities that can't be found anywhere else. Every day they feature 4 different types of Slot Tournaments with progressive jackpots. They keep players going with Bankruptcy bonuses & an unusually high payout rate. Fans claim that this is the best game of 217, so we decided to see for ourselves. After immersing ourselves in the game, we were able to create the best review online. Prepare to experience Slots Royale: 777 Vegas Casino, it was a wild ride!
Slots Royale: 777 Vegas Casino Gameplay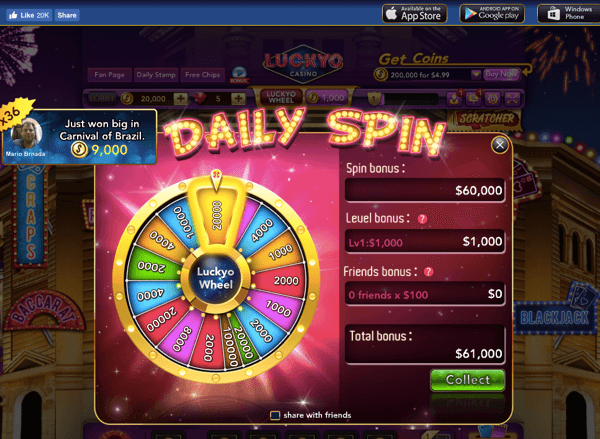 As soon as the game loaded, I was immediately thrown into a daily spin. This interesting bonus round won me 20,000 credits, & the game automatically tripled my winnings. This gave me 60,000 extra credits, so I was officially ready to take on the game. From there I was told to collect the daily stamp. Completely oblivious to what this entailed, I curiously accepted this offer.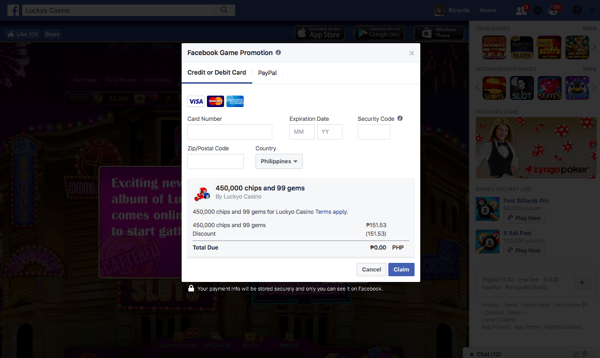 This won me 1,000 credits, but the surprises were far from over. Just as the stamps faded, I was blasted with another tempting offer. Slots Royale: 777 Vegas Casino was offering me 450,000 chips completely free. Slightly skeptical of this offer, I reluctantly agreed to collect this large sum of chips. As soon as I did, things changed drastically. Instead of a light hearted congratulations, Slots Royale: 777 Vegas Casino was now demanding that I enter my bank information. Completely unwilling to give up my financial information, I frantically clicked out of this misleading offer.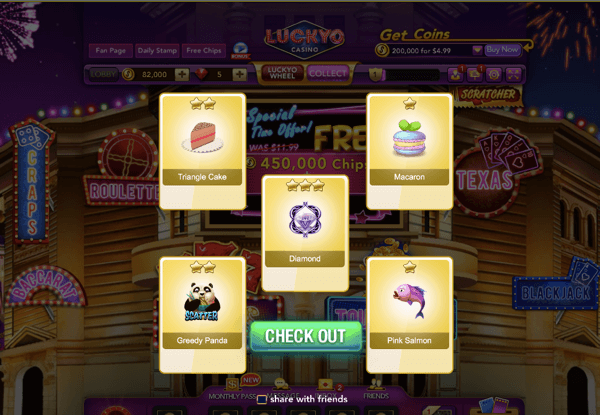 I thought I made it back to the lobby, but was thrown into yet another bonus game instead. This time I was instructed to pick cards. There were no demands for cash, so I hesitantly complied. As I flipped over the cards, I was greeted with a bizarre mix of results. The card faces ranged from greedy pandas to triangle cake. This mix was perplexing, since they had nothing to do with each other. Apparently this was part of a broader bonus game, since I was instructed to pick cards when the offer came up again.
By this time I was chomping at the bit to spin, so I tried to make my way to the lobby. There were a myriad of choices to choose from, but in the end I picked Asian-themed Slots. To my dismay, I was informed that I didn't have the level clearance to access these games. Completely baffled, I tried to find a slot game to play. After picking Boom Bugs, I was finally in a slot game.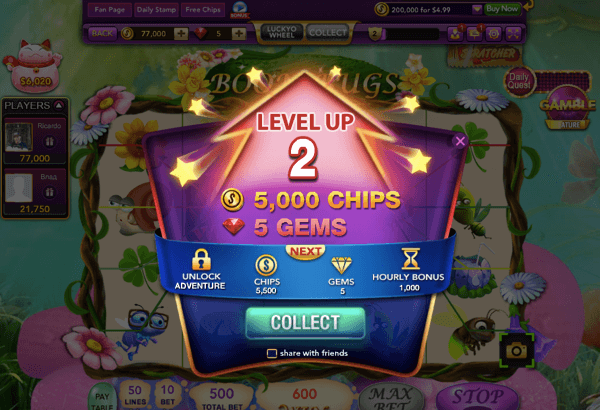 The screen came to life with childlike versions of well known bugs. As they swirled around the screen, I couldn't help but lose interest. Slots Royale: 777 Vegas Casino bonus games were epic, but the gameplay was surprisingly bland. After nearly 20 uneventful spins, I made my first level up. This was a nice victory, but it did little to break up the monotony.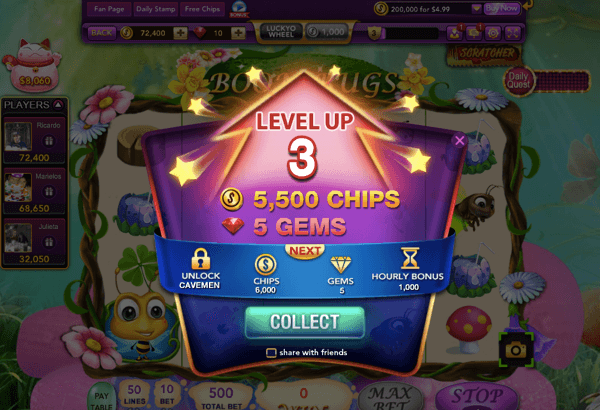 I decided to keep spinning, but was met with little to no variation. The highest win was 900 credits, which wasn't enough to sustain 500 credit spins. By the time I reached level 3, I was thoroughly sick of the game. I chose to exit, since there are better games to play on Facebook.
Find more casinos to play slots here.
Overall Review
Slots Royale: 777 Vegas Casino starts with a bang, but unfortunately their games don't back up the epic introduction. While the first bonus games are lively, the games are surprisingly bland. In 3 levels of playing I barely won 10 spins. Most were too low to mention, while one barely reached 1,500 credits.
Every spin is 500 credits minimum, so it doesn't add up. This shocking disparity was overshadowed by the fact that their games are surprisingly bland. There were no bonus games within the game, which made me want to return to the lobby's fanfare. Hopefully the developers make a few tweaks, since this game has the potential to be so much more entertaining!