I simply love Hallmark movies specially in Christmas season. It takes me back to many of my own festive memories of joy, happiness, laughter and celebrations. Hallmark movies channel comes from the same Hallmark Cards, Inc., which is Crown Media Family Networks' flagship 24-hour cable television network, distributed nationwide to 81 million homes. Dedicated to helping viewers celebrate life's special moments, Hallmark Channel also offers annual holiday programming franchises, including "Countdown to Christmas," "Countdown to Valentine's Day," "Summer Nights," "Fall Harvest" and "Winterfest." Rounding out the network's diverse slate are some of television's most beloved comedies and series, including "The Golden Girls" and "Frasier."
Like previous years Hallmark has launched many new movies. Here are the six best Christmas Hallmark movies to watch this month and also win $20,000.
1. Christmas at the plaza
Starring Elizabeth Henstridge, Ryan Paevey, Bruce Davison and Julia Duffy
The story: With Christmas approaching in New York City, Jessica, an archival historian enmeshed in a declining romantic relationship, is hired to create an exhibition honoring the history of Christmas at The Plaza Hotel. There, she meets Nick, a handsome decorator who's been commissioned to deck out the iconic landmark. When they're paired together to prepare the exhibition, they wind up enjoying a host of holiday traditions together and find themselves falling for each other. Tensions soon rise as Jessica must figure out her romantic priorities and decide with whom she'll ultimately spend Christmas at The Plaza.
2. Holiday Date
Starring Brittany Bristow and Matt Cohen
The story: Brooke is dumped right before Christmas and enlists the help of actor Joel to play the role of her boyfriend for the holidays. Brooke had described her ex-boyfriend as "Mr. Christmas" to her family and worries about keeping up the ruse when she discovers Joel is Jewish. When her family eventually finds out his background, they happily incorporate his Hanukkah traditions into their plans. Christmas and Hanukkah are celebrated side by side as they all learn more about the other's holiday. But when their relationship ruse comes to light, the two have some explaining to do as well as figure out if they're ready to admit their true feelings.
3. The Christmas Club
Starring Elizabeth Mitchell and Cameron Mathison
The story: Based on the novel by Barbara Hinske two busy strangers, Olivia Bennett and Edward Taylor meet when they help an elderly woman find her lost Christmas savings. Thanks to fate and Christmas magic, they also find something they were both missing: true love.
4. The Mistletoe Secret
Starring Kellie Pickler, Tyler Hynes and Patrick Duffy.
The story; When Aria Eubank convinces a famous travel writer to do a feature story on her beloved hometown, Midway, Utah, it looks like the town's tourism drop is about to be reversed. However, when the travel guru and his ghostwriter both show up, Aria finds her heart torn between the charismatic but pompous Sterling Masters and Alex Bartlett, the real talent behind 'Masters of Travel,' and the man who has genuinely fallen for her.
5. A Christmas Love Story
Starring: Kristin Chenoweth, Scott Wolf, Keith Robinson and Kevin Quinn
The story: Tony Award-winning Kristin Chenoweth stars as a youth choir director who needs to write a big song for a Christmas Eve show. She is distracted from her task when a boy with a golden voice joins her choir, which comes as a surprise to his widowed father, portrayed by Scott Wolf.
6. Christmas Town
Starring Candace Cameron Bure, Tim Rozon and Beth Broderick
The story: Lauren Gabriel leaves everything behind in Boston to embark on a new chapter in her life and career. But an unforeseen detour to the charming town of Grandon Falls has her discover unexpected new chapters – of the heart and of family – helping her to embrace, once again, the magic of Christmas.
There are various other new Christmas movies to watch this month from Hallmark
Where and how to watch new Christmas Hallmark movies?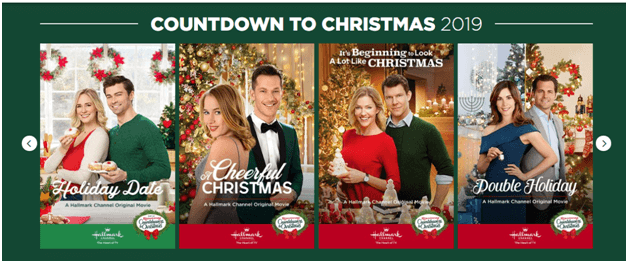 You can watch via your cable provider. If you have subscribed to your cable provider like AT&T UVerse; Spectrum; Cox; Dish; Verizon; Xxtream; DirecTV and various others.
You can purchase these movies as original Crown Media Family Networks programming is available for purchase at major retailers including Walmart, Target, and Hallmark Gold Crown Stores. You can also find a wide selection on Amazon, iTunes, or anywhere DVDs are sold.
Also, select offerings of Hallmark Channel, Hallmark Movies & Mysteries, and Hallmark Drama programming are available on a variety of online platforms. To find out if you receive all three networks, call your cable provider. Here's a list of current options: Hallmark Channel Everywhere; iTunes; VUDU; Google Play; Netflix; Amazon Prime Video and Xbox. Through your pay TV provider's TV Everywhere products. Click here to find providers by zip code.
You can stream movies directly from Hallmark. Hallmark Movies Now is Crown Media's subscription streaming video on demand service, which has a wholly distinct lineup of family entertainment from our linear platforms, Hallmark Channel, Hallmark Movies & Mysteries, and Hallmark Drama. Following a free 7-day trial period, the service is $5.99 a month or $59.99 a year. To join, visit here.
You can also ask Hallmark about more options by email at viewers@crownmedia.com or by phone at 888-390-7474.
Countdown to Christmas Fantasy Game to win $20000

Hallmark is also offering various bonuses, games, giveaways, and prizes to win. Countdown to Christmas Fantasy Game gets you a chance to win $20000. The Countdown to Christmas Fantasy Game is available to play weekly during Countdown to Christmas. Each week you'll pick your team from a list of holiday movies airing during the round, and points are awarded based on how many people watch each movie. You can change/edit your team as much as you want between Saturday and Friday, but once the drafting period closes you can no longer make changes. The weekly draft isn't the only way to earn points. You can raise your score by answering trivia questions. On Mondays, Wednesdays and Thursdays each week hallmark post-movie and holiday-themed questions to help you bump up your score. Don't miss out on collecting these extra points!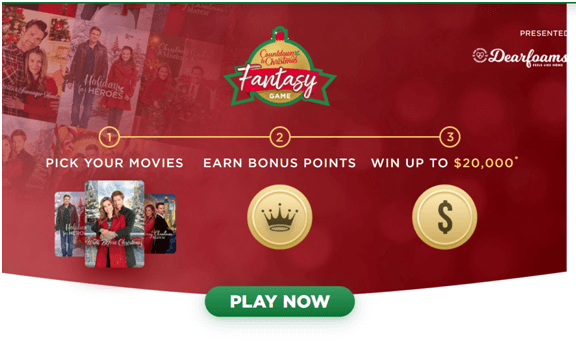 At the end of the game, the person with the highest overall score will receive the $20,000 grand prize. Additionally, the first-place prize is $5,000, second place is $1,000 and there are MVP random weekly giveaway prizes that increase each week up to $1,000! Tune in for the all-new movie premieres, and visit each week to make your picks and answer trivia questions. You can see the full terms and conditions here.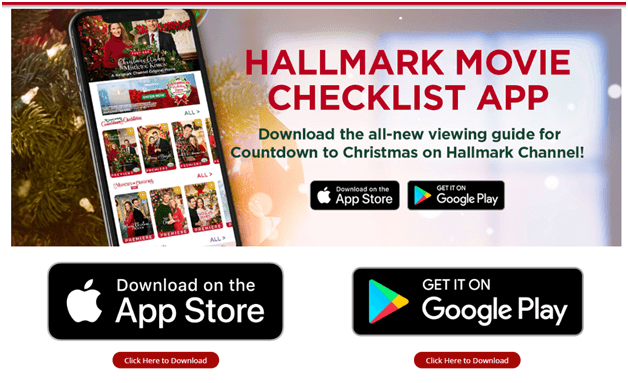 You can find new and old hallmark movies also on your cell phone be it iPhone or Android with Hallmark Movie Checklist App.
Now enjoy the movies, win prizes and have fun this Christmas season.