iPhone games come in the form of application or app. Many of these iPhone games are free to play and few cost few bucks. Also iPhone games are played with offline or online mode. Offline mode where iPhone games can be played without internet or WIFI. Online iPhone games do require a smooth internet connection to play them.
Popular iPhone Games To Play
According to the mobile gaming statistics, there are many popular iPhone games available on the App Store. Here are some of the most popular ones:
Among Us – This is a multiplayer game where players work together to find an imposter among their crewmates.
Candy Crush Saga – This iPhone game is a classic puzzle game where players match candies to progress through levels.
Minecraft – This is a sandbox game where players can build, explore, and survive in a blocky world.
Fortnite – Here you will find a battle royale game where players fight to be the last person standing on an island.
Clash of Clans – This is a strategy game where players build and defend their own village while attacking other players' villages.
Roblox – It is a platform where users can create and play their own games.
Pokémon GO – You can have here an augmented reality game where players catch and train Pokémon in the real world.
Subway Surfers – This iPhone game is an endless runner game where players dodge obstacles while collecting coins.
Temple Run – This is another endless runner game where players run through temples and avoid obstacles.
Words with Friends – A word game where players can challenge friends or random opponents to a game of Scrabble-style word-building.
Below we have compiled here the finest zero-cost driving games, puzzles, sports sims, and shooters, iPhone games which offer some of the best mobile gaming experiences without costing anything to you.
Best Free iPhone Games To Play
1. Disc Drivin' 2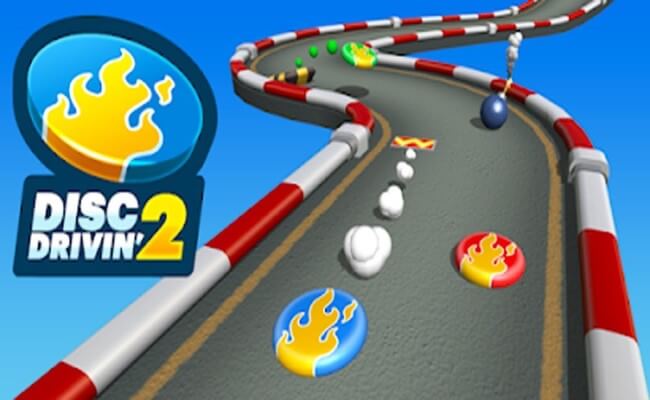 This game is huge fun. You need to choose a track, start a race against a selected online opponent of your choice. Your goal is to hit speed-up pads and create a boost, and not to hurl your car into the abyss or getting it impaled.
It is a racing game that combines elements of traditional car racing games with the physics-based gameplay of games like Angry Birds. In the game, players control a small disc-shaped vehicle that they must navigate through a series of tracks, avoiding obstacles and competing against other players or AI opponents.
The game is turn-based, meaning that each player takes a turn to move their vehicle and try to complete the course as quickly as possible. Players can earn coins and other rewards for completing races and use these to upgrade their vehicles, unlock new tracks, and compete in tournaments against other players. The game also includes social features that allow players to connect with friends and compete against each other in real-time races.
Disc Drivin' 2 has received positive reviews for its engaging gameplay, intuitive controls, and social features. It is free to download and play, with in-app purchases available for additional content and features.
As like other traditional racing fares, a solid grasp of the tracks can help. You can spend time in the speedrun mode, mastering every move, and committing to memory jump and trap locations.
With 15 tracks and nearly ten online races on the go, and a slew of unlockables to gather, this game will keep you engaged for months. You can buy stacks of coins to expedite unlocking cards.
2. The Battle of Polytopia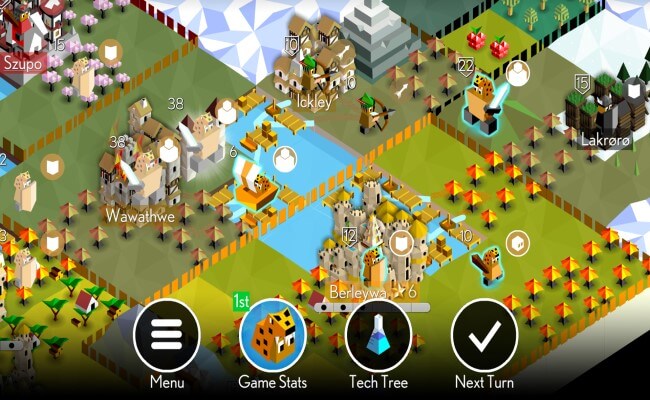 The game rotates around strategizing and using the limited resources to its best. You will find yourself in a small town surrounded by unknown with a warrior unit in your commend. You will have 30 turns to use, locate and ally with or attack other empires, research tools, and technologies and progress your civilization. In the game, players choose a tribe and attempt to conquer a randomly generated map by building cities, developing technologies, and engaging in battles with other tribes.
Each tribe has its own unique characteristics, strengths, and weaknesses, and players must use their resources and strategic thinking to build a powerful empire and defeat their enemies. The game has a simple and intuitive interface, making it easy to learn and play for gamers of all ages.
The Battle of Polytopia features multiple game modes, including a single-player mode where players can battle AI-controlled tribes, and a multiplayer mode where players can compete against other players online. The game also includes a range of different map sizes and difficulty levels, providing endless replayability and challenges.
The game has received positive reviews for its engaging gameplay, attractive graphics, and addictive gameplay loop. The Battle of Polytopia is free to download and play, with in-app purchases available for additional content and features.
The game feels you puzzled by restricting your turns and giving you a score at the end, as you figure out how to better your chance with very limited resources and time.
If you are more into fierce fighting you may also play in a 'domination' mode, where you play until any single tribe remains standing. It is an astonishing achievement, great fun, and the best freebie game on iPhone.
3. Data Wing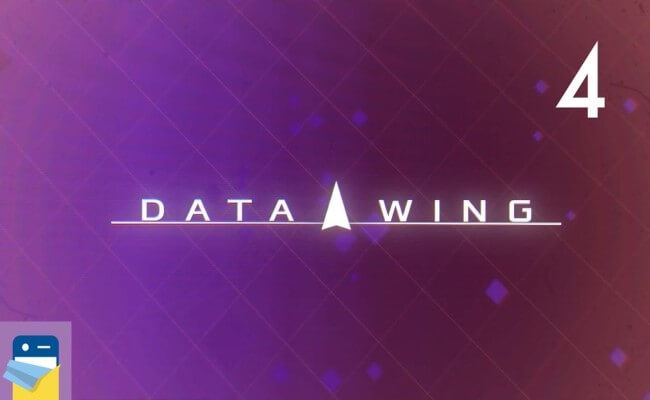 This is quite a nice top-down racer game where you guide a little triangular ship through the small track, battling in a way to control the spaceship in classic arcade blaster Asteroids. But your ship doesn't explode when it hits something, rather it encourages you to grind track edges for boost, which flings you at irrational speeds.
In the game, players control a small triangular vehicle called a 'data wing' and race through a variety of futuristic, neon-lit tracks, while collecting data and completing missions.
The game's story mode takes players on a journey through a computer system, where they must navigate through a variety of challenging levels, avoid obstacles, and compete against other AI-controlled racers. The game also features a time trial mode, where players can race against the clock to beat their best times on each track.
Data Wing's gameplay is fast-paced and challenging, with precise controls that allow players to navigate tight corners and avoid obstacles with ease. The game's minimalist graphics and thumping electronic soundtrack create an immersive and engaging experience.
Data Wing is a free-to-play game with no in-app purchases or advertisements, making it an excellent choice for gamers who want a high-quality gaming experience without any additional costs. The game has received positive reviews for its engaging gameplay, unique art style, and engaging storyline.
This game is far more than just a basic racer. There are places where you need to hit checkpoints on time, and combat opponents. You find keys, explore caverns, and find out how to use the environment to clamber towards a high-up exit.
4. PinOut!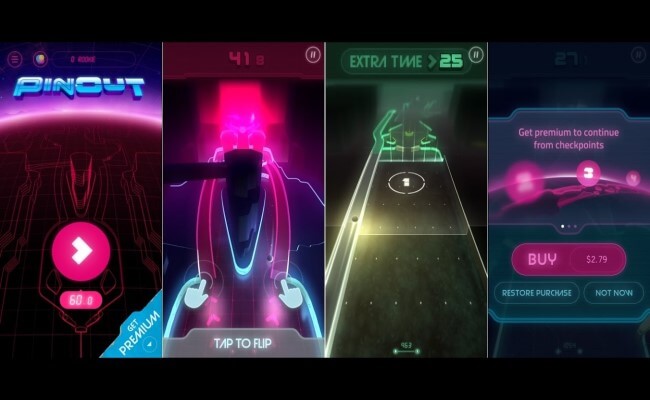 This is an amazing game. With a great soundtrack, it is one of the best pinball titles on the iPhone. As a precision shooter, you need to figure out the best route to the next miniature table, which involves hitting a specific ramp. You can get a bonus on grabbing dots along the way to replenish the clock.
It has eight varied themes and a small selection of mini-games that keeps you entertained and boosts replay value.
The game is a modern twist on classic pinball, with players trying to keep a ball in play for as long as possible by hitting it with flippers and avoiding obstacles on a continuously scrolling table.
PinOut's gameplay is fast-paced and challenging, with each level becoming progressively more difficult as players advance. The game also features a variety of power-ups and bonuses that can help players keep the ball in play and score more points.
What sets PinOut apart from traditional pinball games is its unique art style, which features a neon-lit, futuristic world that's both visually stunning and immersive. The game's soundtrack, which features electronic music by Swedish composer Douglas Holmquist, adds to the game's high-energy vibe.
PinOut is a free-to-play game with in-app purchases available for additional content and features, such as the ability to continue playing after losing a ball. The game has received positive reviews for its addictive gameplay, stylish visuals, and excellent soundtrack.
5. Asphalt 9: Legends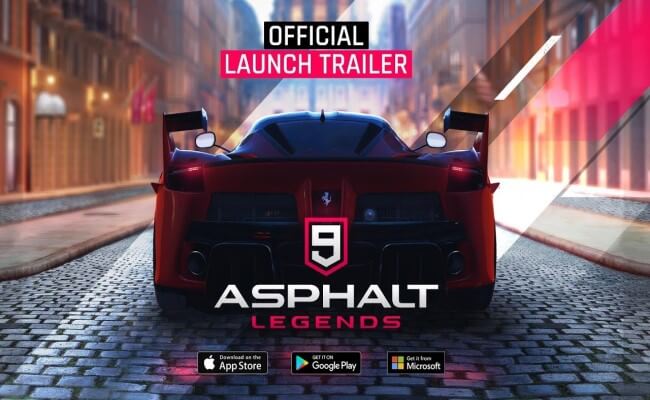 Series of Asphalt game has been an unhinged arcade racing, where cars are hungry for nitro, drift for miles around corners, soaring into the air, spinning like a baton thrown by a furious parade master.
But Asphalt 9 is far different from traditional racers. There's a system called TouchDrive where you do not have to steer. While your car shoots along, you swipe to target obstacles like boost; ramps; entrances to skyscrapers, and tap to drift, nitro, and perform crazy stunts. This game becomes the racing game for those fab one-thumb platformers that taught gamers that no directional controls require if the rest of the game is pitch-perfect.
6. Shadowgun Legends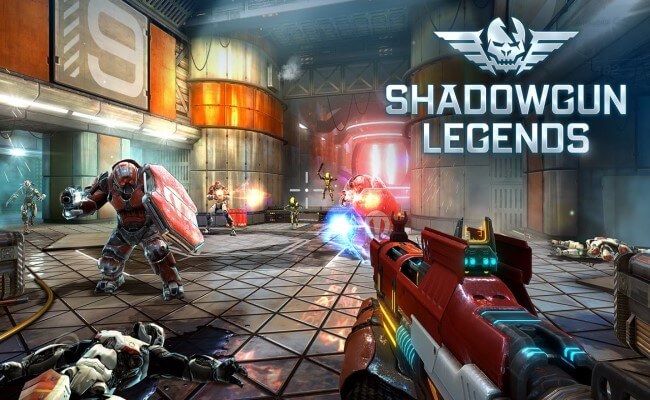 It is a first-person shooter game where stone-cold killers are treated like rock stars. Due to its dazzling visuals, accessibility, and depth, Shadowgun Legends is a first-rate mobile title.
You can control it well using your left and right thumbs, respectively, moving and targeting. Any alien, it was taken care of by the autofire. It has fast-paced missions that are linear in nature, and as the progression happens fast, it appears that you get rewards for your time, even when you spend only a few minutes.
There are downsides as well. It has a forgettable storyline where you need to splash out on at least one IAP to unlock inventory slots for upgrades. Shadowgun Legends has all you expect from a solid mobile FPS: loads of shooty action; visuals to rely on: smartly conceived multiplayer; and admiring fans clamoring to build a massive statue of you.
7. Look, Your Loot!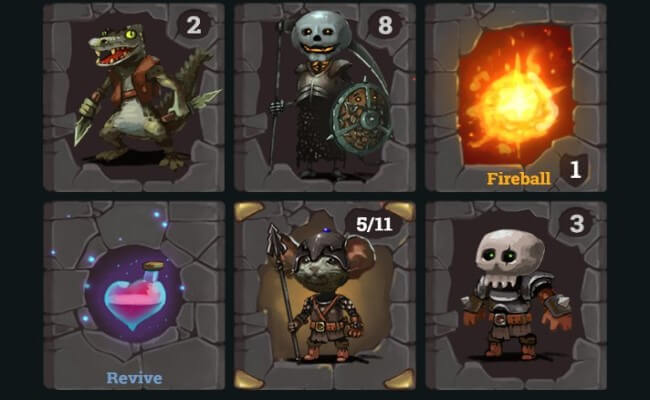 It has role-playing elements making for a tense and exciting gaming experience. In this game, the hero is a mouse keener on gold than cheese, armed with spear and shield alongside disarmingly amazing whiskers. Happening on a grid, most slots of this game are coupled with something dangerous and violent. As you push your tile to move, the mouse's life force depletes on attacking enemies, which you can replenish with elixirs, or defend with shields.
As you thrash up monsters, new cards appear in the grid. You need to figure out an optimum path to sustain and stay alive. Its simple game but captivating – and nerve-racking when you know everything can become fatal on a single careless swipe. Multiple modes cement the game to your Home screen, ensuring the rodent hero can go violent and be remembered for many months.
Synopsis
These are some of the best free iPhone games that you cannot resist playing with your friends! Play at online casinos as well.