Today, more or less, everybody is aware about the huge influence of online gaming on our life. The social gaming platforms are nowadays approaching their users with new games almost every alternate day. People are now tending towards online games more and more through their handheld devices. Traditional gaming events are also transforming their businesses. They are tying themselves up with game development companies to build software.
See the infographic below to get some online gaming industry statistics.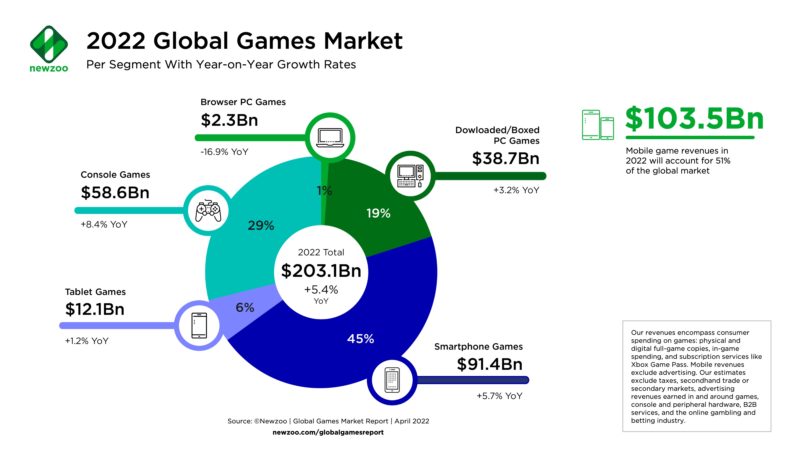 Share this Image On Your Site
Notes Related to Online Gaming Industry Statistics
Consider our infographic as an industry research report. We are very much sure that, reviewing the data will help you know the gaming market size.
Not only that, proper market analysis of the data also give you idea about which way the video gaming industry is moving forward?
Let us know your feedback on online gaming growth statistics through comments.
A few more questions and their answer people may also search for –
Is it legal to gamble online in US?
As far as we know, no American citizen has ever convicted for gambling online. However it is recommended to check local rules and regulations before participating in such activities to stay clear from any sort of federal charges.
How many gamers are there in the world?
Approximately 3 billion people worldwide play video games online. (Marketer)
83% of video game sales happen in the digital world. (Global X ETFs)
In 2021, the consumer spending in the video gaming sector was $60.4billion in the US. (PR Newswire, Newzoo)
Around 85% of all gaming revenue comes from free-to-play games. (WePC, TweakTown)
There were around 14.1 billion mobile game downloads in the Q1 of 2021. (Statista)
By 2025, the PC gaming sector alone will accumulate $46.7 billion. (Statista)
People between 18 and 34 comprise 38% of gamers globally. (Statista)
How much is the video game industry worth now?
As the data from 2021 shows, the number of games in the world was estimated at 2.96 billion. In addition to that, it's estimated that the number of those who play games via PC, consoles, tablets, and smartphones will surpass 3 billion this year and amount to 3.32 billion by 2024.
Online gaming audiences will surpass 1.3 billion people by 2025.
There are over 50,000 games available on Steam.
Online game revenue is estimated to reach $26.29 billion in 2022.
As a matter of fact, this field will experience rapid growth, with a CAGR of 6.46% between 2022 and 2026. Online gaming industry statistics show that this will result in a market worth of over $33.77 billion by 2026. The average revenue per user will climb to $22.48. With that in mind and the fact that user penetration will probably reach 15.4% by 2026, we can say that the video game industry revenue growth is inevitable.
We'll keep updating you with latest online gaming industry statistics based on fresh data analysis.
Check back frequently our blog section for more guides and tips. Sign up for email newsletter so we can deliver you latest online casino coupons to your inbox instantly. Read our casino reviews, designed specifically for players from US and play most popular casino games with all new casino bonus codes.