According to fans, Gold Fish Casino Slots should be the first stop for anyone seeking adventure. This groundbreaking slot game has made a name for itself as one of the most entertaining casino themes on Facebook. The have amassed over 500,000 likes, so quite a few players have been thrilled by their experience. Even though it has received rave reviews, we remain skeptical until we have gone along for the ride. It's easy for a game to receive unwarranted praise when people aren't aware of better options. For this reason we decided to put this game through our rigorous testing. So enjoy the fruits of our labor as we explore whether this game lives up to the hype!
How to get free coins at Gold Fish Casino
Gold Fish Casino Slots Gameplay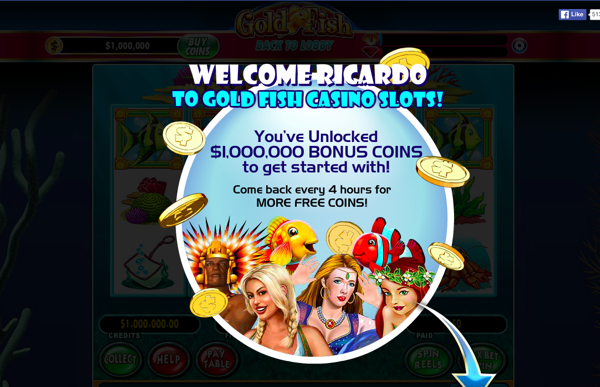 As soon as you join you are greeted by an interesting collection of characters. They are letting you know that you have unlocked 1,000,000 bonus coins! If that wasn't good enough, you can check back every 4 hours to receive more coins. This was a great start, so I quickly dove head first into the game.
Gold Fish Casino slots player ID
Your player ID is a unique identifier for your game progress. It allows us to review your account when you report a problem.
So be sure to copy down your player ID in a safe space—especially if you play on a Guest Account!
Here is how to find your player ID in Gold Fish Casino:
Locate the gear near the top right-hand side of the screen.
Tap on the gear.
Find "Player ID" from the window that appears. Copy down that number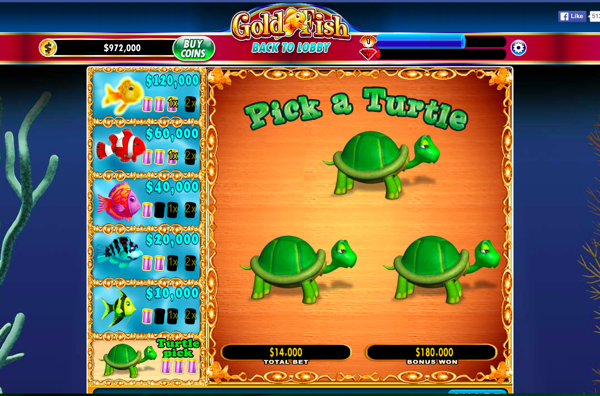 You start off playing in an aquatic wonderland making 14,000 credit minimum bets. After a few spins I unlocked a bonus round! I was instructed to bust open some fish food containers. After winning 180,000 credits on that round I was instructed to pick a turtle! This won me an additional 30,000 credits. I was officially hooked on this game!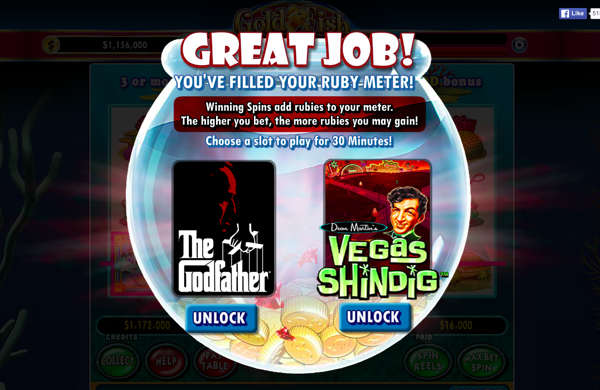 Upon completing a few more spins, I was alerted that my ruby meter was full. This meant that I could play one of two levels for 30 minutes: The Godfather or Vegas Shindig. I have a taste for danger so I picked the Godfather.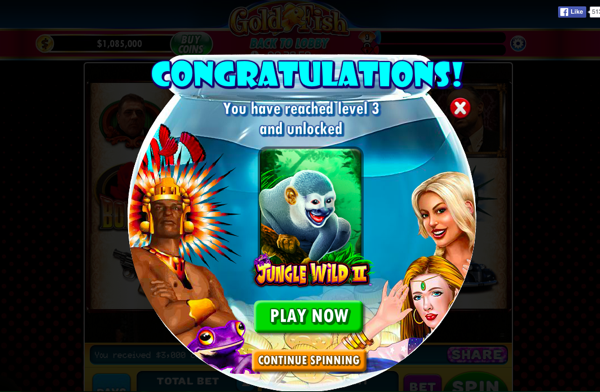 The Godfather proved to be an interesting theme. The minimum bet was 40,000 credits, but I was ready to take the risk. As I started spinning in the mob underworld, I was told that I had leveled up! This unlocked a new level called Jungle Wild II. However, I had just joined the mob, so I decided to remain loyal to this level.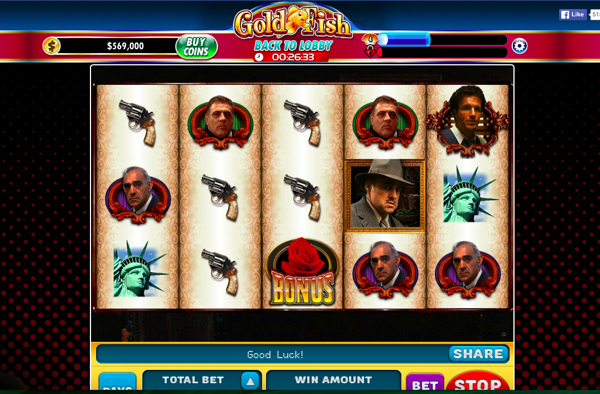 After a few more spins, my credits were depleting rapidly. Just as I was about to join the jungle level I was alerted that I was now elegible for tournaments! This was a nice offer, but I preferred to continue solo.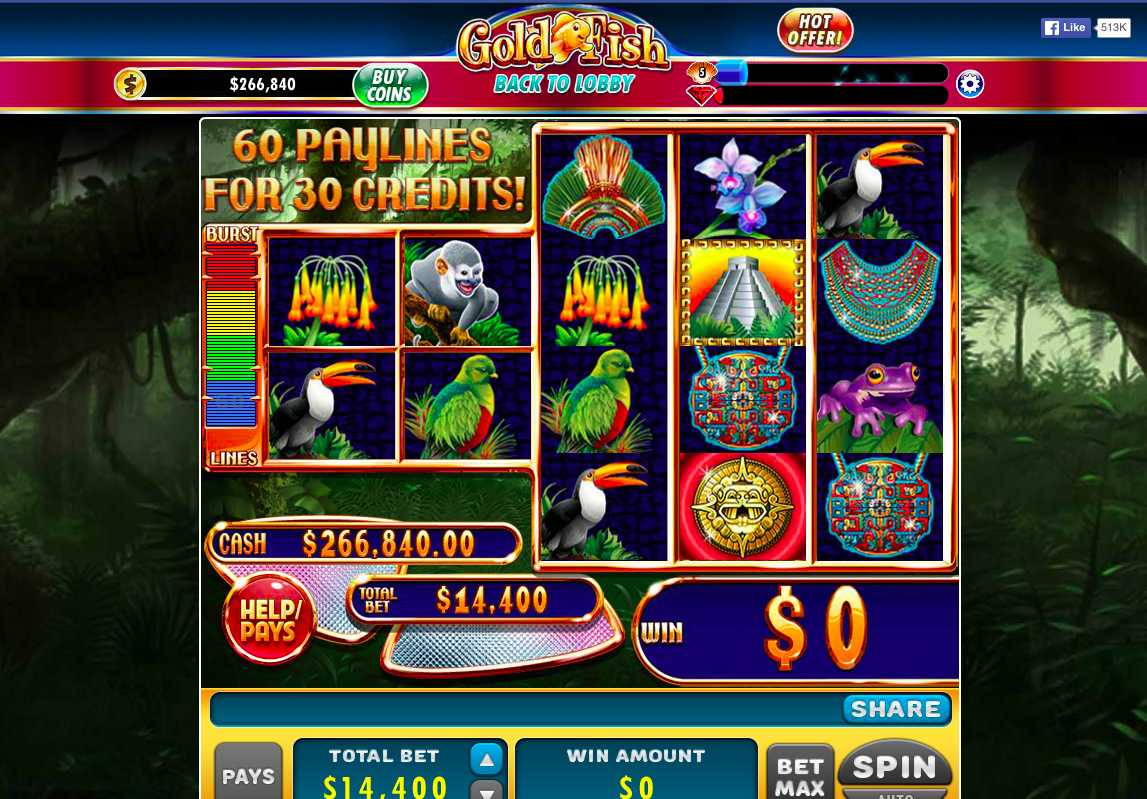 I quickly returned to the lobby & joined Jungle Wild II. At 14,000 minimum bets, this game was a lot easier on my dwindling budget.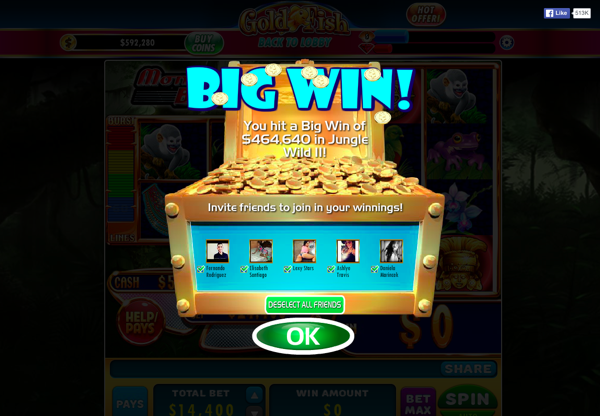 Just as I was getting into the swing of things, I won 11 free spins! These lead to me winning over 464,000 credits! I was back in the game. I continued playing for over an hour. Every time I was about to quit, I was awarded more free spins that led to me winning more credits!
There is high roller room at  Gold Fish Casino slots. So if you are looking for slots like Gold Fish 3, Casino Royale, or Cash Wizard you need to check out their High Limit Room! Just like in a real casino, the High Limit room features special slots with higher minimum and maximum bets and bigger payouts. To access the High Limit Room, tap on the icon in the lower left-hand side of the screen. 
Once you're in the room, just swipe left or right to cycle through the slots available.   Enjoy your favorite branded slots in this special new place in Goldie's pond.
Some of the Gold Fish casino slots have a progressive jackpot feature—this is a jackpot that is shared across several different slot machines.  
There's no need to worry about matching specific symbols or triggering a specific bonus. For the chance to win a progressive jackpot, all you need to do is make a qualifying bet.
Look for slot machines that have "Jackpot" written above them if you would like to play for a Progressive Jackpot!
You will be prompted with a window to select your minimum bet. The qualifying bet is different for each of the "Mini", "Major", and "Mega" jackpots.
You can always make a different bet than what's shown as the minimums in that loading screen as well!
What are Pearly Prizes in Gold Fish Casino Slots?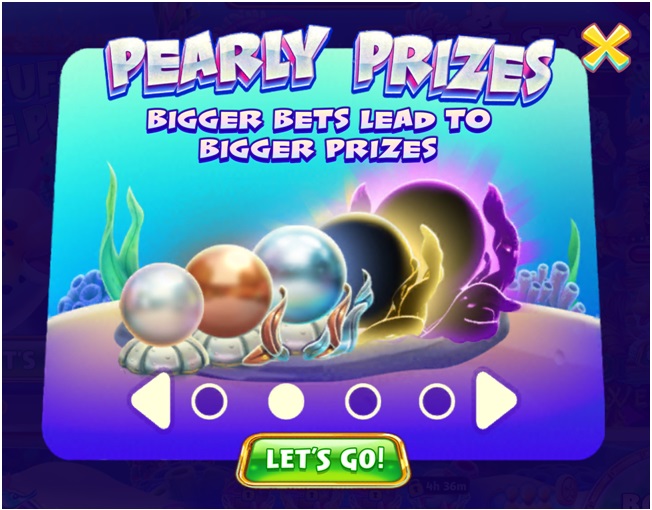 Pearly Prizes in Gold Fish Casino slots means you get a chance to earn free coins. Every spin you make is a chance to win a Pearly Prize.
There are five tiers of pearly prizes available to win. When you bet big, you have a higher chance to win a higher tier of pearly prize. Pearly prizes can only be won by spinning on a slot machine.
After winning a pearly prize, it will be stored in your pearl bank. The pearl bank is in the bottom center of the screen. When in the game lobby or in the high limit room, the pearl bank will always be visible. You can also access the pearl bank while in a slot using the pearl bank button.
There are two ways to open a pearly prize: starting the prize's countdown timer or using rubies to open them instantly.
A pearly prize countdown timer is automatically triggered by tapping on the pearl if no other countdown timer is active. If you wish to bypass the countdown timer and use your rubies to open it instantly, tap on the same pearly prize again. A pop-up window will appear on your screen where you will be able to spend your rubies.
The maximum number of pearly prizes you can hold at any given time is four. If you have all four slots of your pearl bank full and you win a fifth pearly prize, a pop-up message will appear giving you the option to claim the pearly prize with your rubies or to decline it.
Timed Bonus and Wheel of Spin
To get more free coins at Gold Fish Casino slots you need to make sure to collect your timed bonus. It usually refreshes every 2 hours or sooner, so make sure to log in and collect it. After five TIMED Bonus collects, you will trigger the Dancing Clams MEGA bonus the next time you click to collect your timed bonus!
Dancing Clams hold the answers to what multiplier will be added to your bonus—pick a clam, any clam, to win yours. Every day when you log into Gold Fish Casino, you have the opportunity to win free coins!  Make sure to take advantage of the Daily Bonus Wheel each subsequent day you log in, the better your free coin bonuses can get. The Daily Bonus Wheel automatically triggers the first time you sign in for the day.
Know your Account
If you get a new device, backup your game progress, or would like to play on the same account across multiple devices, then synching your game to a cloud account is the way to go!
There are a few ways to sync your account, but it depends on what kind of device you are currently using or plan to get. These options include:
However, if you choose to not link your account to one of the above cloud services, then you run the risk of losing all your game progress should your device break or you exchange your device for an upgrade. When you play on a game account that is local to your device—also known as a guest account—it becomes difficult to transfer your account data to a new account, especially if you no longer have a record of your player ID.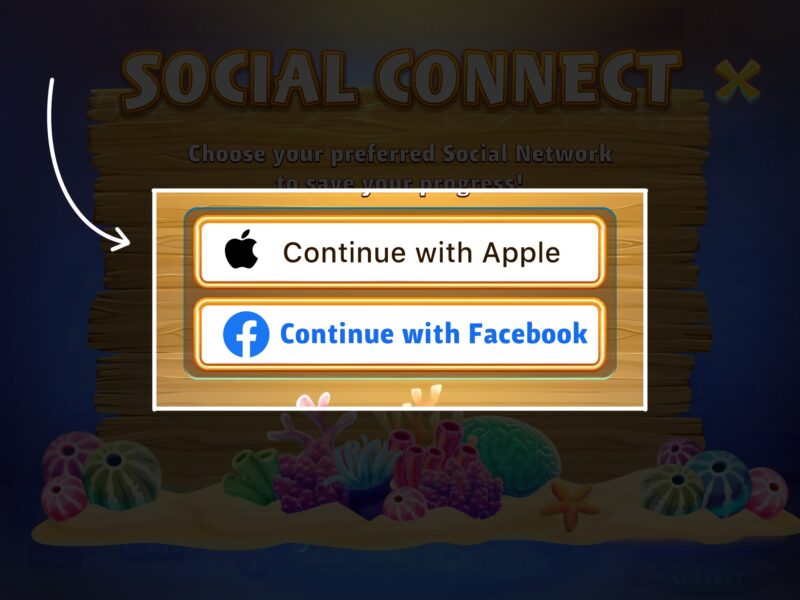 To link your guest account, start by tapping on the gear icon located in the upper right-hand corner of the screen.
Next, tap on the "Connect" button that appears in the pop-up menu.
In the selection screen, choose your cloud provider preference. For Android and Kindle users, the only option currently is to select "Continue with Facebook." Apple users have the additional option to choose to connect their account with Apple ID.
Once you have made your choice, follow the prompts that appear on your screen. If you currently play on a guest account and have purchased or will purchase a new smartphone or tablet, you can transfer your guest account to your new device by first linking your old device's account to Facebook or Apple ID.
Facebook Notifications
Below are instructions on how you can turn on or off Gold Fish Casino's Facebook notifications.
Locate Gold Fish Casino.
Click on the small gear icon.
In the window that appears, scroll down until you see "Send you notifications".
In the drop-down menu to the right, select "Yes" or "No".
Click on Save.
If you use the mobile app from Facebook, please see their help page for more information if the above instructions do not work: https://www.facebook.com/help/476337625740088/list
Overall Review
Gold Fish Casino Slots is extremely enjoyable to play. You are constantly surprised with fun bonus levels & new themes. Even though the basic rounds have lackluster graphics, the rounds you unlock make up for it. Overall it's a very enjoyable game that anyone can get into!