Mississippi casinos are located in some of the nicest destinations of the Magnolia state along the Gulf Cost. Plus, the services and amenities offered by Mississippi casinos cannot be surpassed. Come play at Mississippi casinos and absorb the beautiful sites, and experience firsthand southern hospitality.
Mississippi has 37 casinos and pari-mutuel facilities at your disposal which are spread out across 13 cities throughout the state. The city with the most is Biloxi with 11 casinos in which you'll find more than 37,697 slots and gaming machines. There are a total of 1020 table games. The minimum bet you can found at casinos in Mississippi is $0.01 and the maximum bet is $10,000.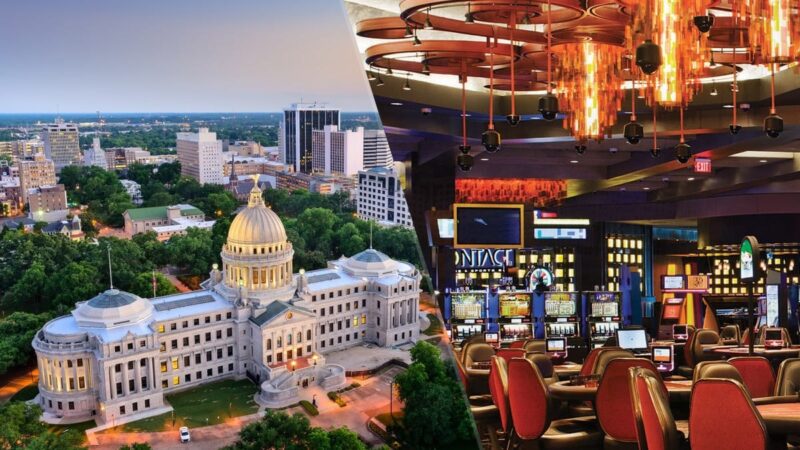 There is poker in Mississippi! You will find over 100 live poker tables to play at. You will find the following games in Mississippi casinos: NL Texas Hold'em, Omaha Hi-Lo, 7 Card Stud, Pot Limit Omaha, Texas Hold'em, Pai Gow Poker, Limit Holdem, No Limit Holdem, Omaha, Mixed Games, Spread Limit Hold 'em, Pot Limit Omaha Hi. Some Mississippi casinos also offer convention centers and meeting spaces. Over the entire town, you will find a total of 432,939 conference sq/ft space in the various casino properties.
Out of all Mississippi casinos you'll find Island View Casino Resort to be the biggest. It has 2700 gaming machines and 45 table games.
Coming in second place for largest Mississippi casinos is Silver Star Casino at Pearl River with 2500 gaming machines and 75 table games.
Pearl River Resort
Pearl River Resort Mississippi casinos is owned and operated by the Mississippi Band of Choctaw Indians, Pearl River Resort is the Southern United States' premier gaming and entertainment enterprise. Pearl River Resort's portfolio of assets includes Silver Star Hotel & Casino, Golden Moon Hotel & Casino, Dancing Rabbit Golf Club, Dancing Rabbit Inn, and Geyser Falls Water Theme Park located in Choctaw, Mississippi and Bok Homa Casino located in Sandersville, MS.
The Silver Star and Golden Moon Mississippi casinos feature two exciting hotels/casinos with a variety of slot machines, table games, Sportsbook, over 1,000 hotel rooms, Phillip M's award-winning steakhouse, a sports bar and grill and a variety of other dining options, a full service spa, retail offerings and live entertainment.  Also featured is Dancing Rabbit Golf Club with two championship golf courses and Geyser Falls Water Park. Bok Homa Casino features a variety of slot machines, table games, Sportsbook and a quick-serve eatery.
Pearl River Resort / Choctaw Resort Development Enterprise is a development of the Mississippi Band of Choctaw Indians, a federally recognized, self-governing tribe with over 10,000 members living on or near reservation land.
Pearl River Resort located in Choctaw, Mississippi casinos has earned the name for becoming the first casino resort of Magnolia States to introduce a sportsbook following the mid-May lifting of the federal ban on sports betting and the legalization of the activity in Mississippi. 
First Tribal Casino outside Nevada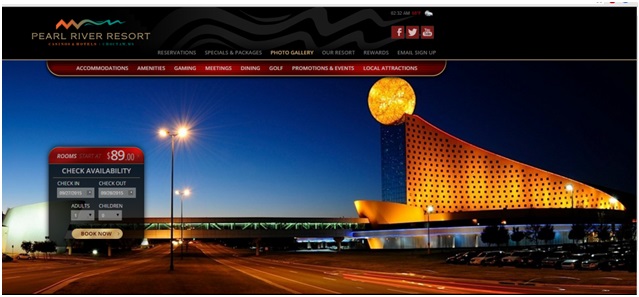 As said above this property is owned and managed by the Mississippi Band of Choctaw Indians and an inauguration ceremony was held recently of its sports betting facility, the newest addition to its current gambling products. The launch of the sportsbook came after the Choctaw Gaming Commission nodded for new sports betting law to offer Pearl River Resort the green signal to run a wagering facility. It is important to know that the sportsbook is the first tribal casino to be launched outside Nevada after the recent US Supreme Court ruling to lift a long-standing ban on wagering on sports.
Features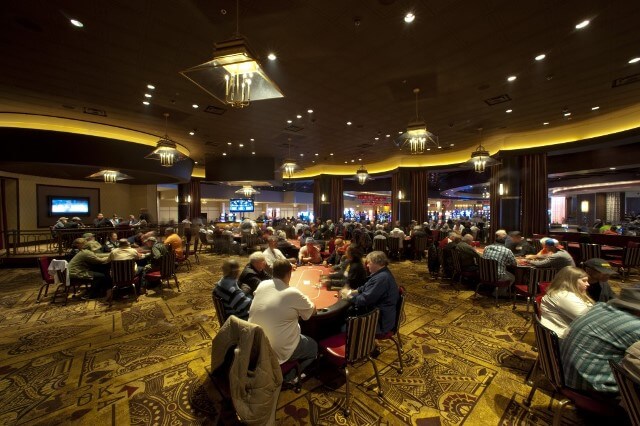 This recently launched Timeout Lounge at Gold Moon Casino is located at the Choctaw-based resort. It offers 20 televisions, three wagering stations enabling the customers to place in-person bets, a bar having charging hub for mobile devices, 12 odds boards displaying scores and others game details and many other standard amenities.
In addition, the Mississippi Band of Choctaw Indians has also confirmed plans to introducing mobile betting to allow visitors of Pearl River Resort to place bets anywhere on casino grounds.
Mississippi third State to Legalize Betting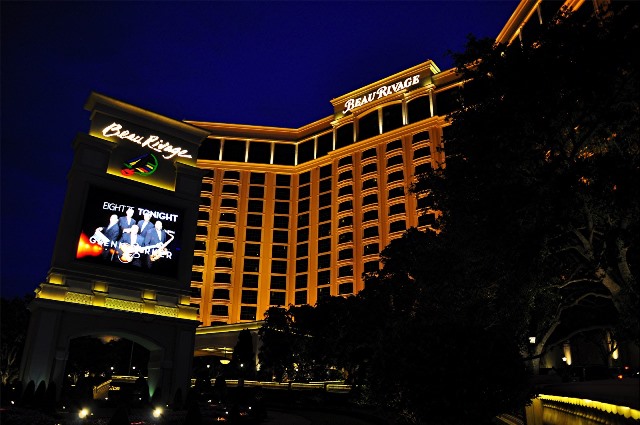 Mississippi being the third state to legalize and introduce sports betting after Delaware and New Jersey. Gold Strike Casino in Tunica and the casino Beau Rivage Resort & Casino located in Biloxi were the initial two casinos to be introduced with simultaneously with sportsbooks. In addition, the two MGM-owned gambling centers were also launched with wagering facilities few years back.
It is noteworthy that Mississippi is the only state in the south-eastern part of the United States where sports betting is not illegal and has already been offered by local gambling venues. It is impacting the neighboring states also for the legalization of wagering on professional and collegiate sports leagues, but no chance of any initiative being taken in this issue before next year. By that time, Mississippi will keep acquitting some momentum and experience in this field and will be to react to competition properly.
Flexible Laws Make It Possible for Tribes to Join the Sports Betting League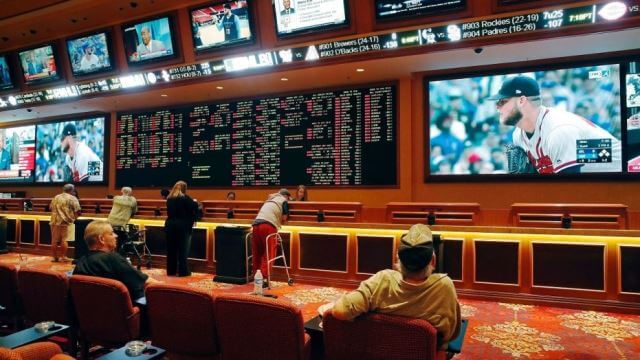 Mississippi's tribes are not able to play sports betting and almost immediately after its legalization in the state. Under the Indian Gaming Regulatory Act, federally recognized tribes are allowed to provide Class III gambling services and products including sports betting so long the state they reside permits such products.
Pearl River Casinos – Slots to play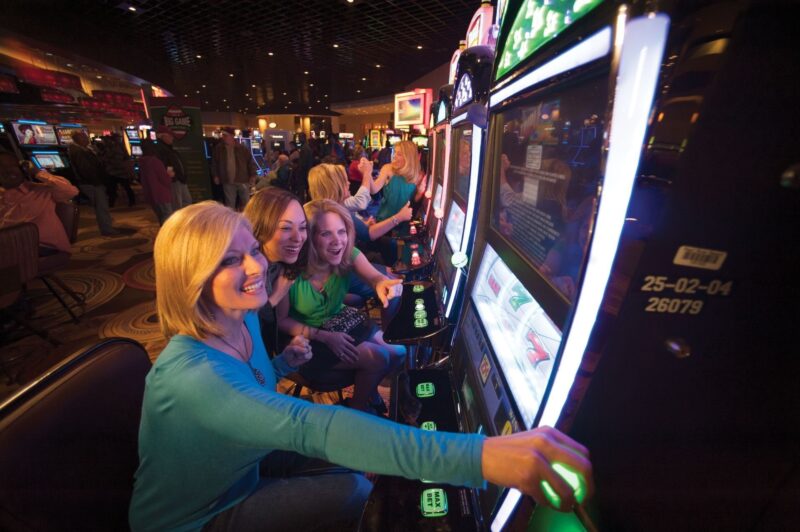 Silver Star Hotel and Casino offers gaming and a variety of activities for all guests. Silver Star features over 1,200 slot machines including reel and video slots, video poker and video Keno in addition to a high-denomination slot area, Silver Star provides guests with the ultimate gaming experience. The 90,000-square-foot casino floor also features 40 table games devoted to Craps, Blackjack, Roulette.
Golden Moon Hotel and Casino offers gaming and a variety of activities for all guests. Golden Moon features 1,150 slot machines, 25 table games, an elevated 14 table poker room, a stunning video wall, and a new center bar.
Bok Homa Casino, Located in Sandersville, MS, the 27,000-square-foot facility features over 700 slot machines, event center and a fabulous quick serve eatery.
Table Games at Casinos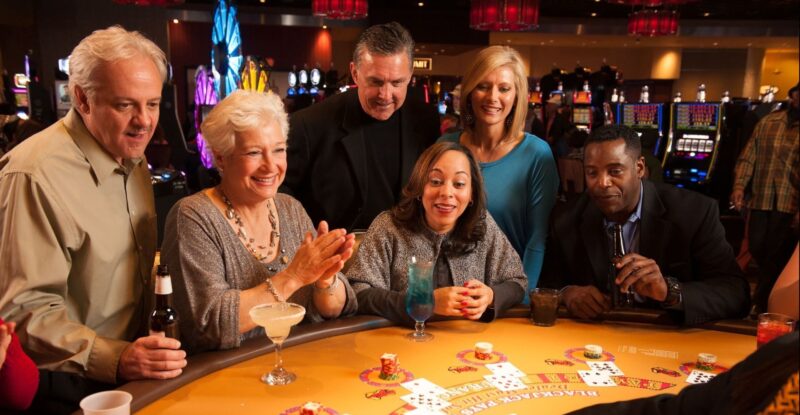 Pearl River Resort features a variety of exciting table games: Poker, Dice, Roulette, Blackjack and Mini-Baccarat.
1.Poker Room
The Pearl River Poker Room is located at the Golden Moon Casino in Philadelphia, Mississippi. This elevated 14 table poker room is open 24/7 and features ACTION-PACKED games including all the popular games such as Limit and No-Limit Hold'em, Omaha, and competitive tournaments.
2. Dice
Dice is an exciting, fast-action game that often creates bursts of cheers throughout the casino. Although the game may look difficult, this page will help any player understand the different bets that can be made on the dice table.
One player, the "shooter," throws the dice. All wagers must be placed before the shooter throws the dice. You don't have to roll the dice to win at this game. The dice are passed around the table and you may continue to bet while the other players roll. The types of wagers that can be made are: Pass Line, Don't Pass Line, Odds, Come Bets, Don't Come Bets, Place Bets, Field Bets, Proposition Bets, and Hard Ways
3. Roulette
A Roulette table layout might be the most complicated looking in the casino, but the game is actually one of the easiest to play. Play begins when the players have placed most of their bets by putting their chips on the numbered layout. The dealer spins the Roulette ball in the opposite direction of the spinning wheel. Bets may be placed until the dealer announces "no more bets." After the ball falls into a number on the wheel, the dealer places a marker on the winning number on the table layout and pays the winning bets.
4. BlackJack
Blackjack is a one-on-one game between the player and the dealer. The dealer distributes two cards to each player and two cards to himself, one face up. The object of the game is to draw cards that total 21 or as near to that as possible without going over (which is called a "bust"). Cards totaling more than 21 constitute an automatic losing hand.
Face cards count as 10. Aces can count as either 1 or 11. All other cards count as their face value. If you are dealt an ace and a ten-count card as your original hand, you have blackjack and will be paid at the rate of one-and-a-half to one. If the dealer also has blackjack, it's a standoff (or "push") and nobody wins or loses.
There are two types available at Pearl River Resort: Hand-Held Deck and Shoe Game
4. Mini-Baccarat
There are two ways to bet on Mini-Baccarat, the Player's Hands, or the Banker's Hand. Each hand is dealt two cards, the player's hand first, then the bankers. The highest hand in Mini-Baccarat is 9. In terms of determining the score, tens and face cards are worth zero, aces are worth one, and all other cards are worth their face value.
Pearl River Casinos – Sportsbook at Timeout Lounge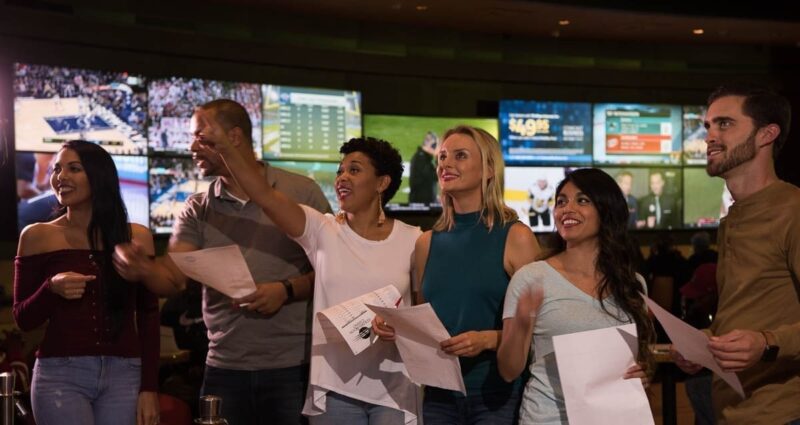 Located at Golden Moon Hotel & Casino, Sportsbook at Timeout Lounge offers traditional sports betting in which guests can bet on all professional league sports and major collegiate sporting events. Bet on your favorite teams and catch the game from the comfort of their beautiful, newly remodeled Timeout Lounge.
Sportsbook at Timeout Lounge features:
20 TVs with feeds to all the major sports networks
12 state-of-the-art odds/wager boards listing all the games and scores
3 wager stations to place in-person bets
Full bar with "Bar Juice" charging stations for tablets and phones
Traditional sports bar food and drinks available
PRR Sports App
Their PRRSPORTS App gives you even more ways to quickly and conveniently place sports bets. And that's not all! While you are watching your favorite team or sporting event, the PRRSPORTS App gives you access to LIVE IN-PLAY sports betting! You can place a variety of bets like traditional straight bets, parlays, teasers, round robins and more!
Per gaming regulations, mobile betting is limited to on premises at Pearl River Resort and Bok Homa Casino. All app users' account information and wager history is only available for viewing within the Continental United States.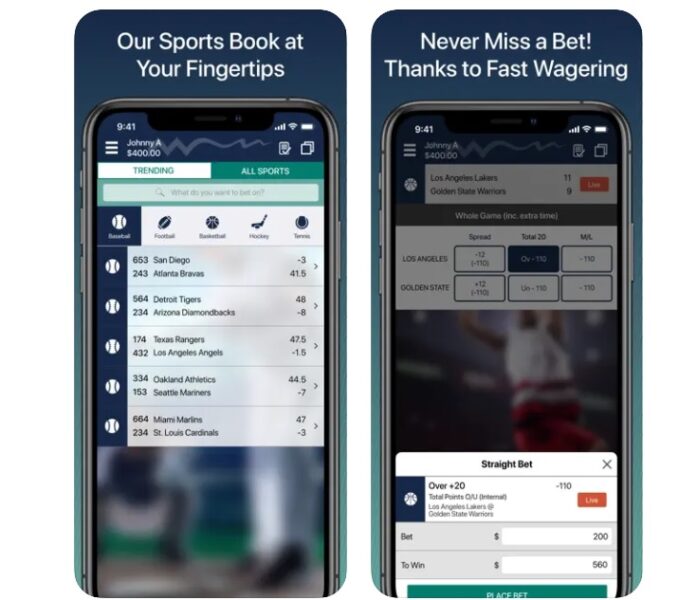 How it Works?
Bring your Rewards Club Card AND photo I.D. to the Players Club to sign up for a mobile app account. You must have a valid mobile phone number to receive your temporary PIN.
Download the PRRSPORTS app from your phone or mobile device at www.PRRSPORTS.com.
Open the PRRSPORTS app, enter your temporary PIN, and create your permanent PIN.
Fund your account with cash at Sportsbook or Player Services and start placing your bets! You can deposit or withdraw cash at the Sportsbook during normal operating hours at Golden Moon and Bok Homa Casinos and 24/7 at Player Services.
As already mentioned, Pearl River Resort has launched mobile betting on the property. Here mobile betting will also be available even off-property. Mississippi betting customers will only be able to place wagers via their mobile devices even if they are at the gambling property.