On an icy landmass, you can surely find some icy activities to pass the time and so you can never feel bored when you are on the icy landmass of Greenland. There are many activities that you can perform like heli-skiing, snowmobiling, bedazzling vistas, and many more sights and beautiful views.
1. Kayak to Incredible Icebergs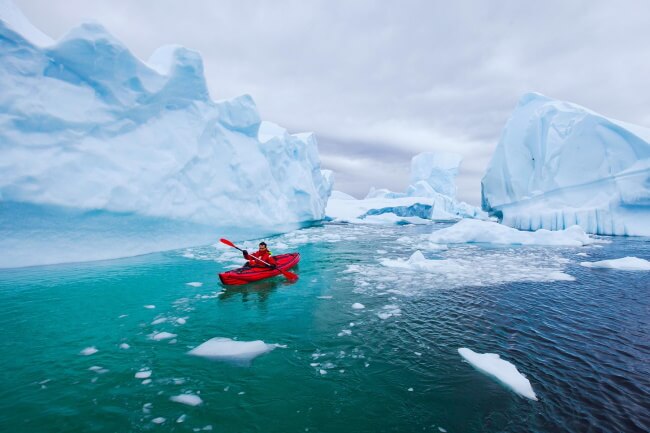 Kayak to Incredible Icebergs
Visit Greenland the largest island on Earth which is a part of Denmark practically but due to its vast area remaining in the Arctic Circle, it has its own identity and is completely covered in ice. There are many different activities you can perform during summer days like hiking and know about many diverse cultures. For the activities commencing during winters, you can dog sled, ice fish, and ski. One of the greatest world attraction over here is the Northern Lights. During the previous years, the number of Americans flying to the island has been increased to 30%.
2. Visit Art and Culture Museum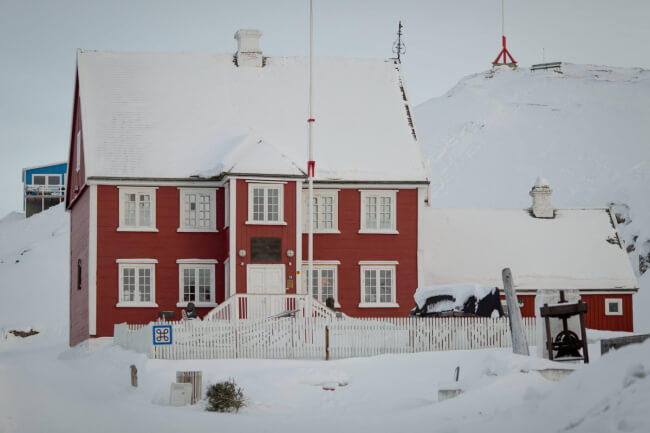 Visit Art and Culture Museum
Witness the sublime art of the Greenlanders in the Nuuk Art Museum where you can find around 300 paintings, drawings, prints, and watercolors. It also includes handicrafts such as carvings made out of bone, soapstone, wood, and ivory. These collections were found out at the end of the 20th century. There are some of the artworks that are inspired by myths and legends as well if you follow around the city. Home to the Greenland national museum and Archives, Nuuk is a cobblestone for the country's 4500-year history beginning from the Arctic Stone Age cultures.
3. Enjoy Snowmobile Shuttle in the Backcountry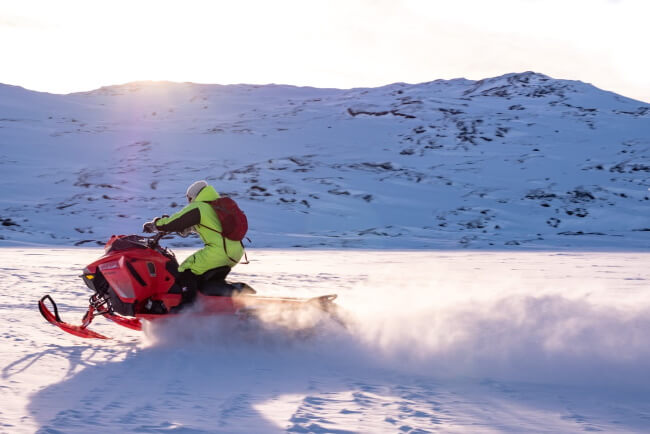 Enjoy Snowmobile Shuttle in the Backcountry[/caption]
Snowmobiles are part of the daily lives of the Greenlanders. It is used for daily transport such as riding to work and back and for fun as well. Crossing frozen lakes and glaciers and hunting and exploring the country are also other activities that can be counted related to the Snowmobiles. You can rent a Snowmobile or a snowmobile shuttle for multiple passengers in Sisimiut which is considered to be Greenland's second-largest town. Available from Sisimiut Snescooter, Uummannaq Seasafaris, Snowmobile tours and rentals are available for daily or tourist use.
4. Hike to Norse Ruins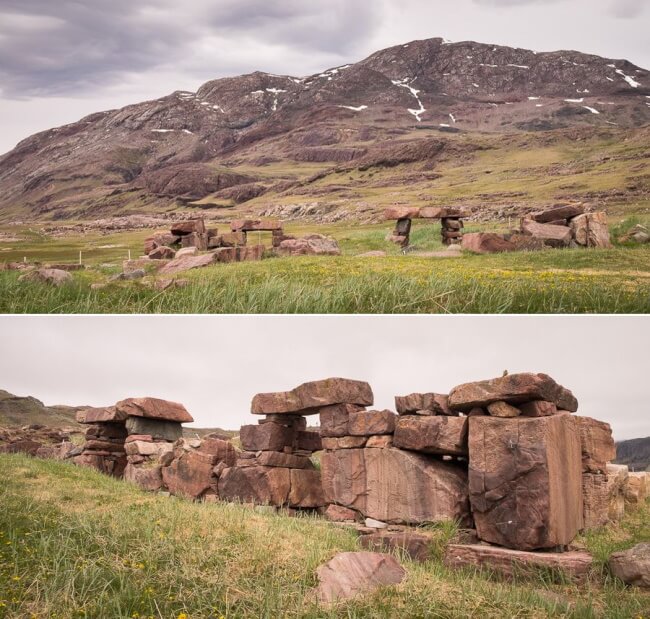 Hike to Norse Ruins
The settlement of Norsemen in South Greenland was before Columbus sailed. Religion also followed and Christianity became a milestone for the residents living there. The ruins of Hvalsey Church are the best historical heritage that is well preserved and built around the 1300s. The ruins are still home to many wildlife such as sheep that from time to time graze on the fields and the nearby town of Qaquortoq which is also the largest town in Greenland is of historical importance to the Norsemen. Other activities include kayaking, hiking, and quintessential youth scenes.
5. Watch the Northern Lights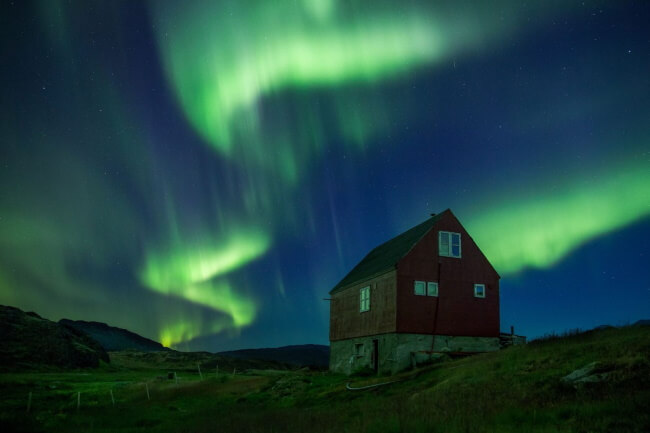 Watch the Northern Lights
The world-famous aurora borealis or the northern lights are visible in this region but can be seen only during the summer months. This phenomenon occurs due to the electromagnetism of the earth when it comes in contact with the solar wind. In other words, the sun brightens up the skies in colors other than blue. The ideal months to view the beautiful northern light are from October to March however you can also visit Greenland during the other months as well if you don't mind the northern lights.
6. Soak in a Hot Spring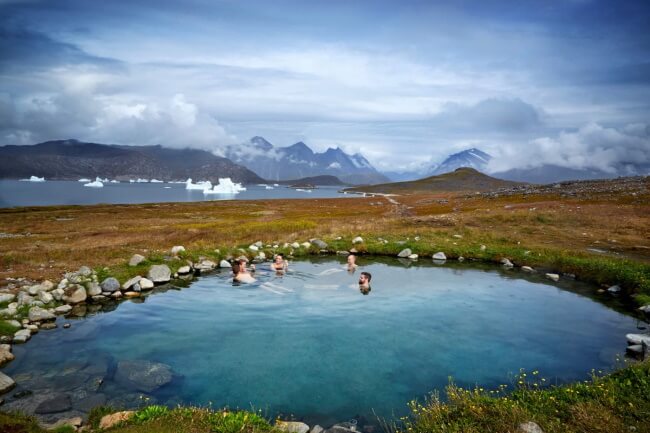 Soak in a Hot Spring
While your visit to Greenland you may find many geothermal hot springs but only the spring in Uunartoq gives you the best remedy for your overly stressful bodies while bathing in it. It is the only spring that has a constant temperature if 100.4 degrees fall year long. It gives you many tranquil vibes because of its perfect location between the grassy meadows and ice-capped mountains surrounding by all the sides. You can change into your bathing armor by taking a tour boat to the springs. These springs were used a lot by the Norse settlers thousand years ago.
7. Explore Activities in Tasiilaq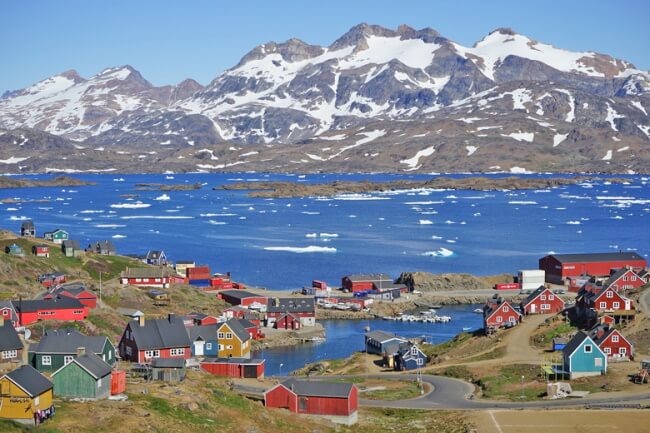 Explore Activities in Tasiilaq
Tasiilaq is the center hub in Greenland for activities like kayaking, hiking, whale watching or exploring an ice fjord named Sermilik. It is the largest town in Eastern Greenland. Signs of culture and heritage can also be seen when you are in the town and shopping for handicraft items like Greenlandic tupilaks. A belief in Grenland is that these carvings that are originally made out of wood, bones, stones or reindeer antlers would protect the owners from their enemies which for the tourists have now become a popular souvenir. However, be wary of the material as it can be exported or refused to export from there based on the material.
8. Sightsee and Shop in Oqaatsut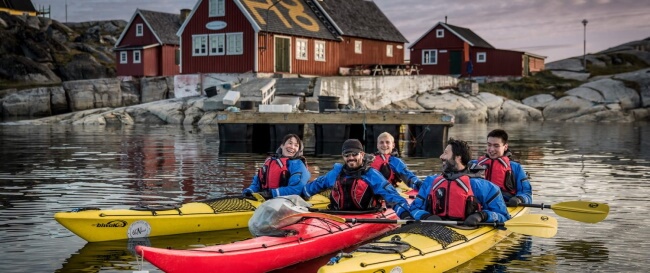 Sightsee and Shop in Oqaatsut
A vintage small settlement in North Greenland, Oqaatsut is a habitat to around 40 people who generally want to fish for halibut and sharks. Witness the Inuit culture and fish for different species of fish such as catfish, cod, and redfish on the Disko Bay. Book a tour or rather a boat to visit Ilulissat which is considered to be a UNESCO World Heritage site where you can see a fjord. There are also some intricate souvenirs available like ulus that are generally Alaskan knives. Made from muskox wool and sealskins buy some clothing. There is a restaurant available in Oqaatsut that dishes out exceptional shrimp, salmon, roe, and various other delicacies.
9. Watch Humpback Whales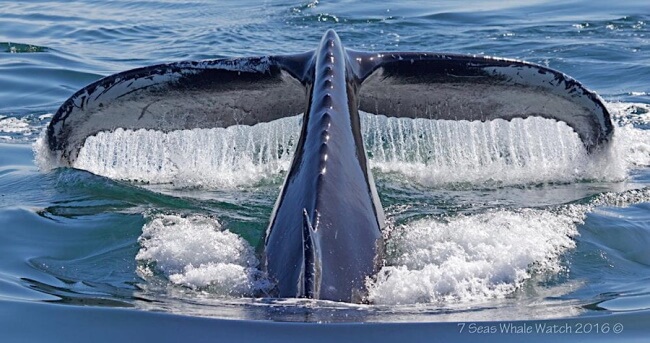 Watch Humpback Whales
Watching Humpback Whales might sound boring but when you are experiencing it, then it becomes truly fascinating. Hike along the coast to experience the spectacle by booking a whale safari with a tour operator. There are about fifteen whale species that pass through the Greenland waters and it is a marvelous sight to see. For a better experience visit the coast during summers to catch the sights of minkes, humpbacks, and fin whales as well. If lady luck is on your side you might even encounter a blue whale which is considered to be the largest living mammal on the face of the earth. You are given the liberty to take photos while watching these creatures so make sure to share them with the Greenland Institute of Natural Resources so that mankind can learn more and more about these vibrant and diverse creatures.
10. Explore Ilulissat and Nuuk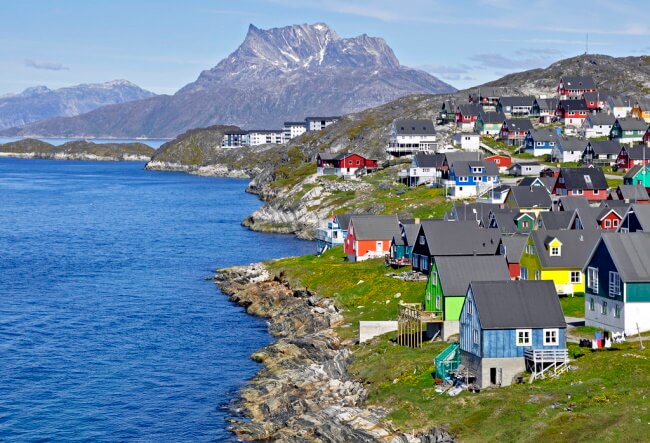 Explore Ilulissat and Nuuk
Numerous Greenland trips are available or rather made available by Intrepid Travels. The trips offered by Intrepid Travels start from Ilulissat and finish off in Nuuk which is the country's capital. It is a sight for the sore eyes where you can snap photos of multi-colored horses running along with the waterfront restaurants. The events taking place during the trip re a kaffemik which means a random get together at a resident's house where you can eat sweets and sip coffee. Other options include whale watching, a boat trip to the hunting village of Kapisillit.
11. Ride With a Musher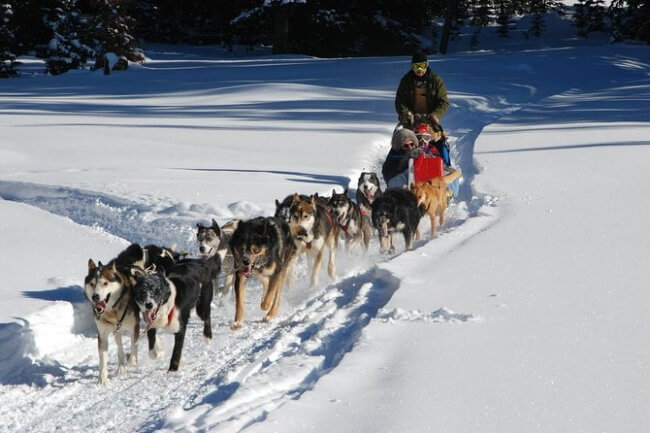 Ride With a Musher
Dog sledging is one of the daily chores that liven up the Greenlanders' life. Imagine going to work or traveling from one point to another on a sleigh pulled by dogs. Wouldn't that make the cutest thing you will ever experience? The Inuits over here have trained dogs for regular transportation and hunting. This has been ongoing since 5000 years ago. Nowadays the tourists get impressed by their valor and amazing energy which is a win-win for the Inuits. Sledding in Greenland can be found to the north of the Arctic Circle on the west coast. The best time of the year to experience dog-sledding is between Februarys to April with Greenland Tours.
Synopsis
If you ever plan to visit Greenland, there are plenty of things and ways to entertain yourself! Better to add the above-listed things in your bucket list to do while planning to pay a visit to this amazing island and the largest in the world.