Seattle is known to deliver countless riches to its visitors. Natural beauty is one of them that is simply unbeatable.
While in Seattle, you will find sufficient outdoor activity options including exploring or exercising in urban parks like Discovery Park, Gas Works, Green Lake, and many others, or simply enjoying a picnic, soaking up so many sensational views. You may also visit cultural hotspots that could include Olympic Sculpture Park and Woodland Park Zoo, which are located north of the city and you can kill two birds with one stone.
Apart from this, you can venture a bit outside of town if you have a car or can also enjoy awe-worthy sites from Mount Rainier and Mt. Baker to Olympic National Park, which is known for their impressive range of terrain from exquisite coastline to glaciated lakes.
Here, I have rounded up top 10 things that you must do in Seattle:
Perfectly placed for adventure on the ocean due to its Mediterranean climate, Seattle has some of the highest mountains in the Lower 48. Located around the Pacific Ring of Fire, on the Pacific Ocean's Puget Sound, the port city is home to summits like Mount Rainier with an elevation of 14,411 ft. located two hours south of Seattle. Due to its appropriate and suitable topography and climate, Seattle port makes the nation's one of the most adventurous places for outdoor adventure. Below are some of the picturesque recommendations from us to you for a pleasant viewing experience.
1. Summit Mount Si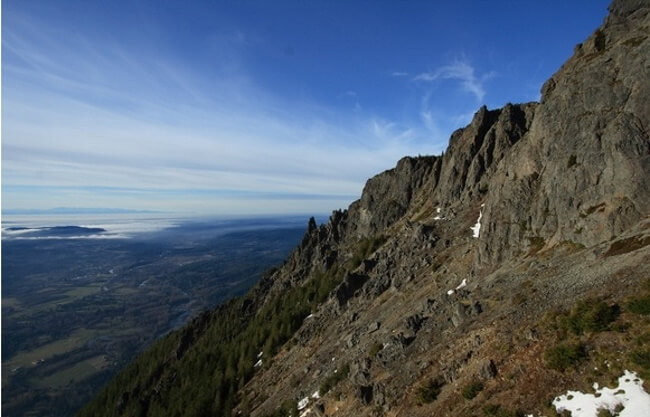 Summit Mount Si
Famous for its hiking and views from the summit, Mount Si is located 32 miles east of Seattle via Interstate 90. The *-mile round trip hike gains about 3150 feet of elevation, with a maximum of 3900 feet. It is home to many wildlife such as mountain goats. From the Summit views like the Snoqualmie Valley, the Olympic Range and Seattle can be observed. Famous for its hiking destination it is said that if you can hike at Mount Si within two hours, you can take it easy on Mount Rainier.
2. Paraglide from Poo Poo Point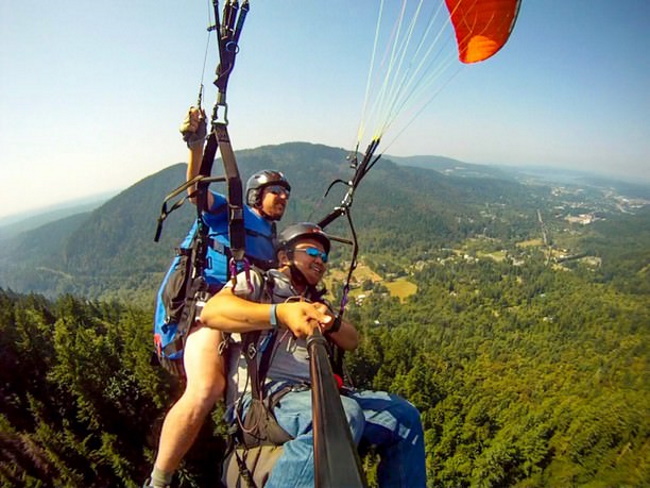 Paraglide from Poo Poo Point
Dive from the famous Poo Poo Point located above the Tiger Mountain and soar as high as an eagle attached to a paragliding professional. You can view the picturesque scene of Mount Rainier, Seattle, and the Puget Sound as you glide above them thousands of feet in the air. Seattle Paragliding is located 20 minutes east of Seattle and it makes the experience safe and secure. The paragliding adventure makes up for one of the most incredible experiences you can experience in Seattle.
3. Kayak With Orcas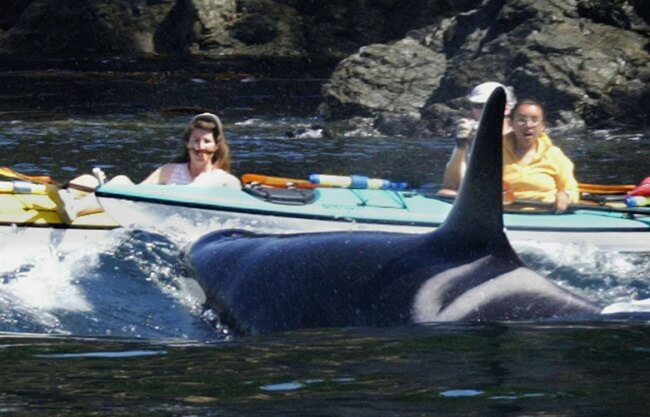 Kayak With Orcas
Near the San Juan Islands, you can find marine life such as orcas, killer whales, sea pandas, etc that give the kayakers absolute thrills on their adventure kayaking. Companies like Sea Quest Expeditions, San Juan outfitters and Crystal Seas Kayaking will get you closer to these intelligent cetaceans. Alki Kayak Tours offers you some of the most bamboozling views of Seattle's skyline through the water.
4. Skywalk on the Space Needle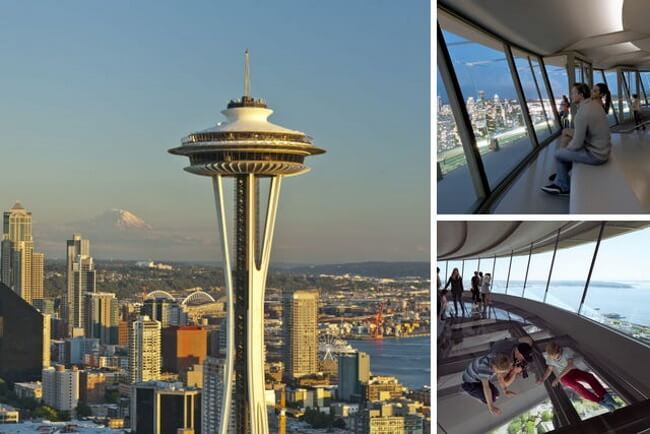 Skywalk on the Space Needle
Seattle's iconic Space Needle recently underwent renovations that include clear observation of the Skywalk on the Space Needle in Seattle is the world's only revolving glass floor-through which you can enjoy a breath-taking and a stunning view of 520 feet in the air. The total height of the tower is 605 feet. Of course for a much greater experience, you can walk on the perimeter of the Halo Walk which brings you lots of fresh air and vertigos. It is a surreal experience with your adrenaline rushing. This attraction is only available to those who participate in the annual Base 2 Space Seattle fundraiser organized for the Fred Hutchinson Cancer Research Centre
5. Climb Mount Rainier
Climb Mount Rainier
The fifth highest mountain in the lower 40 states and the highest in the Cascades, Mount Rainier is touching the sky at 14,411 feet. It generally is not a mountain rather a volcano but covered with glaciers around hence it is an extinct volcano. Mount Rainier can be found 59 miles south of Seattle in Mount Rainier National Park. The local Salishan-speaking people around call Mount Rainier, Tahoma. A lot of hiking, climbing, and other activities are done here but you are always welcome to climb the mountain and reach the top. Guides are available for your help namely Dave Hahn, and Zeb Blais.
6. Skydive Above the Cascades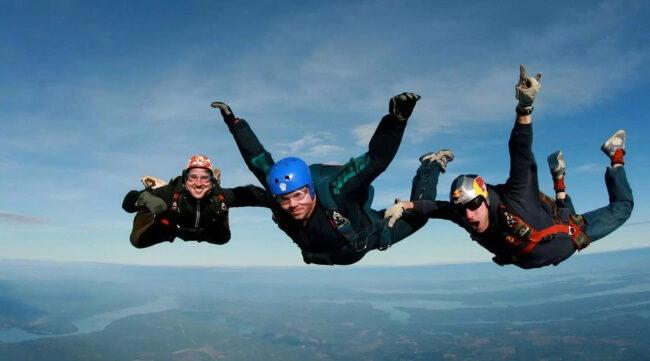 Skydive Above the Cascades
For a speedrun version of climbing the Cascades, you can always consult Skydive Snohomish that will help you drop yourself from 12000 feet from the sky through the airplane which is an hour north of Seattle. They will explain to you all the basic mechanics of skydiving even if you are an expert. But fear not if you don't believe in yourself because the professional skydivers will jump with you while attached to you through your parachute and get you safely to the ground so that you can rest easy and enjoy the exhilarating view of the Cascades from 12000 feet in the air.
7. Hike the Pacific Crest Trail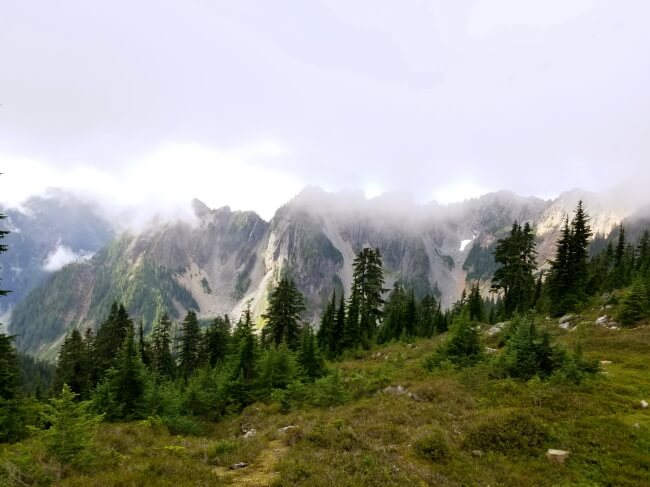 Hike the Pacific Crest Trail
Stretching from California to British Columbia in Canada, the Pacific Crest Trail is about 2600 miles where in between you can see stupefying views of North Cascades National park, Glacier Peak Wilderness, Mount Rainier National Park, Alpine Lake Wilderness, Mount Adams, and Goat Rocks Wilderness. You will also be able to see the natural vegetation and wildlife passing through the Kendall Katwalk area which is an hour east of Seattle. You can reach there by picking the Interstate 90 route which passes through mountains and meadows of the area.  It is considered as a PCT section. However, you don't need to hike the entire PCT section in Washington. Even some of the sections will give you an innate idea of how the topography and setting of the area is.
8. Coast the Cascades or Hit the Backcountry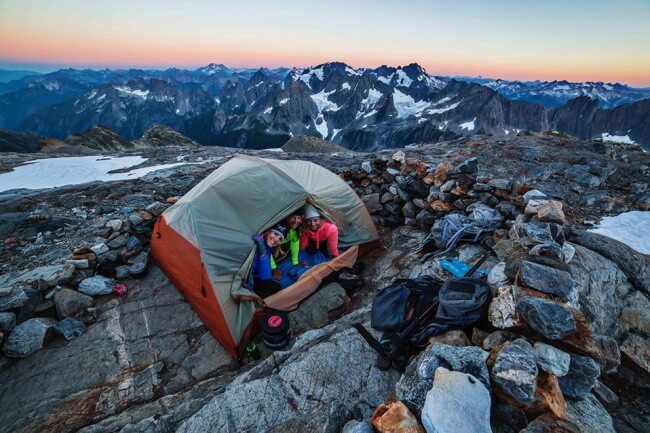 Coast the Cascades or Hit the Backcountry
Skiing is also available in Washington. It constitutes of steep mountains and appropriate powder for skiing. Located in the leeward side of Mount Rainier, Ski areas and resorts such as Crystal Mountain Resort are located. There are also terrains and slopes available for skiers and riders. Guide services are available so that whenever you feel like rethinking on the decision as to do you want to be somewhere else they can always guide you back to the backcountry. For example, the guide services in the North Cascades Mountain Guides will take you for wild adventurous trips and thrilling ascents and descents.
9. Go With the Flow Trail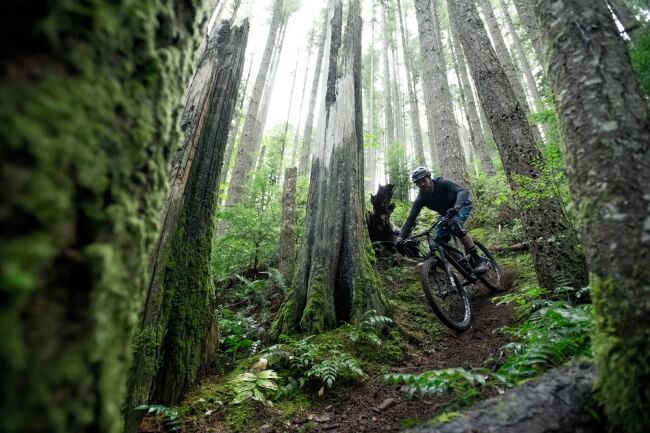 Go With the Flow Trail
Seattle also offers mountain bikers a chance to showcase their talents and let them enjoy themselves and the mountain at their fullest. It is situated just outside of Seattle.  Other attractions include the forests at Duthie Hill Mountain Park, Grand Ridge near Issaquah, Tolt Macdonald Park near Carnation, and Soaring Eagle Park near Sammamish. Unique features are developed through the forests. Bikes with trails such as green beginner to double-black experts are available. The Evergreen Mountain Bike Alliance gives you more information than anything else on the internet.
10. Explore Mount Saint Helens' Lava Tubes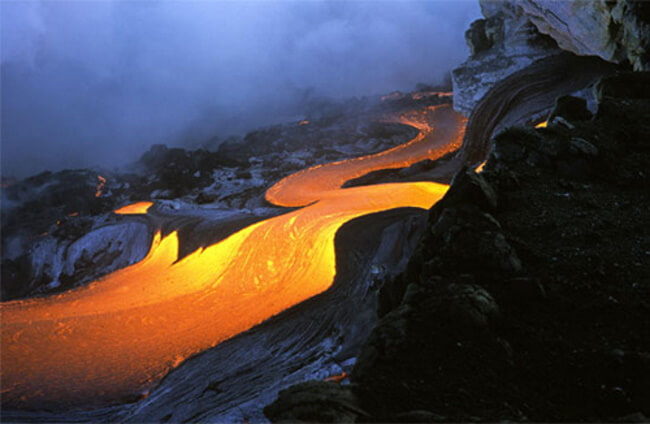 Explore Mount Saint Helens' Lava Tubes
Famous due to its catastrophic destruction in the '80s, Mount St. Helens is located 96 miles south of Seattle. The present-day situation of Mount St. Helens is that a serene national park has been built around the stratovolcano has to offer more than 200 miles of hiking and backpacking. The research done by Johnston Ridge Observatory states the natural and human history linked with the volcano and mountain climbing to the volcano's crater rim at a height of 8365 feet is allowed only with a permit. Lava tubes are available as well below the surface of Mount St. Helens. The third longest lava tube in North America is called Ape Cave which is 13042 feet in length. It is formed due to the relentless flow of lava-like underground rivers which is responsible for the formation of hardened basalt leaving massive trails of it. It is nature's creation which is tempting to watch but make sure to bring two to three light sources per person.
Synopsis
So, are you planning your next trip to Seattle? Better not to miss checking out these adventurous trips and sight-seeing places to make the best of your trip.