Trailer parks once used to be for those who lead a desultory and a deleterious lifestyle. But nowadays, anyone can live in these "house on wheels" gimmick of a roof. All you require is a purpose to stay in these trailer parks because they are cheap and affordable than a regular house. Below are some of the low budget Retro-chic Trailer Park Resorts that you can book mostly in California:
1. Paradise Shores Camp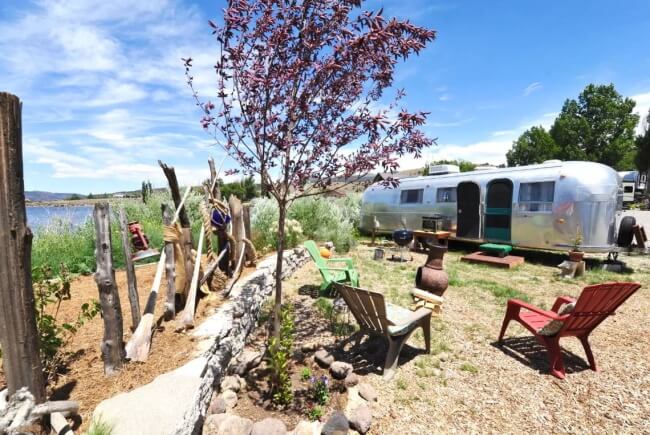 Paradise Shores Camp
Paradise Shores Camp provides you with the best of what nature has to offer to you. Located in the Eastern Sierra region of California, Paradise Shores Camp is surrounded by mountains, lakes, and meadows that you can sight during the day. While at night you can enjoy the company of a cozy down comforter atop yourself. Bookings are available for all the seven trailers and each of them comes with accessories such as queen-sized bed, pull-out sofa, and a kitchen as well. So if you ever feel the need to disconnect from the regular world, you can always escape to the Paradise Shores Camp where there are no cell phones around to give you the most natural feeling of living.
2. AutoCamp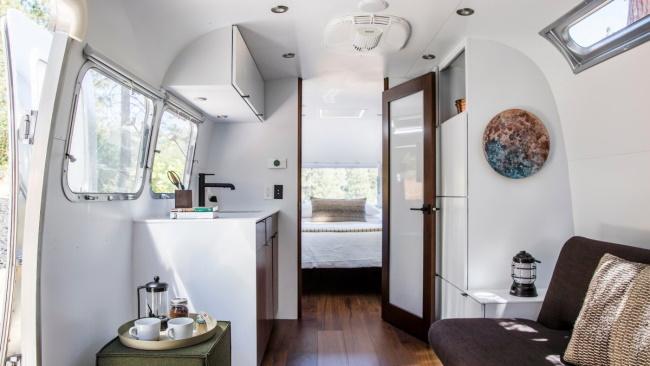 AutoCamp
AutoCamp in California boasts about its "modern Airstream camping" for those who are eager enough to live amongst nature which in this case comes without the tents and sleeping bags. AutoCamp is like an adventurous trip that has been simplified. Located near Santa Barbara, Sonoma County, and Yosemite National Park, at AutoCamp is one of California's most sought-after destinations. You can taste wine in Sonoma, hike Half Dome, surf California's Central Coast and enjoy relaxing at AutoCamp in the evening.
These camps are a seamless fusion of thoughtful design and surrounded by a beautiful location. Here you will find custom-designed Airstream Suites and Luxury Tents and you can select any of it to stay.
It is just like in the legendary Airstream trailers where pillow-top mattresses, Malin+Goetz bath, spa bathrobes, and flat-screen TVs are available. AutoCamp provides you with the best of the locations that you desire whether it be close to the beach or rather in a grove of redwoods. The range of this resort is in Santa Barbara along the Russian River in NorCal.
3. Kate's Lazy Desert Airstream Motel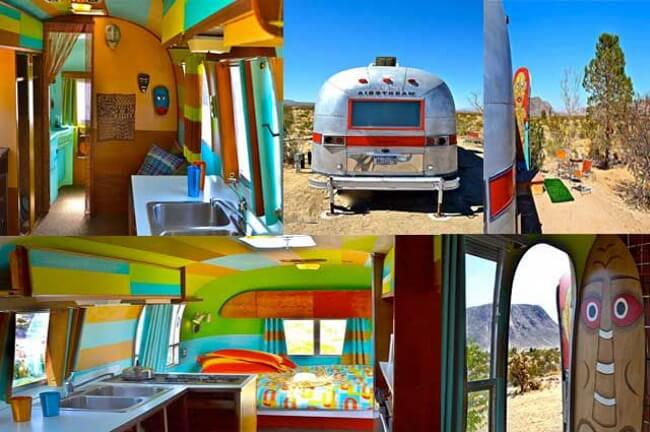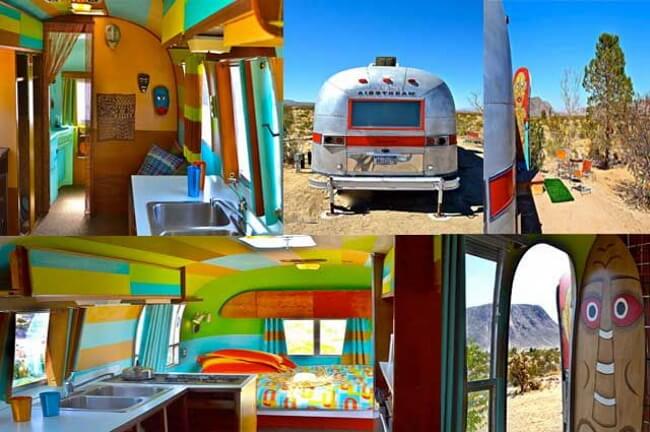 Kate's Lazy Desert Airstream Motel
Look out for Kate's Lazy Desert Airstream Motel where you experience something more than a love hotel. It is co-owned by Kate Pierson of the B-52s. close by to the Joshua Tree National Park in California, Kate's Lazy Desert Airstream Motel has about six classic Airstream trailers that have been colored by artists to give it a suitable look for being a part of the Mojave Desert.
4. El Cosmico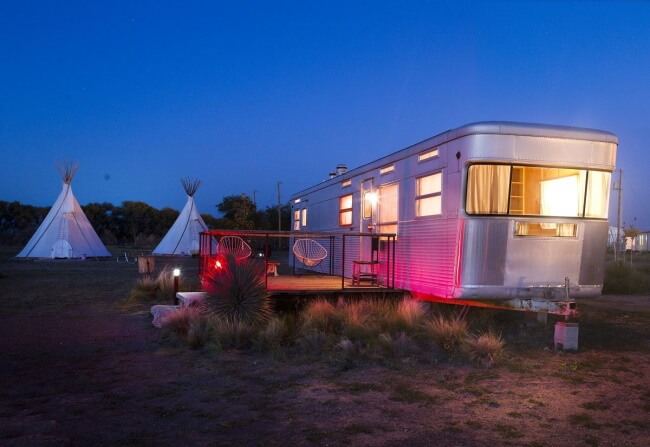 El Cosmico
El Cosmico offers you multi-colored trailers with vintage appearances. It is located in Marfa, Texas which is about 21 acres in the land. Here you can also find yurts, tepees, safari tents, cosmic kasita. It is the ideal spot for relaxing and loitering around during the day. The Hammock Grove provides you with the same kind of experience on a striped hammock. To explore the area more and more you can rent a bike and explore the area that boasts about its safari-style tents, teepees, and yurts.  You can have an idle chat with the neighbors as well in the public outdoor kitchen. Wi-Fi is also available for the guests. Apart from these amenities you also get to have hammock grove, bike rental, wood fire Dutch hot tubs and lobby house and Provision Co. Store.  
5. Hicksville Trailer Palace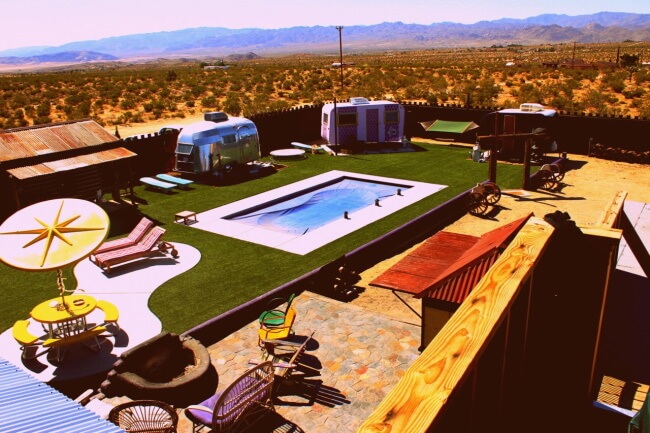 Hicksville Trailer Palace
There are nine rental trailers available at the Hicksville Trailer Palace in Joshua Tree, California, which are the quintessential alien-themed Integratrailor consisting of a small cabin as well called the Project Z. it is a thrilling experience for those who want to ride out the Zombie Apocalypse which is available for the rent all year. Unless you book a trailer you can't check out of the place and dogs are allowed inside where there is also a vending machine filled with beer. It can be considered as one of the eclectic experiences one can witness.
6. Shooting Star RV Resort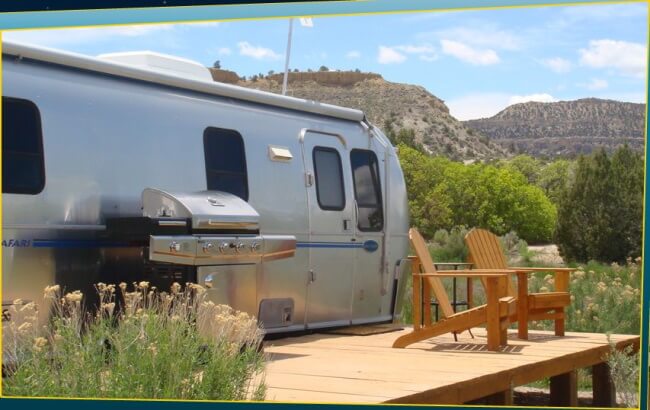 Shooting Star RV Resort
Formerly a drive-in theatre from 1960s, the Shooting Star RV Resort in Utah gives you the time of your life while living here. It is close to the Bryce Canyon National park and Kodachrome Basin State Park. You can reserve one of 1960s classic cars to sit and enjoy the movie or you can also bring your blanket. This resort is a great place for a college reunion, family reunion or motorcycle rallies, or even bachelorette parties. The Shooting Star RV Resort is the ideal spot for vintage travelers who like to live in nostalgia. Witness the magnificence of any one of the eight refurbished Airstream trailers wherein all of them are decorated exactly like the trailer of a movie star while he/she is shooting a movie.
7. Hotel Luna Mystica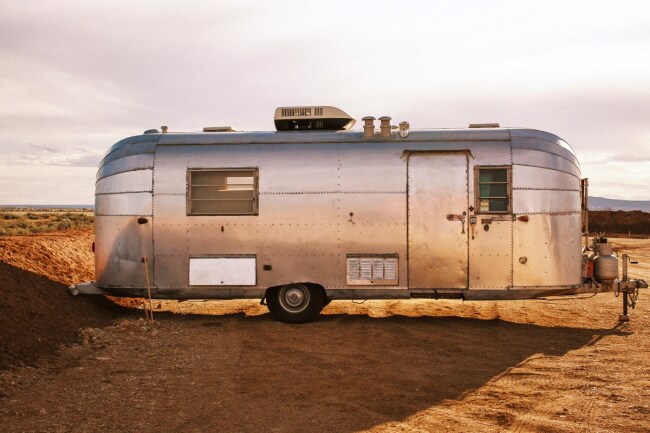 Hotel Luna Mystica
Hotel Luna Mystica is spread on the land of Taos in New Mexico for about 12+ acres. With about 10 refurbed campers, the architecture and interior design of the campers are just ideally classy and alluring. There are also other amenities such as comfy bedding, luxury bath systems, and the ambiance is appropriate for a vintage New Mexico sunset. The coolest part about this resort is that each trailer has a name of its own comprising from "Dennis" which is a studio-based 1969 model to "Soy Captain" a two-bedroom Imperial Mansion.
8. Caravan Outpost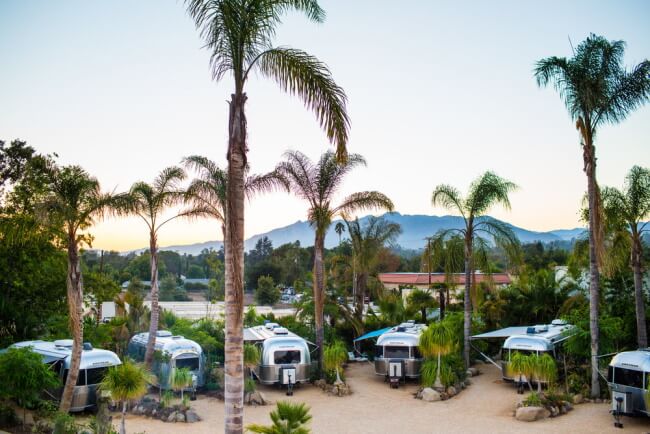 Caravan Outpost
At the Caravan Outpost located in Ojai, California you can stay in one of the 11 silver Airstream trailers. Loiter around the tropical flowers that glamourize the grounds or chill in a colorful hammock under a shading palm. You can also visit the nearby wineries that are about 30 minutes from Ojai. You can also spend the day at the beach. While you are back to your Airstream in the evening you can still explore other people's communal desires around the campfire.
9. Flying Flags RV Resort & Campground
Flying Flags RV Resort & Campground
The retro-chic trailer resort of your dreams, the Flying Flags RV Resort and Campground are situated inland of the Santa Ynez Wine Valley in Buellton, California. You can witness a line of decorative Airstream trailers. With amenities like a flat-screen TV. Coffee makers and microwaves and other features that consist of the playground, pool cabana, fitness center, off-leash dog-park and also a pool for the children. There is also complimentary DVDs and Wi-Fi as well for rentals. A wine bar and a restaurant called the Campfire Café is also available at your service.
10. JuneBug Retro Resort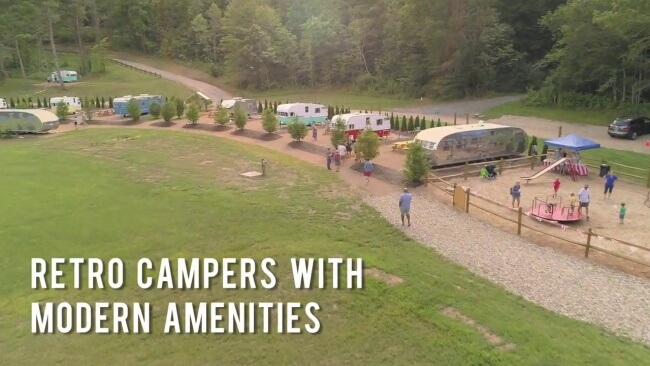 JuneBug Retro Resort
JuneBug Retro Resort is an exciting lodging choice for those who are camper fanatics i.e., those who want to live by themselves and stay in a camper provided with a kitchen. The JuneBug Retro Resort is located in downtown Asheville, North Carolina. But most people here visit due to the delicacy of the food being served upfront here because it is world-class. There are up to five refurbed trailers and around the area, a children's playground is also available. Unfortunately, pets are not allowed however you can rent out the entire resort and fit up to 32 guests for a weekend wedding plan.
11. Camp LeConte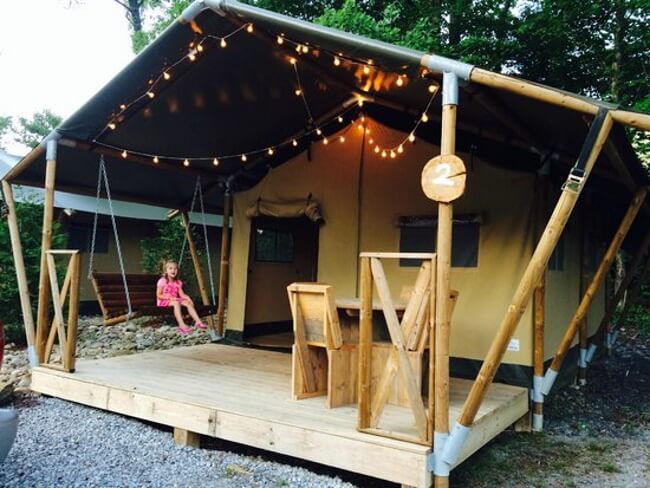 Camp LeConte
An over the top experience at the Camp LeConte in Gatlinburg, Tennessee gives you the time of your life while living here. The booking package includes dinettes that convert into beds, microwaves, and charcoal grills as well. The interiors are done in seafoam green or barn red. There is also a pool in the area where you can splash and cannonball all day. For shopping, you can visit Ripley's Aquarium of the Smokies. Even if you are not a fan of retro camping, you can always book a stay in a safari tent or a luxurious treehouse.