Mexico City is a great place for food lovers. You can get to enjoy from street food eaten standing up, to an amazing 11-course meal with a dessert that is prepared by the talented French chef Sylvain Desbois at the St. Regis.
Food in Mexico City is a farm-to-table concept, defined by fresh spices and unexpected fusion of ingredients.
Mexico is also has a vibrant craft beer scene. You will get to sample a small selection from more than 17 Mexican-made beers on offer at the St. Regis. Here, you will also find some interesting fusions of traditional food and new techniques, from cocktails to the cousins and the same kind of sophisticated food that you will find in New York, Paris or Rome.
Here I have rounded up top 7 things you must eat and drink in Mexico City:
1. Turkey torta at Tortas Tortas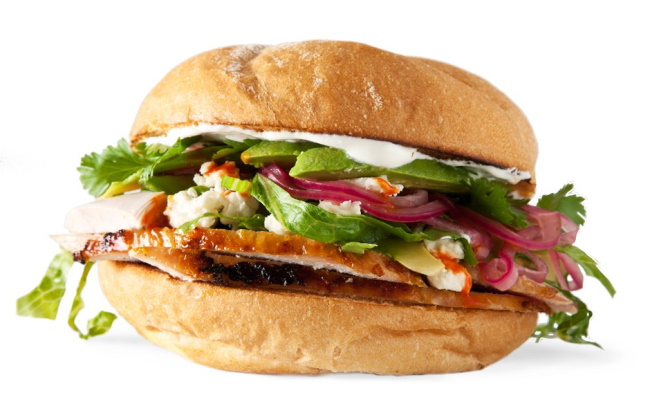 Turkey torta at Tortas Tortas
You will find the incredible turkey tortas as the street food stand Tortas Tortas operated by Luis "Luigi" Buenrostro come topped with avocado and homemade chipotle salsa. You can eat this like all great street food, order the food and right then and there, salsa dripping down your arm. You might also get plastic benches to perch on if you want to savor this local delicacy with some dignity.
2. Carrot salsa at Fonda Mayora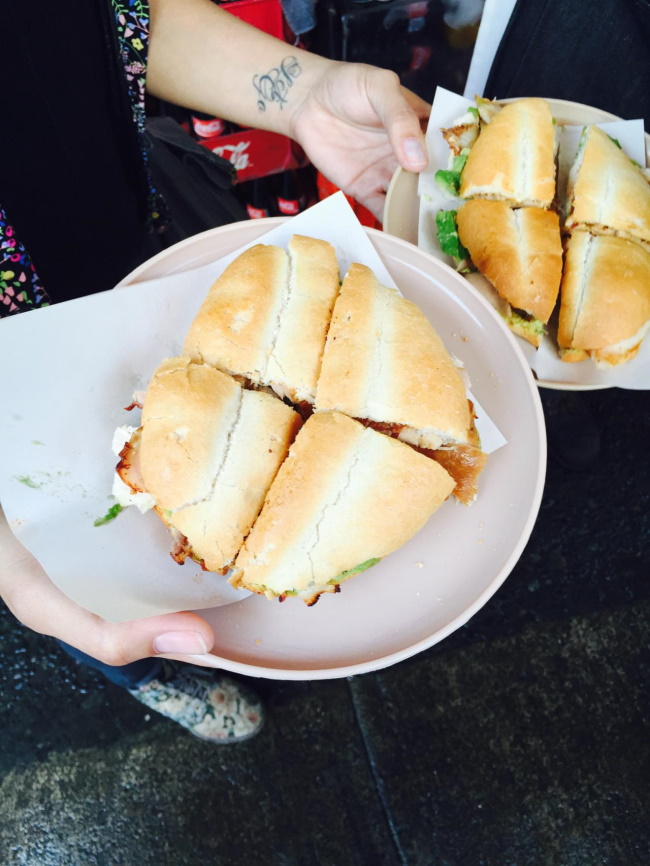 Carrot salsa at Fonda Mayora
Fonda Mayora in the hipster-thick Condesa neighborhood is the best Saturday afternoon food juncture for people and dog-watching and also a little sidewalk shopping too. As the vendors offer up everything from rugs to local honey while you eat.
Mexico City residents conventionally eat out with family on Saturdays and you can get a great taste of the city and its people at this exceptional restaurant. Food is very satisfying, like high-concept interesting food. Chef Gerardo Vazquez Lugo is of the popular architect turned "cook" and all his food, from the tableside guacamole to a hot deeply refreshing drink of hibiscus is exceptional. Here you will find his fresh, spicy salsa prepared from shredded carrots, onion, chipotle pepper, garlic, and tomato; a great punch of flavor. If you are fond of restaurants that bring the spice, then you will love this forward-thinking restaurant.
3. Avocado pizza at the St. Regis, Mexico City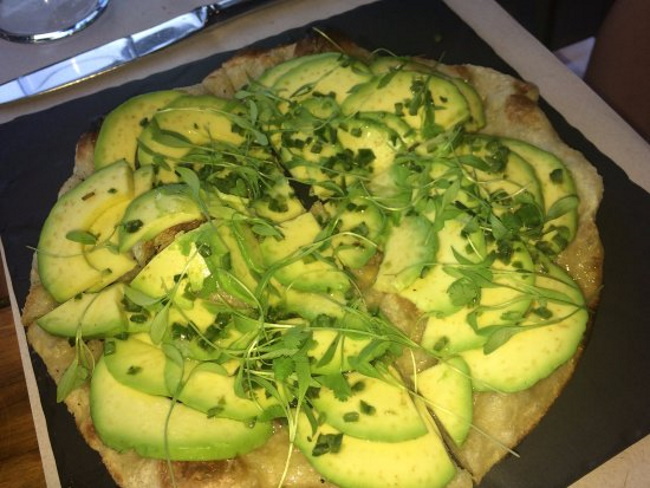 Avocado pizza at the St. Regis, Mexico City
It could be something very simple for you – and avocado pizza with thin slices of Mexico's favorite fruit layered like rose petals, cooked on a thin pizza crust, topped with a drizzle of olive oil and a splash of serrano chili and a mist of lime. This pizza is prepared with native ingredients without too much fancy addition. Chef de Cuisine at J&G Grill Mexico City Olivier Deboise Mendez is yet another kind of fancy hotel snack and international comfort food you want as you while sipping a ginger margarita and watch the world go by. You can get an encapsulating mix of a touch of the exotic that exhaust visitors sometimes yearn for after a long day of adventure and street food.
4. Escamoles para taquear at Los Danzantes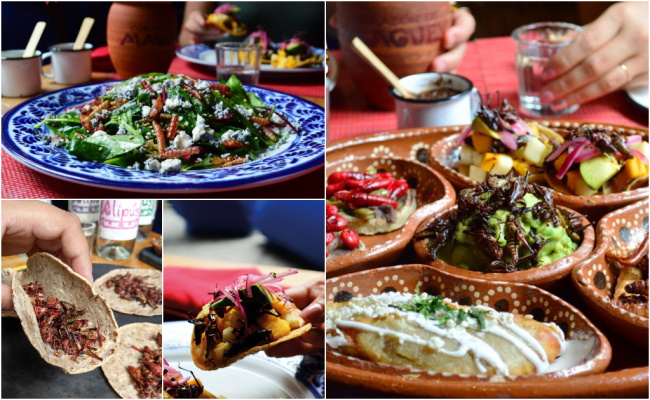 Escamoles para taquear at Los Danzantes
Mexicans eat different varieties of dishes, as an add-in to guacamole, a taco filling, a coffee-like puree splashed on dishes. If you're not comfortable eating bugs, and the idea of a crispy grasshopper is just peeking out of your taco, you can try the giant ant eggs on the menu at the convivial at buzzing Coyoacan neighborhood restaurant Los Danzantes. This spot stocks a wide range of mezcals to sample but you can also ask for crunchy, buttery, corn-like ant eggs. This insect caviar is a delicacy by the Aztecs and also a well-suited to the needs of a changing planet welcoming new forms of protein.
5. Mushrooms at Amaya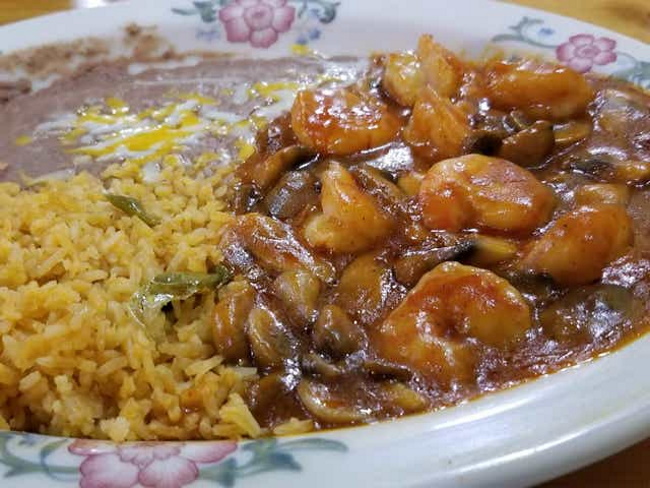 Mushrooms at Amaya
Most of the Sourther-born chefs in Atlanta are a fan of the pig including the chef Chef Jair Téllez. You can find pig's ears and other swine delicacies included on the menu. But you can also find some simple ingredients, offering a rustic, pared-back preparation to display their true flavor and beauty to shine through. The same is the case with a gorgeous bowl of mushrooms Téllez served at a preview of his new restaurant. The dish's natural flavors were the best complement to the bracing mezcal Téllez that is there to accompany.
6. Mole at Pujol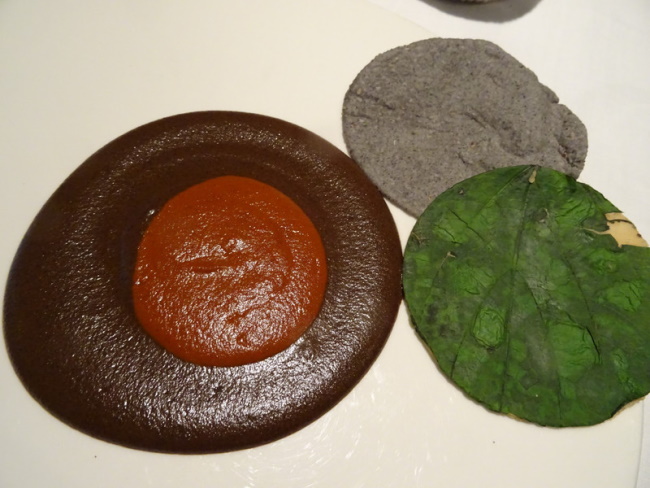 Mole at Pujol
At Pujol, celebrity chef Enrique Olvera's romantic hot spot is named to San Pellegrino's World's 50 Best Restaurants List. The service of this restaurant is amazing, the staff is friendly and incredibly knowledgeable and the dark, velvet-encased atmosphere undeniably cozy. Olvera's food is quite interesting but the flavors are never presented by the fussy presentation. You will be served with street foods including baby corn on skewers served from a hollowed-out gourd so that you can gather around the dish like a warming campfire.
Here you will also get to experience a hyper-conceptual pre-dessert offering of two moles, a "baby" mole nuevo and a "mother" mole Madre arranged like a bull's eye on the plate, with the dark brown mother placed close to the nutty brown baby. Not that sweet, it's the perfect signature presentation of the restaurant singular six-course feast.
7. Blue corn Tlacoyos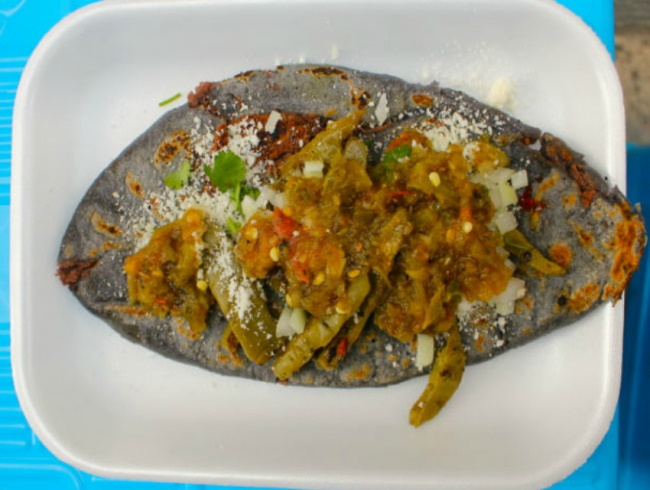 Blue corn Tlacoyos
You will often see Blue corn tlacoyos in the street food in Mexico City and some restaurants also. This is a gorgeous, flavorful spin on the traditional tortilla and it is made from ground blue corn. It is a part of Mexico's pre-Hispanic food traditions where the diamond-shaped blue corn tlacoyo is cooked on a small metal griddle. It often holds a mash of fava beans and cactus salad and cheese. Its magical taste and color transport this dish to another place entirely.
8. Esquites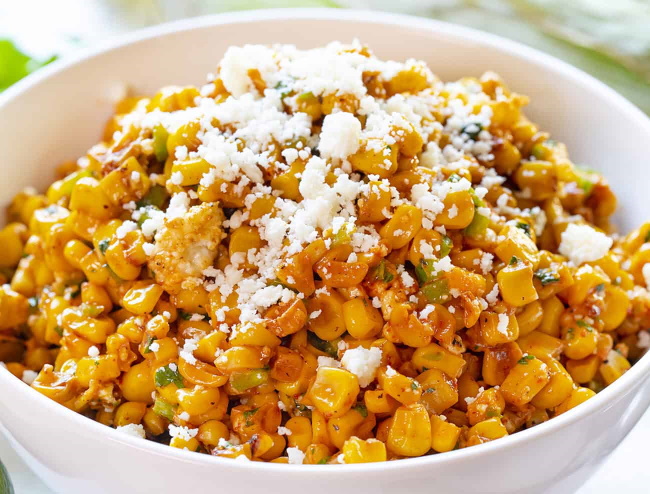 Esquites
In Mexico, many street vendors along Mexico City's Paseo de la Reforma prepare this transportable snack served in a cup layering roasted corn, cheese, mayonnaise, cheese, hot pepper and lime and all to the top. Do not miss out to try this. You must try out once esquites here. These are toasted corn salad usually made from mature corn.
9. Rajas con crema at Roldan 37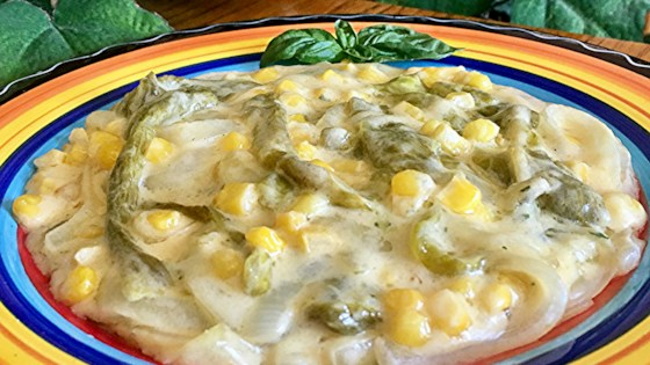 Rajas con crema at Roldan 37
You should also visit the restaurant Roldan 37 and try out its Rajas Con Crema. It is located in the chaotic, must-see Merced Market, a food hall and grocery shopping destination. You will also find endless varieties of mole and a food stall crowned with some pseudo golden arches serving tacos topped with a heaping helping of French fries.
At Roldan 37 you can escape from the melee and relax sipping a cocktail and having a snack. Here you will find pictures of Jesus and the last supper that will set a tranquil tone. The second floor has small balconies and floor to ceiling windows flung open to catch the breeze which is a cool and otherworldly experience. You will be carried away by the rajas con crema having chunky strips of poblano pepper with cheese, rich cream, and onion. There is a small hole-in-the-wall Mexican restaurant situated inside a grocery store in my Atlanta neighborhood that offers its rajas con crema and it is awesome to experience this familiar dish abroad.
10. Churros dipped in chocolate at El Moro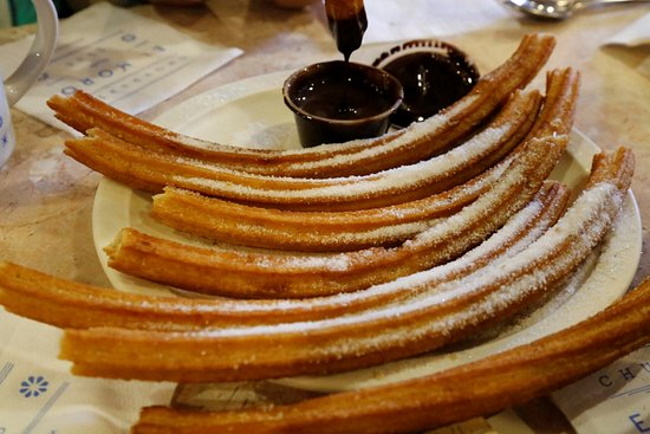 Churros dipped in chocolate at El Moro
Mexico City has an old school coffee shop El Moro which features adorable waitresses in peacock-blue uniforms and crisp white aprons and it is relatively an old-world space whose chilly tile floors and low lights is a respite from the sun and crowds.
This place is the best way to start your day anytime, but here you will find a perfect blend of caffeine, grease, and sugar. The specialty here is hot chocolate and churros, but other things like milkshakes and consuelos, ice-cream sandwiches made with coiled churros are also available. You can order the churros, and any of the varieties of dipping chocolate which includes Mexicano, Espanol, Francés you can order. All these are served with absolute perfection.
Synopsis
These are the top 10 food and drinks that you cannot miss out on trying out if you happen to visit Mexico City on your next vacation.