Michelin Star rated restaurants are famous and popular. Michelin stars are a symbol of exceptional culinary quality and are awarded to restaurants based on the judgment of anonymous, experienced inspectors who visit and review establishments.
Here's what each star represents:
One Michelin Star rated restaurants: A restaurant awarded one Michelin star is considered to be very good and worth a visit. It indicates that the restaurant offers high-quality cuisine, skillfully prepared dishes, and is typically known for a specific specialty or focus.
Two Michelin Stars: A restaurant awarded two Michelin stars is recognized for its excellent cuisine. It signifies that the restaurant has achieved a higher level of culinary mastery, demonstrating refined techniques, exceptional ingredients, and flavors that are well-balanced and consistently executed.
Three Michelin Stars: The highest honor, three Michelin stars, is reserved for restaurants that provide exceptional, extraordinary dining experiences. These restaurants offer exceptional cuisine, perfect execution, artistic presentation, and the highest level of culinary expertise. A three-star rating represents a rare distinction, and these restaurants are often considered destinations in their own right.
Receiving even a single Michelin star is a significant achievement for a restaurant and signifies a high level of excellence in the culinary world. Michelin stars are highly coveted by chefs and restaurant owners, as they bring prestige, international recognition, and often attract food enthusiasts and discerning diners.
It's important to note that Michelin stars are not the only measure of a restaurant's quality, and there are outstanding dining experiences to be had outside of Michelin-starred establishments. However, the Michelin Guide is widely respected, and its star ratings are considered a reliable indicator of culinary excellence.
Michelin Guide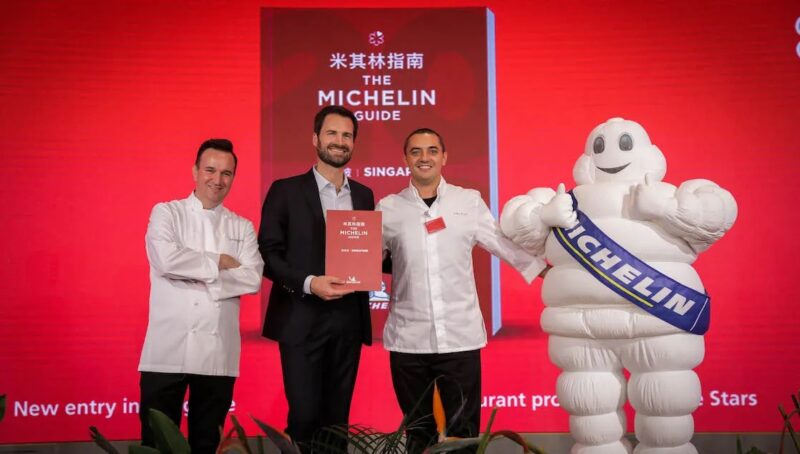 The Michelin Guide is a prestigious and internationally recognized restaurant and hotel rating system. It was originally created by the French tire company Michelin in 1900 as a guidebook for motorists, providing information about travel routes, accommodations, and restaurants. Over time, the guide's focus shifted primarily to culinary reviews and ratings.
The Michelin Guide employs a team of anonymous, professional inspectors who visit and review restaurants around the world. These inspectors assess restaurants based on predefined criteria that include the quality of ingredients, culinary technique, creativity, consistency, and overall dining experience. The inspections are conducted independently and without the knowledge of the restaurant staff.
However, it's worth noting that there have been instances where individual chefs have earned multiple Michelin stars across different restaurants they own or operate. For example, chef Alain Ducasse has accumulated a total of 20 Michelin stars throughout his career, thanks to his various restaurants around the world.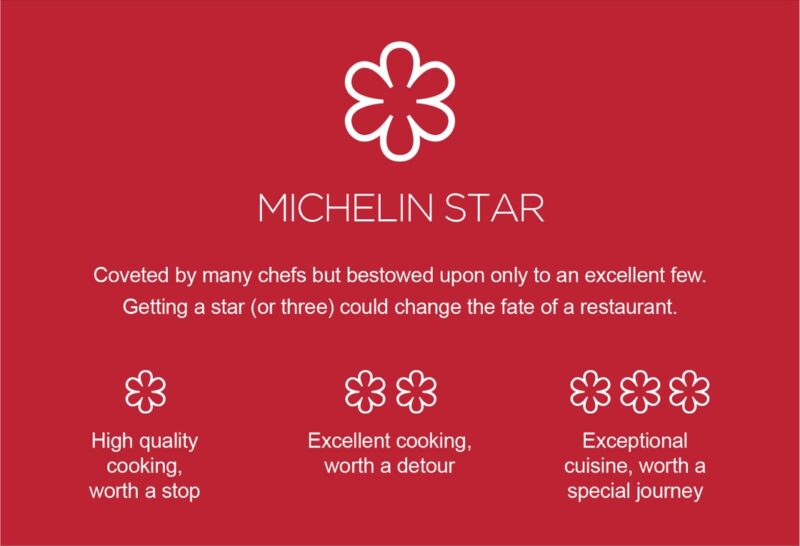 The Michelin Guide currently recognizes a maximum of three stars per restaurant.
Restaurants that meet the high standards set by the Michelin Guide may be awarded Michelin stars, which are considered prestigious accolades in the culinary world. The guide's star rating system recognizes restaurants for their exceptional quality and is widely respected by chefs, restaurateurs, and food enthusiasts.
In addition to the star ratings, the Michelin Guide also includes other symbols and designations. These can include Bib Gourmand, which signifies a restaurant offering good value for money, and Plate Michelin, which indicates a restaurant that has potential and is worth a visit.
The Michelin Guide is published annually for various cities and regions around the world, covering major culinary destinations. It has editions for cities such as Paris, New York, Tokyo, London, and more. The guide provides valuable information to both locals and travelers, helping them discover exceptional dining experiences and explore the culinary scene in different regions.
The Michelin Guide's reputation for integrity, independence, and expertise has made it one of the most influential and respected authorities in the restaurant industry. It has helped elevate the status of many restaurants and chefs, and receiving Michelin stars is considered a significant achievement and a mark of excellence.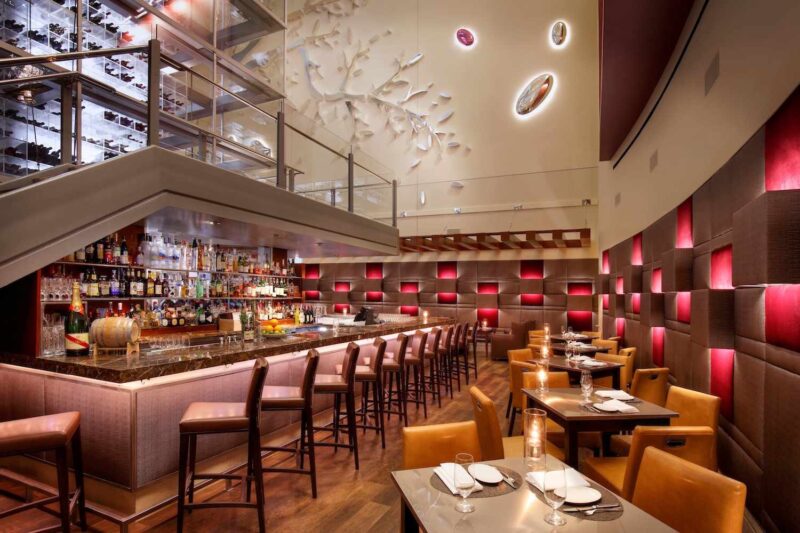 Michelin Star Rated Restaurants in Vegas
Joel Robuchon – MGM Grand: Joel Robuchon is a three-star Michelin restaurant that offers fine dining French cuisine.
Restaurant Guy Savoy – Caesars Palace: Restaurant Guy Savoy is another three-star Michelin restaurant known for its exceptional French cuisine.
Picasso – Bellagio: Picasso is a two-star Michelin restaurant located in the Bellagio hotel, featuring Mediterranean and French cuisine.
Le Cirque – Bellagio: Le Cirque is a one-star Michelin restaurant that specializes in French cuisine and offers a luxurious dining experience.
Twist by Pierre Gagnaire – Waldorf Astoria: Twist is a one-star Michelin restaurant created by renowned chef Pierre Gagnaire, offering a unique twist on French cuisine.
Raku – Off the Strip: Raku is a one-star Michelin restaurant known for its authentic Japanese cuisine, including yakitori and other traditional dishes.
Top 6 Michelin Star Rated Restaurants In Las Vegas
Apart from gambling and luxurious casinos, Las Vegas is also known for its cheap and cheerful eateries and all-you-can-eat buffets. If you are visiting this place and have a budget you can still have plenty of affordable options. If you are out to splash out and enjoy something truly spectacular, there is no dearth of gourmet dining spots where you can find outstanding cuisine to suit all tastes.
How to save money when in Vegas
Here is the list of the best Michelin Star rated restaurants in Las Vegas.
1. Guy Savoy Restaurant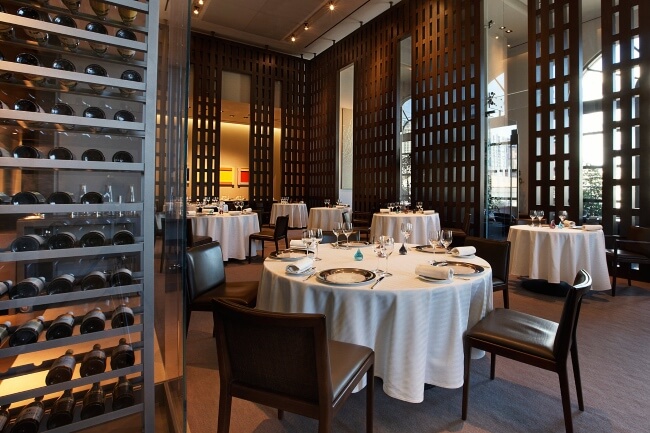 This Michelin Star rated restaurants offers French cuisine for a cost of above $61. Located in Las Vegas Blvd, it can be considered as the best spot to enjoy a French fine-dining experience and a truly romantic destination. Diners can be assured that they will enjoy the finest food in a beautiful environment.
To reach Guy Savoy Restaurant in Las Vegas, you can follow these directions:
Location: The restaurant is located at Caesars Palace, which is situated on the Las Vegas Strip. The address is 3570 S Las Vegas Blvd, Las Vegas, NV 89109.
By Car: If you have your own vehicle or are using a ride-sharing service, you can input the address into your GPS or navigation app for directions. Caesars Palace has parking facilities available for guests.
By Taxi or Ride-Sharing: You can hail a taxi or use a ride-sharing service such as Uber or Lyft to get to Caesars Palace. Simply provide the address to the driver, and they will take you to the correct location.
By Public Transportation: Las Vegas has a public bus system called the Regional Transportation Commission (RTC). You can check the RTC website or use a transit app to find the most convenient bus route to Caesars Palace. The bus stops near the resort.
Once you arrive at Caesars Palace, you can enter the resort and make your way to Restaurant Guy Savoy. The restaurant is typically located within the hotel premises, so you may need to ask hotel staff or consult the signage for directions to the restaurant.
It's always a good idea to check the restaurant's website or contact them directly for any specific instructions or reservations you may need.
2. Joel Robuchon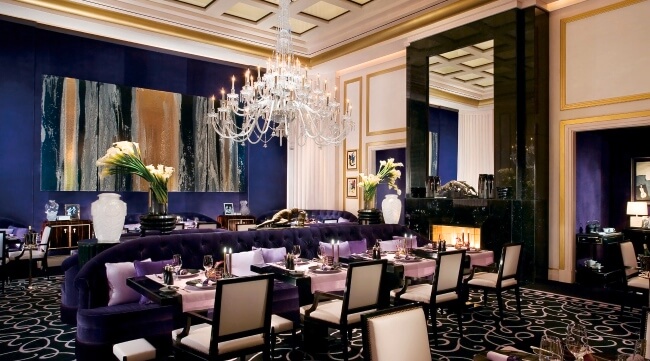 Joel Robuchon located at the MGM Grand Hotel & Casino in Las Vegas' only Michelin Star rated restaurants to have earned the three-star status. Designed in the style of Art Deco townhouses, this French restaurant has a splendid garden terrace lit by crystal chandeliers and adorned with marble floors.
The restaurant is located at MGM Grand Las Vegas, which is situated on the Las Vegas Strip. The address is 3799 S Las Vegas Blvd, Las Vegas, NV 89109.
This hotel has a formal dress code to dine in a sophisticated atmosphere, which only adds to the special ambiance. The chef, Joel Robuchon has been honored as Michelin's most highly decorated chef, who have earned more than 30 stars over his entire career, which ensures you have an outstanding cuisine.
3. Picasso Restaurant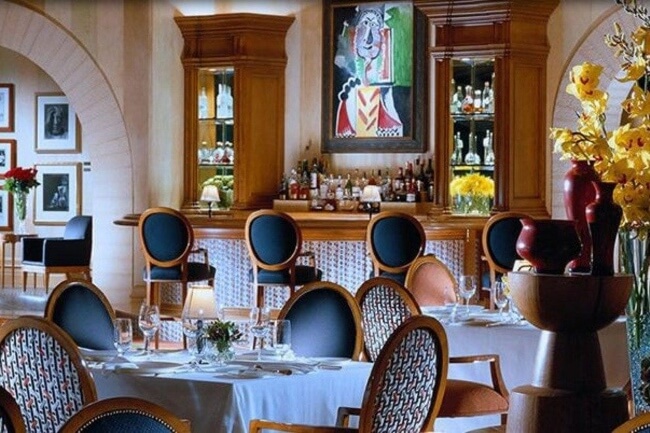 Yet another French cuisine, Picasso is located at the world-famous Bellagio Hotel & Casino. It is basically an artistic restaurant, embellished with many of the artist's paintings and ceramics for a sophisticated feel with plenty of colors.
Picasso is located inside the Bellagio Hotel and Casino, which is situated on the Las Vegas Strip. The address is 3600 S Las Vegas Blvd, Las Vegas.
Once you arrive at the Bellagio Hotel, make your way inside and follow the signage to Picasso Restaurant. The restaurant is typically located within the hotel premises, and the staff can provide directions if needed.
It serves delicious Spanish- and French-inspired food, with executive chef Julian Serrano. With an extensive wine list that features more than 1,500 different varieties.
4. Andres Restaurant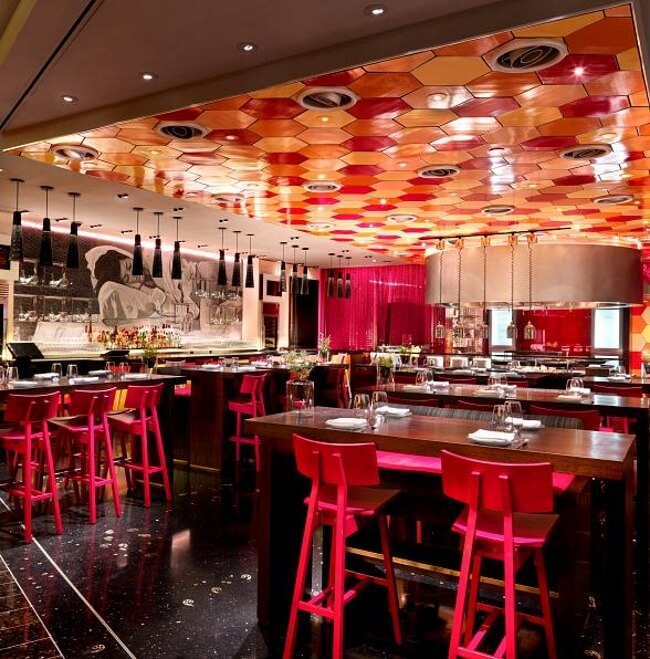 Inspired by French and American cuisine and splendid neighborhood restaurant offers an intimate dining experience in a pleasant ambiance. This is a great choice away from the bright lights of The Strip if you want to enjoy a cool and offbeat atmosphere and food.
José Andrés' restaurants in Las Vegas include Jaleo, located in The Cosmopolitan of Las Vegas, and Bazaar Meat, located in the SLS Las Vegas hotel (now known as Sahara Las Vegas).
5. Wing Lei Restaurant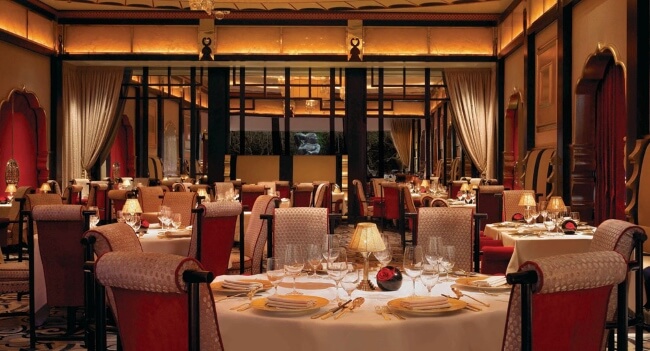 Located at the Wynn Resort Wing Lie Restaurant holds the laurel of being the first Chinese restaurant in America that have been honored a Michelin star. You will find here a fusion of western cooking techniques with Chinese flavors, all served in a lavish and opulent setting offering you an exotic dining destination.
Wing Lei is located inside the Wynn Las Vegas Resort, which is situated on the Las Vegas Strip. The address is 3131 S Las Vegas Blvd, Las Vegas, NV 89109.
6. Le Cirque Restaurant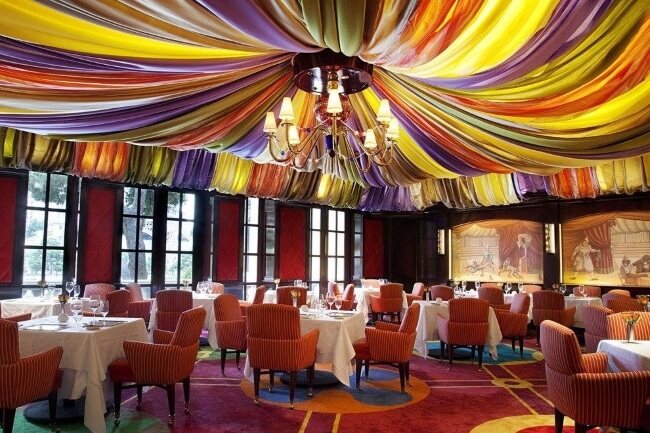 This is a legendary establishment at the Bellagio that serves you with a memorable dining experience by the lake. Here you will get an exquisite French menu, paired with an excellent wine list, and friendly service. This vibrant restaurant is an unforgettable destination.
Le Cirque is located inside the Bellagio Hotel and Casino, which is situated on the Las Vegas Strip. The address is 3600 S Las Vegas Blvd, Las Vegas, NV 89109.
Synopsis
With so many excellent world-class restaurants to choose from, you will definitely find the best food during your trip to Las Vegas. Whether you love Chinese, Japanese, French, Spanish or American food, you're sure to find something or the other to tantalize your taste buds on The Strip.
It's important to note that Michelin star ratings can change over time, as the guide is periodically updated. New restaurants may be added or existing ratings may change. It's always a good idea to check the latest Michelin Guide or consult reliable sources for the most up-to-date information on Michelin-starred restaurants in Las Vegas.